RANDOM PRE WEDDING PHOTOSHOOT LOCATIONS DELHI
There is something strangely beautiful about the pre-wedding shoot. The excitement of getting married, the beginning of a new life, lots of emotions, a day to live your own fairytale dream, an intimacy of your romance, and of course on top of everything their love towards each other, all these are precious things captured in a small momentous which is cherished lifelong by the couple. 
You finalized the photographer you wanna hire for your shoots, the props you want to use and the way you want to shoot it. But the biggest question arises – where do you really want to shoot? The location you wish your shoot to take place. This is the most essential thing to finalize. 
To create a unique Pre wedding on a budget a great way to get it made is to have it shot in different locations around Delhi. If you spend some time on location recce you will be able to discover several picturesque spots which will make the pre wedding look really great. It will also give a natural feel to the video bringing a fresh vibe to the entire project and you will also appear really comfortable in your skin. We at Video Tailor have done several pre wedding shoots like this in the past and the videos turned out to be very charming at no cost at all.
This is also extremely budget friendly because you will not have to pay for shooting locations like picture destination or perfect location  or any other pre wedding locations which are very expensive to rent out. Similarly, travelling to a destination to get your pre wedding shot can also turn out to be extremely expensive.
It will also give a really fresh feel to your pre wedding video if we shoot it in places like Hauz khas, Connaught Place, or various parks and monuments all across the city which will make the whole video look really good. You will also be much more comfortable in front of the camera knowing that you are shooting in your hometown.
Budget Friendly Locations for Pre-wedding Shoots
When it comes to talking about shoot and photography in Delhi, the first place which comes to our mind is Lodhi Garden. Lodhi gardens have been a place for shoots in Delhi for a very long time mainly because of its mesmerizing blend of nature, architecture and open spaces. Covering a span of 90 acres, the gardens have various structures and ruins demeanor of the hallmark of the 15th-century architect. Giving an utterly romantic background to your pictures, the garden also has an ancient bridge called "Athpula," which offers scenic beauty to your photographs.
Pro tip: shoot when the lighting is perfect according you want and take a note of the crowd that it doesn't come in between.
Location: Lodhi Road, Lodhi Gardens, Lodhi Estate, New Delhi 
Entry Fee: Nil
Timings: 6 a.m. to 7:30 p.m.
Hauz Khas
Hauz Khas is considered as one of the most happening places in Delhi as it has a variety of best pubs, bars, and clubs. But behind its current modern avatar lies the Hauz Khas Fort which is considered as best for shoots. Unquestionably, this places deserves to be on the top of the list as it has so much to offer to the couple and to the photographers. The fort has remains of Allauddin Khilji's Delhi Sultanate and has old period houses, a tomb, an Islamic seminary, and a water tank which has now been renewed making it look like a mini lake. Hauz Khas gives you a touch of a current modern avatar with an Indo-Islamic architecture.
Pro tip: The perfect timing to shoot will be in the morning & evening as the lighting at this time is at its best, giving the photographs an elegant touch.
Location: Hauz Khas Village, Deer Park, Hauz Khas, New Delhi
Entry Fee: Nil
Location Charges: Nil
Timings: 10:30a.m. to 6p.m.
Living in Delhi, Humayun's Tomb is a must visit place for an explorer who loves historical sites. Its beautiful and it's Mughal Architecture makes it a unique yet historic venue for a pre-wedding shoot. It is an eye-catching option for couples to record and capture their romance and intimacy in a dreamlike Mughal backdrop. Water fountains, red stone, lush green gardens add a portion of a "historical era" which will give a remarkable visual scenery for your memories.
Pro Tip: Considering the timing of the opening of the monument is 6 am for the public, try starting your shoot as early as possible to avoid chaos and crowd.
Location: Mathura Road, Opposite Dargah Nizamuddin, New Delhi, Delhi 110013
Entry Fee: INR 30 (Indians) & INR 500 (foreigners)
Location Videography Charges: INR 25
Timings:  ..6 am to ..6 pm every day
Don't lie if you have never fantasized about your Raj bestowing a hand to you, when you come flowing to him at the railway station, to hop onto the train of passion and love. Yeah, I know we all dreamed that at some point (wynk). But why to just fantasize about it? What if we say that you can recreate this iconic scene for your shoot. Oh yes babes, you all can. Railway Station gives the best aesthetic look to your photographers. Railway Stations are filmy, and cliche got it but let's not forget sometimes all we need is a little tadka to our life, and this place is just perfect.
Pro tip: The best time for photoshoot will be between  7 am to 10 pm as it will be less crowded, which will help you to shoot without any chaos. 
Location: New Delhi Railway Station (Platform 1 and 16)
Entry Fee: Nil ( You need permission for the shoot)
Timings: Anytime you want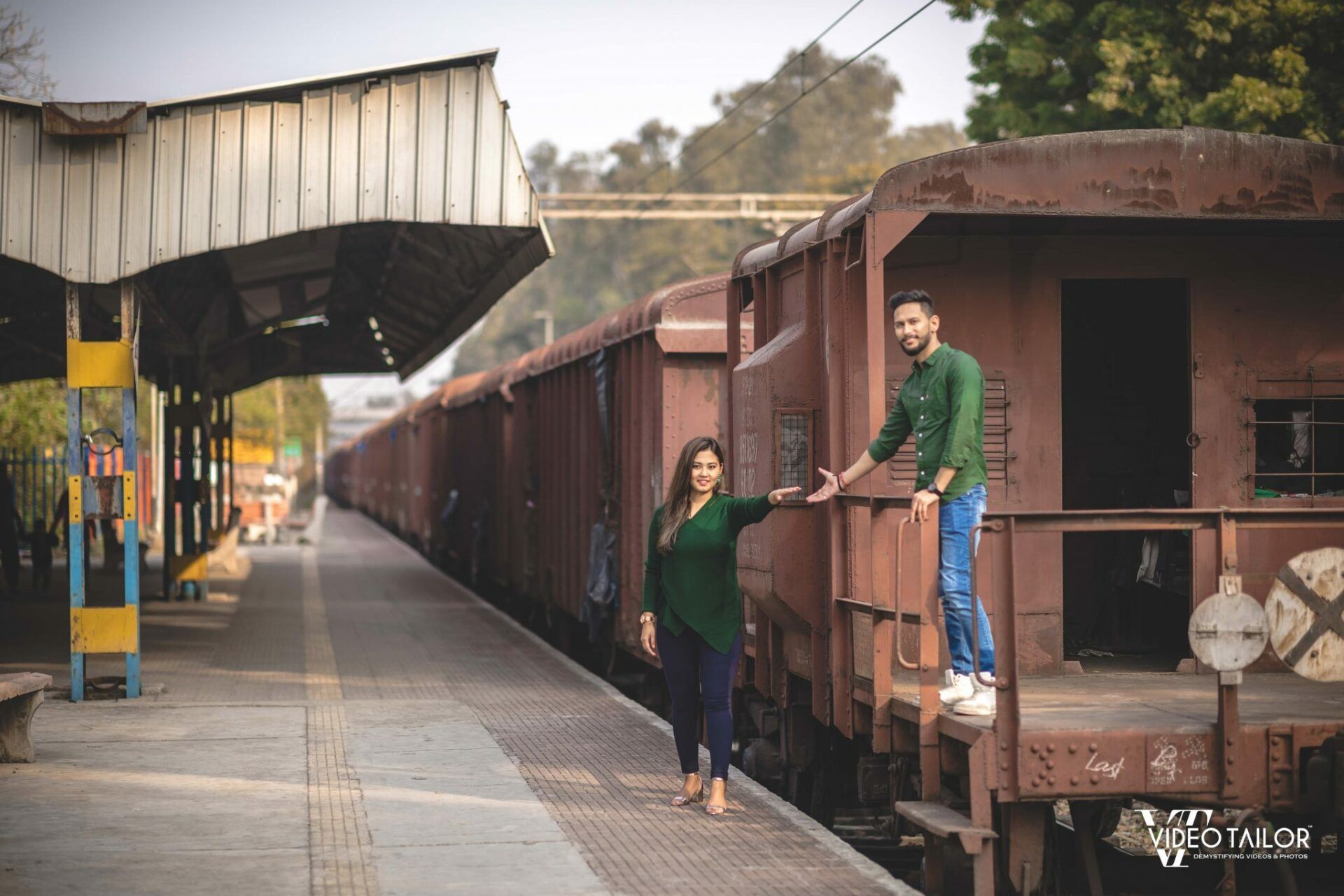 Located on the Bystreet of Delhi between Khan Market and Meher Chand Market, Lodhi colony has a Lodhi art District. In this area, 25+ various street artist for overall India and around the world in created wall art between December 2015 and March 2016. This is now transformed as an open art gallery adding a voguish charm to Lodhi Colony. The art is perfect for all the couples for their shoots & they would love to have a colorful background with contemporary beauty in their environment.    
Pro tip: shoot when the lighting is perfect according you want and take a note of the crowd that it doesn't come in between.
Location: Lodhi Road, Lodhi Gardens, Lodhi Estate, New Delhi 
Entry Fee: Nil
Timings: 6 a.m. to 7:30 p.m.
Set in the heart of Delhi, CP offers you a picturesque spot for a brilliant shoot. This place is an amalgamation of modern and Greco- Roman architectural designs which used nicely can give an aesthetic look to your image as well as a funky one. White walls and massive pillars depict the regal charm of CP, which offers an unmistakable nostalgic charm that can work very well for the couple who wants to incorporate a bit of ancient magic in their photos. 
Location: Connaught Place, Central Delhi
Entry Fee: Nil
Timings: 24 hours
If you want your photo shoot to be funky, full of colors yet decency in it, then India gate is the answer for you. India Gate is not just a favorite picnic spot but also in recent years it has become one of the best photoshoot locations in Delhi. Adorned with an array of trees and beautiful lawns, it is an excellent place for a random pre-wedding photoshoot. Moreover, it provides a stunning Triumphal Arch backdrop for love-struck couples.
Pro tip: Avoid going on weekends 
Location: Rajpath, India Gate, New Delhi
Entry Fee: Nil
Timings: 24 hours
These are the best random places we lined up for you in Delhi. We at Video Tailor tried picked out the most amazing places to shoot the pre-wedding. So, if you need suggestions related to your Pre-wedding shoots and location then go check out our Pinterest, Instagram and Youtube. If you have more suggestions, then don't forget to comment them down below.