Trending Bride Entry Ideas And Themes For 2019
May 15, 2022
Crazy Bride Entry Ideas And Themes
Make way for the Bride… din shagna da chadeya (plays in the background). Well, our brides have moved on from the traditional rituals of just taking that walk down the aisle. Bride Entry Ideas are as trending as the movie Kabir Singh is in the theatres.
We have always seen grooms making a mark on the guests and the bride by entering the venue over a traditional horse or a bullet (bult). With the evolving trends our brides have successfully managed to take entry at their own weddings with a bang!
Below are listed some crazy bride entry ideas and themes for you –
1) SAIL THE BOAT OF YOUR LOVE
Wohooo! Couldn't have been a more dramatic and romantically insane entry than this. The metaphorical significance of introducing a boat at your Wedding is immense.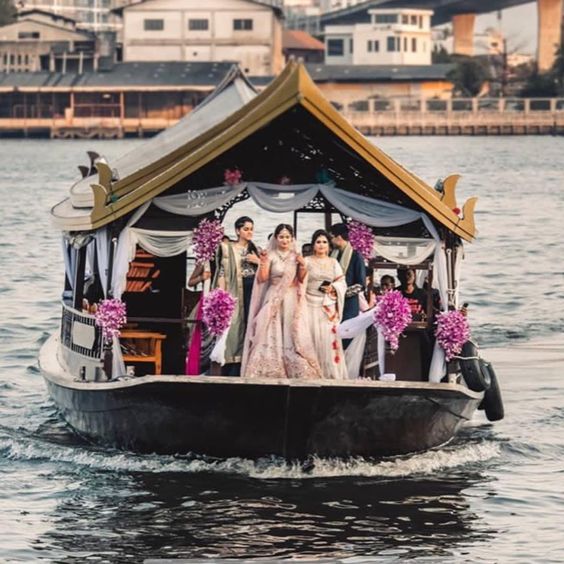 It implies the sailing of a perfect happy married life, and the bride taking a step forward into a boat will be magnificent and eye rolling enough for the groom to fall in love with her all over again.
2) BED OF ROSES
Taking inspiration from "HUM AAPKE HAI KON" – where the bride is bid goodbye and wishes while she walks her way to her new life on a bed of roses. You can use the same theme for the bride entry ideas.
Roses, romance and relationships are all intertwined together.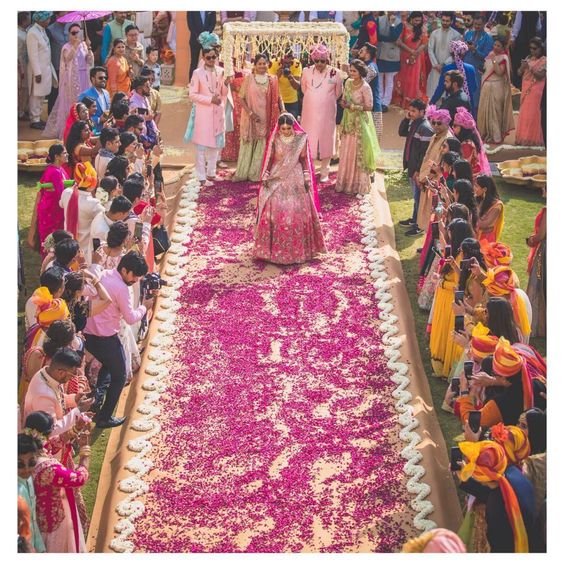 To create this very delicate and soft moment for the bride, you can have the people (cousins, friends, guests) sprinkle the roses as the bride takes the most significant walk of her life.
3) MAARI CHORI CHORO SE KAMM HAI KE
Who said only boys can make an entry on the ghodi? Three cheers to this adorable bride who has set major goals for all the other brides. She has ditched the rituals and made her very own. We cannot stop adoring her. Can you?
If you want to do something very very interesting, which is historic enough for everyone to remember the most breathtaking Bride Entry ever, go for this one. Even Katrina Kaif in "Mere Brother Ki Dulhan" came riding a horse with a baraat of her own. Why can't you?
4) AN OUT OF THE WORLD – FOOLON KI CHAADAR
Walking under the Foolon Ki Chaadar is supposedly the most protective and pious gesture extended by the bride's family. Well, we can always play a little here and there with the detailings we are provided with.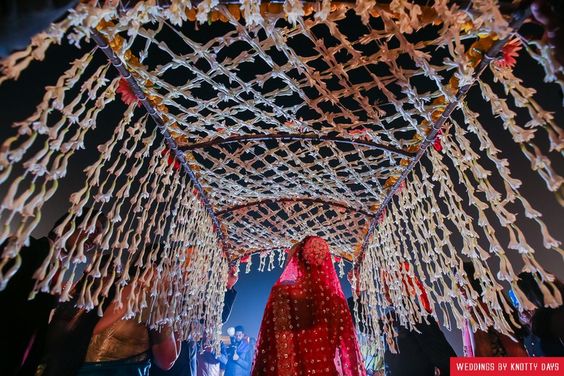 We can adjust the size of the chaadar from normal to a huge chaadar for some Stunning Wedding Pictures.
Or take this picture as an example for the most incredible Foolon Ki Chaadar. This particular one is overloaded with flowers of every kind bringing out so many colors, liveliness and love.
And how about this one? Too much flowers in absolute accordance with the Bride's Outfit. The light pink tones of the bride's lehenga are beautifully highlighted by the darker tone of pink applied in the Foolon Ki Chaadar.
5) SWAG VAALI ENTRY
"Swaag se karenge sabka swaagat" Our dapper bride is killing it with her Flawless Outfit and entry idea. She has literally overshadowed other bride entry ideas and made a huge (unforgettable) impact by entering on a tractor. The tractor is in contrasting colors with the blue lehenga worn by the bride.
This Bride Entry Idea is thrilling and fabulous. I am sure you want to try this idea at your own Wedding.
6) LOOK INTO THE LOTUS
This is such an elegant bride entry idea. It is sophisticated and simple.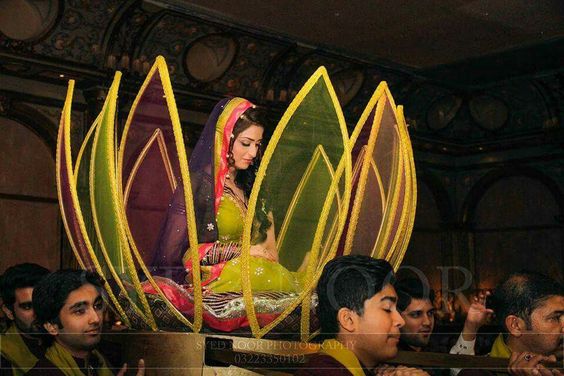 The lotus leaves are colored as per the outfit of the bride in transparent sheets, the bride is carried by her brothers which makes it affection able and appealing.
7) DRAMATIC ENTRIES
OMG! Is this real? This is so dramatic and so extreme. Girl, it is your wedding take one step ahead and seek every possible gesture to make you the queen of the palace.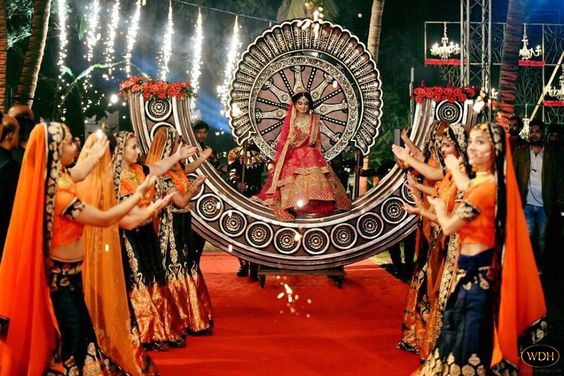 This bride entry idea where the bride comes on a grand throne is sensational.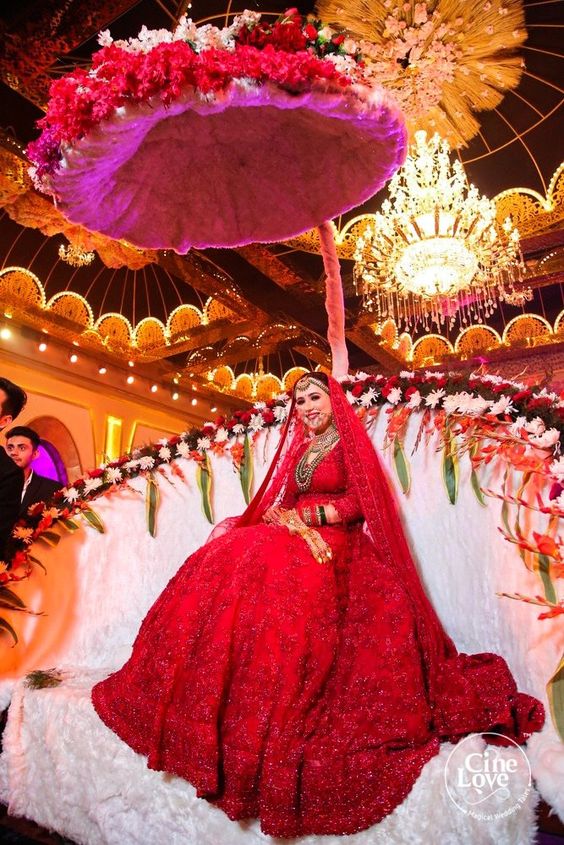 This DROP DEAD GORGEOUS BRIDE IN RED comes sitting on a larger than life throne. With white embroidered sheets to make the perfect contrast of red and white, we cannot stop but fantasies this for ourselves.
WOOT WOOT!!!! The bride is on cloud 9, it's her wedding. Her brothers made sure she literally is.
8) GATECRASH YOUR OWN WEDDING
You might have gatecrashed many weddings before, but why not your own? While you do so make sure you take your scooty along.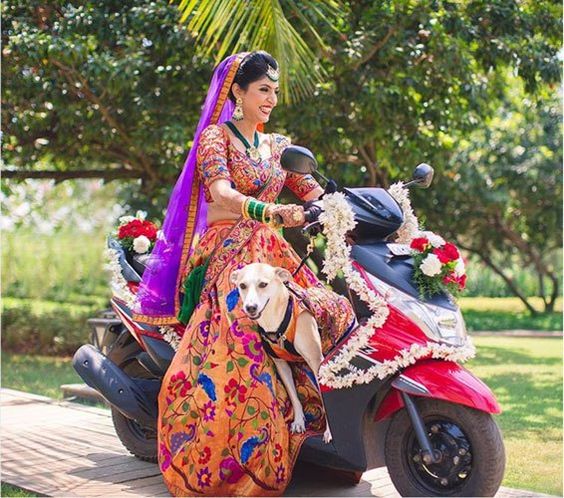 Decorate your ride with flowers so it screams "Hey it's her Wedding Day, make way".
9) TAKE YOUR PET ON A WEDDING WALK WITH YOU
AWWWWW….
You've made sure to go on a walk with your pet whenever you felt too many emotions. Haven't you? This is the big day to include your fluffy friend into the most important ceremony of your life. Dress your doggyy according to the occasion, but do not forget to tag him along with you.
10) WALK ALONE AND POWERFUL
WHAT AN OVER THE TOP ENTRY IS THIS? While all eyes gaze at you, fireworks announce the entry of the Most Stunning Bride ever. Walk alone and full of yourself, this will be the moment to own the palace, eyes, and all the love.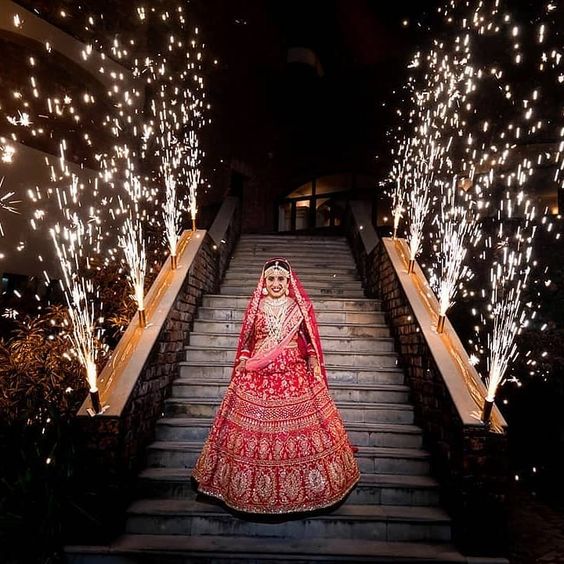 11) WALK WITH YOUR PARENTS
Your parents have raised you in a such a strong and beautiful lady. They deserve to walk the aisle with their daughter. This will be a moment immortalized.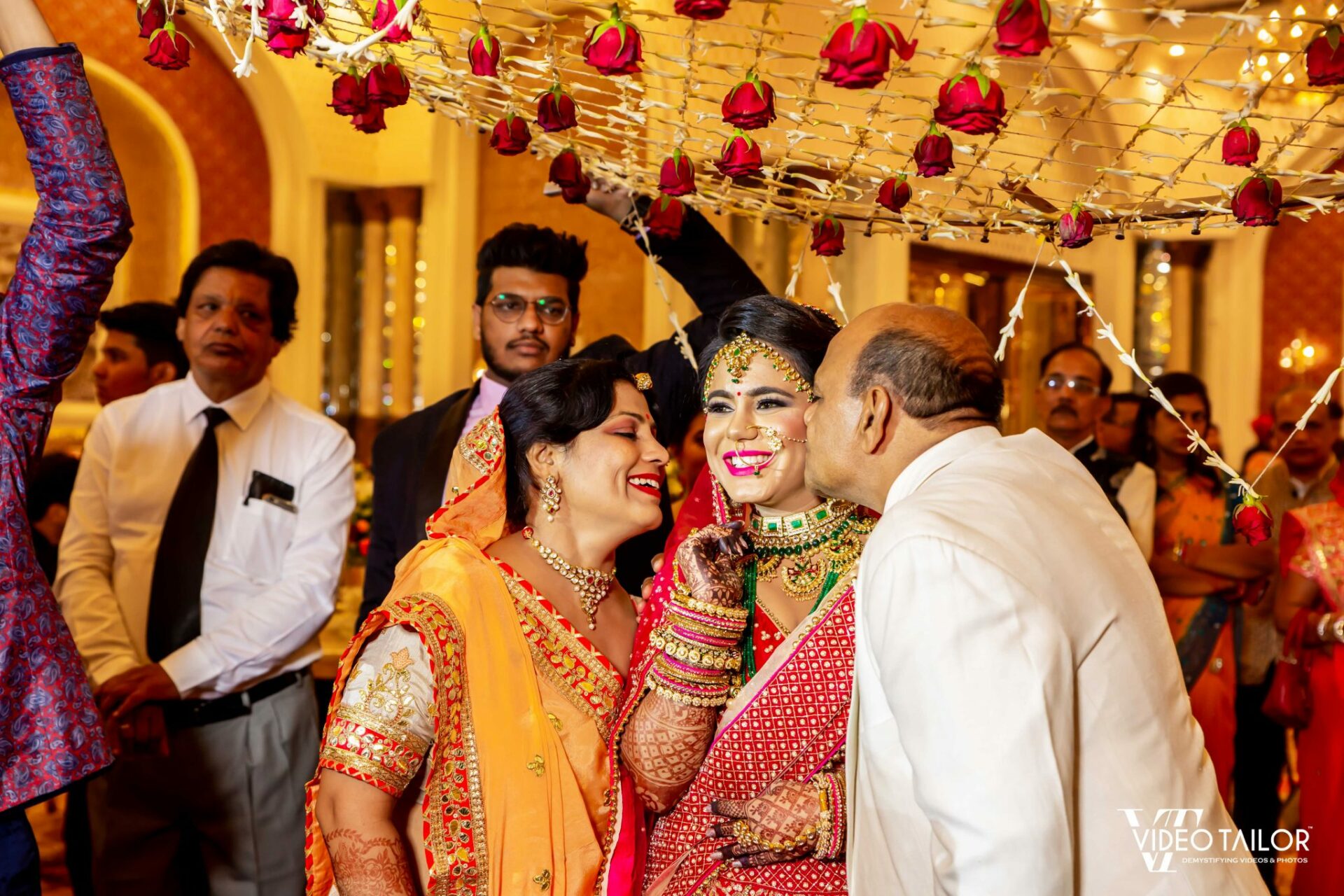 12) SURPRISE EVERYONE, AND COME TOGETHER
This is a different and unique idea, the bride and the groom comes separately, but why not together?
Choose your moment perfectly. We at VideoTailor, promise to capture your priceless pictures with utmost sincerity.
Picture Courtesy – @pinterest and @videotailor0000000000