THE MOST STUNNING MEHNDI LEHENGAS WE SPOTTED ON OUR BRIDES.
May 26, 2022
THE SHOWSTOPPER MEHNDI WEDDING LEHENGAS ON REAL BRIDES
The bright mehndi ceremony calls for some vibrant and lively mehendi dresses and why not. All things considered, it is the only pre wedding ceremony which lets us all go exploratory, enthusiastic, trendy and so forth. Also, while this wedding ceremony decor and theme is all about being colourful, lively and breathtaking, so should your wedding lehenga be.
Being clad in a yellow lehenga or suit for your mehndi is quite old fashioned at this point! With such countless recent fads coming on the lookout, it is of most extreme significance for all the brides-to-be to keep up with the new trending fashion. All things considered, the mehendi ceremony is the most joyous and an important function from all other wedding ceremonies, and you would like to look like a diva in that load of happy minutes you will get captured in! Considering what could be your most in vogue mehndi outfit? Try not to stress, we are here to take away your concerns.
GO GREEN
We saw this bride in a happy, joyous green lehenga and we can't quite stop loving it. The colour green represents renewal, growth and nature. This bridal lehenga is so boho-chic and will definitely go with any mehndi theme.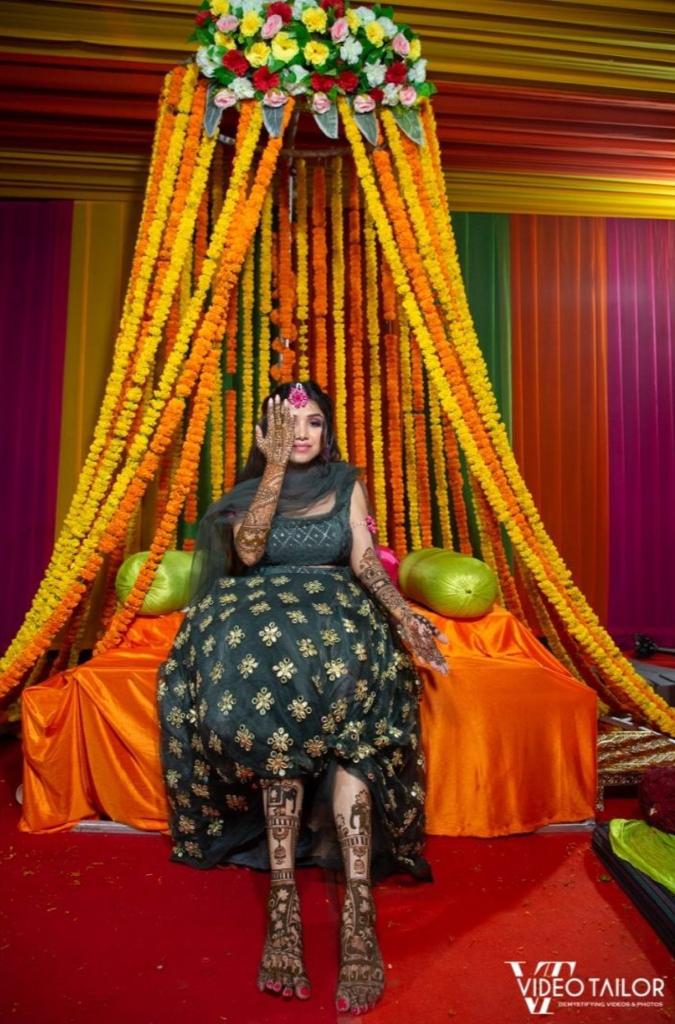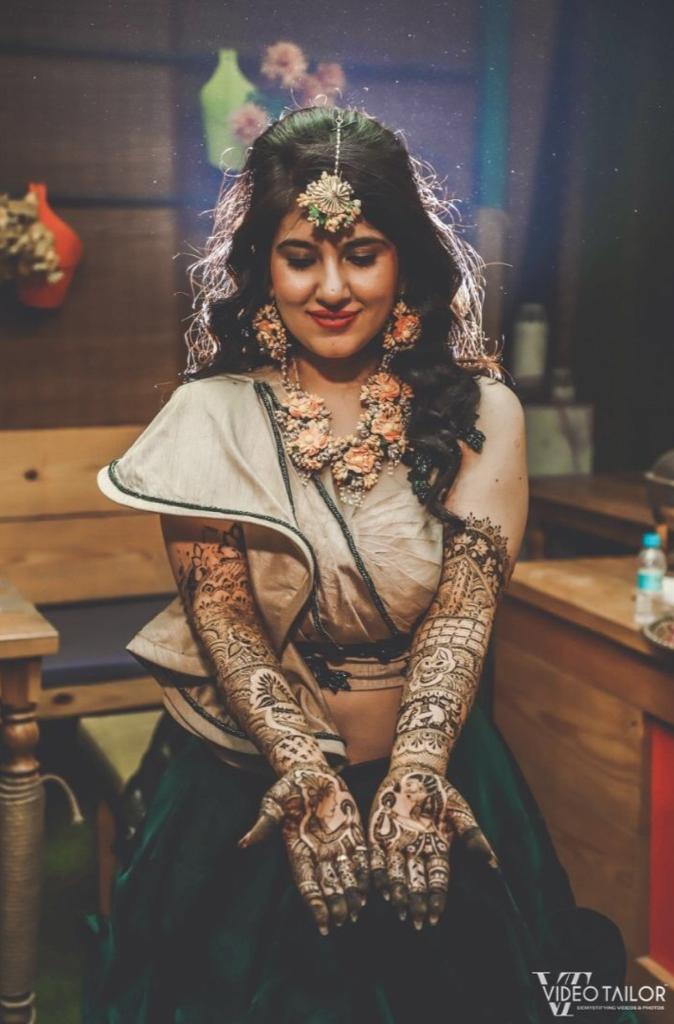 SPLASH SOME COLOURS
Everyone's a sucker for vibrant colours and adding those colours to your mehndi outfit can be quite fun. Simple mehndi outfits are fine, but how about adding some splash of colours in your mehndi outfit and getting captured beautifully in it. To add on, you can always go in with some colourful theme.
EVERYTHING PASTEL
As a saying goes for the bridal world, pastel can never go wrong. Brides who love pastels can cheer since this bridal mehndi outfit is of your choice! The pastel lehenga will reflect daylight as you walk around the scene, which will sincerely look ethereal. If you go in for a pastel lehenga, you can always go in with some matching but heavy jewellery for the glam! So don't think twice and go for pastel if you're not the vibrant one.
POP OF FLORALS
Because what are mehndi outfits without a pop of florals? Confused if florals are still in trend, yes they definitely are. You can always go in with florals and even "white florals" because these are unconventional and simply look outstanding. If the florals are heavy, you can opt for heavy makeup and light jewellery and make it more classy than ever.
MULTI COLOURED MEHNDI LEHENGAS
Since there are no rules, you can always opt for multi hued lehengas for mehndi, haldi and even your wedding. While florals, pastels and other lehengas have their own charm, multi coloured lehengas bring out the peppy and jazzy side of yours. It obviously makes you stand out amongst everyone. You can always keep it subtle by adding simple floral jewellery and light makeup.
HOW MUCH IS TOO MUCH PINK?
Well, when it comes to pink, it's never too much pink. If you're one of those who is all girly and your love for pink never dies, you can always choose pink mehndi outfits. Not necessary mehndi bridal outfits have to be lehengas, they can also be pink suits, co-ord sets and blouse-dhoti. The co-ord set and dhotis create a very comfy, beachy vibe and are perfect for an outdoor wedding.
FESTIVE YELLOW
Even though the colour yellow has been very common when it comes to mehndi and haldi ceremonies, it has its own charm and simplicity. Nothing beats a simple yellow lehenga with a touch of pink for a morning haldi or mehndi ceremony.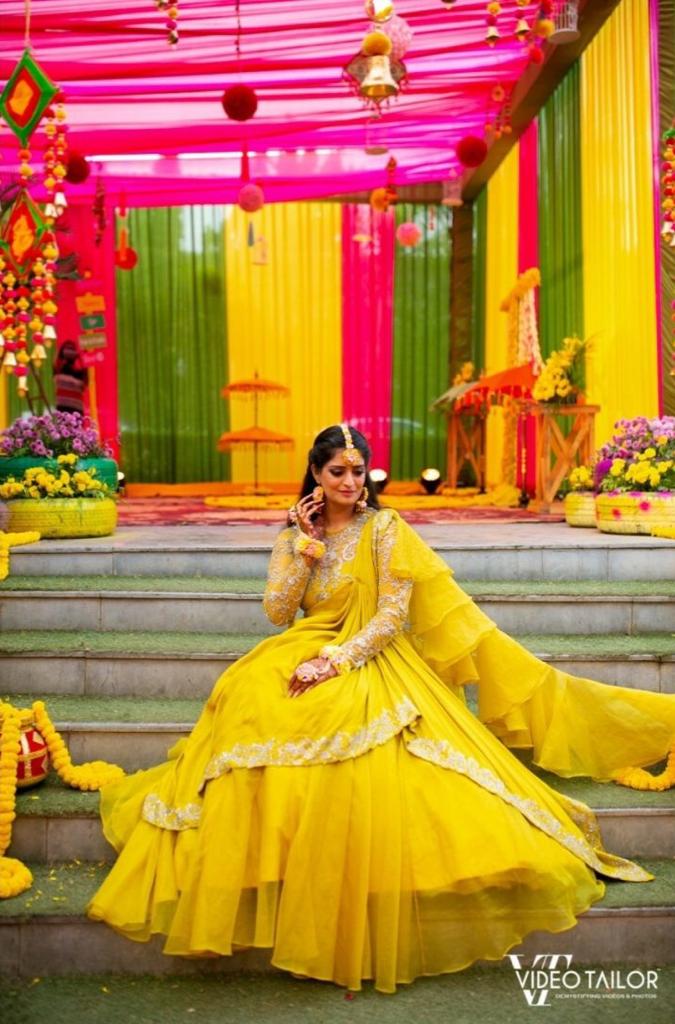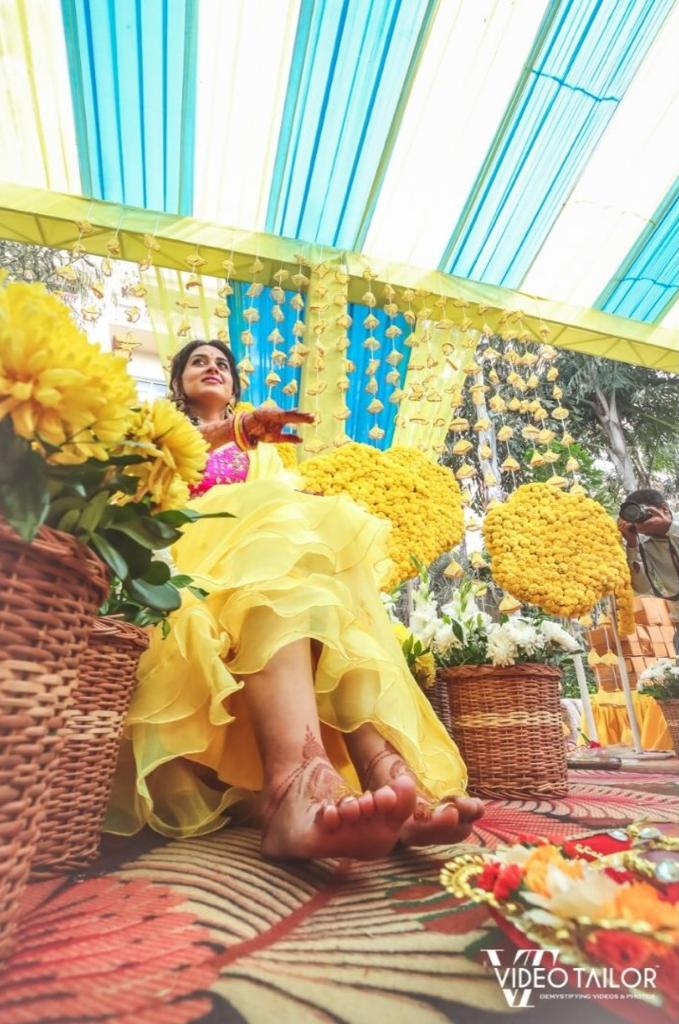 If you want to experiment with the colour yellow, you can go in for a yellow lehenga with a pink bandhani dupatta or a lemon yellow lehenga or golden yellow lehenga or even silver yellow lehengas. Go ahead and experiment with your mehndi outfit, because this is your chance to stand out.
WHITE LEHENGAS AND FLORAL BLOUSES
Even though white sounds like a boring shade, it actually acts as a canvas to let the artistry and design shine out better. Taking this bride as an example, this white lehenga acted as a backdrop for the immaculate detailing and the floral pastel blouse. To add more glam, you can always go in with heavy makeup and jewellery.
Well well, we know it's difficult to choose a mehndi lehenga outfit when you have so many colours, designs and fashions to go for. But sit back and relax, think twice about what goes best with your comfort and choice, what's the best fits in with your theme, and if you want to match your outfit with your partner. So if you're tired of browsing Instagram for the right bridal outfit, we have got you covered. Check out VideoTailor for more wedding photography and choose the right photographers for your big day.