Top 10 Classic Outfit Ideas for Maternity Photoshoot
October 19, 2022
Top 10
Classic Outfit Ideas for Maternity Photoshoot
Amidst the feeling of nausea and nervousness, there's also a lot of excitement about the future and it can't be any other way, but why? Because you can't wait to welcome your lil' baby.
The baby bump is the cutest kind of weight gain and we can't agree more! Getting pregnant is a gift and with the beautiful curves, extraordinary glowing skin and lustrous hair you obviously want to capture and store this time in your album.
But planning for a maternity photoshoot can be a stressful task when it comes to deciding your outfits. But you need not worry, we have some great outfit Ideas for you to choose from.
1. A Beautiful Maxi Flowy Dress
Along with making you feel like a queen, this outfit is also bound to make you feel very comfortable, presentable and flattering. You can also choose to wear any kind of detailing and sleeves that you like for your maternity photoshoot.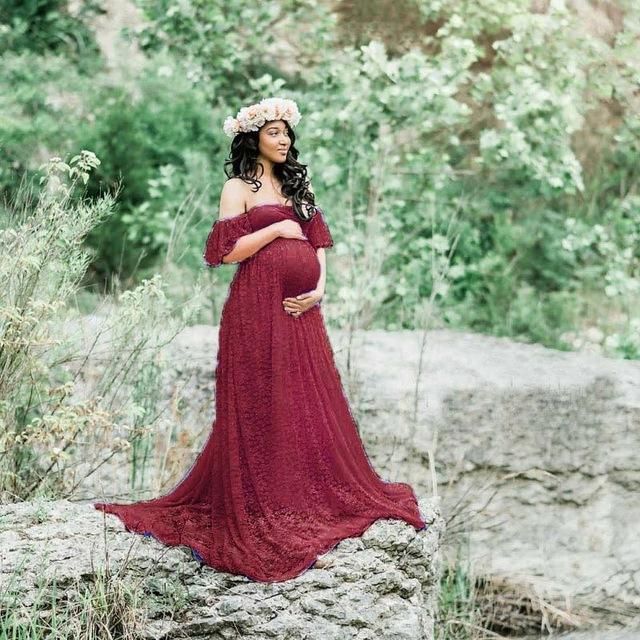 2. Body Hugging Dress
Bodycon dresses are all in to flaunt your curves and your beautiful baby bump. If you're comfortable with showing off your curves then this is a great pick for your maternity photoshoot.
3. Textured Dress
Textured dresses look very classy just like knit sweaters and embroidered tops. They transform the whole look from simple to fashionable with the right layers and designs and also give the right attention that your baby bump needs during your maternity photoshoot.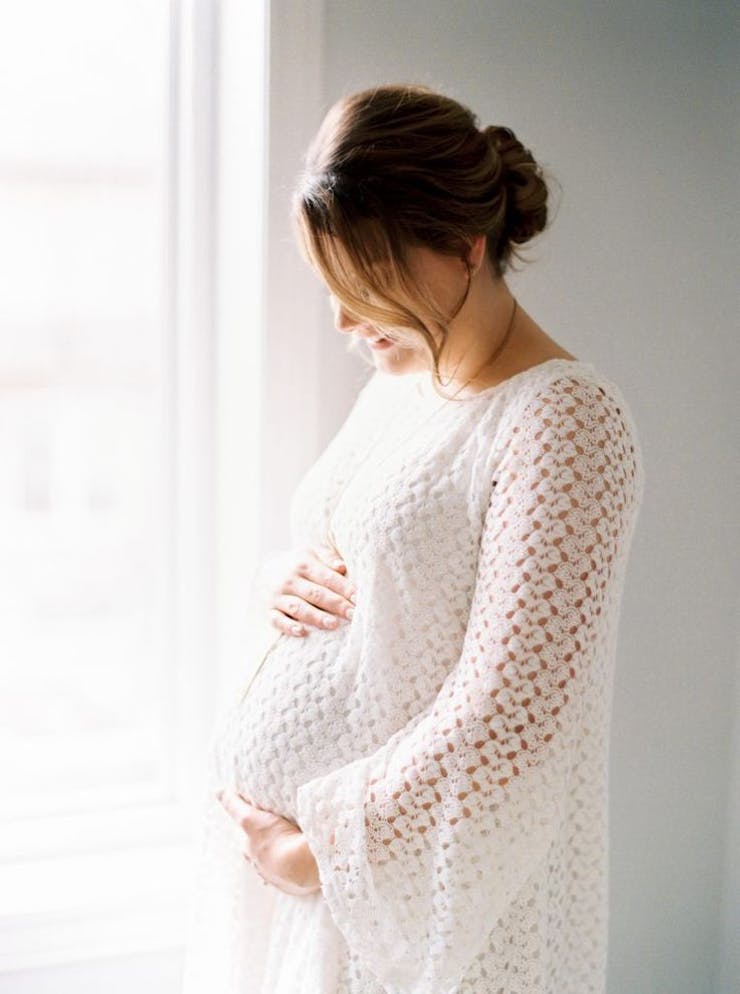 4. The 90s Style
Denim clothing is timeless and if you have a always enjoyed denim clothes then undoubtedly you should go for a perfect denim romper, as it will make you look classy and casual resulting in cute and bubbly kind of maternity photoshoot pictures.
5. Pant-Suit Co-ord
A printed co-ord is a great outfit to give a bossy and powerful look to your personality with that beautiful baby bump. Also, flaunting your bare baby bump will add much thrill and boss-like motherly attitude to your maternity photoshoot portraits.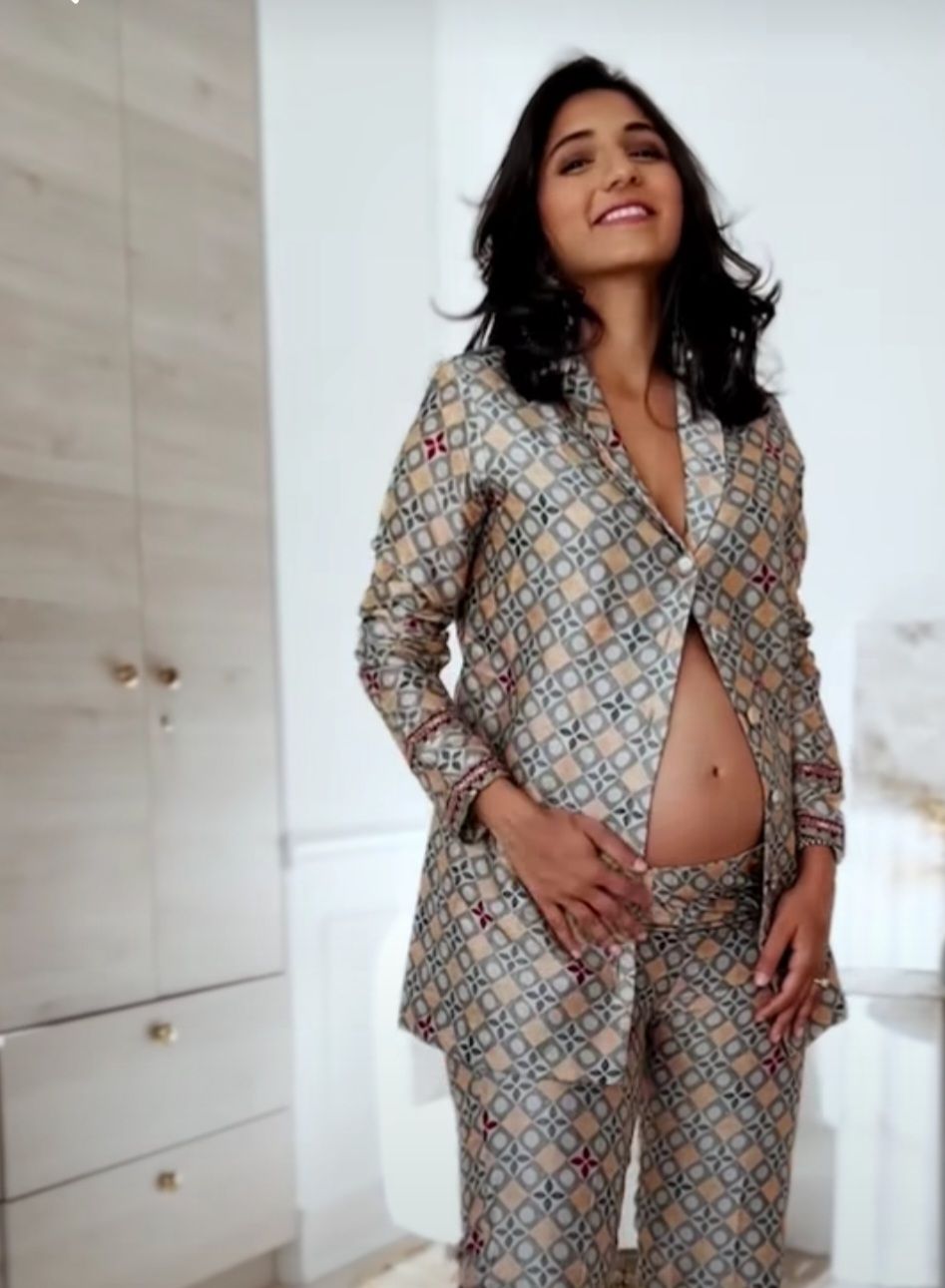 6. Over-Sized Knee Length Dress
If you're someone who doesn't wants to flaunt your curves then this dress is the right fit for your maternity photoshoot. It will look royal, classy and smart and if paired up with a buttoned up coat, it will surely makr it look even more rich.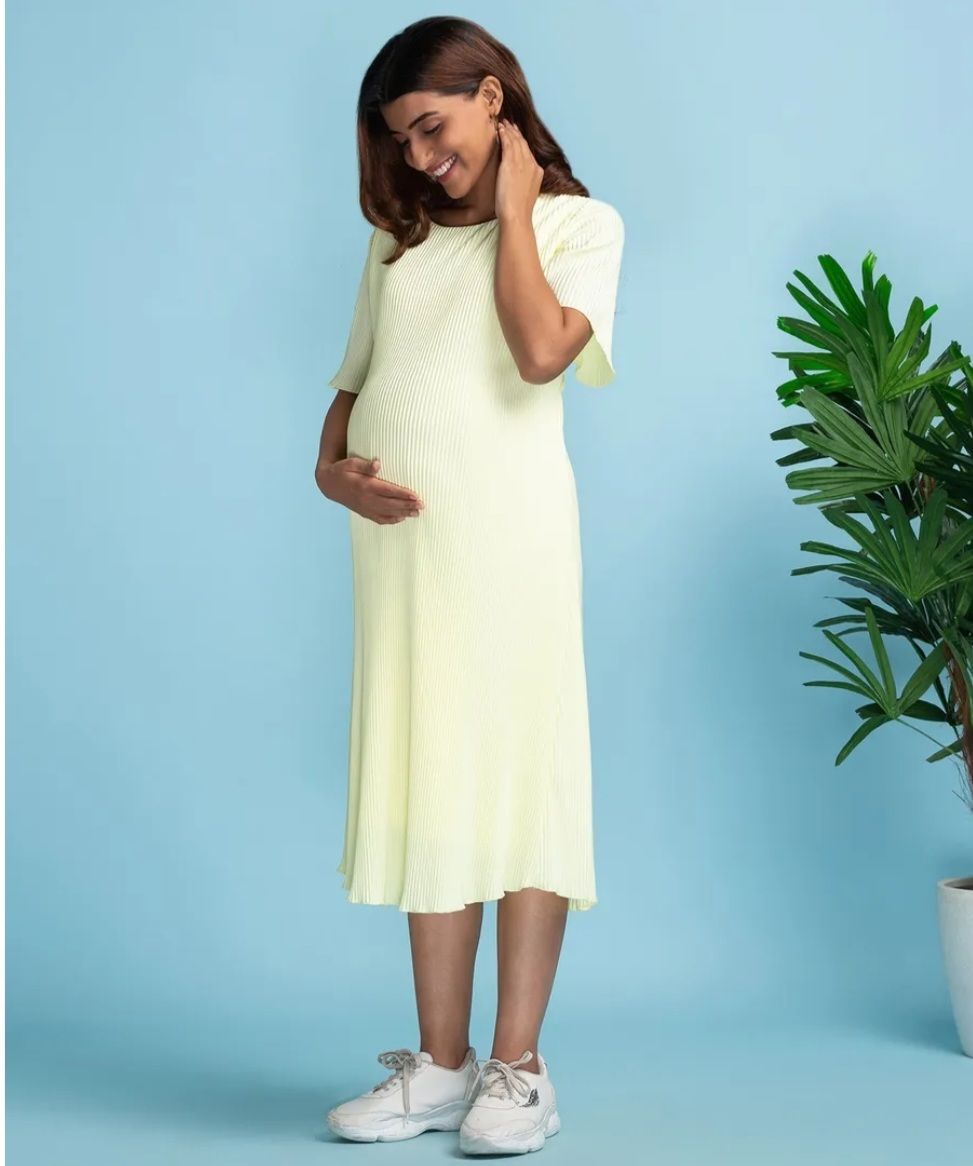 7. Saree
Why to keep your traditional look at bay for your maternity photoshoot? Sarees can never go out of fashion and this gorgeous ethnic wear is the most elegant, beautiful wear to flaunt your baby bump in. Also, what can be more enthralling than showing your motherly attitude while keeping up with the cultural heritage?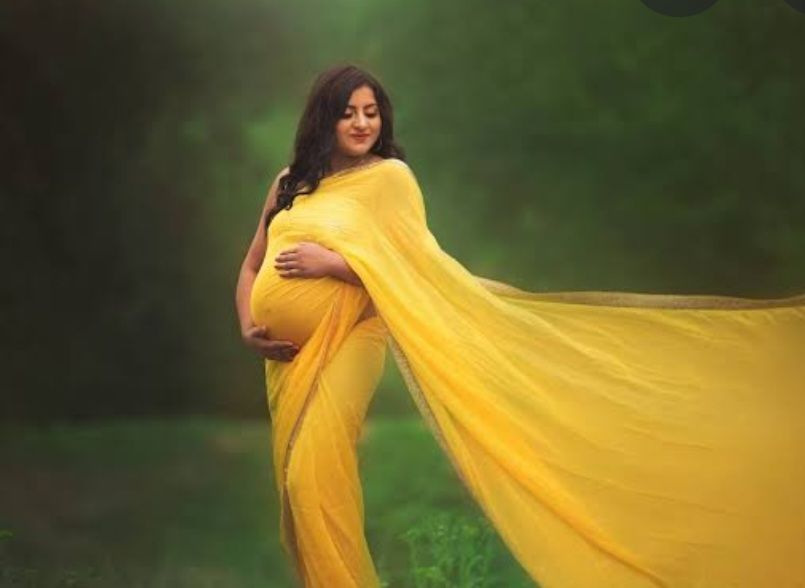 8. Night Suits
Maternity photoshoots in pajama sets and night suits are trending a lot recently. You can go for casual to fancy night suits according to your choice if comfort is your concern. They are sure to look both - super stylish and comfortable at the same same time.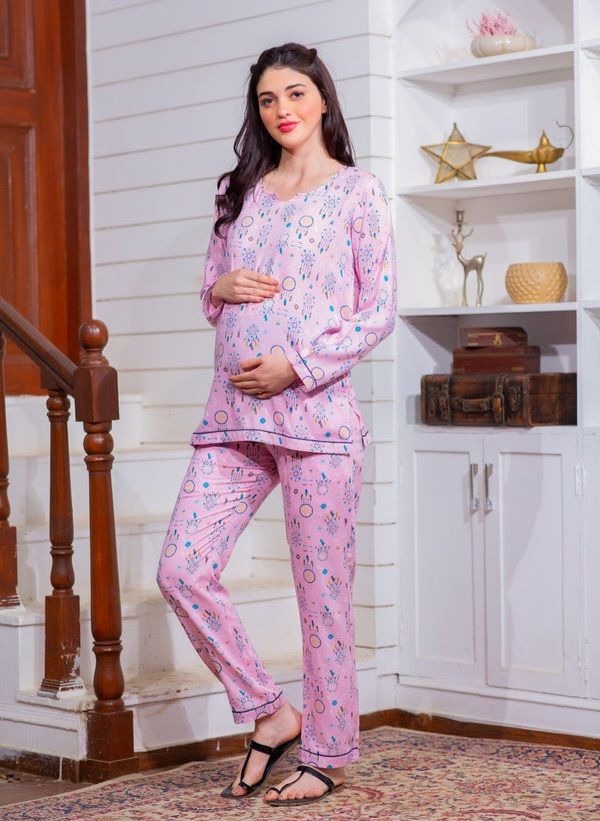 9. Sequin Maternity Cocktail Dress
If you're planning for a maternity photoshoot at night or maybe with a lovely party decor then you can opt for a party wear cocktail dress to add a lot of shimmer and drama to you final maternity portraits and outshine yourself.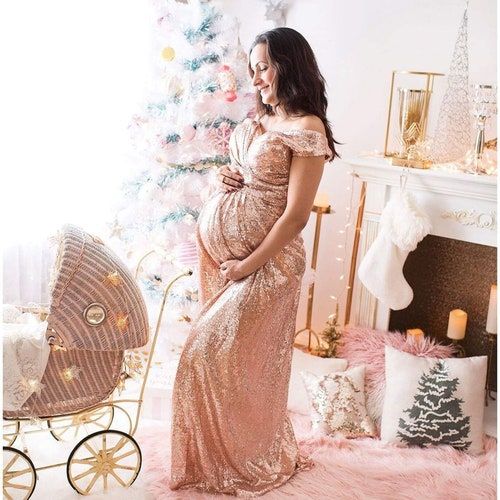 10. Jumpsuits
Embroidered jumpsuits look very chic and are highly fancy. It flaunts your body curves and the baby bump pretty well. Therefore, if you're a mom-to-be who doesn't minds flaunting her body curves, you should definitely consider to wear a jumpsuit for your maternity photoshoot.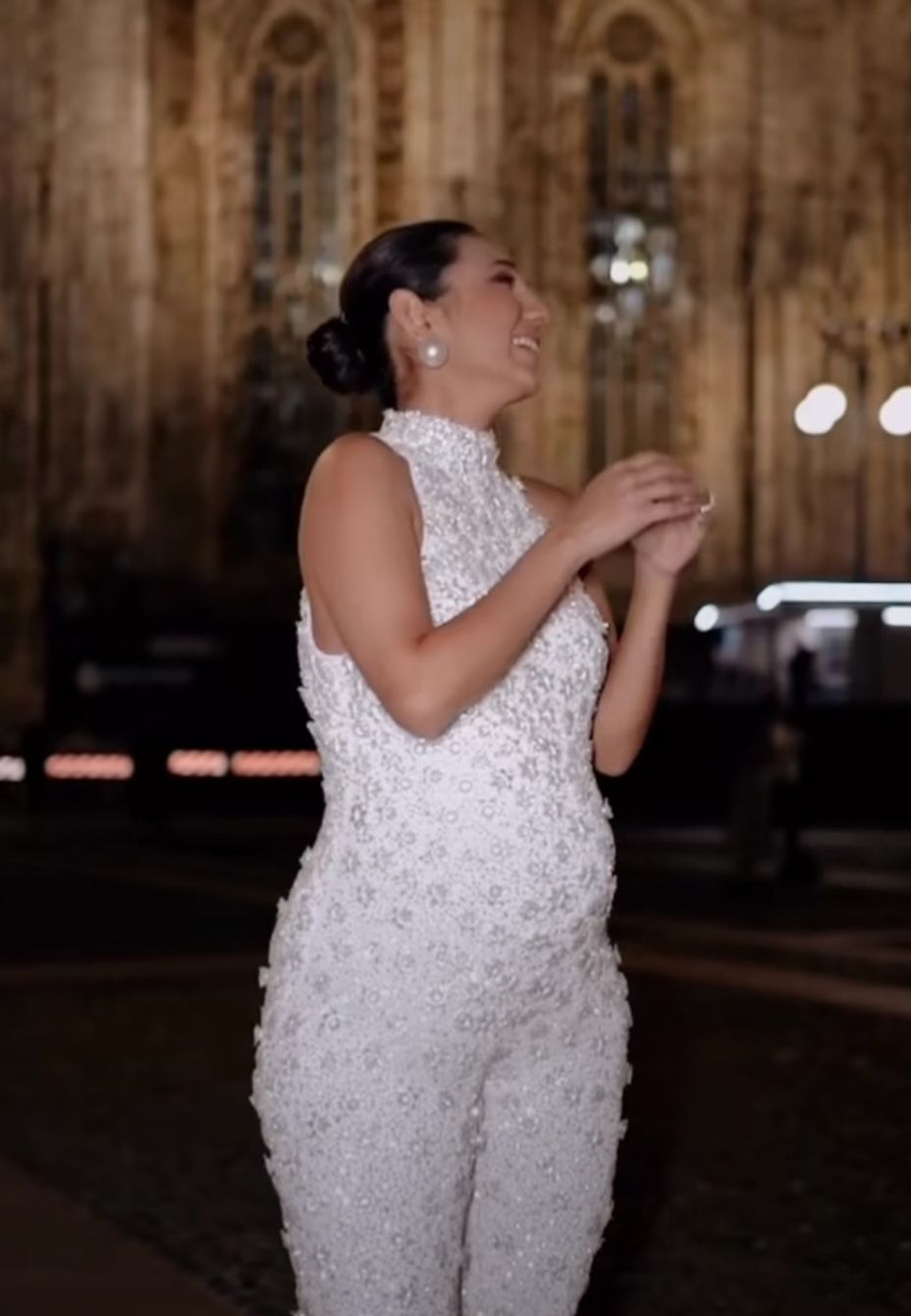 Considering the preferences of moms-to-be, the above mentioned outfit Ideas have been shortlisted to provide a style inspo for you.
Whether you're looking out for tight fitting clothes or over-sized baggy clothes, you can go with any of these ideas for your Maternity photoshoot. It has got you covered! And if you're looking for inspiration for the shoot then you should check out our blog here! If this blog was helpful for you in anyway then make sure to follow us on instagram.