Quirky Pre-wedding photoshoot concepts captured by Video Tailor
May 18, 2022
Want to stand out? These are some Quirky Pre-Wedding shoot concepts captured by Video Tailor
Pre wedding shoots are not just about cozy pictures together it's more about creating memories and has now become a to-do task for all the soon-to-be married couples.
This has now become a trend for all and with all the growing trends this has also a list of innovative and creative themes which keeps on changing every now and then. Couples spend tons of money for these shoots ibut in order to stand out, when they think about unique themes and concepts; they go clueless.
Worry not we are here to Introduce you a number of quirky images you can seek inspiration from for you pre-wedding shoots to make them memorable cause above everything, marriage isn't an everyday affair.
Making love between the long drive around the city
"Once in a while, Right in the middle of an ordinary road the long drives added a new zing to their relationship." Drives around the mountains in luxurious car with your beloved are going to remain one of the most romantic dates ever. You can definitely add this picture in your pre-wedding photoshoot in order to make it look luxurious and fanciful.
By The Pool
To add a cool touch to your pre-wedding shoot go for a pool side theme, sip champagne with your legs under water and enjoy the warm bright sunset. The kiss on the foreheard can warm any girl's heart, TRUE! Picture is taken under the consideration of rule of thirds which is complimenting this image onto another level.
EK GARAM CHAAI KI PYAALI HO?
Those who love chai knows how boisterous is the track "ek garam chai ki pyaali ho" this image is kind of recreating the song but with a modern touch- this time the boy is serving tea for his girl, yay! After all, couples who make chai for each other have each other's back,  Always & forever.
THE AWW POSE
Spending evenings with your beloved under the bright stars will surely add into your list of those romance filled silent meetings that you spent with him, when his presence is enough to bring peace to your heart. Why not capture such a pretty movie like evening with your love to cherish the pre-wedding shoot for ages.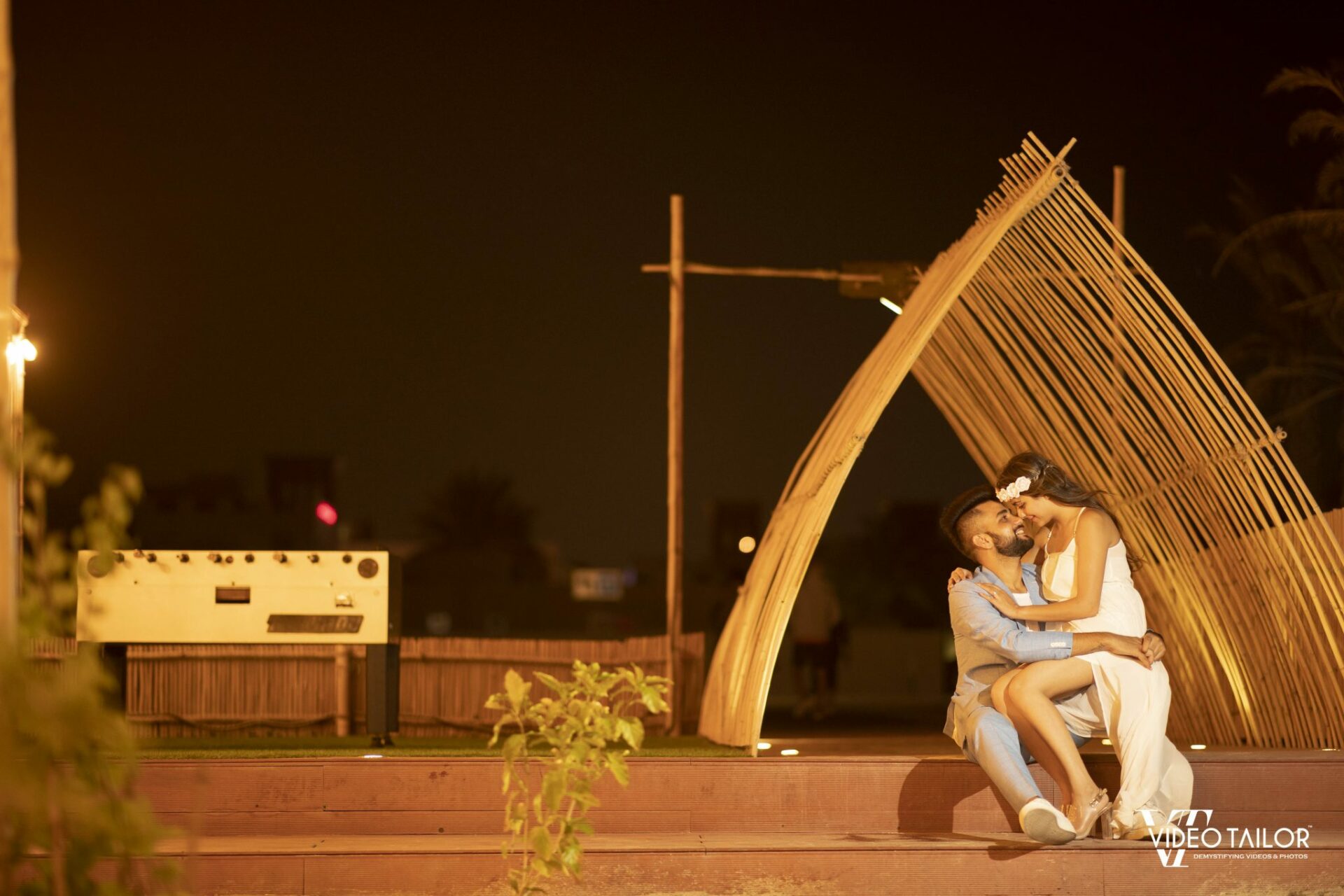 DILWAALE IN DESSERT
Remember the song Gerua from the movie "DILWAALE"!?
This prewedding shoot was the recreation of that song, same dessert, same level of romance just different Shahrukh and Kajol. Also with the modern touch to the outfits, surely a RED-SAAREE but with frilled veil as its "trendy" this year.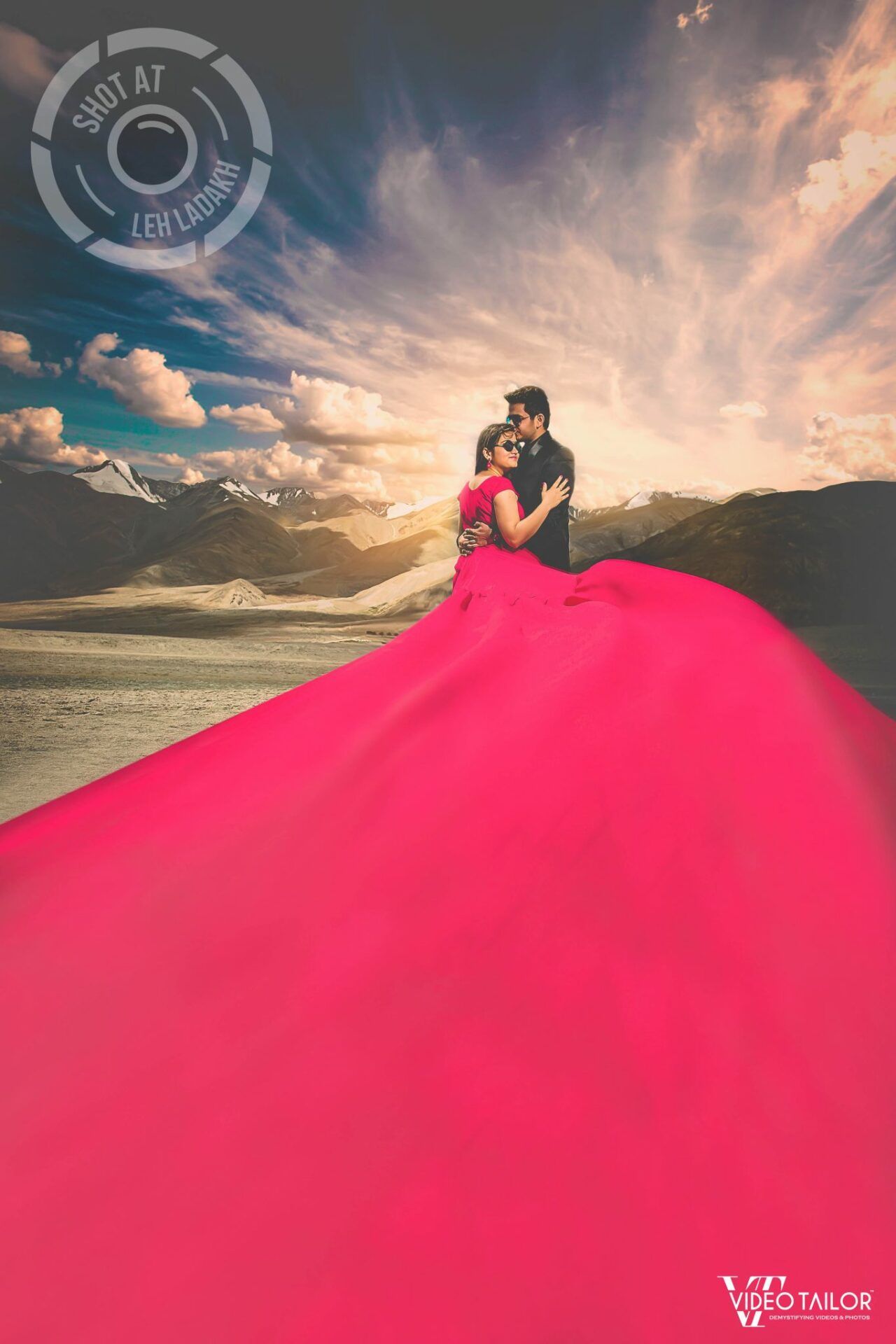 Eeny, meeny, miny, moe – MINI ME, MINI YOU
If you are looking for something different than those lovey-dovey, hand-in-hand, under the stars photoshoot than try this. Give your miney the lifetime memory with this cute theme because we know you can't decide what you like more!! 😉
This miniature photoshoot will leave every one star-eyed.
FASCINATING SILHOUETTE
The most intense theme for pre-wedding. In this only your shades talk about your love. No expensive outfits, jewellery is needed. Just you, your love, good amount of sunlight and of course a skilled photographer.
Flaunt your love and let the shadows talk for you- perfect for those camera shy couples.
OLD FORTS ARE GOLD
Get yourself captured in an old fort for that heritage kind of look to your shoot. The lights on the edges of the fort are adding elegance to the shot, also red never fails to dazzle up the setting. Go knee down and propose her once again and let her lock the moment and save it to her heart but WITH CAMERAS this time.
You, Me and Fire
Romanticism is at its peak if you are under a starry night, around a bonfire and in a beautiful setting like this.
Talk, be free, be your self, let the photographer do his work with the candid shots! *winks*
In the realms of the snow, Don't say NO!
We know you always wanted this, love in the snow. The mountains and old breezes are perfect to set the fun mood even of the shyest couples. So Recreate your favorite Bollywood movie scenes and save the images for lifetime.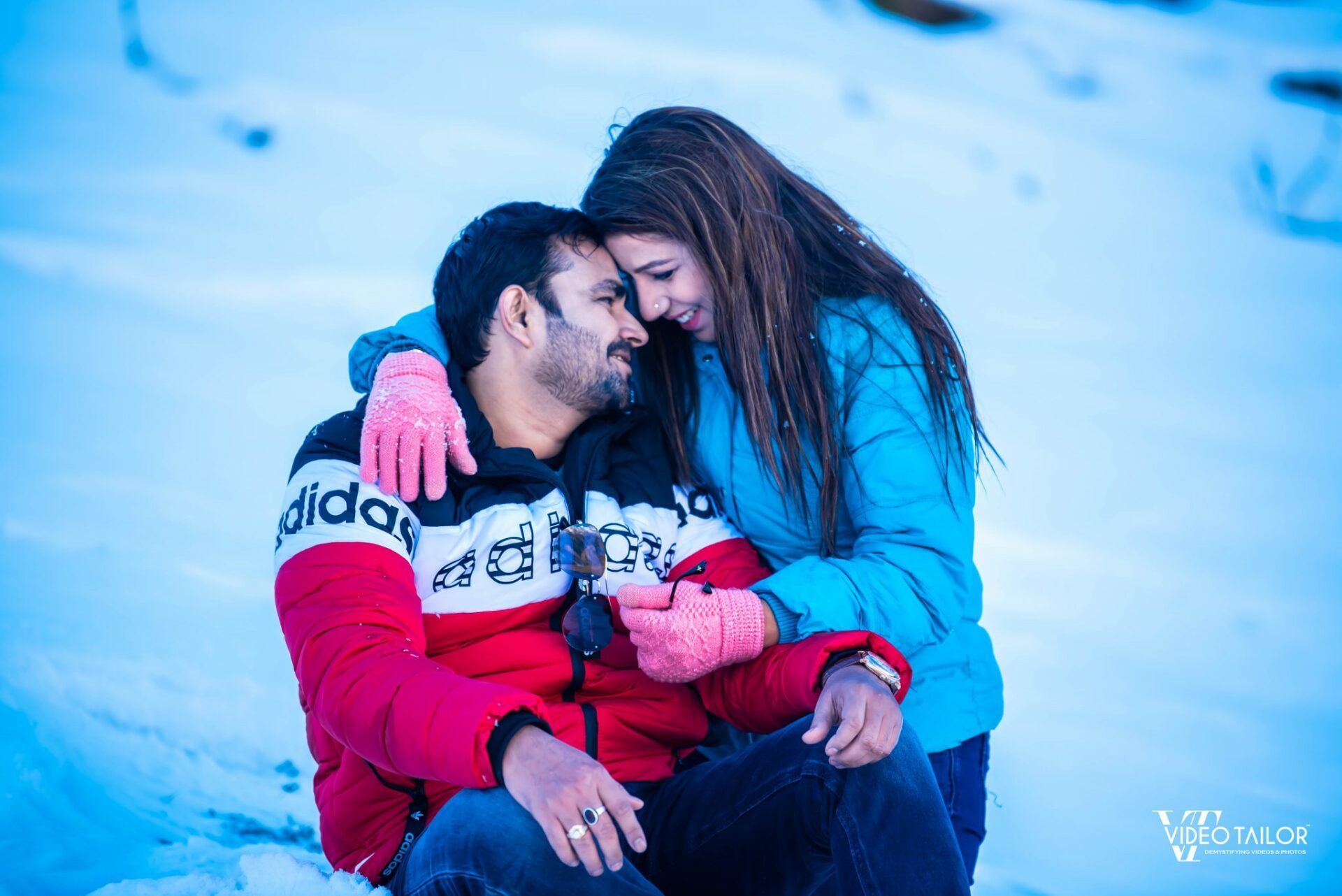 Blue is ROYAL
In our religion, blue was used to welcome the King. It is also symbolized as the night sky in which the stars appeared to announce the birth of Jesus.
Add a touch of royalty in your pre wedding shoot to make it look effortlessly elegant.
Lost In The Eyes
This picture is depicting  the lyrics "IN AANKHON KI MASTII".  Get away from the city and walk in the woods to spend sometime together alone and let your eyes talk. While the photographer will be there to capture your loving moments so you can add them in your memory lanes.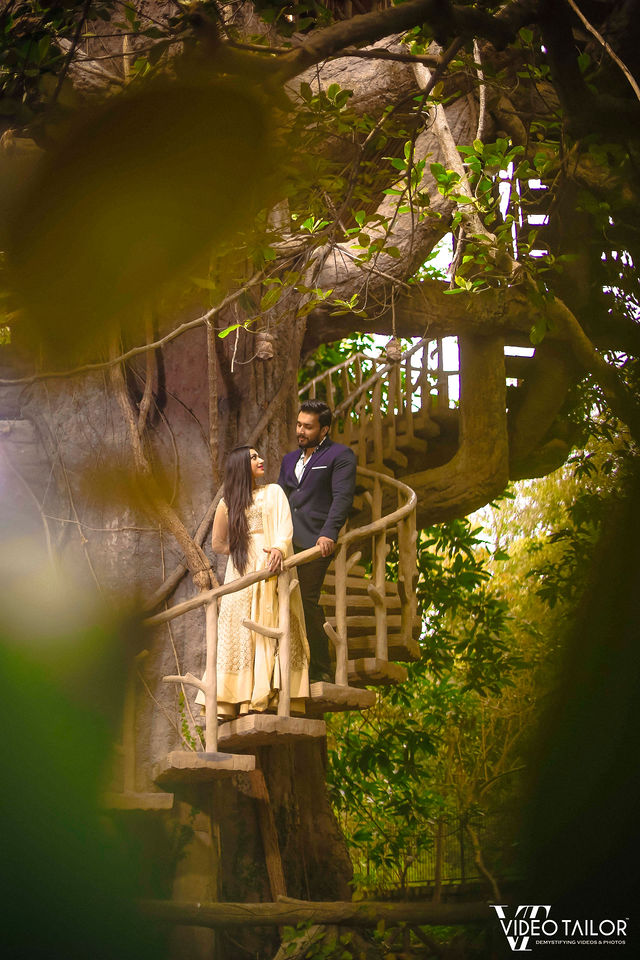 Peppered Dessert
Ready to chase the sunsets together forever with the beautiful sand dunes and the pastel purple sky in the background.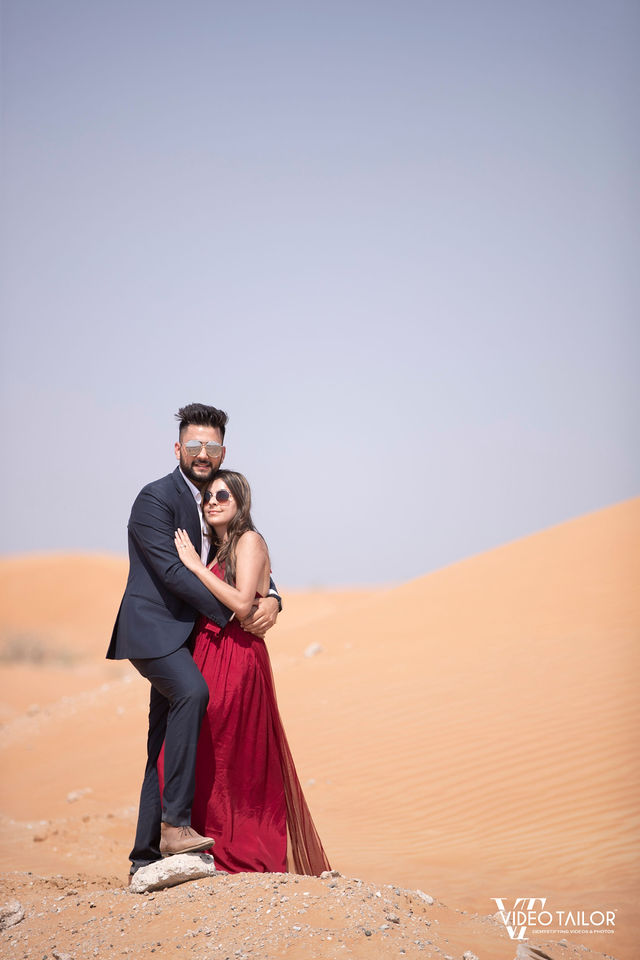 Dreamy Drone Shot
Bored of all those cliche poses? Get yourselves captured from the sky.
No tension of having your makeup on point, the perfect flawy outfit and re-takes for the perfect click.  Also its one of the most trendy pre-wedding photoshoot Idea.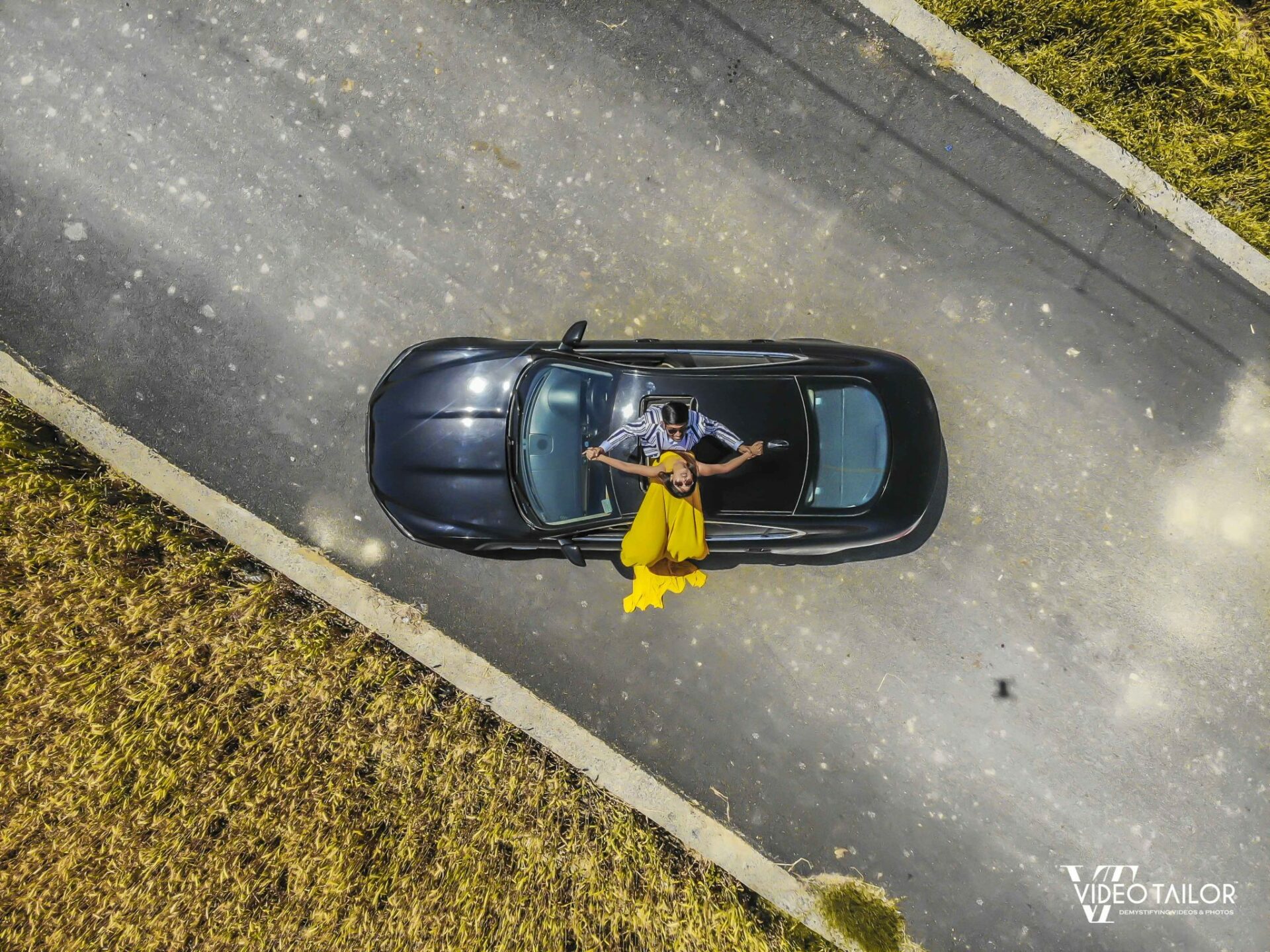 Anjaani-Anjaani
Who doesn't want to get their love story captured in Dubai?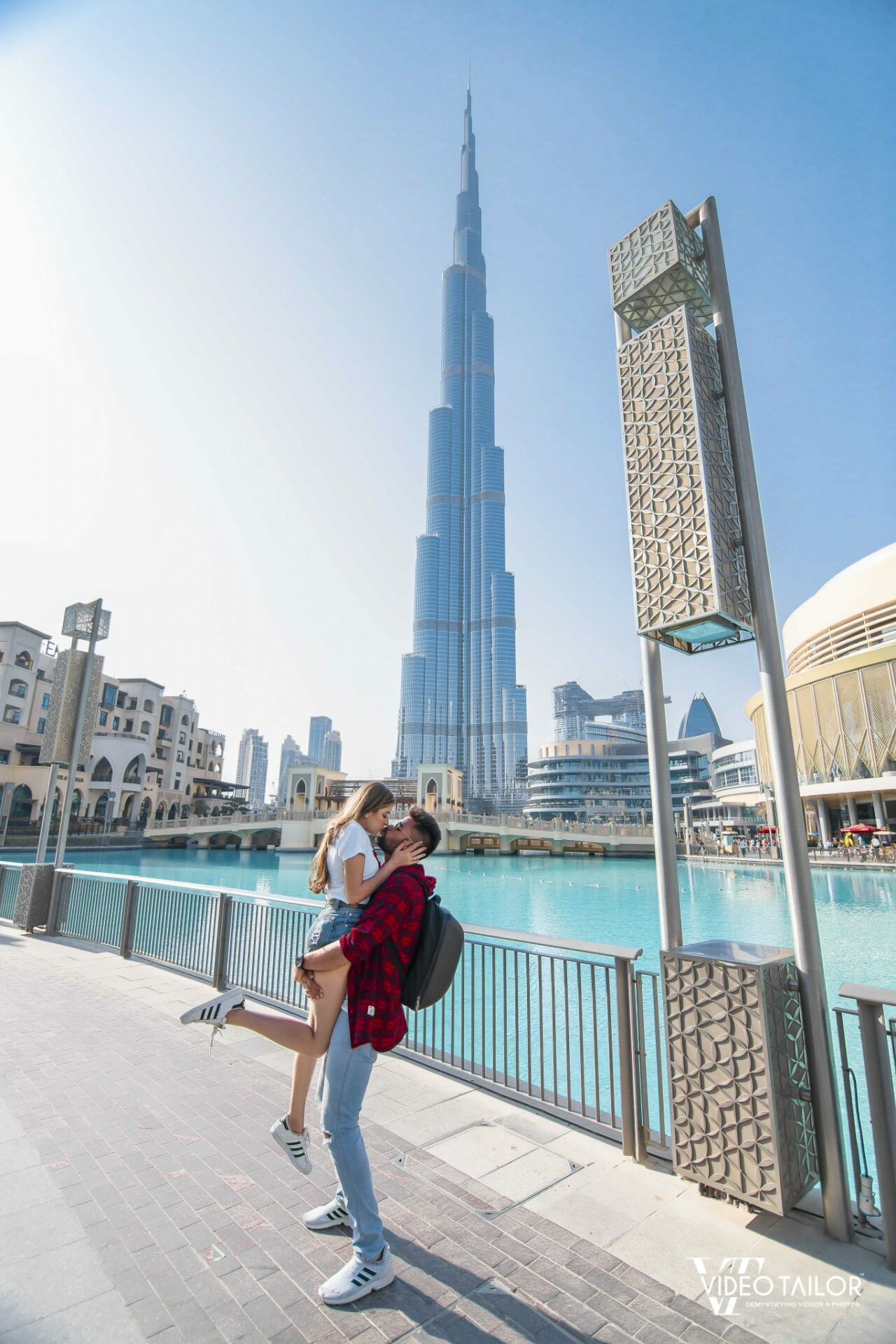 Let all the madness come out in front of the camera, be the Anjaani and Anjaani of your story just like this couple and get yourselves the stupendous shots you can cherish for your life time.
Let the Inner child come out
It's no fun in hiding the little child inside of you, get comfy in your night wears and be yourselves.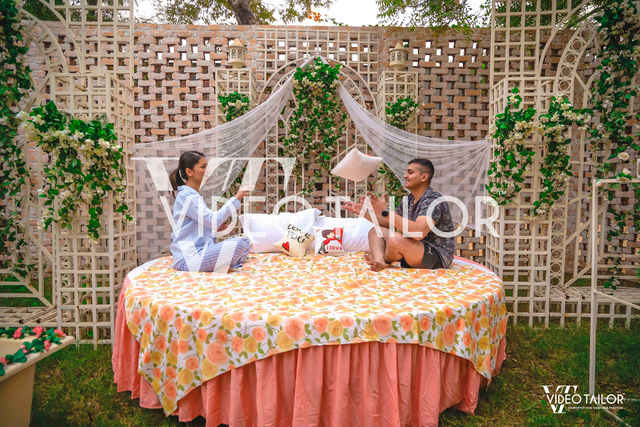 Do the pillow fight and your little fun fights on camera.
See the magic on how charismatic images comes out which will serve you, YOU TWO even after the years of your marriage.
Black Is Classy
Black never goes out of style you know? Get your happiness captured because you just found your love of life. Just be yourself and let your photographer do wonders for yours shoot by capturing all the laughter and joy on your faces.
So these are the images recommended by us for your quirky pre-wedding.
If you too want a pre-wedding shoot but left clueless then don't worry we are here to help you out, take inspiration from these pre-wedding images by Video Tailor.
We have a  number of more themes that you can pick as per your personality. This is how alluring, unique, and memorable pictures are made. To forge something like this, plan the pre wedding photoshoot well in time so you can explore the locations and pick your favorite one. Pick your favorite outfits, accessories and let the happiness on your faces  and of course the photographer do the rest of the work.
SO WHICH ONE ARE YOU GOING FOR? ALSO FEEL FREE TO DROP YOUR SUGGESTIONS IN THE COMMENT SECTION BELOW