How to get the best results from your wedding photographer & videographer
May 21, 2022
Getting the Best Results from your Wedding Photographer and Videographer
Wedding photographs are a tangible memento for your big day which you want to cherish forever. This will be a lifetime memory, but what if your precious moments are not captured beautifully by your photographer. Tragic. Isn't it? So, choosing a photographer who will capture your astonishing, emotional, and touching shots is an essential task.
Similarly, the video of your wedding is an investment for you. It is a way to capture your wedding day in celebrated technicolor so that you can adore these moments again and again with time. Video also helps you to relieve the moments you weren't present for, the bits that make everyone go ROFL and get emotional at the same time.
So, opting for wedding videographer and photographer should be the main task for you as if the photographer is not great or up to the mark, then it can ruin your photos and videos for the wedding.
So, before suggesting some tips and tricks to get the best results for them, we will tell you the ways to select wedding videographer and photographer.
Deciding the budget
There are hundreds of wedding photographers in Delhi; similarly, the cost varies too. Because of this, you have a high chance of finding a photographer according to your budget. If videography is a big commitment to you, then don't skimp on it. This isn't cheap, but the price happens to fluctuate depending upon the credentials of the videography, how many videographers and photographers you require according to your customs. How much you want photos and videos to look. This can set your budget accordingly.
Therefore, decide what is your budget and then accordingly select the package and modification.
Style you Prefer
Wedding ceremonies have a unique place in everyone's life. There is so much going on between the couple, family and friends. This also brings the task of selecting what kind of images you want in your wedding photos and videos. Some people wish to traditional outlook in their weddings.
They want to capture the necessary pictures, the traditional poses. Whereas some people prefer candid shots more. So, you have to select what kind of style do you prefer.
Tips And Tricks for Best Results
Now, if you have selected the Wedding Photographer and Videographer, the main task comes from getting the best work done by them.
So, here are some tips and tricks for this.
Aware of the equipment's they would use
How they are going to deliver (online or offline)
Are they comfortable with flexible event hours
Give ample amount of time to your photographer to shoot getting ready and couple portraits
Behavior Best Wedding Videography Tips
1) Plan Ahead
The most important thing for your wedding planning can be that vendors are well organized and planned. Similarly, it goes to your wedding photographer. He should be planned ahead of his time. Discuss the important factors with them. Coordinate with them about the location, your arrangements, any special performances or anything you want to be captured. This will help them to be prepared before, leading to very less mistakes.
Be clear with them
Want your wedding video in less than two months. But what if your wedding photographer and videographer says no to that?
Do your homework before selecting one. You don't want to wait for 6 months for a four- hour video. So, discuss with the one you finalized about at what time you should expect your video and photographs.
Feed your photographer
With your wedding customs, your guests are not only starving but the photographers too. Having been on foot all day long shooting customs can be hectic and tiring. They also need a moment to rest and recharge themselves before the party gets started. Include them in the budget of meal when counting heads. Don't just include them in lunch boxes "vendor meal". Feed them as they require energy too.
Decide what pose you want
Don't expect from your photographer to tell you every way to pose for your bridal photos and pose for photos you want with your groom. Your photographer will suggest you but you eventually know what is your best side and how you feel most pleased. They love when you work for the camera. The more into your photos you are, the better it looks. This is most probably the best time of your life where you will have professional photos done, so enjoy and live it up.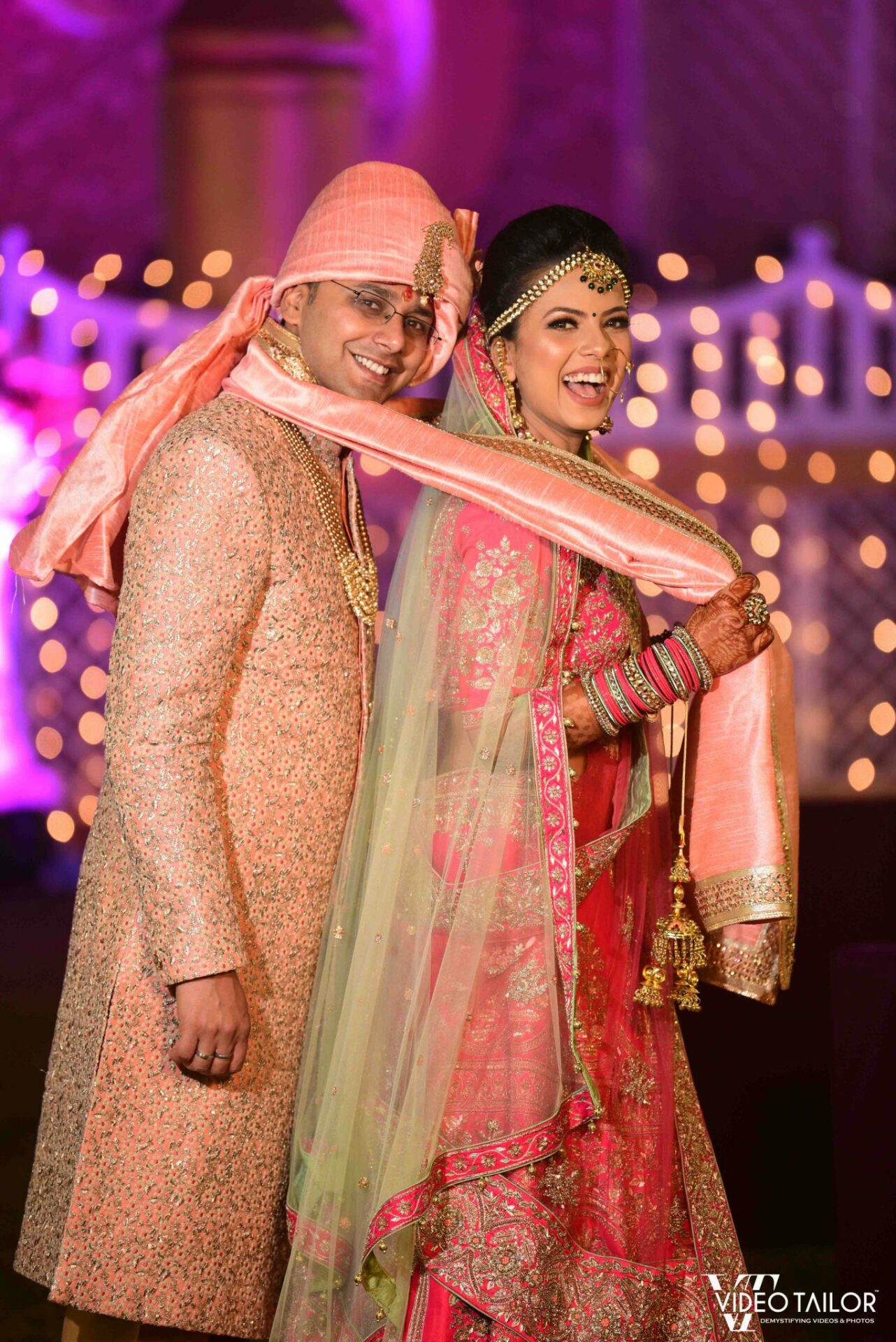 Try different postures
Wedding is a big occasion in a girls' life. She practically dreamed about it from childhood. You also may want to have a fairytale photoshoot with beautiful pictures of your wedding then why to compromise? Bring out the inner supermodel and pretend that the photographer is your mirror.
Pose like you secretly strut in front of when no one is looking. Watch shows or videos of brides. Study fashion magazines to outline the different poses that suits you. Practice them in front of the mirror before you are in front of the camera. Don't be shy while clicking pictures with the groom, show passion with your love! Stop getting embarrassed by others and click whatever photos you want with your fiance. Your photographer wants to see the laugh you share, the sweetness in your eyes when you look at each other, the way you snuggle up together, the sassiness of knowing you look hot on your wedding day, the way your groom knows he's with the hottest girl in the world, etc.
Treat them with respect
Sometimes, people tend to forget that photographers and videographers are human only. They tend to get irritated with them about how they follow, ask them to pose. People treat them like a servant but let's not forget they are the one who will capture your wedding in such a beautiful way that you will cherish it forever. So, treat them like people and don't be arrogant to them.
These are some tips and tricks you should remember while having a shoot and hiring one. We at video tailor provide you with the best service and supervision, so that your wedding photos and videos be the best. Go check our Instagram, Pinterest and our website to get the best ideas and suggestions.