Alluring Pre-Wedding Shoots in Leh Ladakh
May 10, 2022
Ladakh , The Land Of Mystic Lamas
Ladakh, is known as the "Land Of High Passes" is the highest plateau in Jammu and Kashmir. Leh is a town in Leh district of Indian state of JAMMU AND KASHMIR.  Ladakh is located between the Himalayas and Karakoram mountain ranges and is famous for its Monasteries. The raw beauty and majestic nature can attract anyone and It is famous for its rich culture.  If someone is planning for a trip , name of Ladakh always comes in mind and it is the dream destination for most of the people not only in India but also around the world.  You can also plan your Pre-Wedding Shoots in Leh Ladakh.
Leh Ladakh is famous for lots of things and mainly people go there to enjoy its scenic and serene beauty and to capture the beautiful places over there. What if you get a chance to visit there and capture your beautiful moments before your wedding.. Isn't it exciting??
But you must be wondering that where you can go for your Pre-Wedding Shoots in Leh Ladakh. This blog can help you choosing a right place for your Pre-wedding shoot. But firstly you should know about the Things Ladakh is Famous for…
What Leh - Ladakh is famous for??
Firstly , these both destinations are famous camping and Trekking. People enjoy the fun filled and adventurous camping activities there such as mountaineering , water rafting etc. So for your pre-wedding shoots, you can get captured and can enjoy the moments at the same time. These beautiful valleys and mountains will surely make your picture collage more attractive.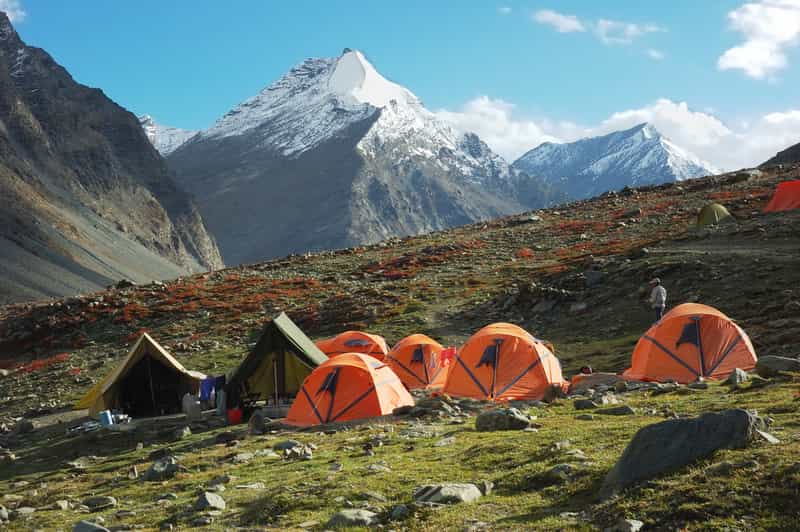 Secondly , you can experience the Nomadic Lifestyle . You can dress up like the people living there. You can live like them, experience the cultures and enjoy the festivals also. If you are visiting there during the festival season, you can witness the festivals like Hemis, Ladakh Harvest festival, Tak-Tok festival and many more.
It is famous for its finger licking unique Food. when you there, don't forget to try the momos , thukpa and other Indo-Tibetan dishes .
Leh-Ladakh Videography by Video Tailor
Perfect Places for Pre-wedding shoots
1. Magnetic hill
It is the only hill in India with Anti-gravitational effects where you can experience the mysterious magnetic properties. If you looking for a place surrounded by rocks and mountains, this is the perfect choice.
This place is for the people who love to enjoy walking on the middle of roads and getting clicked.
Best time to visit: June to October
Nearest Airport : Leh Airport
Location : Leh-Kargil-Srinagar national highway
Timings : 8:00 AM – 5:00 PM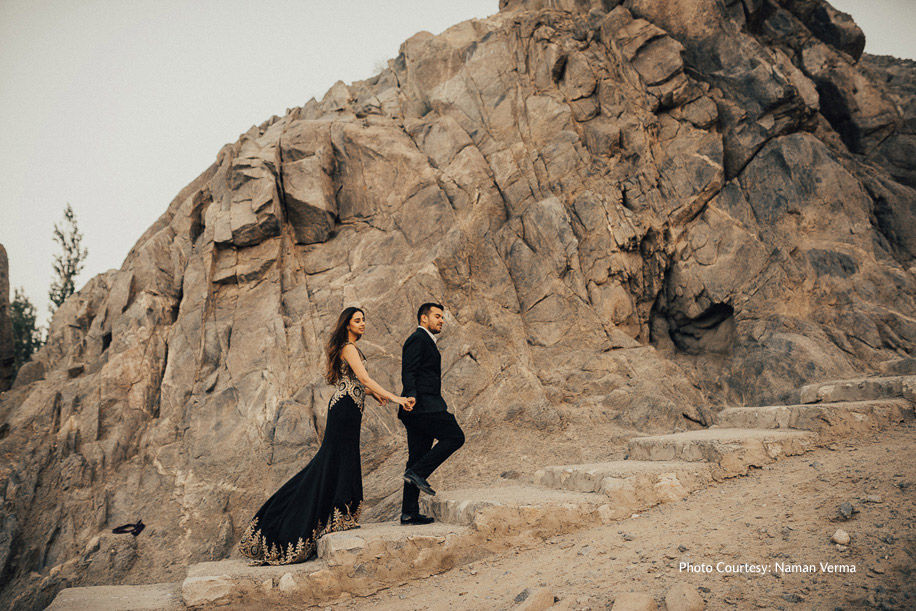 2. Pangong Lake

The famous sparkling blue Pangong lake is situated near Leh-Ladakh . The lake completely freezes during winters and a unique feature of this lake is, that it doesn't remains blue throughout the year or even the whole day, everytime it changes colours from light blue to green and grey.
It is a famous tourist attraction and it has gained popularity after being a spot for many film shoots of the blockbuster movies like Dil Se, 3 Idiots, Jab Tak Hai Jaan, Sanam Re, Tashan and many others. The sublime beauty and crystal waters surrounded by gentle hills of Pangong Lake are an exceptional example of the scenic landscape.
Permits : Inner Line permit is required from Tourism council Of India. The permits cost is around INR 700 Per Person.
Best Season: May to September
Nearest Airport : Srinagar International Airport
Location : Five hour long drive from Leh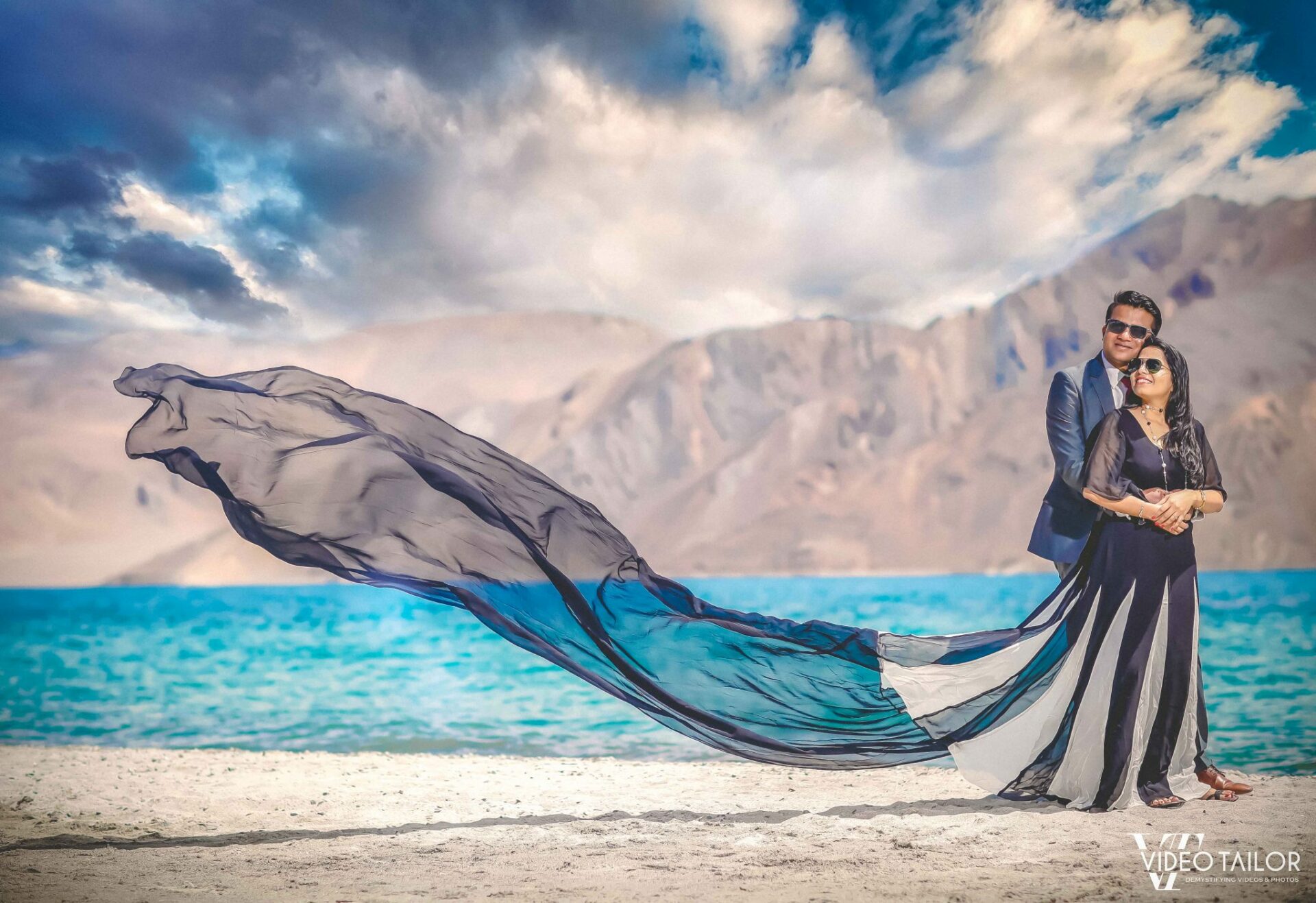 Note : 1. A medical certificate is required for this trek, it is a pre-requisite document without the certificate, you will not be allowed on the trek.
2. The Local authority (LAHDC, ALTOA) charge fee for the trek which is around INR2650 per head. Trekkers are required to pay the fee amount before starting the trek in Leh.
3. Chadar trek

It is one of the best shooting locations in Ladakh. It is the place where the roads, mountains are fully covered by snow and you can only see the frozen rivers on your sides. If you are looking challenging beautiful treks for your Pre wedding shoot, this is going to match your requirements.
Trekking to this Frozen River requires Nine days, so if you are an adventure lover, this place is best for you. Also this location can be the most beautiful location for the photoshoot because here the background is having all the pretty effects that you need in your Pre Wedding photoshoot.
Nearest Airport : Leh Airport
Best Season : Mid-January to end-February
Location : South-East of Leh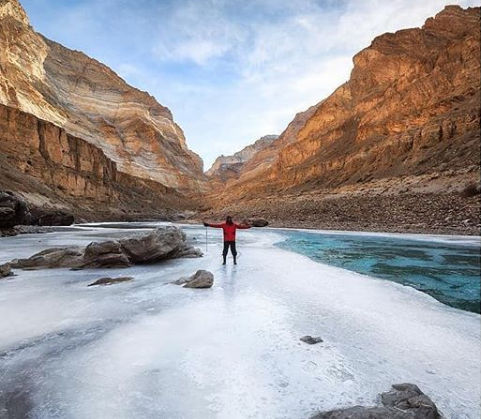 4. Nerak

Nerak is a gorgeous frozen waterfall with deep gorges and cliffs. Here you can enjoy the view of brilliant scenery and plus the frozen water. You can go for shoot on the wooden bridge as the view is more beautiful and clear from there.
You can give beautiful poses near the waterfall and can enjoy the moment at the same time.
Nearest Airport : Leh Airport
Best Season : January to February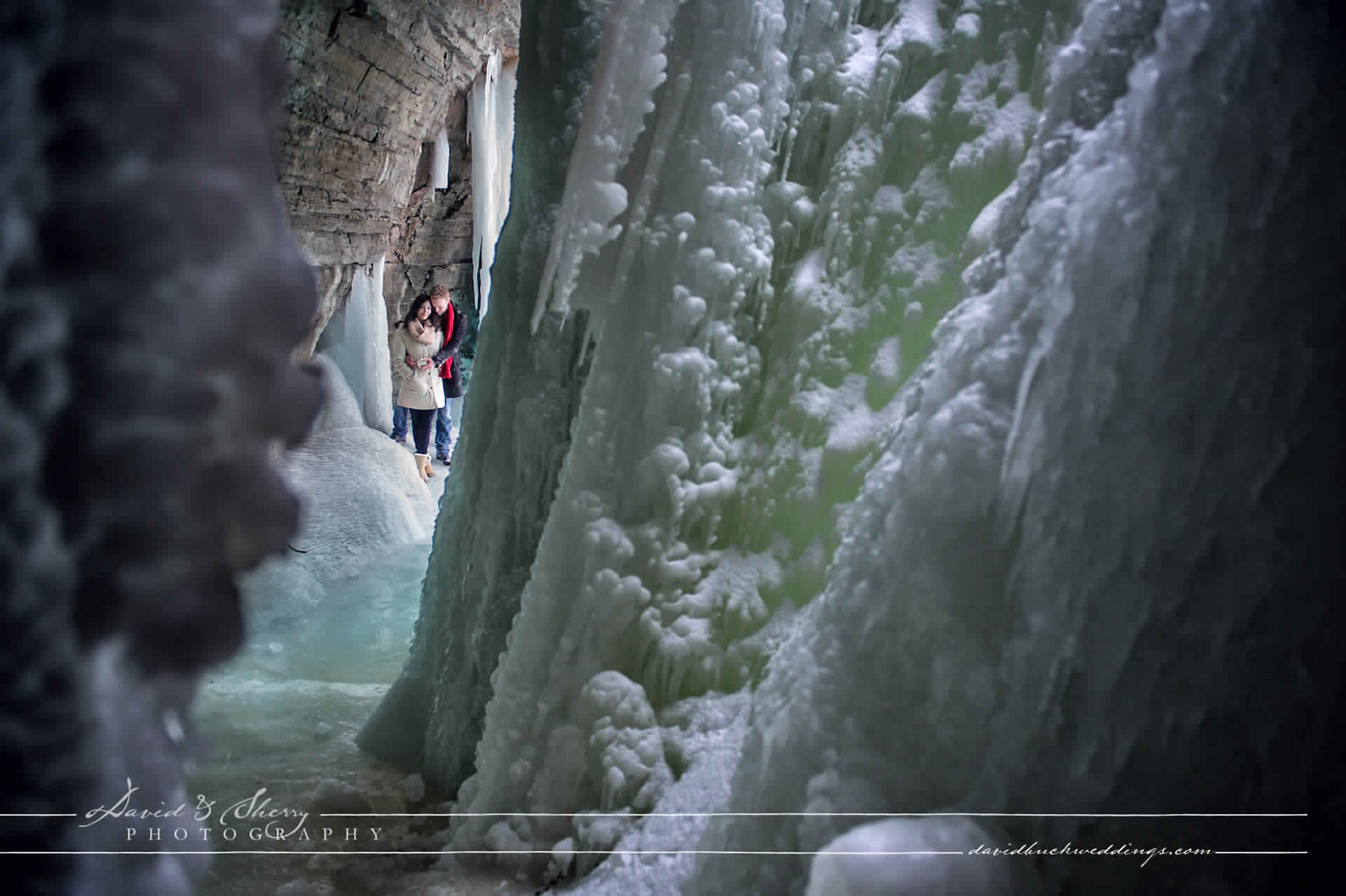 5. Tso Kar Lake

The beautiful saline lake also known as Tso kar is located in southern part of Ladakh. It is like heaven where you can capture everything in a frame when you will turn your cameras on. If you are going there, don't forget to capture the sunset pictures.
For a couple, the sunset is the most eye-catching part which can be captured beautifully and it shows the chemistry between the couple.
Best Season : June, July, August
Location : Rupshu Valley which is about 250 kms southeast from Leh.
Nearest Airport : Kushok Bakula Rimpochee Airport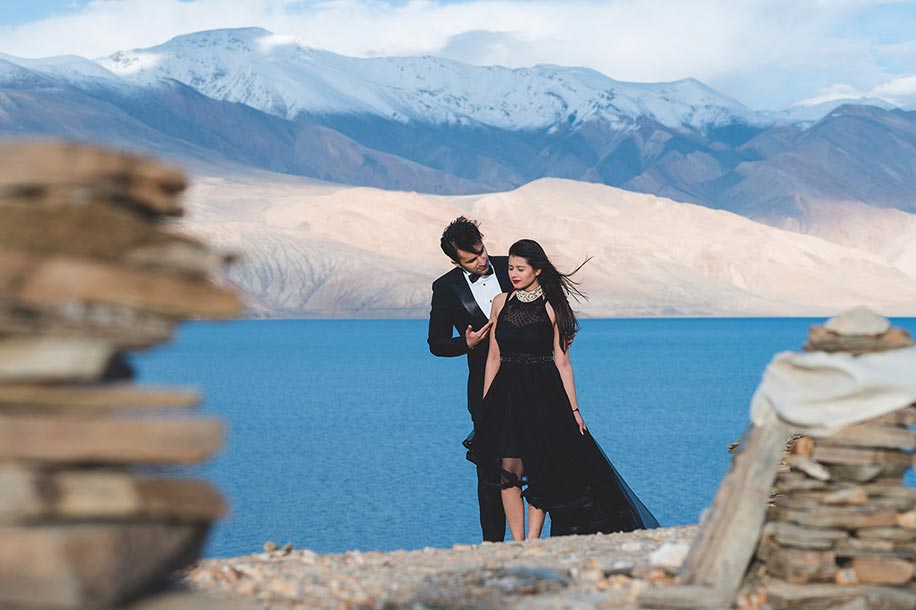 6. Drass Valley

It is located on Srinagar Kargil National Highway also called as Gateway of Ladakh is a landscape of Brown Barren mountains. This background has beautiful mountains and the bridge is enhancing the beauty of the picture.
One can have a mixed experience here, as you can get the view of green valley and brown mountains.
Best Season : June – August
Nearest Airport : Shaikh-ul-Alam Airport, Srinagar
Location : Kargil District of Jammu and Kashmir
Best Time to Visit Leh-Ladakh
Some people prefer travelling in summers and some in winters. But if you are visiting Ladakh for your Pre wedding photoshoot, Autumn season is best as you will not be interrupted or irritated by the crowd as it is the end of tourist season.
And summer season is not recommended as it is the most common time for the tourists and you won't get the good pictures. And winters too are not good for the photoshoots , only if you are a person who doesn't likes cold weather. But if you like snowfall and ice-covered roads and rivers, this season will be best for you. If you travelling during winters, Make sure to carry winter shields and Woollen wears.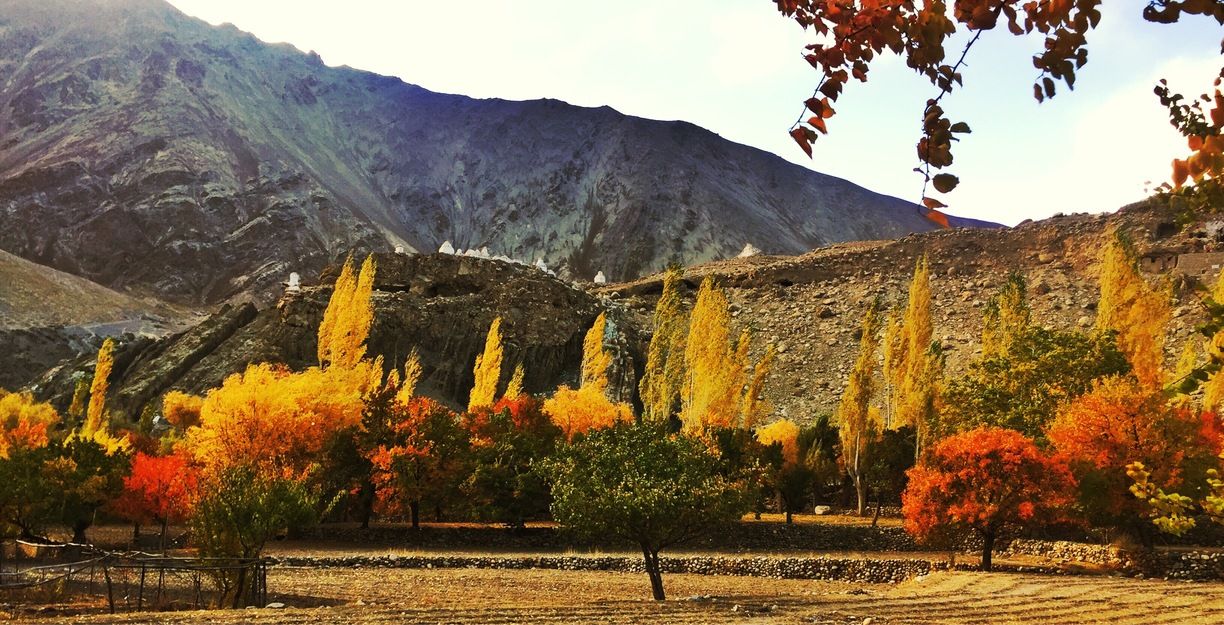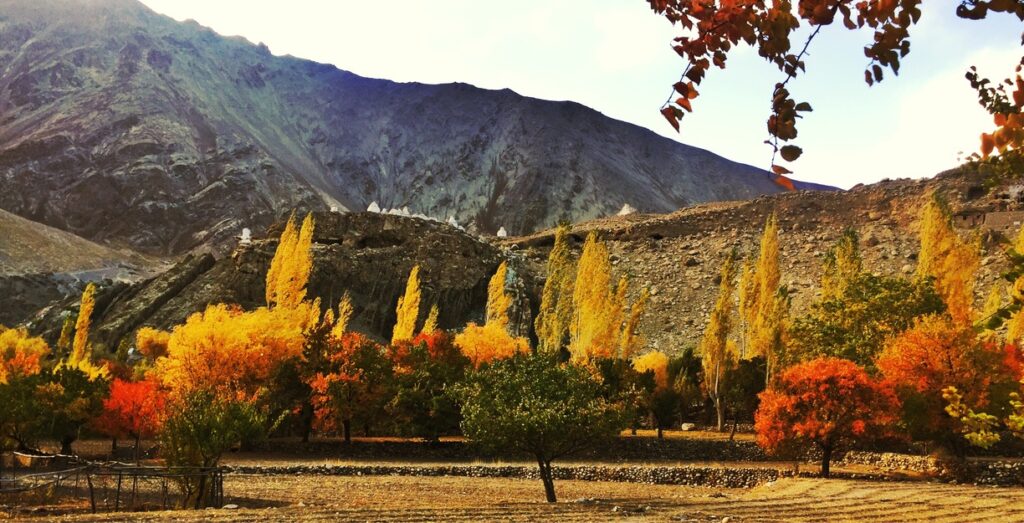 The Autumn season starts from September and ends in the Middle of November , you can have the best views of clear sunsets, crystal clear deep blue lakes/rivers and yellow and orange leaves everywhere.
During mid-September season, you can also explore SURU and ZANSKAR valleys. These are one of the least visited places in Ladakh, this is one of the main reasons you should go for the photoshoot there. Also it snows sometimes during late Septembers. Ladakh festival is celebrated in this month

In October month, you can visit Wari-La which is the high mountain pass and the highest pass in Nubra valley. Snowfall starts in this season. And there are only few people left like locals and less tourists. During this month, Diskit festival is held.
At last ,during Mid-November, visit Tso Moriri lake and have the alluring views of blue-green mountains with white capes. And this lake is famous as Pangong lake and is a must visit place in Ladakh. You can also enjoy Thiksey and Padum festivals during this season.
So these were few places, you can visit in Leh Ladakh for your pre-wedding photoshoots. Also you can visit these different places according to the weather and months you prefer.
Good Things
First of all it's an adventurous destination for those who are adventure freaks, best for bike riders, a group of friends and nature lovers who love having fun doing different activities. Another thing are the Snow clad mountains that you can see throughout the year with the most beautiful scenery in the backdrop.
Not So Good Things
The climatic conditions and travel are a bit rough. The weather condition of this place is not suitable for Infants and older people as they may face some breathing problems. People living at low altitudes can take time to adapt to places at these heights. So its not recommended for the people who are suffering from breathing problems.
Things To Carry
A Medical Kit:
Band-aids
Dettol/ Savlon
Headache Medicine
Dizziness and body pain Medicine
Disprin/Asprin
Medicine to suffice lack of oxygen
Other necessary stuff:
Torch with extra cells
Water bottle(NOTE: Lots of water to be carried)