The significance of Haldi Ceremony in Indian weddings
May 14, 2022
Indian weddings are no doubt the most fun and colorful weddings in the world, with a number of Pre-wedding and Post-wedding traditions and Amongst all these traditions, Haldi ceremony holds a special place because of its beautifulness, uniqueness, auspiciousness and of course it is fun. Haldi not just adds colour and taste to our food but also have health benefits and it holds great importance in Indian culture. In this article, we will tell you about everything you need to know about Haldi Ceremony.
What is Haldi Ceremony?
Haldi ceremony is an important custom that is present in the Indian wedding system for many centuries. In Haldi Ceremony, An aromatic paste or mixture is prepared with Haldi, Sandalwood, Curd, Milk, Rosewater, etc and then it is applied to bride and the groom's face, neck, feet and hands by their families, relatives and close friends followed by a ceremonial bath. This ceremony is held at both bride's and groom's respective places on the day or prior to the day of the wedding. The Haldi ceremony is accompanied with traditional Songs, Delicious food and sweets and lots of dance and photography. The Haldi ceremony is also known as ubtan, mandha, tel baan in different regions of the country. For more information regarding Haldi Ceremony please click here.
Why is Haldi ceremony so significant in Indian weddings?
1- To keep off Buri Nazar(Evil Eye)
Haldi is considered extremely auspicious in the Indian culture, and it is believed that Haldi would protect the bride and groom from bad omens and mishappenings that might harm them before their wedding,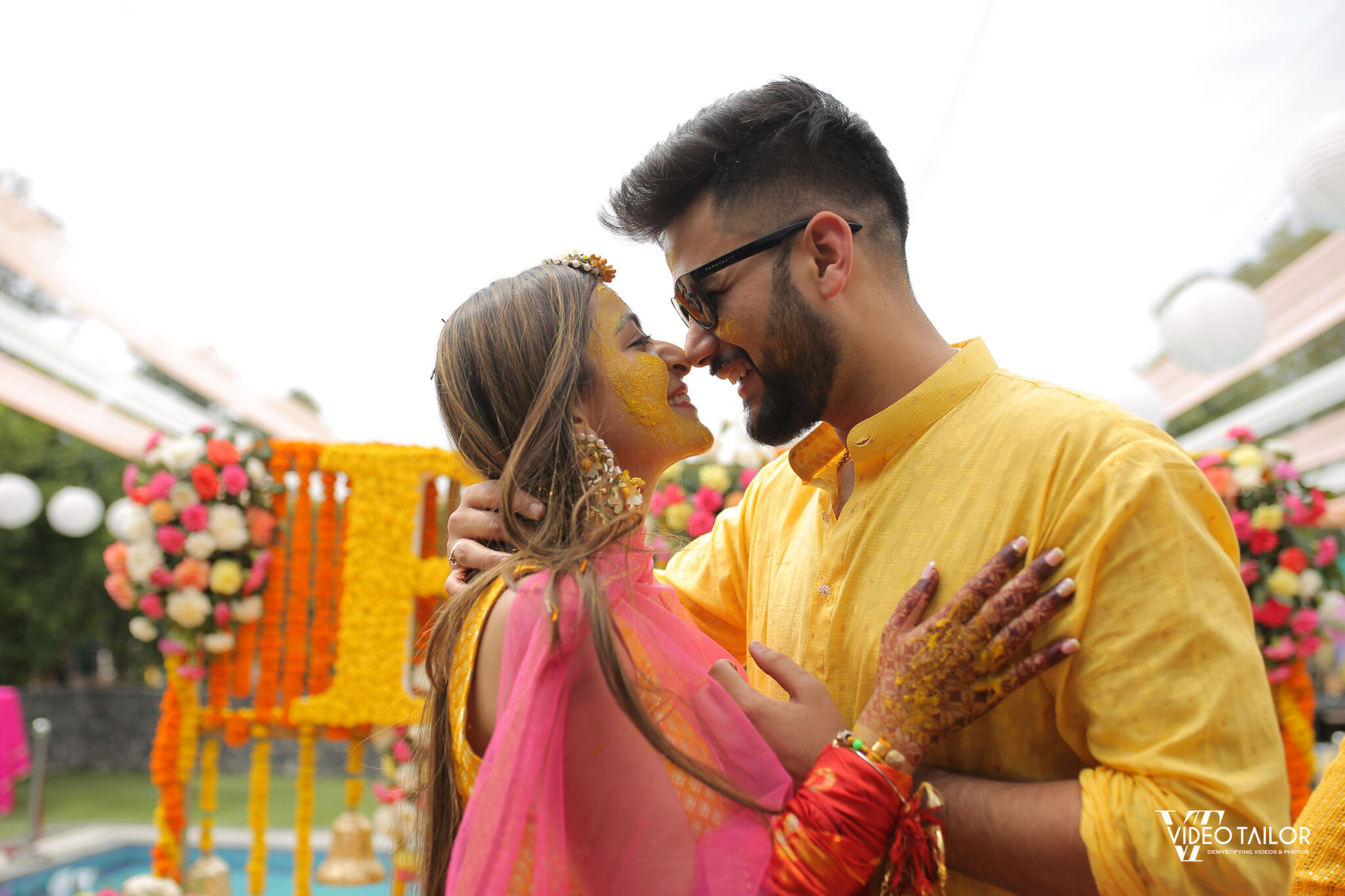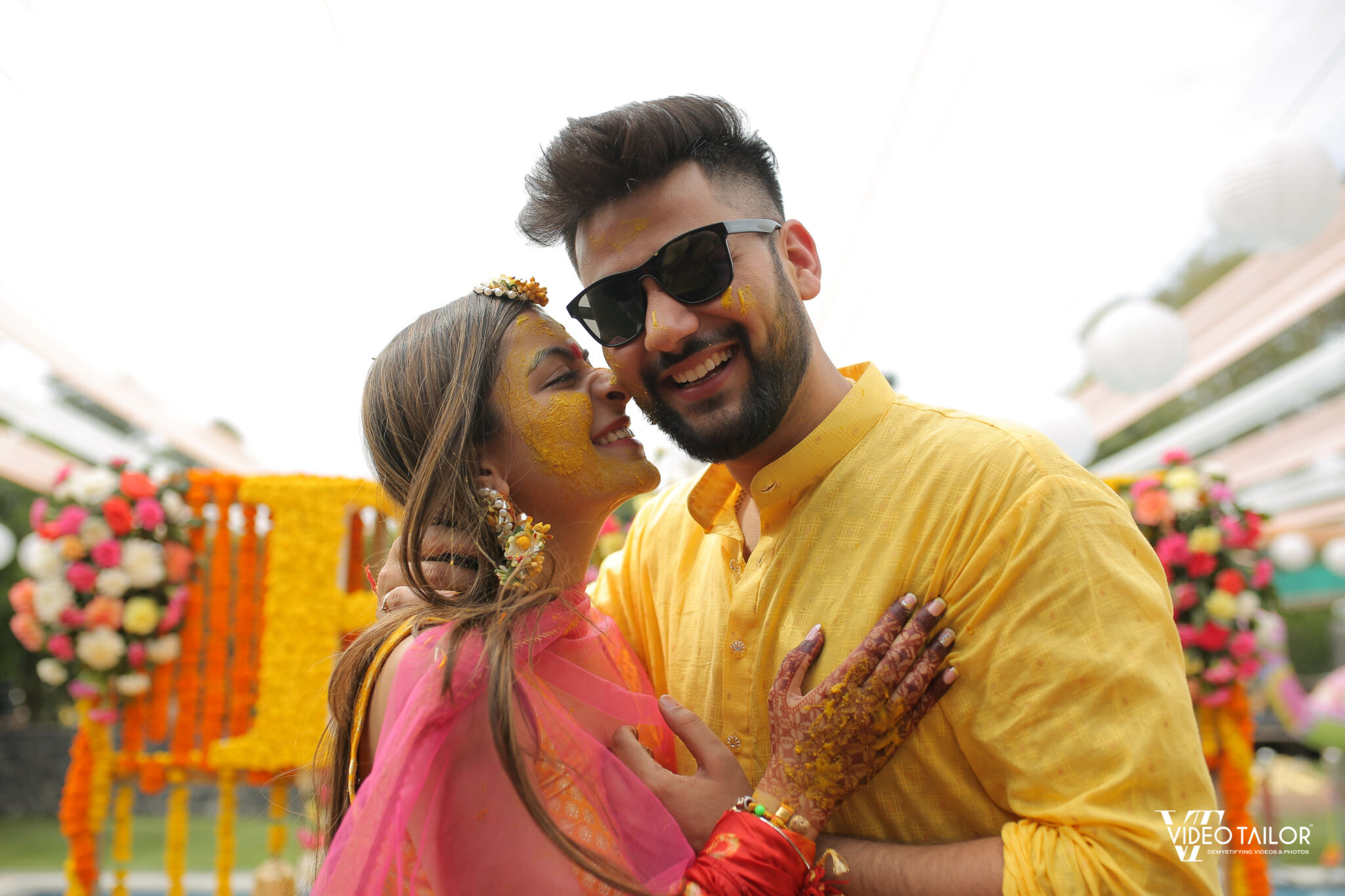 Because of this reason the bride and groom are advised not to go outside their home till their wedding.
2- For the Blessings
Haldi Ceremony is an event which provides a get together to all the elderly people especially ladies with bride and groom just before their big day so that while applying the Haldi they can shower their invaluable blessings and congratulate them for embarking their new life.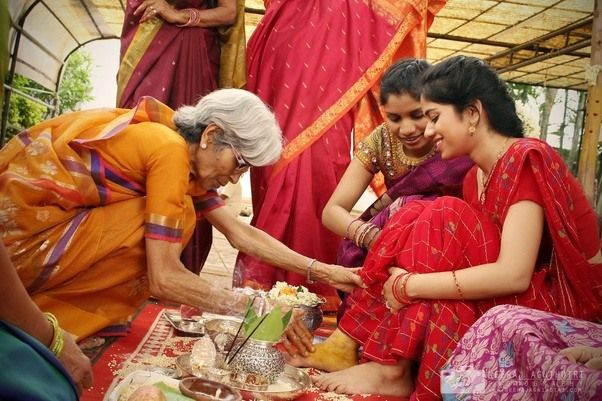 3- Beautification
when the beauty parlors and cosmetic treatments were not there in this world, India already had invented a fully natural cosmetic treatment called Haldi paste.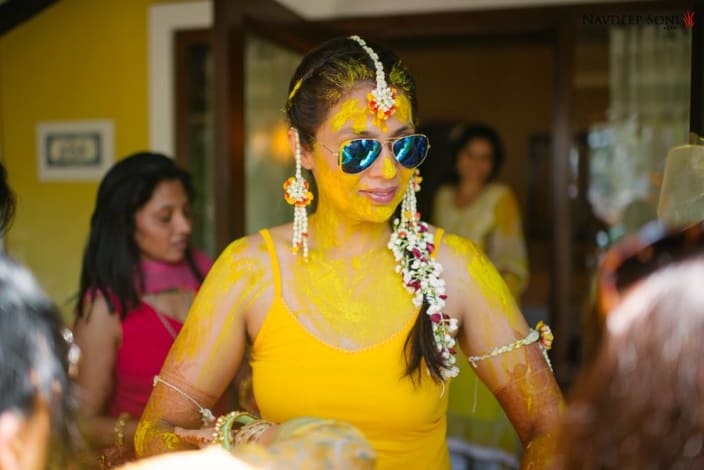 IN Ayurveda, Haldi has many beauty properties, It provides a cleansing effect resulting in the extra glow, and radiant skin to bride and groom. After the Haldi ceremony when the paste is washed off, it removes the dead skin cells and exfoliates and detoxifies the skin and it makes sure that bride and groom look spectacular on their most important day.
4- Helps with the wedding anxiety
Apart from cleansing and beautification, did you know Haldi also can cure nervousness, An antioxidant called Curcumin which is known to cure depression, anxiety and headaches is present in haldi which can help bride and groom to stay calm and relaxes their mind for their big day.
5- New Beginnings
According to Indian traditions, Yellow is the second most auspicious color after red which signifies spring, happiness, purity, prosperity and new beginnings. For the couple, who are about to start their new life together,
It indicates the life full of happiness and prosperity. In fact, most of the times the bride and groom are asked to wear yellow clothes during the Haldi ceremony.
6- Have Good luck for the unmarried ones
Yes, you have read it right! Haldi paste is believed to have a good luck in itself for the unmarried folks.
It is said that if a bride or groom applies a small portion of this auspicious paste on their unmarried siblings and cousins then they also get married soon with a good looking partner.
7- Act as an antiseptic
No doubt, Haldi has many benefits but did you know Haldi also act as an antiseptic against cuts, bruises or ailments. It is also beneficial for acne and pimples and removes dead skin, revealing bright skin underneath.
In short, Haldi ensures that bride and groom look at their best on the day of the wedding.
8- Provides relaxation
Haldi ceremony is generally performed early on the wedding day, thus making it the foremost step of the auspicious wedding day. It is the perfect occasion for the bride and groom and their families to relax for a while and have some fun with all the traditional songs and dances, before the busy day.
Also, as we had told you earlier that yellow colour is the sign of a new beginning thus it makes sense why Haldi ceremony is observed as an an indication of the actual wedding ceremony.
We hope that our article has  helped you in understanding the real importance of a Haldi Ceremony. Just like Pre wedding and wedding, the photo shoot and video shoot  of Haldi Ceremony is very important as it captures the magical moments of you and your family's last get together before wedding and also important for preserving of these golden time in photographs and videos, so  that to later relive them in future.
If you find this article beneficial and helpful in any manner then do like and share and feel free to share any of your queries regarding this article in the comment section below. Thank you