8 Best Wedding Videography Tips to Abide By
May 17, 2022
Top Wedding Videography Tips to Follow
Shooting such emotional, meaningful, once-in-a-lifetime events can be one of the most tiring and back-breaking things you will ever do as creative.
Events can't be duplicated; you are given with only one chance to get it right. This is what makes filming hard and challenging. You have to be too quick and responsive. Weddings are the most disquieting because Wedding ceremonies are treasured very dearly by the bride, groom, and their close family and friends. Follow the best wedding videography tips. To make their day unique and videos perfect, you have to be too accurate and have to avoid making mistakes on the wedding video. Making mistakes will be both disastrous and offensive to the newlyweds.
The difference between the good and the great videographer doesn't come down to having the best camera or gear. The main difference is how we handle the work.
So, to help you to handle all the chaos and burden, we the Video Tailor are here to offer you the best wedding videography tips and ways on how to prepare to shoot and be the best wedding videographer.
Coordinate with couple, venue and vendors
Before the big day, have a sit-down meeting with the engaged couple to know what all they are looking for in their video. You certainly don't need to have a coffee meeting or a consultation to plan the video. An email or a phone call will be sufficient for you to know about the specific things they need or want in their videos. Do they want to make sure some certain moments are captured? Are there going to be any surprise by the bride, groom or friends and family? Will there be a performance of any celebrity? Being ready to capture these moments will make your work stand out.
Reach out to the venues where the events are going to happen, find out about their rules and regulations, their guidelines, their area so that you will be familiar with the venue. The worst situation for a videographer will be that they have no idea about the site. Unfamiliarity with the place will make them look unprofessional. Moreover, you should also see the light settings on the venue so that you carry your equipment according to the requirements.
Communicate with some of the vendors; mainly you will work with on the wedding. Knowing vendors in the industry is your gateway to success. Having connections with them can land you future weddings with their recommendations to others. The first step and the best wedding videography tip for you of coordinating with vendors will be asking a copy of the schedule and contacts of the other vendors working on the same event. The second will be communicating with DJ about his setup, and then with the photographer. See, if the photographer is ready to collaborate with you. Getting conversant with everyone will make your work way smoother.
Stability
Stability is an essential thing for videographers and photographers. It is the best wedding videography tips to abide. Handheld is  undoubtedly not going to help you. Even if you use a Tripod, Monopod or a shoulder rig, be sure you can switch between the support gears as quickly as possible. Using one quick release plate on all of the support gear, it will be easy for you to change, and you will be ready to go.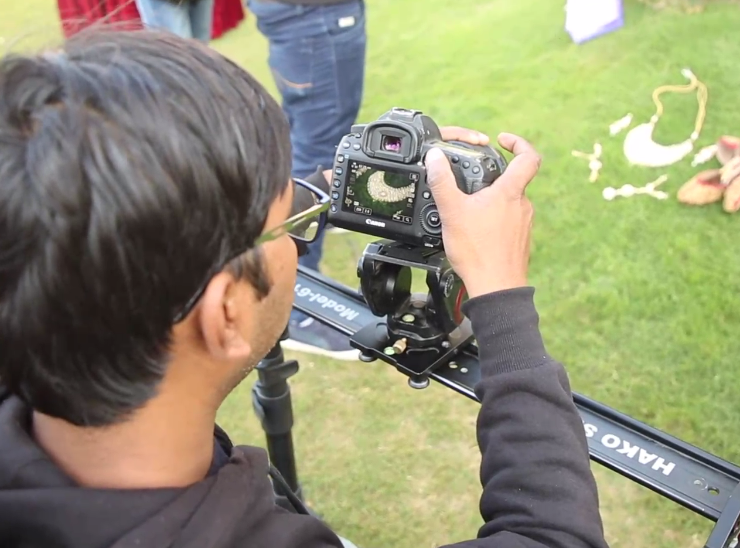 In Video Tailor, we use Zhiyun Crane 2. It lets you capture smooth footage with any camera that falls under his 3.2KG weight limit. It makes everything you shoot look better, by hand dampening handshake and other unintended movements.
Similarly, DJI Ronin specialized for DSLR and mirrorless cameras, integrated with all-in-one control, which allows you to switch between three user profiles with one click.
Should be Clear What to Shoot
A videographer needs more than a camera to shoot. You should also know what you want to shoot. Do you want to shoot only main events or want to capture all the small details about the wedding? You have to be sure about that. People assume that you will show up and will capture all the perfect moments and this is true, but no human is perfect, we tend to make mistakes so planning ahead of time is extraordinarily beneficial as there will be very less chance of making any mistakes. Communicating with the couple will help you this time, as you will know before about what to shoot, which is essential for a couple. Make a list before the wedding about what the shots and moments you are going to capture. This will let you be prepared beforehand and will be fewer chances of missing the crucial moments.
Coordination between you and photographer
Coordinating with the photographer is an essential tip for a videographer as you don't want him to spoil your video by coming in between.He will also appreciate this as he also wants you to stay out of his way and it's better for you too as there is nothing worse than the photographer being in all your footage and the flashes coming in between your video. So it's better for both of you to coordinate, leading to this you'll both capture better.
No ceremony should be missed
Just imagine that in between the wedding, there is a fun teasing going on between the devars and saalis, but you forget to capture this chatpati nok-johk. Couples may want to see these memories; these moments only make a wedding enjoyable much. So, to avoid these mistakes, you should be well prepared to switch your place. As with any big event, nothing goes as planned. So, you should be well prepared for these situations. Capturing every memory may it be small or big flawlessly will determine that you are an expert Wedding Videographer, not an amateur.
Equipment's knowledge should be there
One of the best Wedding Videography tips for you will be stability. You should know about all the camera equipment and lenses that you carry with yourself on the venue. Having zero knowledge about how lens works with what camera will be difficult for you to shoot on wedding. So, while doing your homework also be prepared about the camera lenses and when what equipment is going to be used.
Sony A7S2 camera is great for wedding videography as its compact size and lightweight makes it easy to carry and shoot video on by providing the perfect grip. It also has light control feature which is great for day time as well as night time. Similarly, 5D Mark IV focus on broad areas or with automatic focusing on the nearest subject focusing on the minor details with the help of its auto focus.
Wind up, after clients tell you to
Winding up and leaving before talking to the client will make you look like an unprofessional videographer. Talk to the client, ask if there are any more customs or rituals left? Asking before leaving will come out as a professional outcome for you as you are not speeding, although giving full attention to the client. Your small steps like this only will make you a professional from an amateur.
Behaviour
Be aggressive in capturing the footage; make your way in the front. It will not be possible to obtain the varmala video from behind the crowd. But this doesn't mean that you have to be rude with others. Remember they are just excited for the bride and groom and like to capture and don't want to miss anything. Being aggressive and being rude are two different things. The last thing you want to do is to be offensive to other people.
Hope these tips and tricks help you to obtain amazing shots and footage. Do tell us in the comments section below about what you think of the article and any more tips you want to add in this.