Veil Bridal Portraits that are Trending Hard on the Internet
May 25, 2022
Veil Bridal Portraits that are Trending Hard on the Internet
Do you remember the time when wearing a veil was not the first thing that came to the mind of the bride when planning the wedding attire? Ah, believe us when we say that the trend has shifted. Veils are now a must have for bridal photographs, and our brides never cease to amaze us with their stunning veils to match their gowns or lehengas.
Here we, at Video Tailor, are here at your service with some beautiful brides who shunned the traditional way and opted for a stunning style with a veil. Take a peek at these wedding veil photos for some picture inspiration.
Get, set, and read!
Going with the conventional can never go wrong!
So, going with red on your wedding day can never put you in danger (pun intended), right? Any color can make a comeback, but red is still one of the most popular choices for Indian bridal apparel. With red ethic veils, brides manage to add charm to their wedding pieces.
So, how about you pose with the veil covering your face to give an elegant shot?
The modern picks, yes?
Of course, on talking about the traditional choices, you obviously want to hear about the modern choice, right? When it comes to wedding attire, pastels have become the new picks of brides. For their wedding day, many brides are opting and going for pastel color veils, which make them appear like princesses. Also, notice how the bridesmaids are posing with the veil, which gives it an air of love and nobility.
Under the veil shot
You obviously cannot take a chance to miss out on such whimsical shots! It is time that we accept that under the veil shots can never go underrated. You get a chance to lay focus on the bridal jewellery, lehenga work, and show off your flawless make up!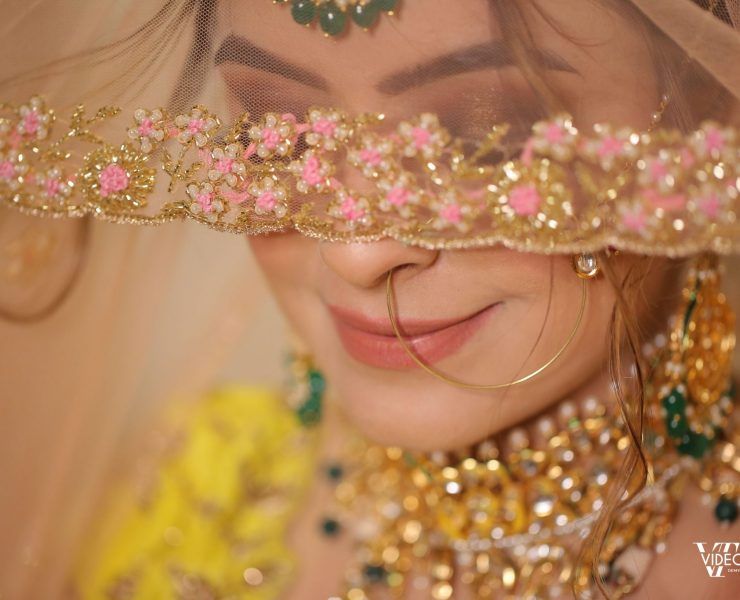 The bride can make eye contact with the camera lens to give a royal look or wait… are you a camera conscience bride? It is completely okay! Lower your eyelids and give a shy look to the camera to capture an elegant shot.
Flow long or go home, is it?
I am sure it is a dream of all brides (since they even started thinking about getting married) to go around with a looooong veil, are we right? Show off that queen vibe you carry as you move around the venue with a cloth piece so magnificent. Plus, this stunning pink veil with shimmering sequins is worth a click!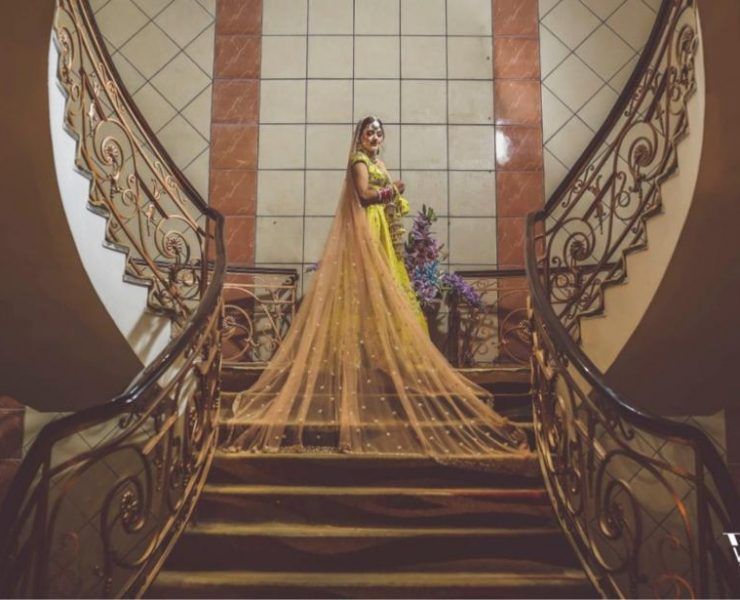 So, if you are someone who is looking for some ideas for bridal veil portraits that are trending hard on the internet, then we hope that this blog was able to assist you. We, at Video Tailor, cater to all types of shoots varying from engagement, pre-wedding, wedding, or even anniversaries. We aim at spreading numerous smiles and capture them in our cameras for you to cherish throughout the years for generations to see.