RULES YOU CAN FOLLOW WHILE BUYING A LEHENGA ONLINE
May 27, 2022
10 RULES YOU CAN FOLLOW WHILE BUYING A LEHENGA ONLINE
Buying your dream wedding lehenga is something that every bride looks forward to. But let's face it; bridal shopping is not easy and especially during this time when the pandemic has hit us. Hence, online shopping for the rescue! We know, we know, it can be very difficult but all you gotta do is keep some rules in mind and go get that wedding lehenga that defines "you as a bride".
Bridal outfit is something that directly affects the other important decisions like your wedding décor, the theme, matching the outfit with your partner, your jewellery, makeup, etc. That is why we would recommend starting the search for your lehenga as early as you can. It is also something that is the main aspect of the wedding, from the weather to the location of the wedding, you should go for the lehenga that best fits all your requirements.
Keep reading and find out some simple but helpful rules that will help you and make online bridal lehenga shopping easy!
TRUST THE PLATFORM YOU'RE BUYING FROM!
There are tons of platforms selling bridal lehengas, but you definitely don't want to end up buying a first copy or a bad rip off. So the first point would definitely be to buy your bridal lehenga from a trusted designer or going through an online portal that you trust or know through someone. Another helpful tip here would be, making a to-buy list before you start looking for the lehengas, so it's easier for you to make the designer understand your needs.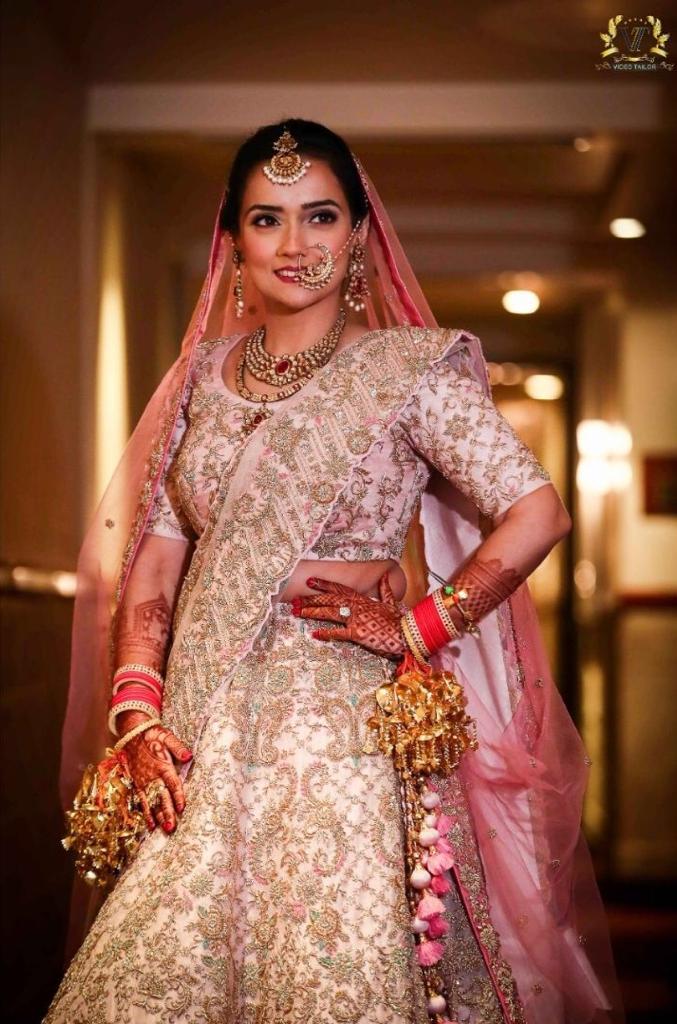 DO YOUR RESEARCH RIGHT!
Before you start with the journey of buying that "right bridal lehenga", do your research on the platform you have selected. There is no harm in asking questions if you're confused about something. Ask relevant questions, check the reviews and do what's best for getting that bridal lehenga. This will be a very important step before you even ask for the video session.
A VIDEO SESSION BEFORE BUYING THE LEHENGA IS A MUST!
Video session? We know it sounds bleh, but everything looks gorgeous and perfect in edited and posed pictures online. And that is why we recommend a video session, so you're sure about the small details, the fabric and even the colour of the lehenga. Before you choose your bridal lehenga, make sure you're 100% sure about it. Not because you cant exchange it or get it re-done, being sure about your lehenga will save your time from doing things again. So to be sure about your bridal lehenga, you can always ask your designer to have a video session before you buy it.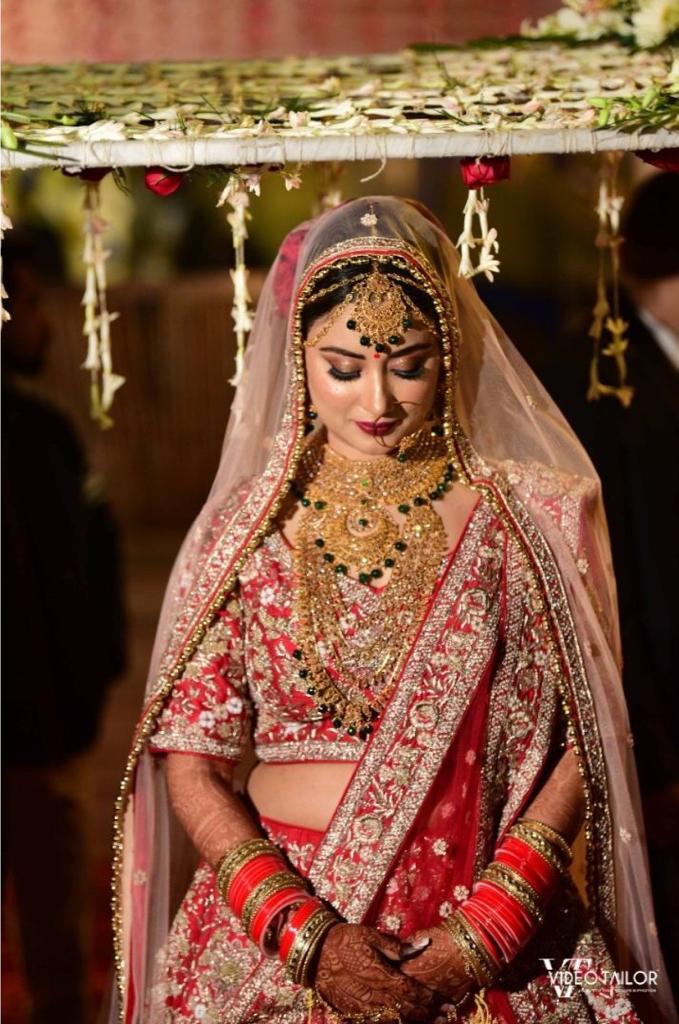 INSPECT YOUR LEHENGA.
Once you're through with your wedding lehenga, you have chosen your style and colour, don't forget to inspect your wedding lehenga in more detail. So here's a tip. Since all lights differ, checking your wedding lehenga in different lights is very important. Ask your designer to show you the lehenga under different lights, and even under natural lights. Go through images that will show you the lehenga under natural light, even if you have a night wedding. These things are very crucial because colours and shades differ in natural light and yellow light.
DEFINE YOUR BUDGET & KEEP A TRACK OF THE PAYMENT PROCEDURE.
We know this is a one time thing, and you want the best. You're definitely ready to invest in your bridal lehenga, but before that, estimate it keeping your jewellery, accessories and other small things in mind. Once you do this, tell your designer your budget and get the bridal lehenga that is the best for you. Another thing would be, checking with the manager of the store, or designer about the payment mode and keeping a track on the advance and other small payment details.
MAKE SURE IT'S REFUNDABLE
This is another very crucial point while buying your bridal lehenga. While you're considering any portal to buy from, ask your designer first hand if it's refundable. A very small but important point. I'm sure you wouldn't think of the refund because you have bought the lehenga after all the research but just so you don't go out of your budget or if there are any last minute changes, a refundable site is always better.
TALK ABOUT THE CUSTOMISATION.
We know, mismatching has become a trend and it's the best thing to experiment with your bridal lehenga. If you want a second dupatta, or a stylish blouse, some cuts, ask your designer before confirming the lehenga. This one can be a task because not all designers would do that for you. So ask your doubts, get them clear and go ahead.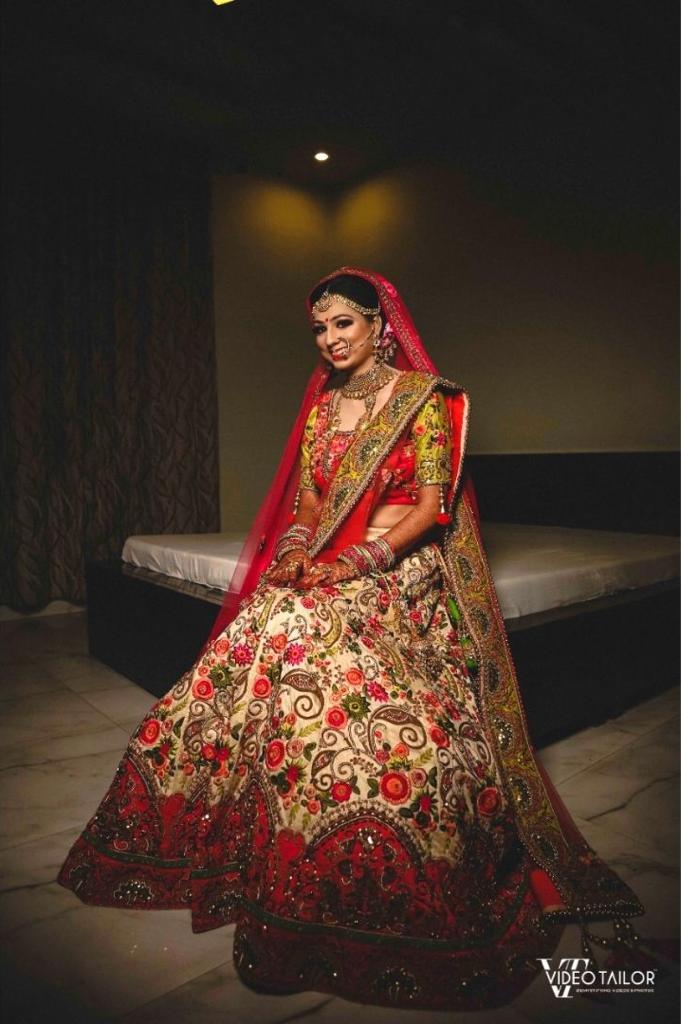 DELIVERY ITINERARY.
Once you select your bridal lehenga, whether it's a custom made or you are buying it off the rack, make sure you have the complete guide towards the delivery timeline, everything on email. This will save your time from last minute fittings and confusion. Delivery timelines have become very important due to the delays because of the pandemic. So check everything beforehand with your designers.
RENTABLE PLATFORMS.
We know that buying a bridal wedding lehenga is every girl's dream, but just in case you're someone who thinks renting a lehenga is an option too, it definitely is. Before you go and buy that wedding lehenga, you can always look up for platforms that rent out wedding lehengas in case you don't wanna own one.
READ IT ALL!
Shopping for bridal lehenga is a fashion in today's digital world, but don't forget it's still digital. To avoid confusion and last minute hassle, read it all. Start with the terms and conditions, check for the returns, fittings, trials for the customised lehengas, and read everything in between before you hit the "buy now". This is especially very important if you're in another state or city and buying a lehenga from another city.
All the lovely brides-to-be, we know it's not easy buying your bridal lehenga especially in these times when offline shopping is a bit of a task. But go ahead, keep these 10 tips in mind and we are sure you will find your right wedding lehenga. But hey you all gorgeous brides, take complete benefit of your gadgets and also save your efforts for that other wedding-related activities! Happy surfing and happy shopping for bridal lehenga online!