Pre wedding shoot in Tawang
May 20, 2022
Pre wedding shoot at Place of Monasteries
Tawang or Dawang located at the tip of Arunachal Pradesh and India is a beautiful hill town, known as the birthplace of Dalai Lama. It is a very sacred place of Buddhist monks and is also known as the land of Buddhist Monasteries. But apart from it, Tawang is also famous for its hills, waterfalls, lakes and stunning mountains. It is more of a picturesque town with a touch of religion and culture.   For more information regarding Tawang, click here. Tawang has many natural wonders wrapped in itself and here we have listed some of the most prominent ones where you can have your lovely Pre wedding photo and video shoot.

Top Pre Wedding Locations at Tawang are-
1- Tawang Monastery
Located just at the foot of green lush hills, the elegant Tawang monastery is the 2nd largest monastery in Asia and is one of the topmost vital religious sites of Buddhism.
It really deserves to be in the first place of this list as it's architecture and the nearby mesmerizing viewpoints is a real treat for the couples who come here for their Pre wedding shoot. This historic building has witnessed the history of the last 400 years, preserving rare arts, culture, old manuscripts, wall carvings, beautiful paintings and last but not the least it's famous 8 meter tall statue of Buddha.
Timing – 9 am to 6 pm
Entry Fees- N/A
Nearest Airports- Salonibari Airport(6 hours)
Photography and Videography – Allowed
Major Attraction – 8-metre tall Buddha statue and scenic beauties
Tip -Excellent place for Couples, Nature Lovers and Photo Fanatics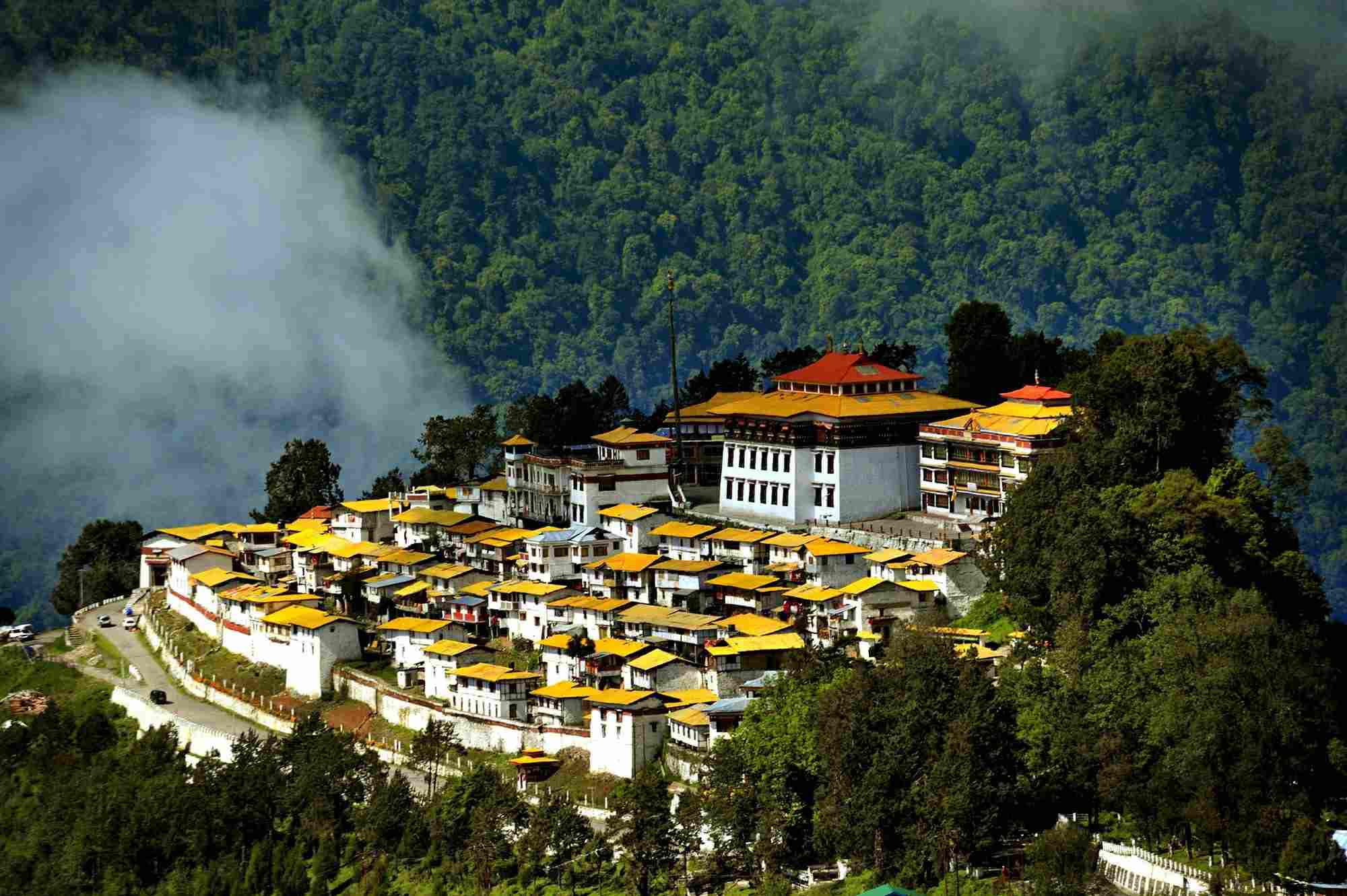 2- Sela Pass
One look at it is enough for you to yell "HEAVEN ON EARTH". Sela pass is the lifeline of the Tawang district which connects Tawang with the rest of the country. While driving, you will come across many iconic sceneries and lakes(Tip- don't miss Sela lake) where you just can't resist to ask your driver to stop and take pictures but the real fantastic view that melts your heart is on top of Sela pass, where you will come to know how beautiful the Himalayas are.
In winter season when this whole area is covered in white cotton ice then it would be the perfect time for you to have the most alluring Pre wedding shoot in the most alluring destination.
Timing – No official timing but best visited in the morning
Entry Fees- Free
Location- 74 km (3 hours) from Tawang monastery
Photography and Videography – Allowed
Major Attraction – Sela Lake
Tip – For the Pre wedding photoshoot, Nature Lovers, Adventure Seekers and Photographer.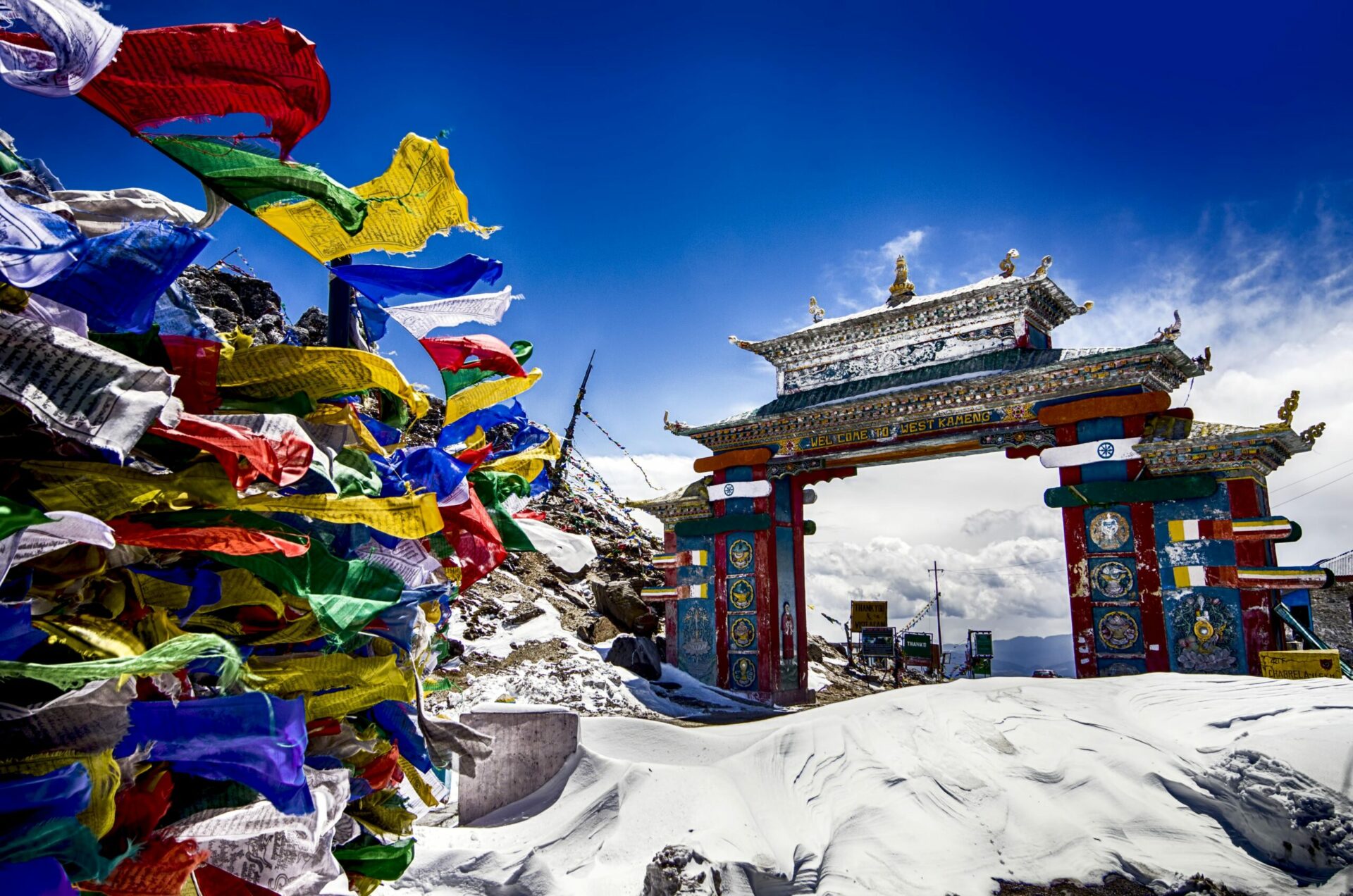 3- Nuranang Falls

Looks like a fountain of glittery milk is flowing from the green hills. The Nuranang Falls also known as Jang falls or bong bong falls is the most popular waterfall of AP but still largely unknown across the country means it is still virgin and explorable and due to its ravishing views, beautiful sceneries and peaceful environment there is every reason that you should include Nuranang falls in your Pre wedding photo shoot and video shoot.
Timing – 9 am to 6 pm
Entry Fees- free
Location- 34 km(1 hour) from Monastery, 2 km from Jang town
Photography and Videography – Allowed
Major Attraction – Scenic natural beauties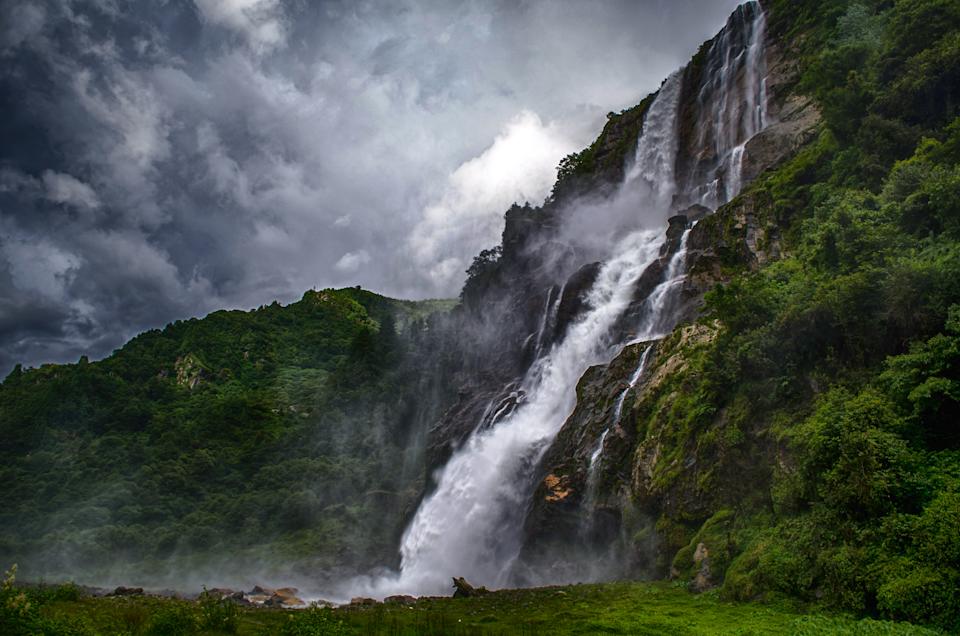 4- Madhuri lake

Originally known as Shonga-tser Lake, this lake got its name Madhuri due to the shooting of the famous Bollywood film Koyla.
Surrounded by wonderful green valleys and snow-covered mountains under shiny blue sky filled with cotton white clouds, this is what we call a natural marvel and we bet you will instantly fell in love with this beautiful lake because the calmness, it's location and the spiritual environment around it, is enough to rejuvenates your soul and fresh your mind.
Timings – 8 am to 5 pm
Entry Fees- free
Location- 36 km(1.5 hours) from Monastery
Photography and Videography – Allowed
Major Attraction – It's surrounding make it look like a beautiful painting

5- Tawang War Memorial

Your fantastic journey is incomplete without a visit to the most amazing Tawang War Memorial, dedicated to the brave Indian soldiers who fought for us in the 1962 Sino-India war. Lying in the bosom of the beautiful peaks of Himalayas, this memorial overlooks the scenic Tawang-Chu valley.
Here, you not only find natural scenic beauties but also heavy artillery and real war weapons, a small elegant garden and a number of paintings, artefacts and other symbols of the 1962 war. The architecture of this memorial is according to ancient Buddha style and it is waiting to be a part of your Pre wedding shoot.
Timing – 7 am to 7 pm
Entry Fees- Free
Nearest Airports- Near national highway 13
Photography and Videography – Allowed
Major Attraction – Spectacular architecture and nearby beauties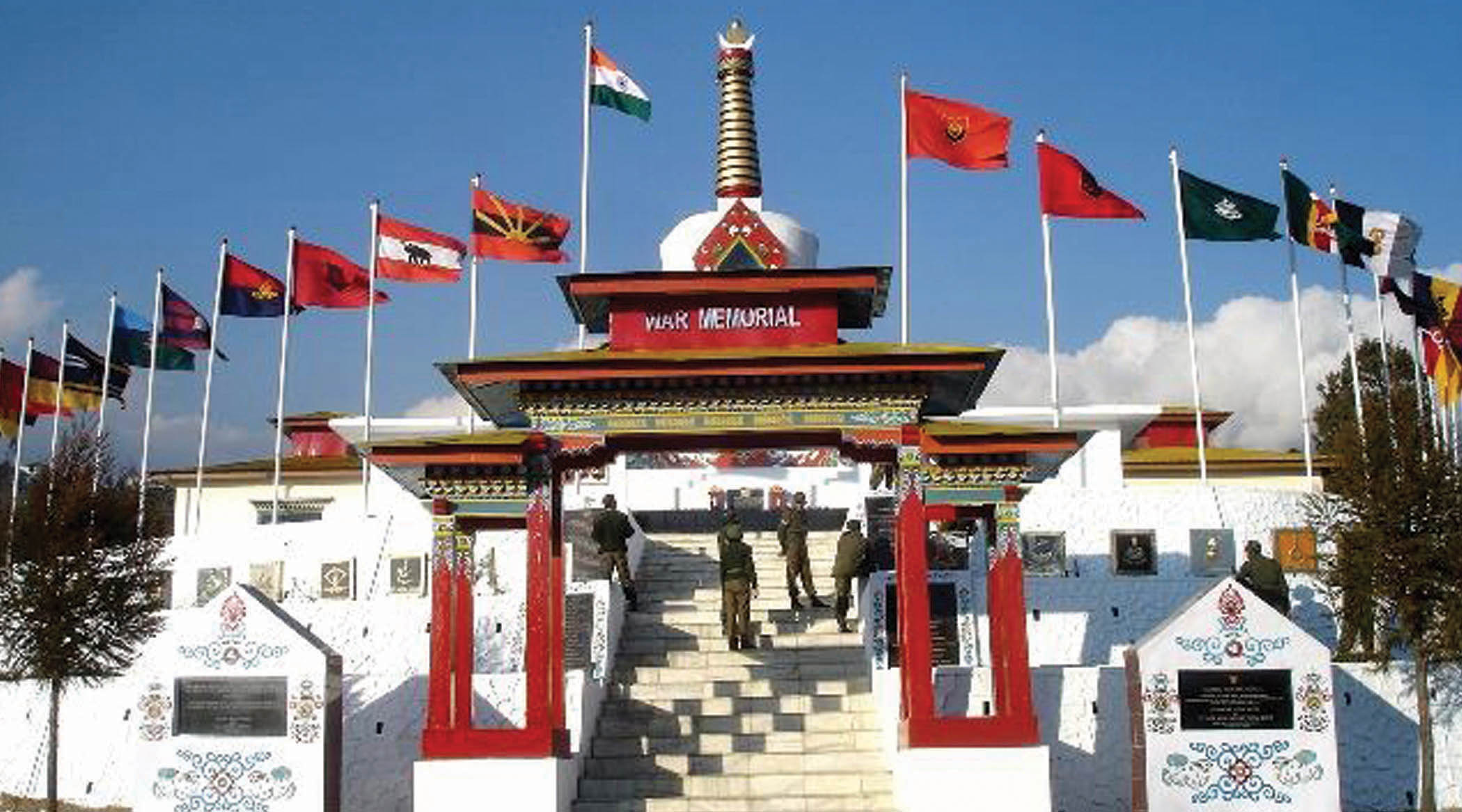 6- Pankang Teng Tso Lake

Presenting you another mesmerizing lake of Tawang and AP, the one and only Pankang Teng Tso Lake.
Unlike Madhuri lake, the shore of this lake is covered by blue lavis flowers and in the winter the whole place doesn't look any less than a valley in Kashmir or Switzerland.
The blue shiny water, the snow-capped Himalayas in the background, flowers and colourful birds and the fluffy clouds in the sky.
All this with a soul refreshing peacefulness. Wouldn't be it amazing? It would truly be the Pre wedding shoot of your dreams.
Timing – 6 am to 6 pm
Entry Fees- free
Nearest Airports- on the way of Madhuri lake
Photography and Videography – allowed
Tip – Best to visit during summer

7- Gorichen Peak

A Pre wedding shoot is a perfect occasion for a couple to sow the seed of love and trust, hence this location is perfect for it. Gorichen peak is the highest peak in Tawang with an altitude of 22,500 feet above sea level and is known for trekking and camping. A perfect opportunity to have the most stunning candid photographs of your natural interaction and friendship.
On the way of the trek, you would come across many natural sceneries, waterfalls and lakes. You shouldn't stop yourself from grabbing this opportunity. You deserve the Pre wedding shoot of your dreams.
Timing – 8 am to 6 pm
Entry Fees- Free
Location- 25 km from Nuranang falls
Photography and Videography – Allowed
Major Attraction – Best scenic beauties in Tawang
Tip – The summer months of April, May and June and post-monsoon month of September are the best times to plan a visit here.

8- Bumla Pass

Bumla Pass is the last point of Tawang from where the Chinese border starts. On the way to it, you would come across many photography points and beautiful hills where you should experiment some Pre wedding poses and when you reach bumla pass you would be awestruck by the natural beauty that fully snow-covered glaciers offer.
It's a strategically important place so you would need a special permit to reach here.
It's somewhat not easy to reach here but once you do, you would forget all about your tiredness because our Indian army jawans will be there to give you a warm welcome with a nice cup of tea.
Timing – According to the permit
Entry Fees- Negligible permit fees
Location- 2 hours from Tawang monastery
Photography and Videography – Allowed
Major Attraction – Snow capped mountains and Chinese border
Tip – You have to apply for Bumla pass permit in Tawang DC office, it takes time to get the approval. Try obtaining the permit on Saturday as the office is likely to be closed on Sunday.

9- Taktsang Gompa
In simple language, it is known as Tiger's Den and it is believed that  Guru Padmasambhava in the 8th century meditated here for a few days. The Taktsang Gompa point is developed by AP govt. Specifically as a photography point. It contains a small monastery and it is located around thick coniferous forests and steep hills. From here, you can have the best view of all the hills, lakes, Buddha monastery etc. that can be in the background while you would be busy giving Pre wedding poses, with all these advantages you can have the Pre wedding shoot that blows everybody's mind.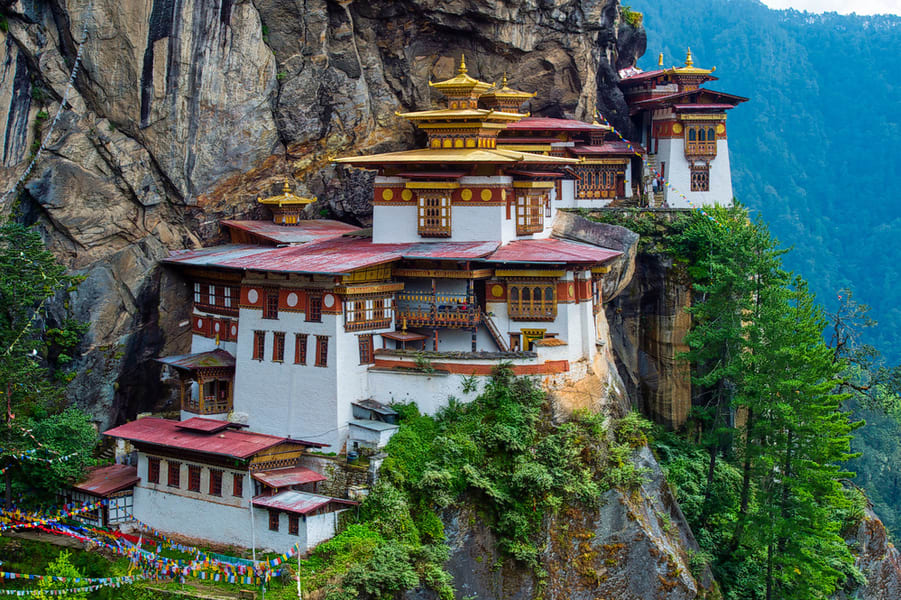 Timing – 8 am to 1 pm and 2 pm to 5 pm
Entry Fees– Free
Location– 1 hour from Bumla pass
Photography and Videography – Allowed around the monastery
Major Attraction – Architecture and nearby hills and Madhuri lake
Tip – Best time to visit here is in summer
Best time to Visit Tawang
Tawang is best visit able in the months of summer and onset of monsoon. So best months to visit here ranges from April to October as in winters it becomes all frozen which won't be comfortable for pre wedding shoot.
So here, we have shared with you the places which are ideal for a Pre wedding photo and video shoot in Tawang. You will definitely have your dream pre wedding shoot in Tawang and you would thank yourself in the future, that you had chosen Tawang as your Pre wedding destination. If you find this article beneficial and helpful in any manner then do like and share and feel free to share any of your queries regarding this article in the comment section below. Thank you