What are the best pre-wedding locations in Goa?
June 12, 2023
Whether you are planning to travel or do a pre-wedding photoshoot in India, Goa is the location on everyone's mind. With so many mesmerising spots with lush greenery, blue waters, and a clear sky, Goa has become one of the most popular pre-wedding shoot destinations among couples. Not only the sandy beaches, but Goa has a lot more to offer. So if you are planning to have a pre-wedding shoot in Goa, then keep reading!
Aguada Fort
The first on the list is the Aguada Fort. It is a 17th-century Portuguese fort and is located at a beautiful location where the river Mandovi meets the Arabian Sea. This wonderful place also has an ancient lighthouse dating back to 1864. The old fort walls with pristine waves in the background will definitely give you some stunning shots for your pre-wedding album. Photography is not permitted at the Aguada Fort. The Lower Aguada Fort can be used for photography, but the guards might charge some fees.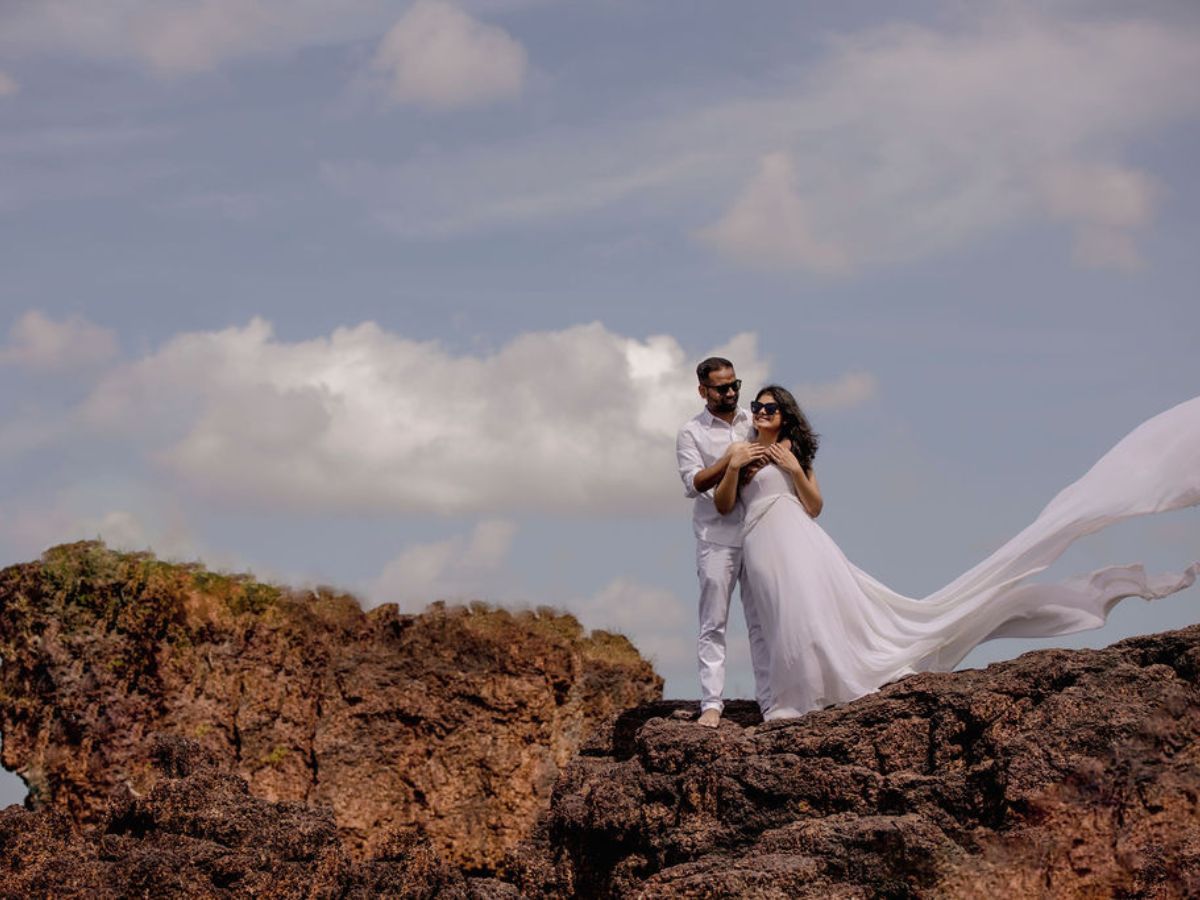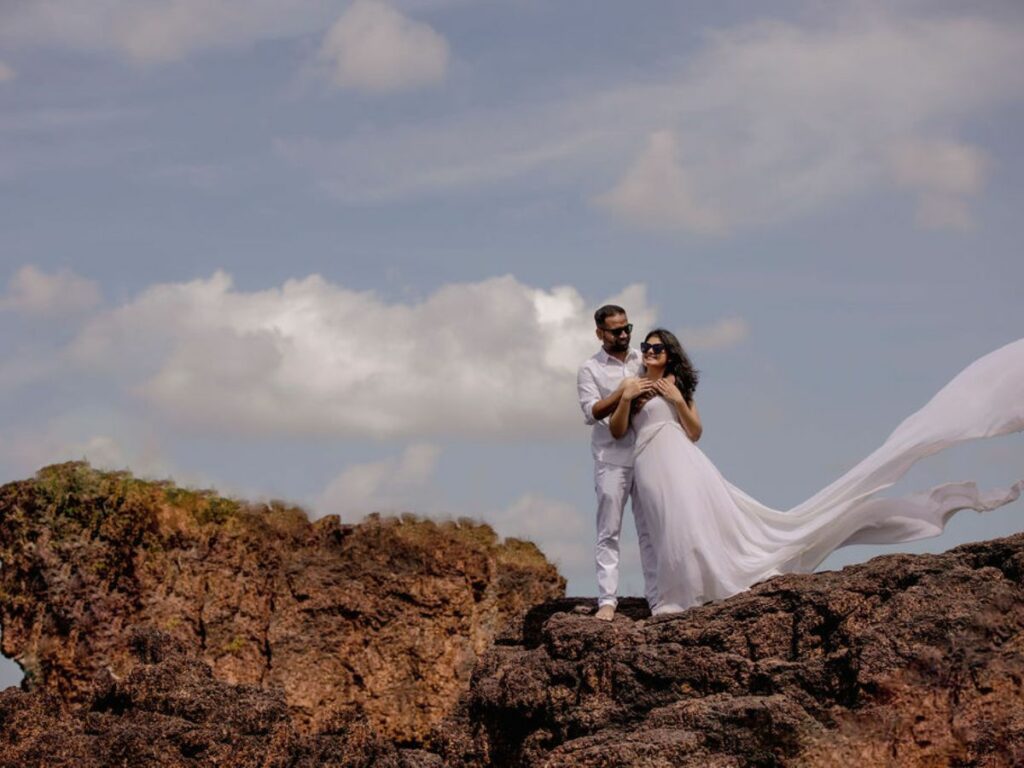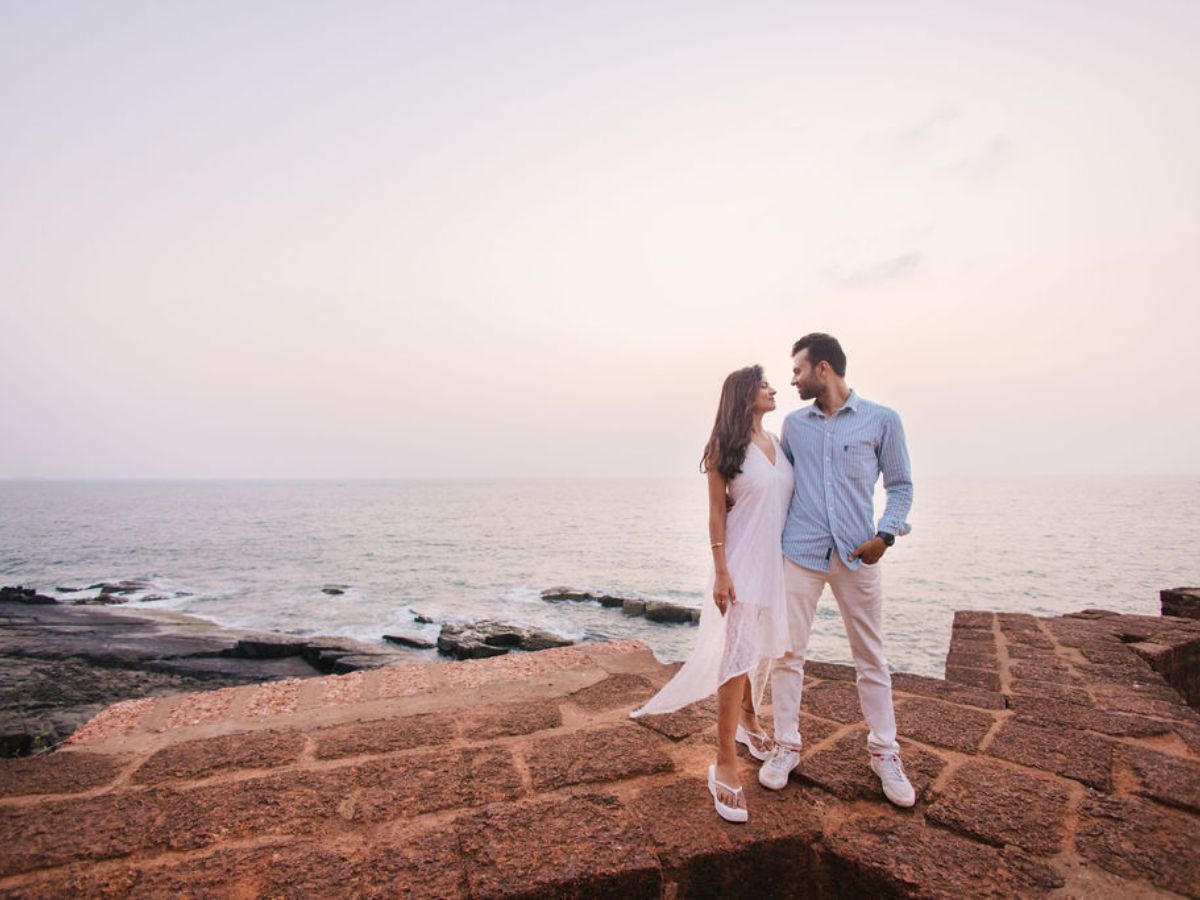 Chapora Fort
The Chapora Fort, located in north Goa right next to the Arabian Sea, might be the perfect setting for your photo shoot. This is the same fort where the famous boat scene of the movie "Dil Chahta Hai" was shot. So if you are a movie buff, then plan your shoot here to fulfil your Bollywood fantasy.
Fontainhas
If you want to give some vivid European vibes to your pre-wedding photographs, then this location is for you. Fontainhas is a Latin Quarter in Goa with cute, colourful houses influenced by Portuguese architecture. Add some vibrance to your photographs with these beautiful multi-coloured houses as your backdrop.
Video Tailor Tip: Plan an early morning shoot as people living in those houses don't entertain photography near that area.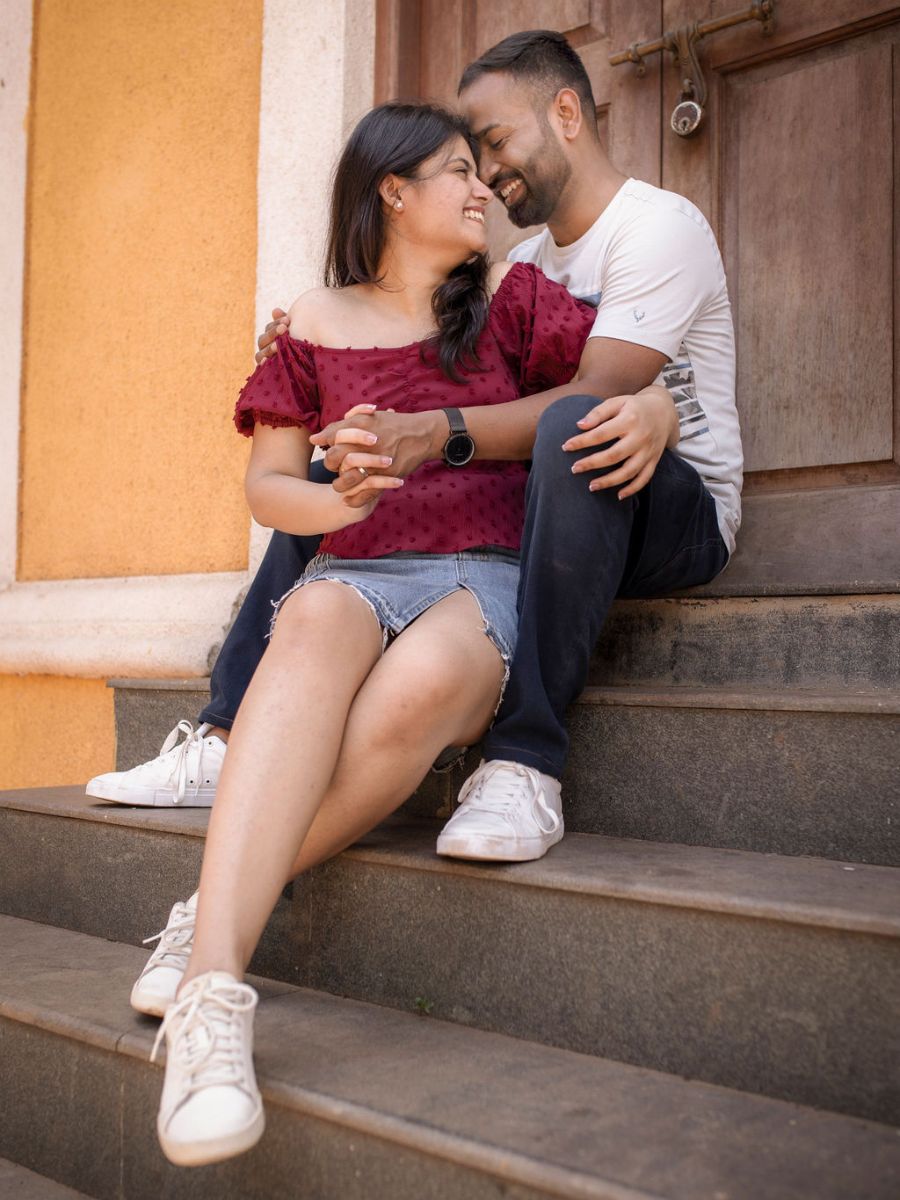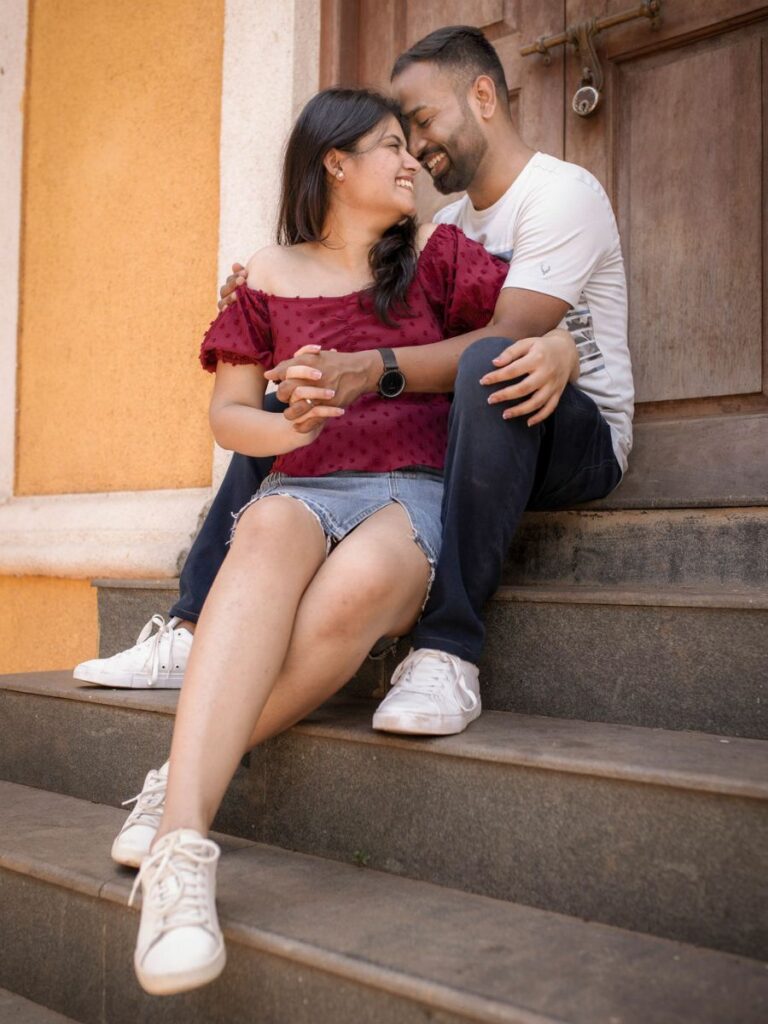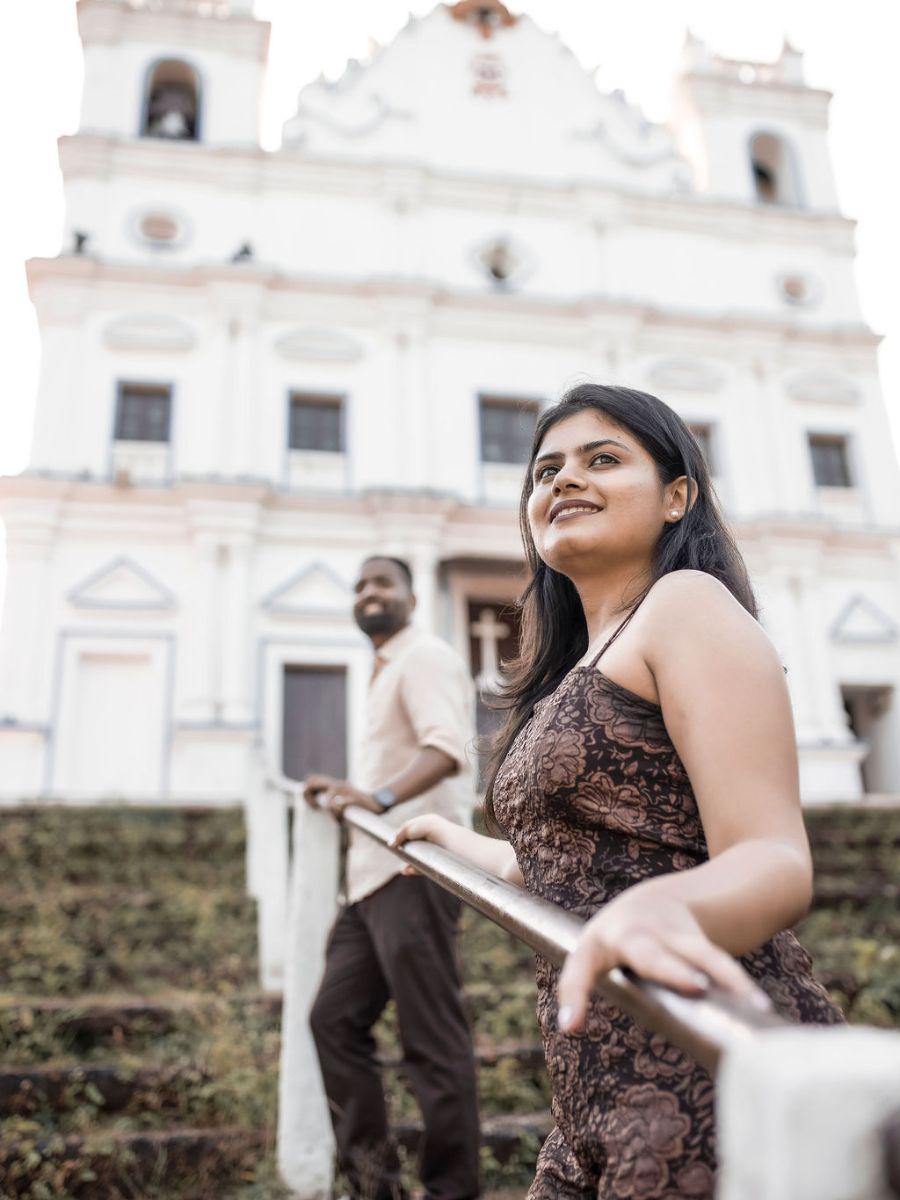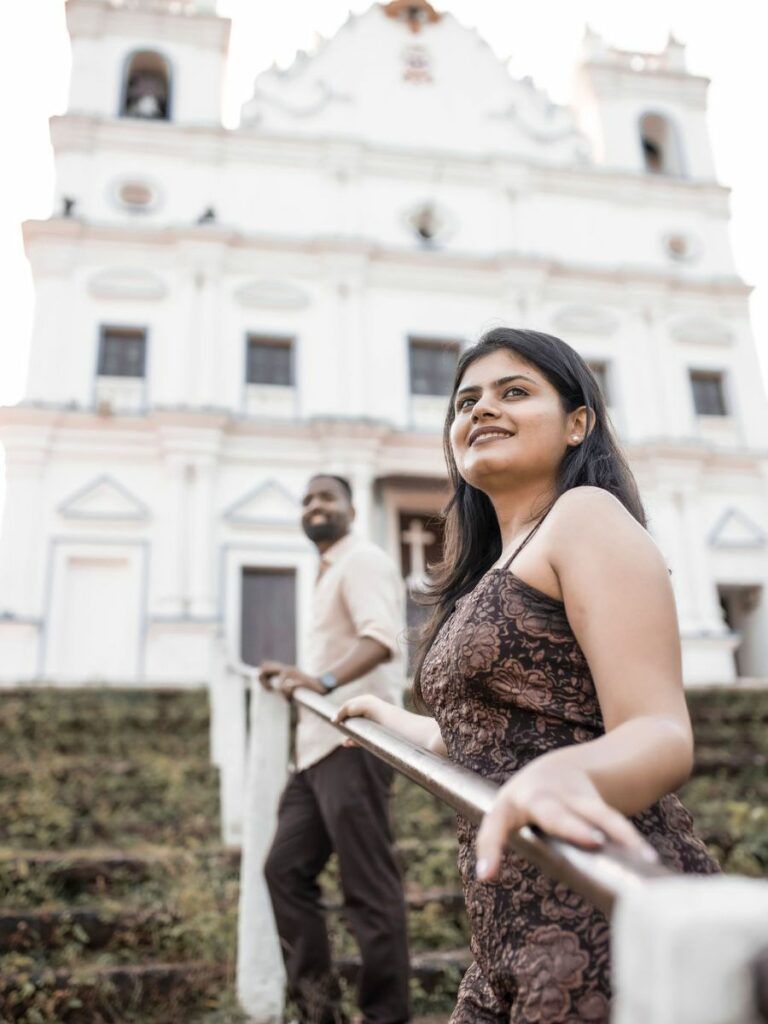 Churches
Goa is famous for its beautiful white churches. And what better backdrop can you ask for your pre-wedding photographs than a church? These magnificent churches will make a perfect setting for a romantic photoshoot. The famous Church Square can be a great location for your photographs. You don't need permission for photography here, but we advise you to plan an early morning shoot before 9 a.m.
Hire a yacht
If you want to go for a more luxurious shoot, we've got that sorted for you too. For around Rs. 15K, you can hire a yacht in Panjim for 2 hours of photoshoot. So put on a gown and take advantage of the blue water and golden hour.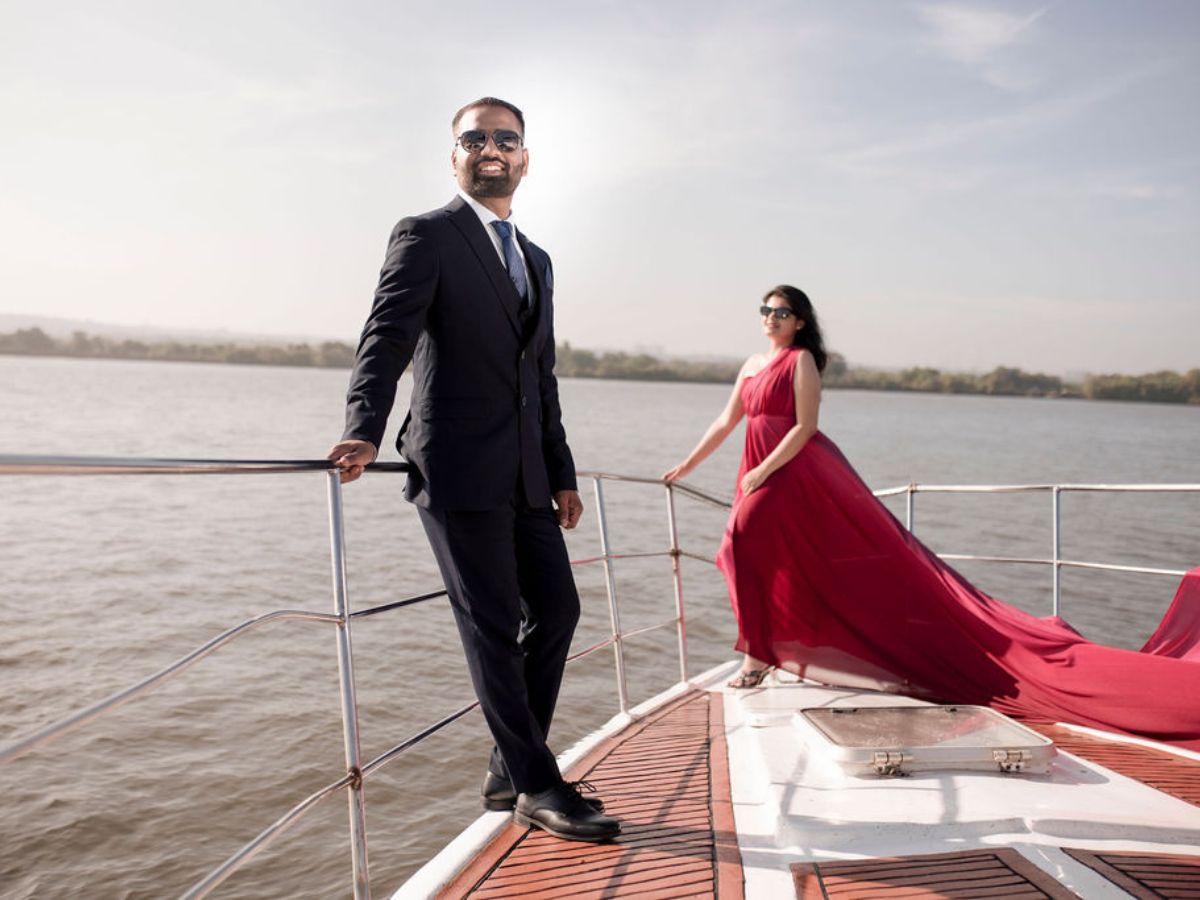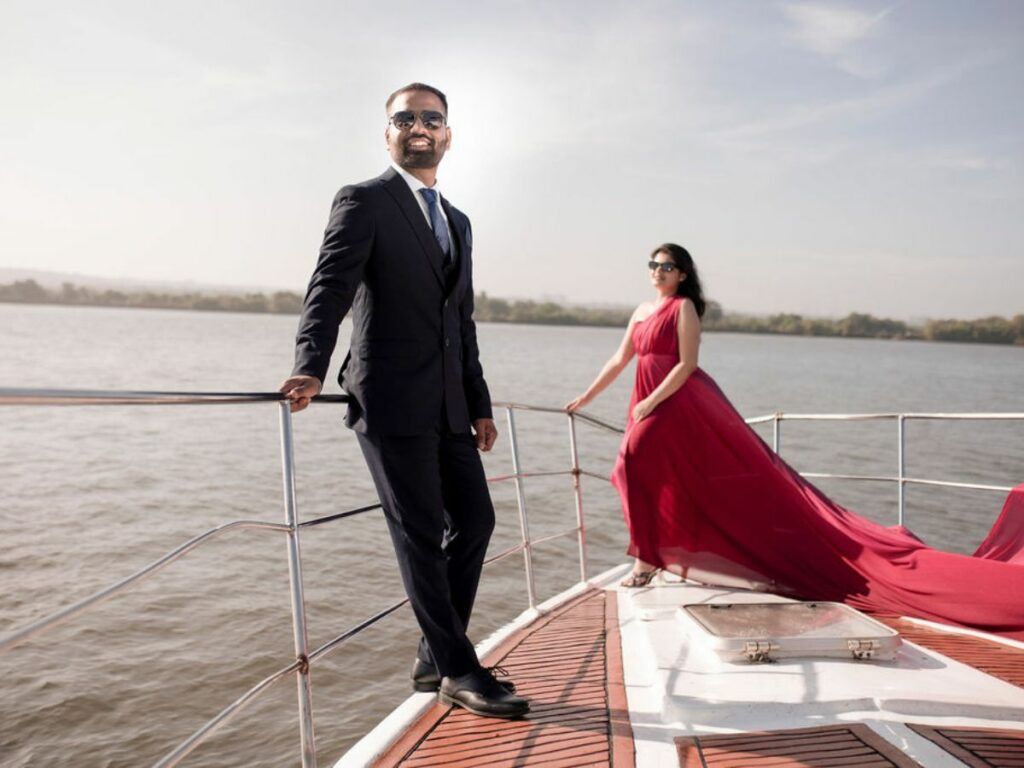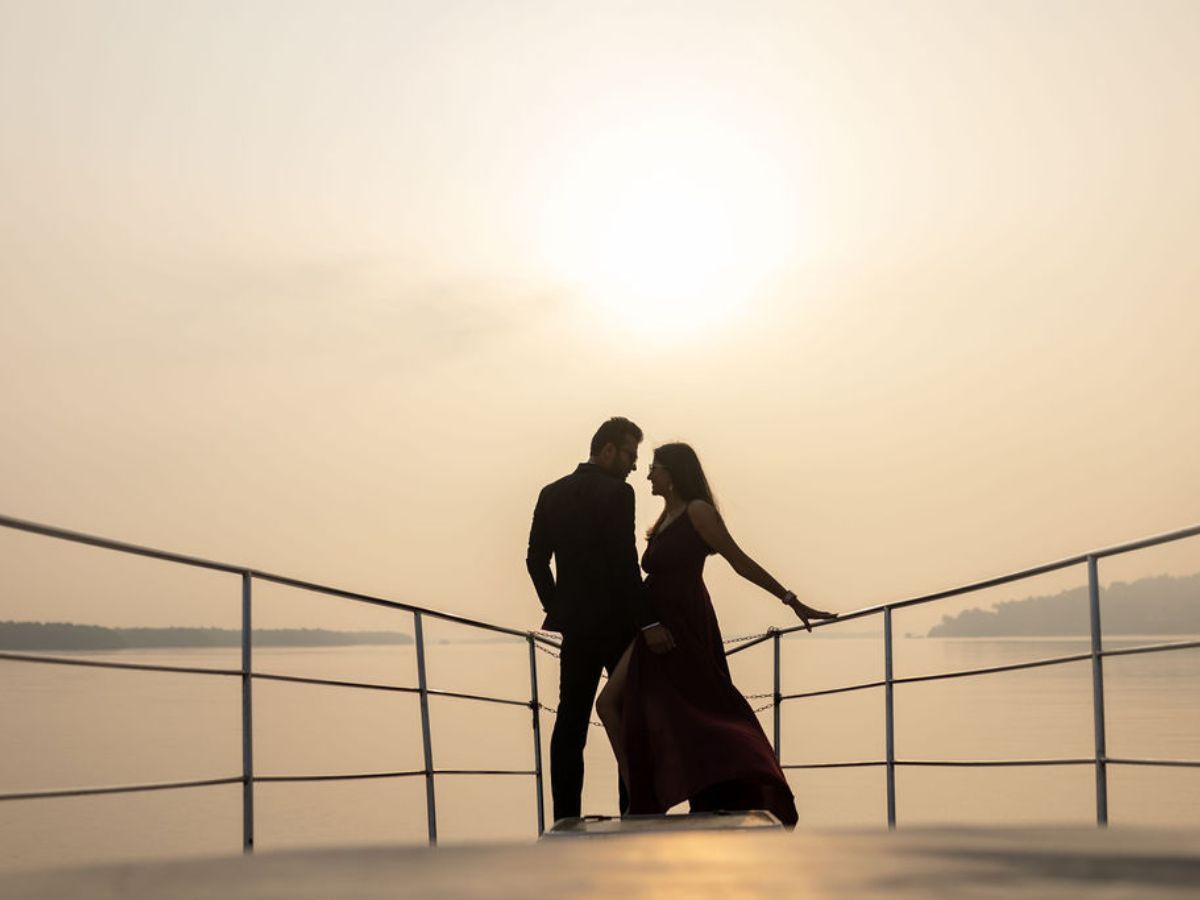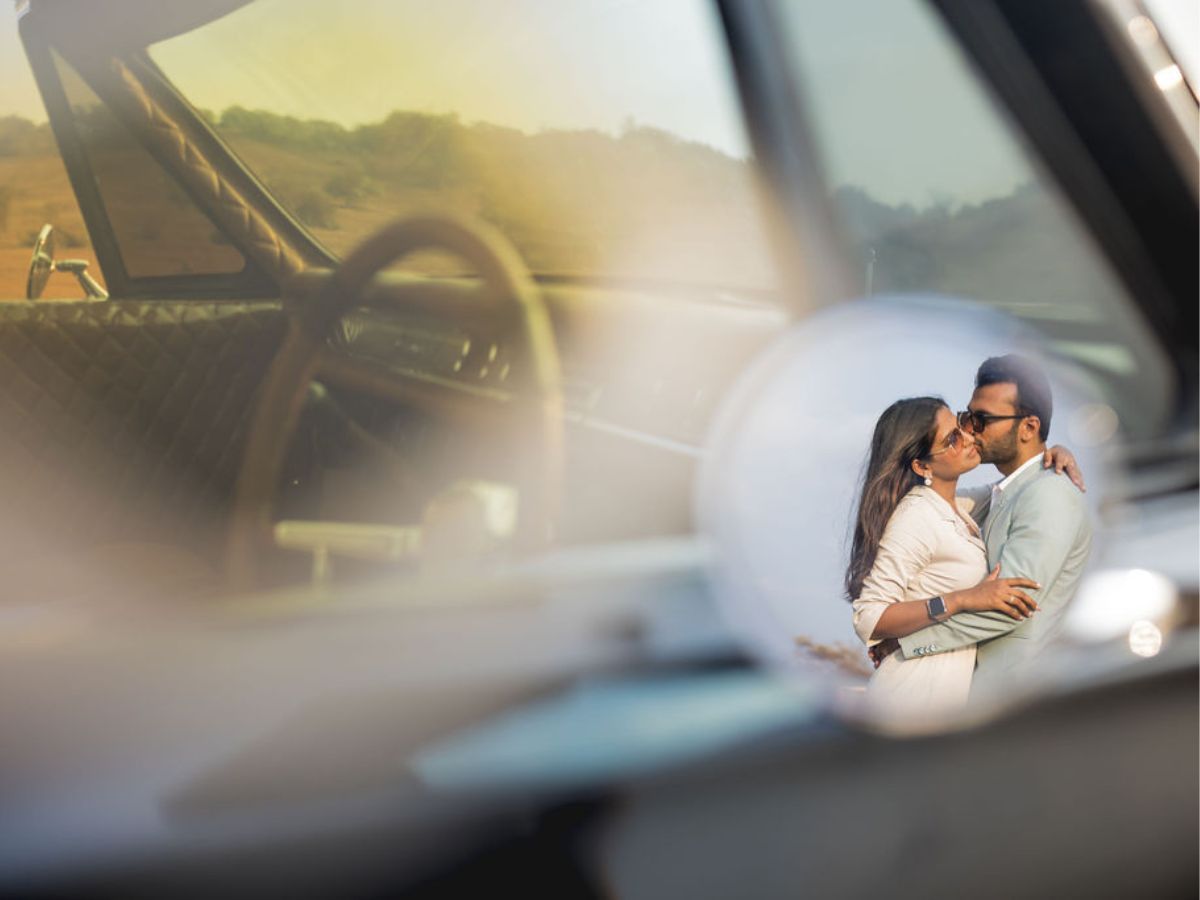 Rent a Vintage Car
If you want to add some drama to your photos, then you can also rent a vintage car for your pre-wedding photoshoot. You can easily rent a vintage car through car rentals in Panjim. The charges start at Rs. 16,000 for 2 hours.
Beaches
Well, you can't ignore the beaches when in Goa. South Goa is full of exotic beaches, which could be an ideal location for your pre-wedding shoot. So make those warm, sandy beaches and blue water your pre-wedding backdrop and add some breeze to your photographs. Go with casual, flowy dresses on the beaches. To avoid crowds, plan your shoot early in the morning or catch the golden hour during the sunset.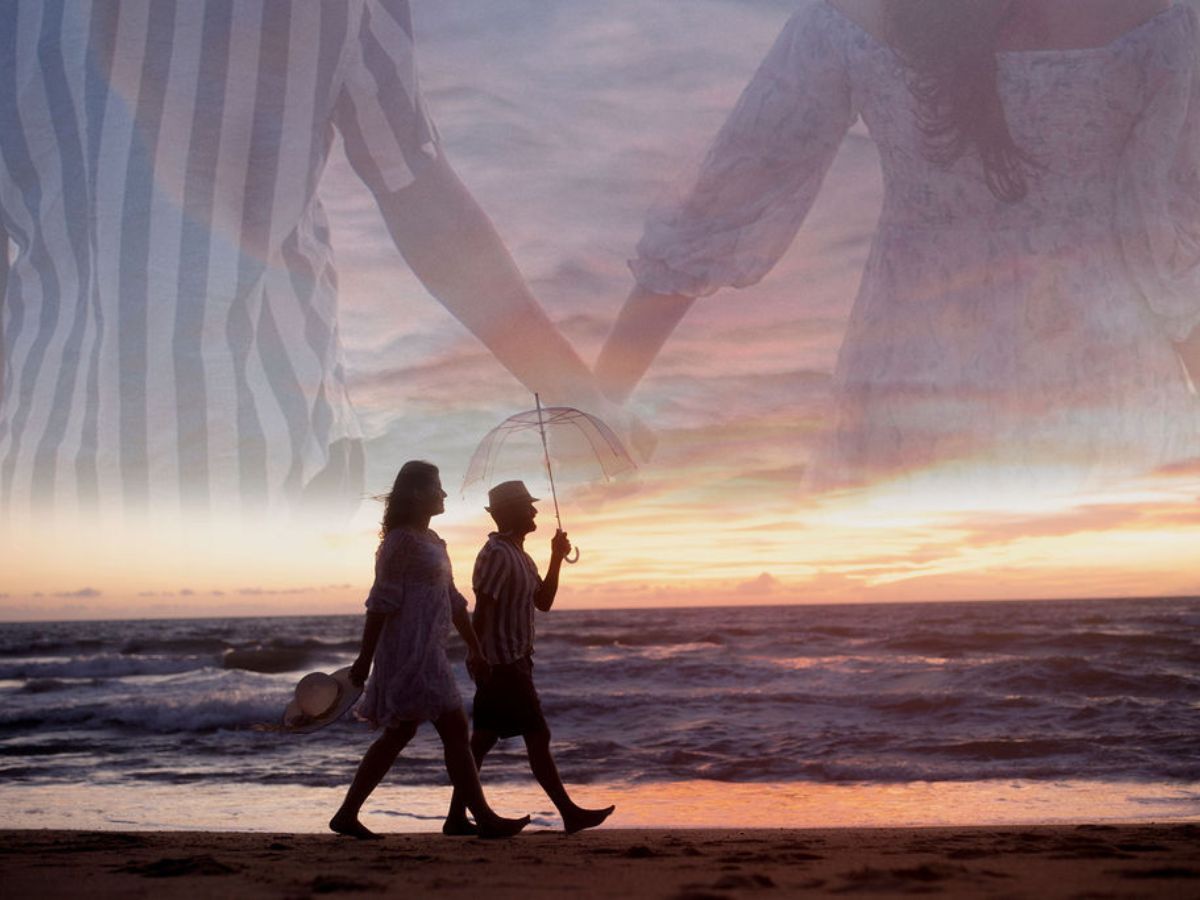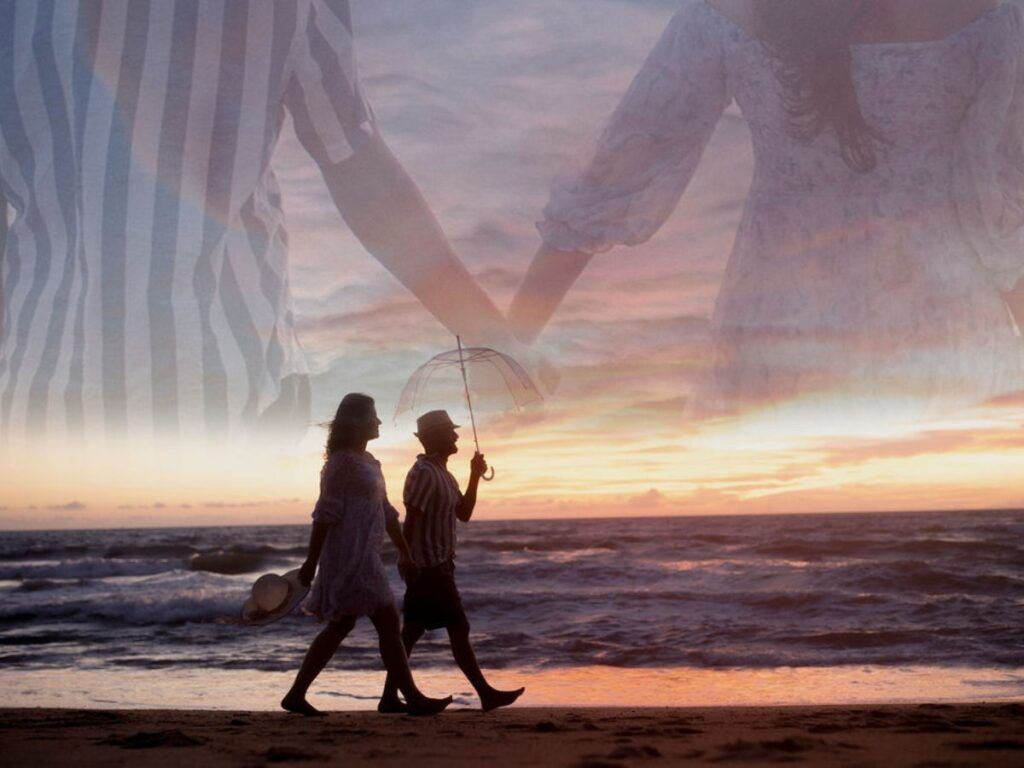 Waterfalls
You might have heard about the famous Dudhsagar and Amboli waterfalls. These two waterfalls are located approximately  100 km from the main city and can be an amazing backdrop for your photographs. Please note that there's a small trek to reach the waterfalls. Since the area comes under the forest department, the use of drones in this area is not allowed.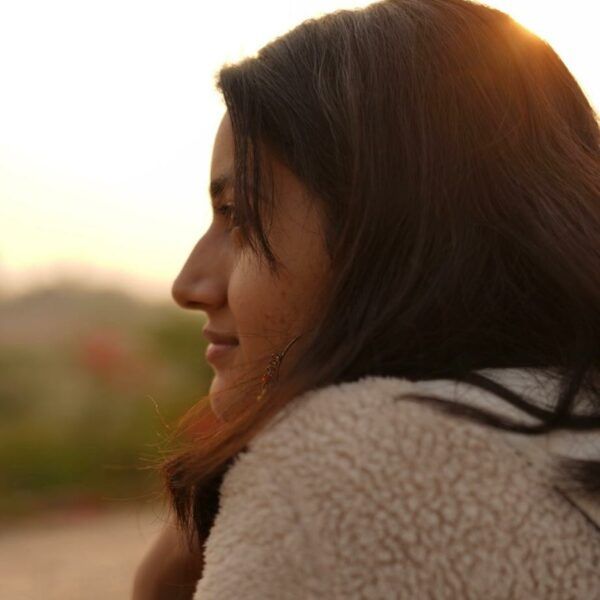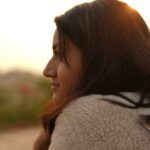 What is the cost of a pre-wedding shoot in Goa?
The cost of a pre-wedding shoot in Goa can vary depending on location, duration, photographer's expertise, and any additional services included. It is recommended to contact photographers or photography studios in Goa to get accurate pricing based on your specific requirements.
Which is the best place for a wedding photoshoot?
The best place for a wedding photoshoot can vary based on personal preferences and the desired aesthetic. Popular choices include picturesque beaches, historic landmarks, lush gardens, or iconic cityscapes. Researching and discussing with your photographer can help you choose a location that aligns with your vision and creates stunning photographs.
How to do a pre-wedding shoot on a budget?
If you're looking to do a pre-wedding shoot on a budget, consider the following tips:
 Opt for local and lesser-known locations with lower or no entry fees.
Choose natural lighting and minimize additional lighting equipment costs.
Borrow or rent outfits and accessories instead of purchasing them.
Plan the shoot during weekdays or off-peak seasons when photographers may offer discounted rates.
Discuss budget constraints with photographers to explore package options and negotiate prices.
How much does a 3-day wedding cost in Goa?
The cost of a 3-day wedding in Goa can vary significantly depending on the number of guests, venue choice, accommodation, decor, catering, entertainment, and other personalized services. It is recommended to consult with wedding planners or vendors in Goa to discuss your specific requirements and get accurate cost estimates.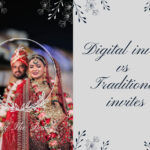 Previous post Digital invites vs Traditional invites