Top 10 Cool Bridal Wedding Shoot Poses
October 18, 2022
RECOMMENDATIONS FOR THE BRIDES
WEDDING SHOOT POSES
Weddings are once in a lifetime experience and we can't agree more with the fact that brides look no less than queens in their gorgeous wedding dress on their big day. Therefore, individual wedding shoot with a lot of creativity and perfect shots is a must.
However, the regular cliche poses have become too mundane and outdated so for all the brides-to-be reading this, here's a guide for you on trying out some poses that are really cool, quirky, powerful and will be extremely fun to re-create and later can be added to your wedding shoot album.
1. Bride in sneakers
Lehenga with sneakers are trending and brides wearing them look even more cool and quirky as it adds a western tint to the beautiful traditional dress. so, how about a cool wedding shoot in this dance pose in the lehenga while showing off your sneakers?
2. Quirky Photobooth Props
Using quirky captions on the props is all fun and games for a bridal wedding shoot as it adds an extremely fun and interesting element to the bride's portrait making it memorable and frame-worthy.
3. The bathtub affair
A very entertaining bridal wedding shoot can be done by your photographer with the bride chilling and posing in the bathtub with her bridal makeup on and her lehenga hanging on the wall behind which can be used as a backdrop.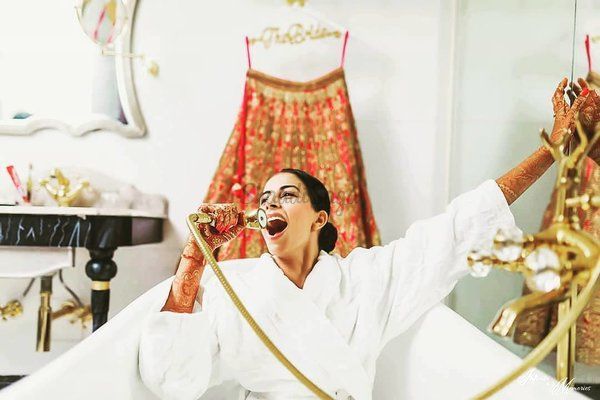 4. The foodie bride
As we know, there's so much to do and attend that the couple gets to fulfil their craving for the delicacies after hours of patience and wait. Therefore, it definitely calls for a cool foodie picture for your wedding shoot.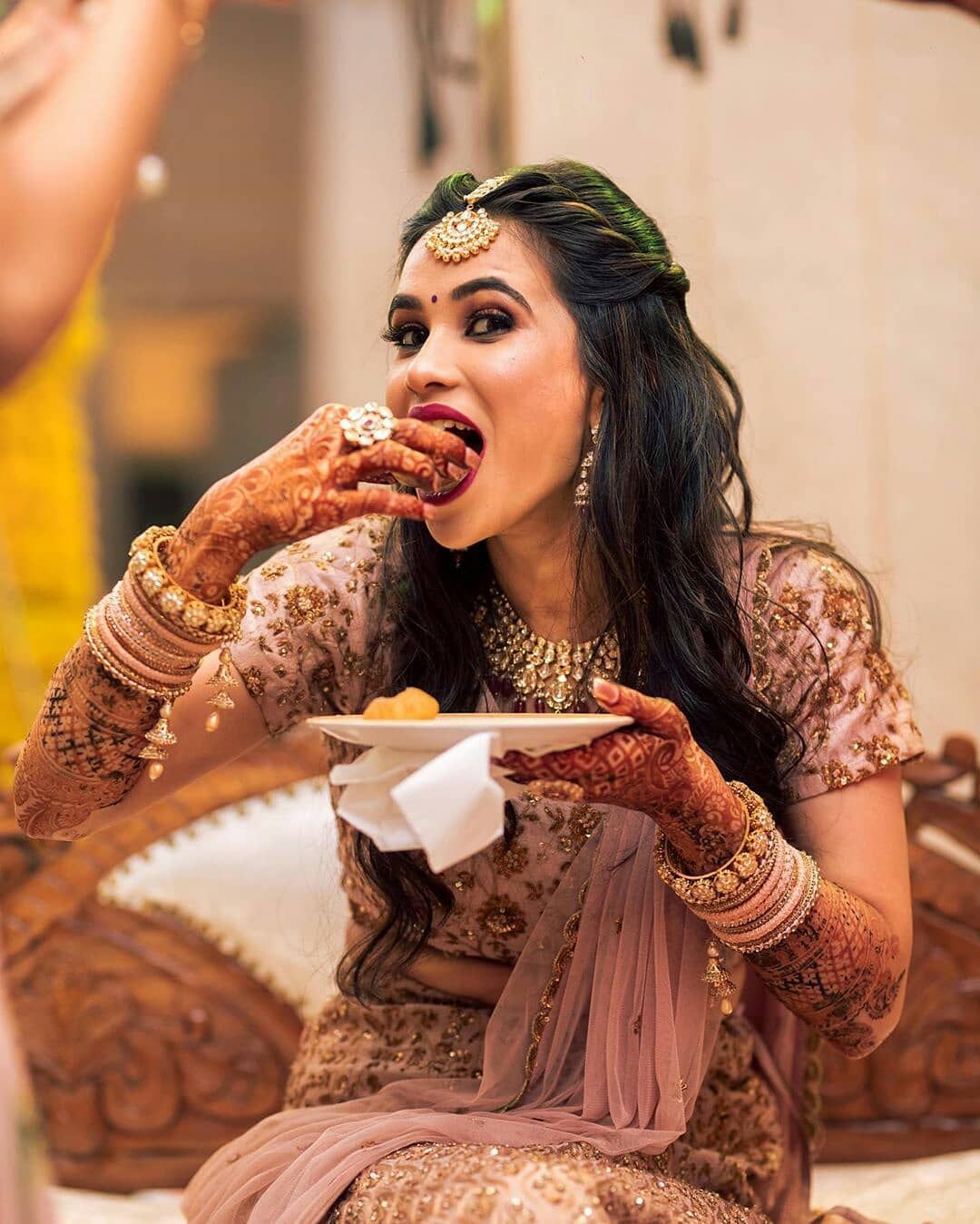 5. Bride in swagger shades
We need not mention that every bride in shades look classy and cool as the combination of lehenga and shades fit perfectly fine and what better than a wedding shoot of an Indian bride with a pout and a wink just like the one shown in the picture.
6. The dab of the wedding season
Dabbing is a cool action but a bride dabbing in her most beautiful traditional attire? Yes, no one can beat that cool personality carrying herself with so much gentility.
7. The vehicle pose
Any bride posing with a vehicle add the bossy look to the wedding photography. Cars, rickshaws, scooters and bikes are great options to go with and make your wedding shoot creative.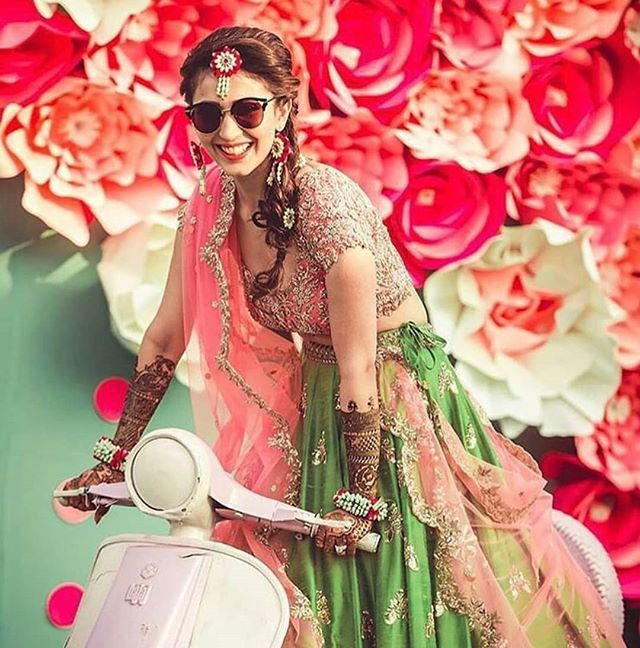 8. One with your fur baby
If you own a pet, as a bride, you get a chance to channelize your love and bond with them on camera. We're sure pets add so much charm and joy to the wedding shoot.
9. Bride - The Goddess
This gorgeous goddess picture is traditional and religiously keeping up with the Indian culture and will result very well as a perfect portrait. Surely, a bride is no less than a goddess and this wedding shoot portrait rightly displays so.
10. The Chill bride
The resting position with a glass of drink in one hand and a cell phone in another is giving us major cool bride goals. Ask your wedding photographer to capture a similar picture to add to your wedding shoot album.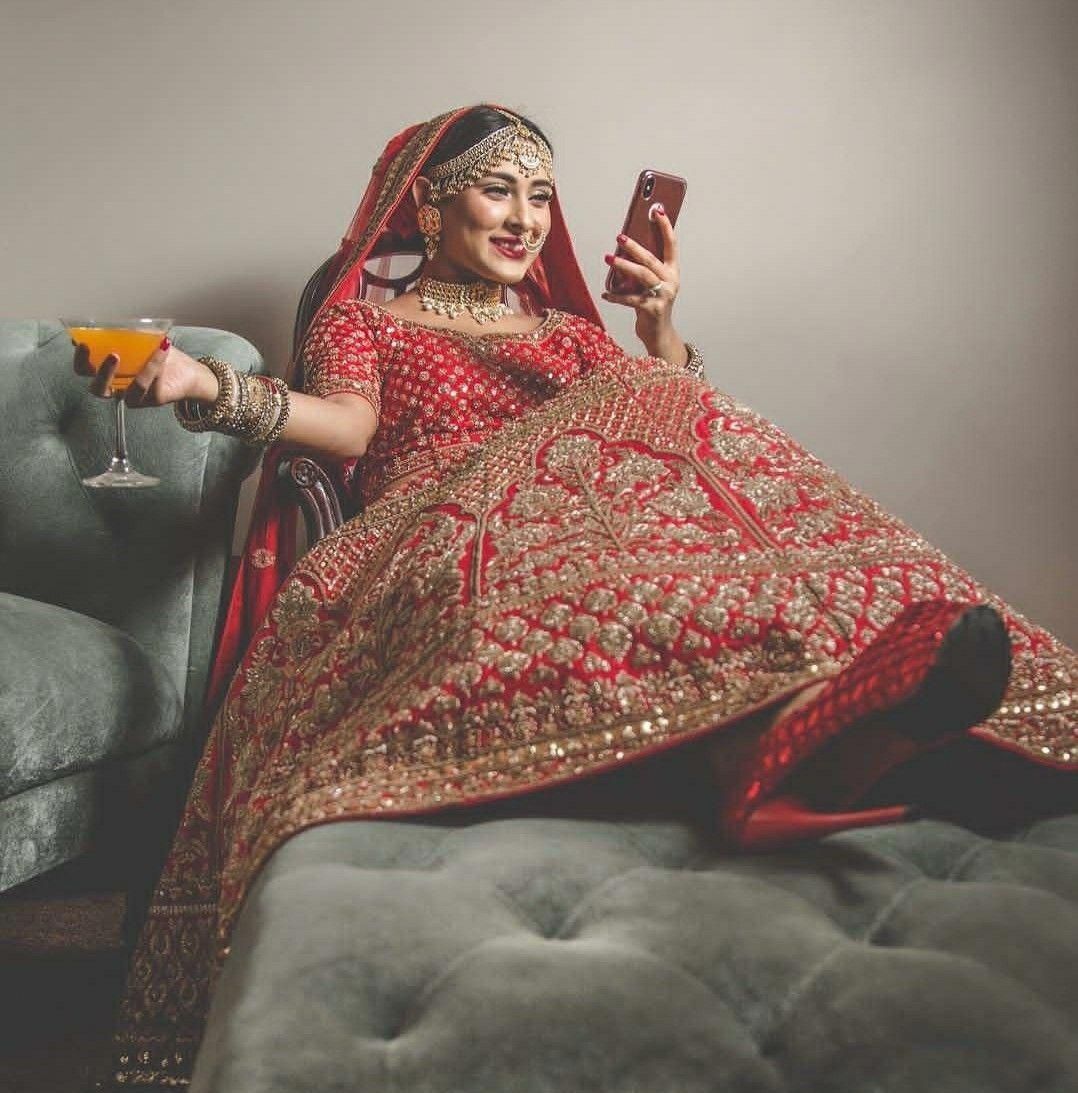 These fun and quirky wedding shoot ideas are top notch and with the above mentioned ideas, you obviously do not have to think twice before posing as you won't be lacking ideas on how to pose wearing that beautiful bridal lehenga for your wedding shoot. If you're looking for inspiration for your [re wedding shoot as couple then click here! If you liked this blog then make sure to follow our instagram!