Tips to Make Pre Wedding more Joyful with these ways
May 15, 2022
Tips to Make Pre Wedding Shoots more Joyful
Pre Wedding is a trend now a days, where engaged couples go for professional photoshoot at different exotic locations. Pre-wedding photoshoot is a great way to capture the best memories as a couple before wedding. It is also a superb way for both Bride and Groom to get comfortable in front of the camera. Everyone knows that every photo is a moment and a memory. The shoots create a timeless memory and captures the happiness of couples before getting married. Couples can go for Tips to Make Pre Wedding more Joyful in some great ways.
Also, you get to spend some quality time with your partner and can make your bond even more special.  These are fun & exciting shoots and you can have the opportunity to get your hands on the most precious memories of your lifetime which you can cherish forever. These photo shoots helps the couple to feel more confident around the camera on their D-day without any hesitation. The pictures and video of this day will surely bring  smile on your face as years will pass.
Pre-wedding photographs can be of many types like casual, funny and romantic, as they display the beautiful chemistry between the couples and their memorable moments. Here are a few pointers or Tips to Make Pre Wedding more Joyful in these great ways:
Make your Pre wedding better in these ways
Choose the right photographer
For a perfect pre wedding shoot, you need to hire best professional pre wedding photographers and videographers. Every expert photographer has a unique style of seeing through his camera. You don't have to just choose any photographer, Firstly do some research, compare every photographers work and then decide the best one for your shoot.
The next step is to check if the photographer chosen by you comes in your price range or not and then you can hire them.
Choose the best location
Choose the best destination for your pre wedding shoot. If you can go outdoors for the shoot, then you should choose the popular locations like markets, forts, parks, gardens and the places with perfect background. And if you are a shy couples, choose a private place, like a beach, farmhouse or resorts, or ruins, you can even have pre wedding photoshoot at your home also. If you have confusion, then ask your photographer if two different locations and themes can be combined like one can be romantic, the other can be a play.
Dress properly
Based on type of pictures you want, you can decide yourself or you can ask your photographer. They are the best ones to guide you as they are professionals. Like if you going for a monument, choose a traditional outfit rather than casual dress as it wont look nice. Couple can also wear nice colors to match the theme according to your pre wedding shoot theme. Choose the outfit before the shoots like will you wear and what will your partner wear. Don't forget the important things like girls hairdo, makeup and accessories.
Use Props
For more better pictures, you can get different props available in the market. You can buy the props likes Slates, boards, Balloons, Bubbles, colors etc. Buy some creative stuff based on your story and your theme or the props that compliment your attire. The props makes pictures look better and can be used in different ways. Try using multiple props for your shoots.
Include Your Pets
Pets are an integral part of our family, then why not feature their cute furry faces in your pre-wedding photo shoots. Our Pets love us as much as we do. As you go for a pre-wedding shoot, you can add some fun by making your pet a part of your pictures. This idea will simply add tons of happiness and joy on the happiest day of your life. And, including your pets will look more cool even if you are doing it in a traditional wedding.
So, don't let them be away from you such an important day. Give the best poses with your pet and your partner and make your pictures more adorable.
Romantic Shoot In Rain
Get some cute and passionate pictures by getting clicked with your partner in the rain. Freezed raindrops in the pictures will make your shots look magical. Get your shoot done under streetlights as the look is amazing during and just after the rain. You can prepare yourself with some colourful and cute looking rainy weather outfits.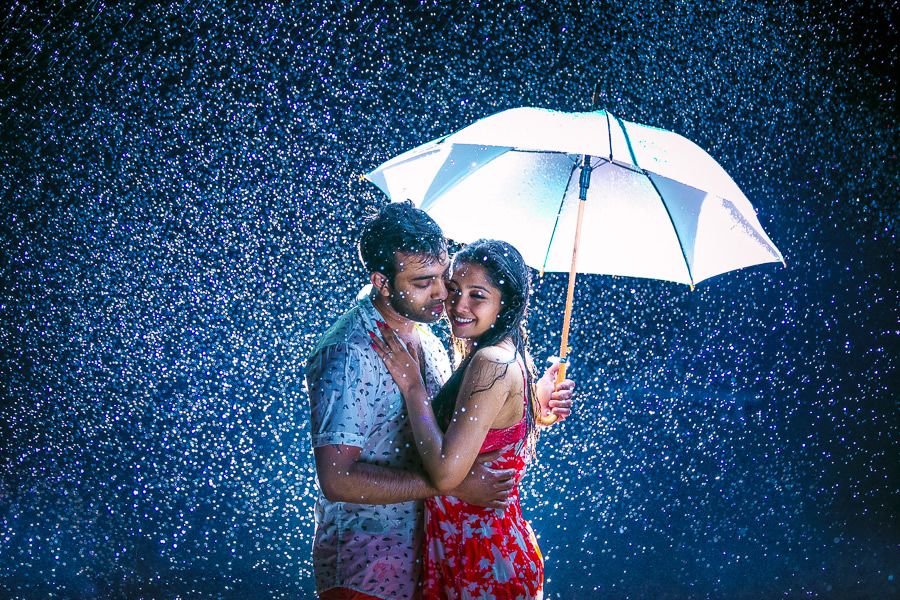 Using props like transparent umbrellas as it will illuminates your faces and will be the best idea to make it more beautiful. This is the best time to dance in the rain with your partner and making memories.
Be confident
Be confident with your body and be yourself. Don't worry about the better sides or angles. It's a date with the love of your life and that is all that matters. Give your best and don't feel shy or nervous In front of camera. Laugh, Be Playful, hold each others hands, look into each others eyes, show your love and your fun and crazy side. Show everyone that you love your partner and how much you are crazy about him/her. If you have any doubts, clear it by asking your photographer.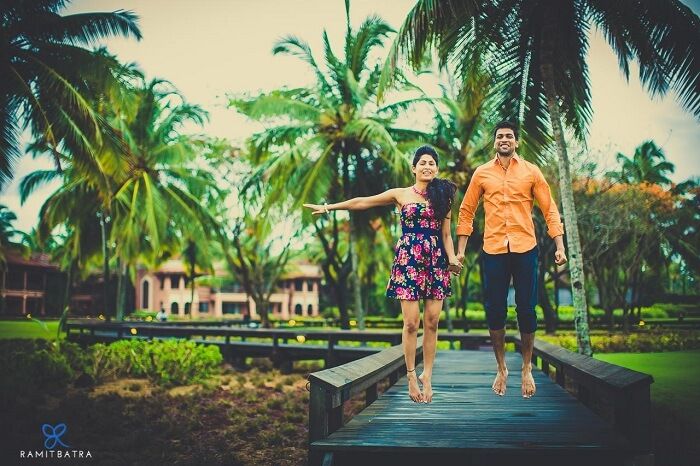 Be romantic And Funny
The era of romance is eternal in any wedding or related function , The heroic look on the couple's face portraying the filmy relationship of their upcoming love when their expressions can be natural or posed described by the photographer.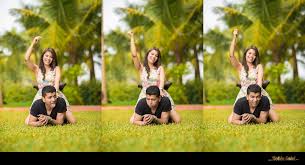 Have Fun
Do everything like Laugh with your partner, hug him/her, play around, kiss or be crazy and remember, just be yourself. The photos will keep happening if you are going to be cool the whole time. These are the only moments you will remember and cherish all your life, and your photographs and videos would be the soul of all these memories.