Royal Wedding Photos Captured by Video Tailor
May 17, 2022
10 Royal Wedding Photos By Video Tailor
Royal Wedding Photos of Bride and Groom captured by Video Tailor. Ever since we all started playing with Barbie dolls we had dreams about our own weddings, and being a princess on our wedding day is a dream but getting married in the styles of Indian Raja Maharaja's is something Splendid!
India has always been known as the land of "sone ki chidiyaa"The cultural Heritages, with richest royal histories in the world which has captured history lovers for years. If a royal wedding is something that you have always wanted to have, here are some of the best royal wedding photos shots taken by video tailor for you to set the vibe and inspire you in any specific way.
Royal Indian Wedding Pictures
Video Tailor has captured some of the Best Royal Wedding Photos with the touch of modernity for all soon-to-wed couples and if you too want a Beautiful Royal Shoot for yourself then I would suggest you to sit back, relax and stick to this article to have a glimpse of their work.
Hindu weddings are always considered to be the most culturally elaborated and enriching. Royal weddings are grand and ethnic in looks and celebration, also it's so grand as it just not bides the groom and bride but their families as well.
Lost in the beauty
Red and Golden is what defines Royalty, isn't it? This is how our beautiful bride Bhavna worn the combination of red and golden saaree on her reception which added royalty to her look and let everyone awestruck while the Groom was wearing a White Tux with complimented with black border details.
The shot was taken in a way which completely highlights the Beautiful hairstyle of our bride like that of the royal queens.
The We are married kiss.
The picture is a complete package of AWW  I mean look at the beautifully color coordinated couple and the picture with beautiful vintage background also the long veil of the bride is complimenting the picture as a royal princess's.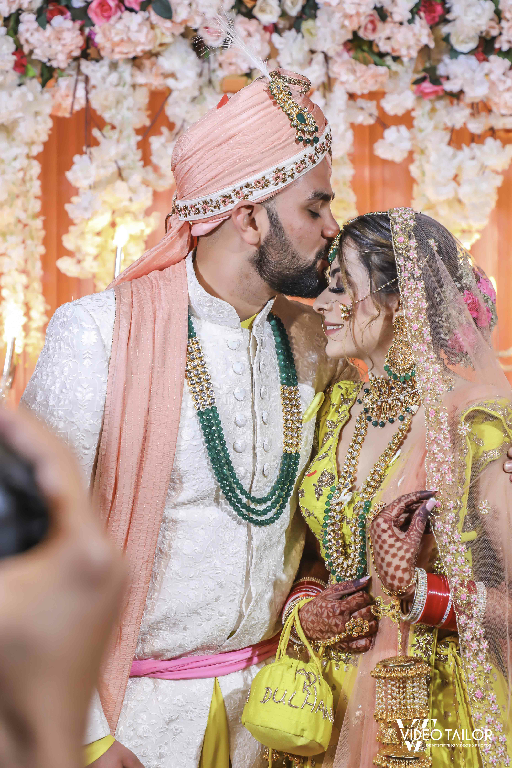 Beautifully symmetric
We know that the beauty lies in balancing, Balance is the core of happiness same way symmetry works in a picture.
Look at this Elegant picture of our Yellow bride with a long veil like that of the British Queen's, The picture is taken in a way which defines symmetry in the frame keeping the subject in the exact center of the frame.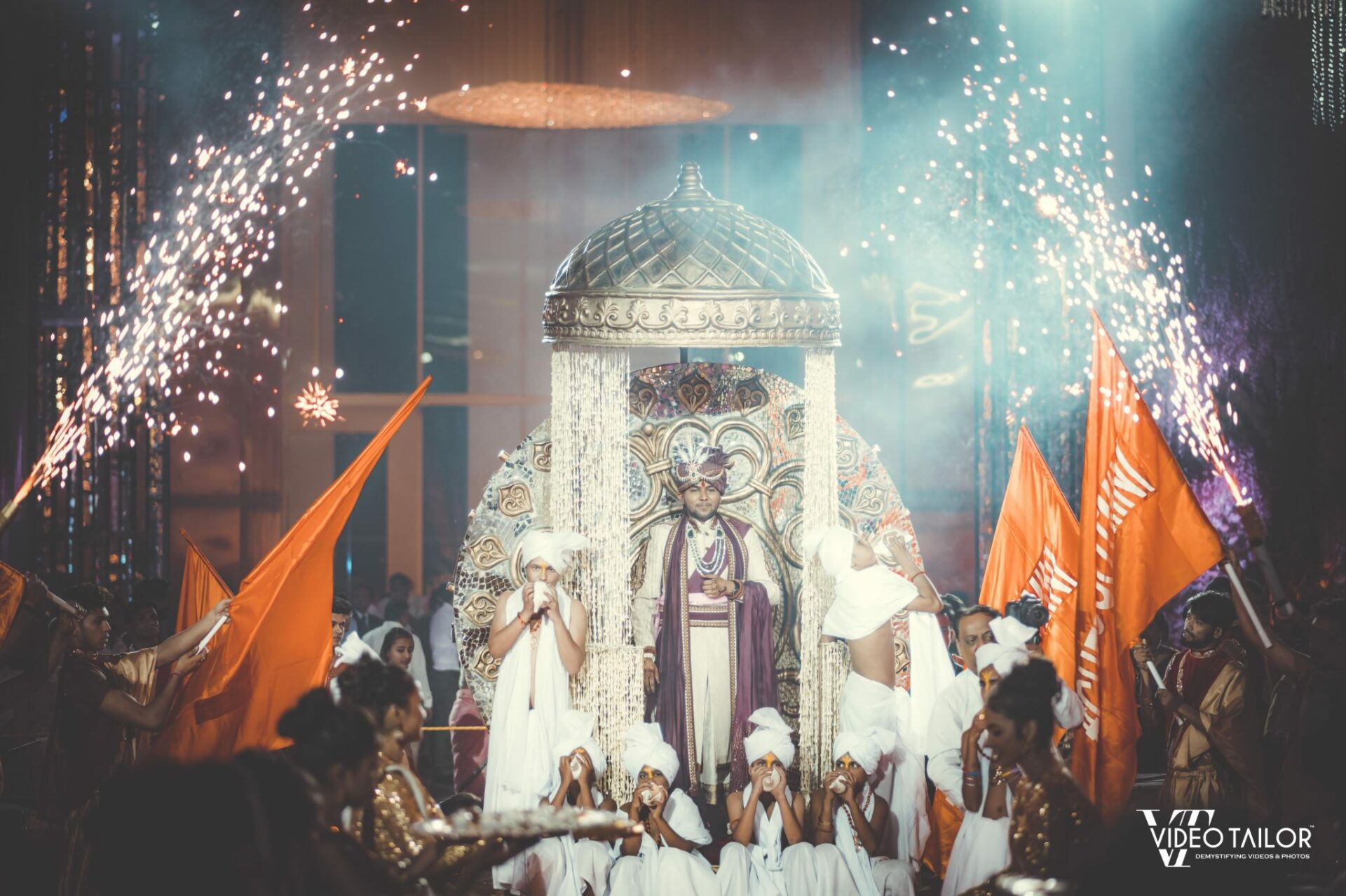 Florals Are Flawless
Florals have always been the symbol of royal affairs, take the example from the recent movies depicting the royal people and their stories.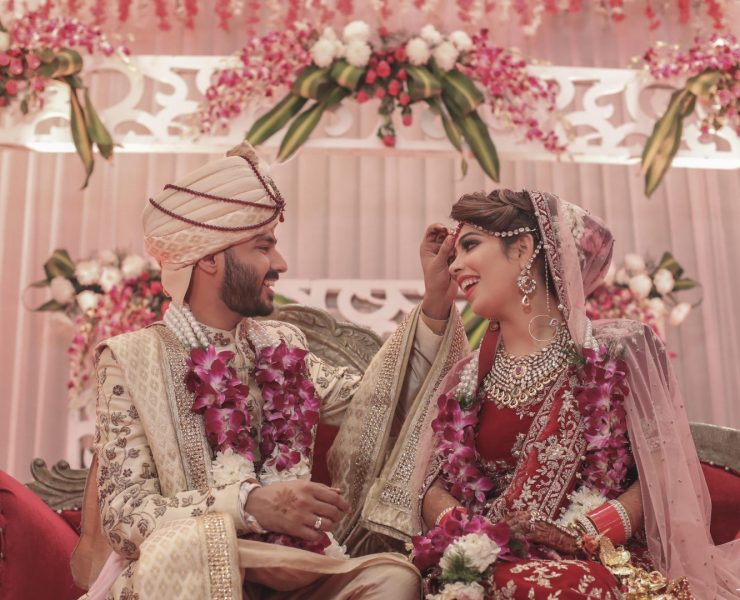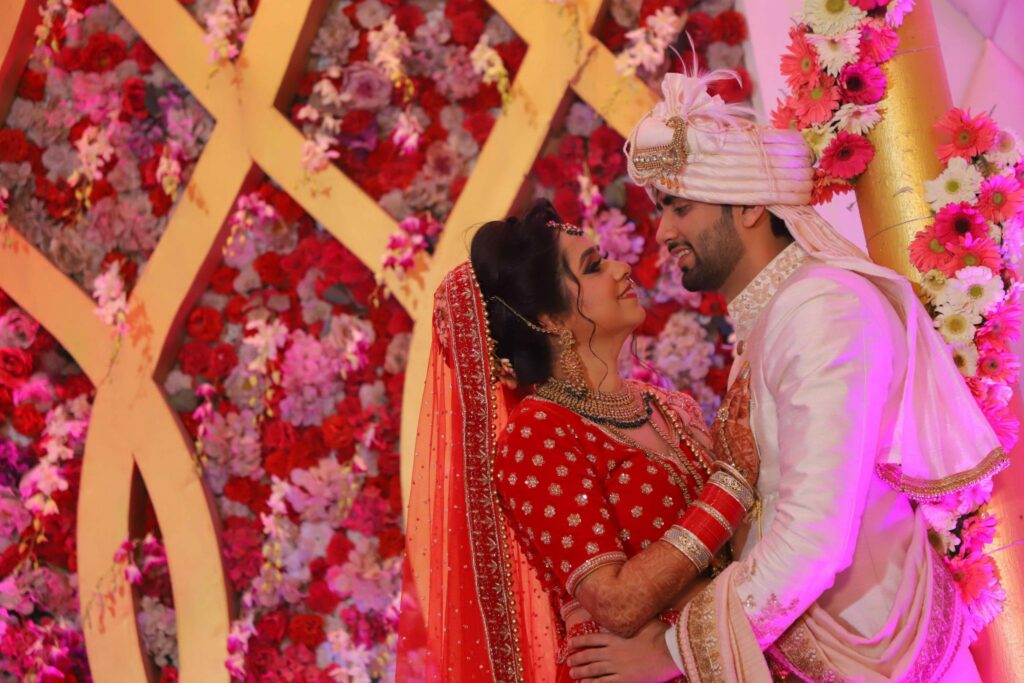 Black and White Never Goes Out Of Style
Black and White has always been in trend, about the very first Jodha Akbar Movie which had all it's romance captured in a black and white reel or today's generations advanced cinematic movies which takes you to the past in a black and white sequence of event. Black and white effect has never lost its beauty and when it comes to displaying love between a couple it's usually the most classiest choice amongst all the options.

The Block of time
You see this picture, don't you get the vibe of the bride being the happiest soul on the earth? I mean she looks so happy in herself and all the people in the background are kept a little blur to give the look of a "paused-moment" to this image. Now I know Every bolly lover bride must be craving for a similar picture which looks like a scene of pure Karan Johar movie.

The bong bride
Ever since we have watched Bipasha Basu's cultural wedding with the essence of pure Bengali religion the trend for red Banarasi saree has come back with a complete hype and you truly cannot deny the fact of them Bengali brides looking so beautiful in these.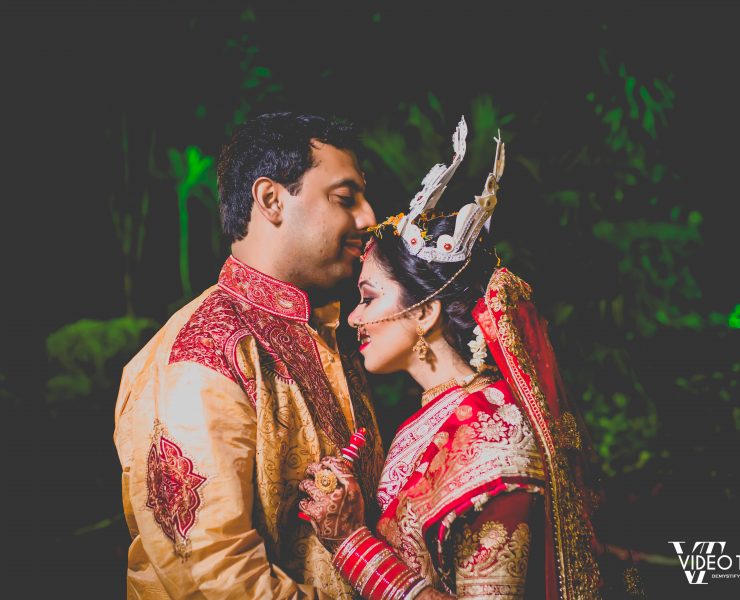 Red Banarasi saree and the kajra tied around the bun holds a greater significance in the Bengali culture and we are proud to successfully capture this beautiful Bengali bride wrapped in the arms of her husband.


The prince charming
We girls have always been a great sucker for the fairytale endings and what else can make us happy than a fairytale setup on our wedding day, nothing I know right.
This image is a pure candid with our bride looking down with ultimate shyness in her eyes and her prince is not able to take his eyes off of her Also the chandelier spreading golden lights all around are adding a great vibe to the image.
The Dreamy Phera Shot
With time people have changed their preferences from outdoor Phera setup to Indoors and this Phera setup is truly setting some major goals.
As far as this particular shot is concerned, this is purely a candid shot from a Dominating angle as it was captured during their pheras.
Red Royal Bride
Big fat Indian weddings are famous for what? The rituals, long running celebrations, gatheration of so many people, the traditional clothes, royal ornaments and what not, This is our Marwari bride completely dressed in the traditional heavy red lehenga because In the Indian culture red color holds a great significance for the married ladies.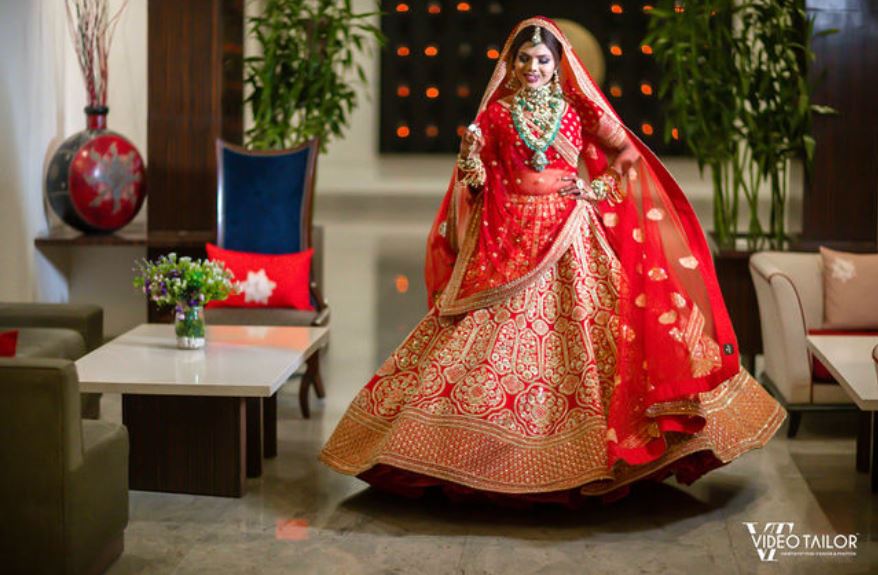 We at video tailor understand the importance of the little moments and how these little moments hold a very important part in your life, we capture candid's and classics with a cinematic touch and the post production services are also based on the on going trends. We provide quality work and give our best in order to fulfill your requirements.