Best locations for pre-wedding shoot in Jaipur – VideoTailor
April 28, 2023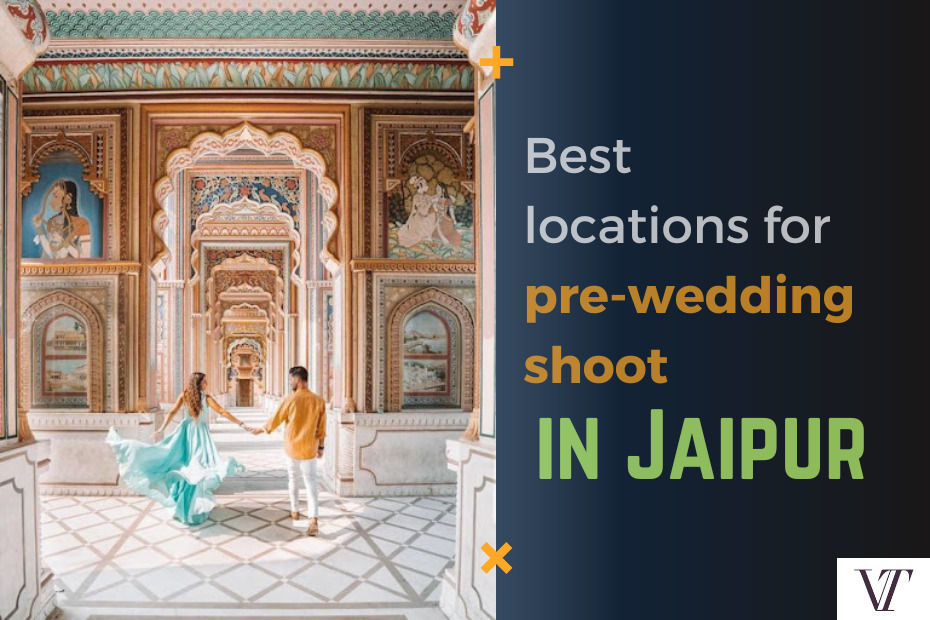 The pink city of India, Jaipur, is one of the finest destinations for a pre-wedding shoot. Offering a plethora of picturesque locations filled with abundant beauty, culture, and heritage, you can't go wrong with this city, that's for sure. Jaipur is home to a handful of photo-worthy spots to pick from, and here we are to make this job simple for you. Here are a few of the top locations in Jaipur for pre-wedding picture shoots, so you may pick your favorites based on your preferences.
Patrika gate
The Patrika Gate is one of the many architectural wonders in the city, making an excellent backdrop for your photos and videos. Important facts regarding several regions of the state of Rajasthan are painted on each pillar of the Patrika gate. The rich and vibrant walkways and opulent design of the gate present a true glimpse into Rajasthani culture. There are no charges for entry or photography here. We suggest you shoot in the morning, with the sunlight perfectly lighting your photographs and the vivid colors in the background. (Photo: @exploressaurus)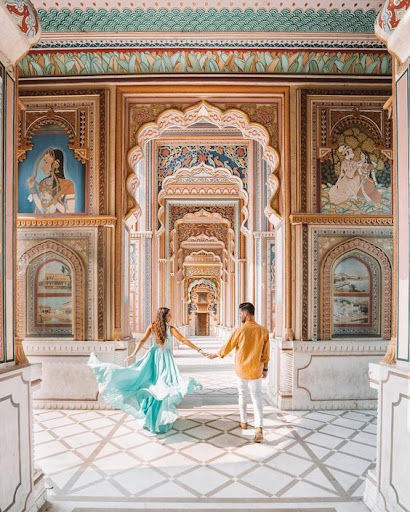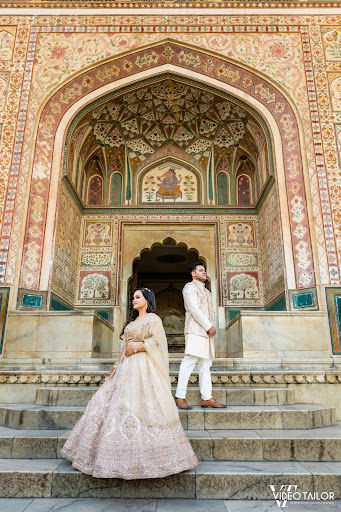 Amer Fort
Amer Fort in Jaipur is the ideal location for you if you wish to fulfill your fantasy of a royal pre-wedding shoot. The fort, which is situated on the Aravalli Hills, provides breathtaking vistas and magnificent historical architecture. Instead of shooting in the evening, choose an early morning time because the crowds will be considerably less and easier to handle. To avoid traffic and crowds on the weekends, schedule your shoot on weekdays. A two-hour photo shoot at Amer Fort costs Rs. 5K. We advise dressing ethnically for your pre-wedding photo shoot in the Amer Fort to give your pictures a more traditional feel. To complement the light sandy colour of the walls, you can go for darker shades as well. 
Albert Hall
The Albert Hall is the next stop. One of Jaipur's oldest museums, it is renowned among photographers for its historic architecture. The Indo-Saracenic structure and the pigeons near the museum are what attract couples the most. The museum is a fantastic setting for a pre-wedding photo session both during the day and at night, although pigeon photos can only be taken in the morning. The parking area is quite big near the museum, so you can also shoot with a vintage car or even a bullet. Shooting outside Albert Hall is absolutely free. There is a 5,000 rupee fee for photographing within the museum.  
Video Tailor Tip: For better pictures and experience, it is advised to spend Rs. 5,000 at Amer Fort rather than Albert Hall.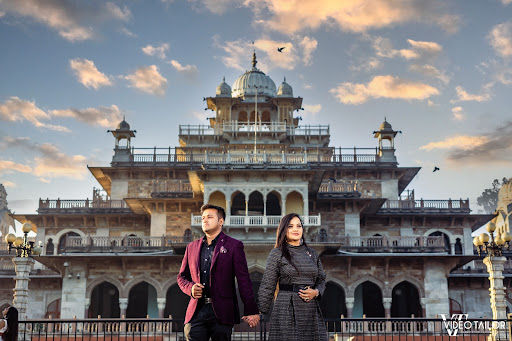 Hawa Mahal
Also known as the Palace of Winds, Hawa Mahal is another beautiful location for obtaining spellbinding shots. This marvelous monument is built with red and pink sandstone and has  953 little ornamental windows. Hawa Mahal is located in the heart of Pink City and is easily accessible. You'll get considerably better shots from the outside than from inside the palace. Avoid planning your shoot on the weekends, as the streets are jampacked. Shooting at this location is totally free of charge. Many photographers prefer to shoot from the Tattoo Cafe or Wind View Cafe, located just in front of the Hawa Mahal, for a better angle. These cafes will charge a certain amount for photo shoots and do not permit shooting on weekends. Your pre-wedding photos will undoubtedly have a paradisiacal feel with the Hawa Mahal as the backdrop.
Video Tailor Tip: Use ultra-wide lenses (16-35mm) to get the full monument in the background.
Jal Mahal
Last but not least, we have the magnificent Jal Mahal. This palace floats on the Man Sagar Lake and is surrounded by Nahargarh hills. Shooting inside the palace is not permitted. However, the lake's boundaries make a perfect spot, keeping the peaceful palace in your background and adding that calmness to your photographs. There are no charges for photography or videography here. Plan an early morning shoot here with your beloved to give a royal and dreamy touch to your pre wedding photographs.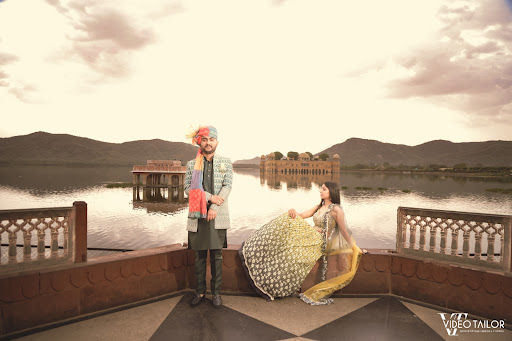 Conclusion
We shared some of the best and most popular pre-wedding shoot locations in Jaipur. There are many more picture-worthy spots in this beautiful city. So, enjoy a royal pre-wedding photoshoot with your partner in the magnificent Pink City.