20 Most Stunning Bridal Portraits Captured Perfectly by Video Tailor
May 25, 2022
Stunning Bridal Portraits by Video Tailor
Aside from saying "I love you" and "I do" to her better half, every woman has one more wish when it comes to her wedding day- to be the most beautiful yet stunning bride. Yes, every woman wants to look back on the day of her wedding and think how beautiful she looked. But looking stunning and elegant on the day of your wedding is definitely a huge task for every bride to be for which she makes endless preparations. We, Video Tailor, love weddings! And we love shooting weddings! Through our years of experience, we know what's in and out of a wedding day. We know just how special it is for a bride. It's the day you've all dreamt for months, the day when all your preparations come together in a beautiful nuptial. It's your day! But in the hustle-bustle, excitement, and nervousness of the day, it can be hard to remember or even take out time for photos. Which is where we the wedding photographers and videographers step in! We love getting creative and spending time taking beautiful and stunning bridal portraits. We love every aspect – the mehndi, the jewelry, the shoes –  there are certain things we never ( can never) forget to capture on a wedding day.
Well, take a look at these real brides we captured on their D-DAY. These are some of the best 35 bridal portraits we captured of our beautiful brides (take notes gals!)
B/W Portrait
There is something elegant and graceful in black and white portraits. It brings out the elegance and classiness of the bride. The way she smiles and shyness in her smile is just a perfect typical bride with a different modern touch. Moreover, these closeup b/w picture brings out the stylish and artistic look, and the way her makeup, jewelry, and her hairdo looks in this is perfect.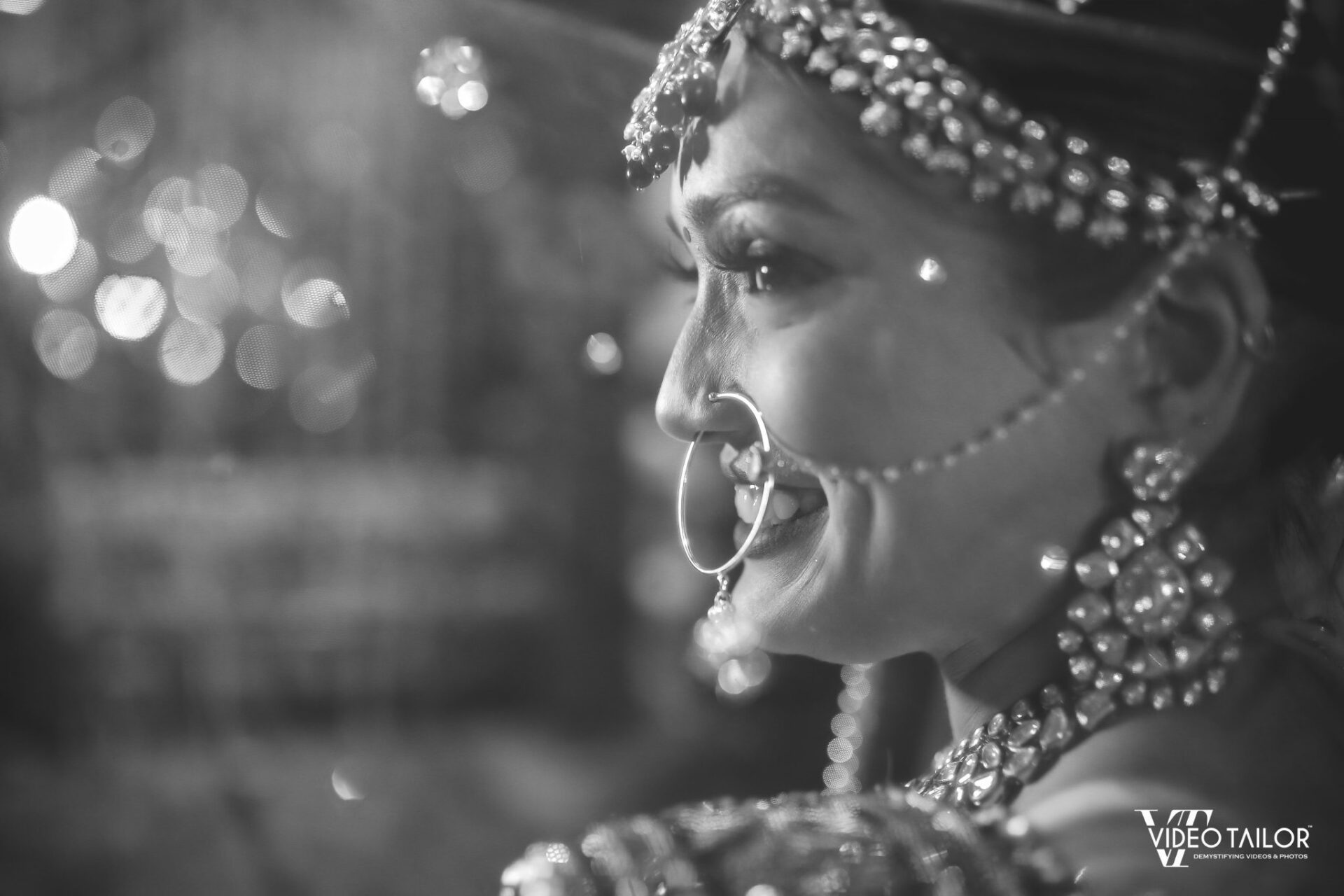 Jodha Style Bride Portrait
We all have watched the movie "Jodha Akbar," and some point we all crushed on the jewelry and the way Aishwarya Rai Bachchan dressed in the film as Jodha. So, why not to fulfill that wish and get yourself clicked like that? Our gorgeous bride Damini looked perfect, elegant and just like a queen in her wedding and this portrait justifies that too.
Bride Getting Ready Portrait
Everything about a bride, including every strand of her hair, needs attention to on her wedding day. Here our beautiful bride Bhawna, along with her hairstylist putting touch up to her bridal bun is a perfect example of how beautiful a bride looks and how attentively she is sitting and trusting her makeup artist to do wonders on her. The happy face of our bride Bhawna is giving a charismatic look to this image, and we can't help but swoon over her beauty and this perfect picture!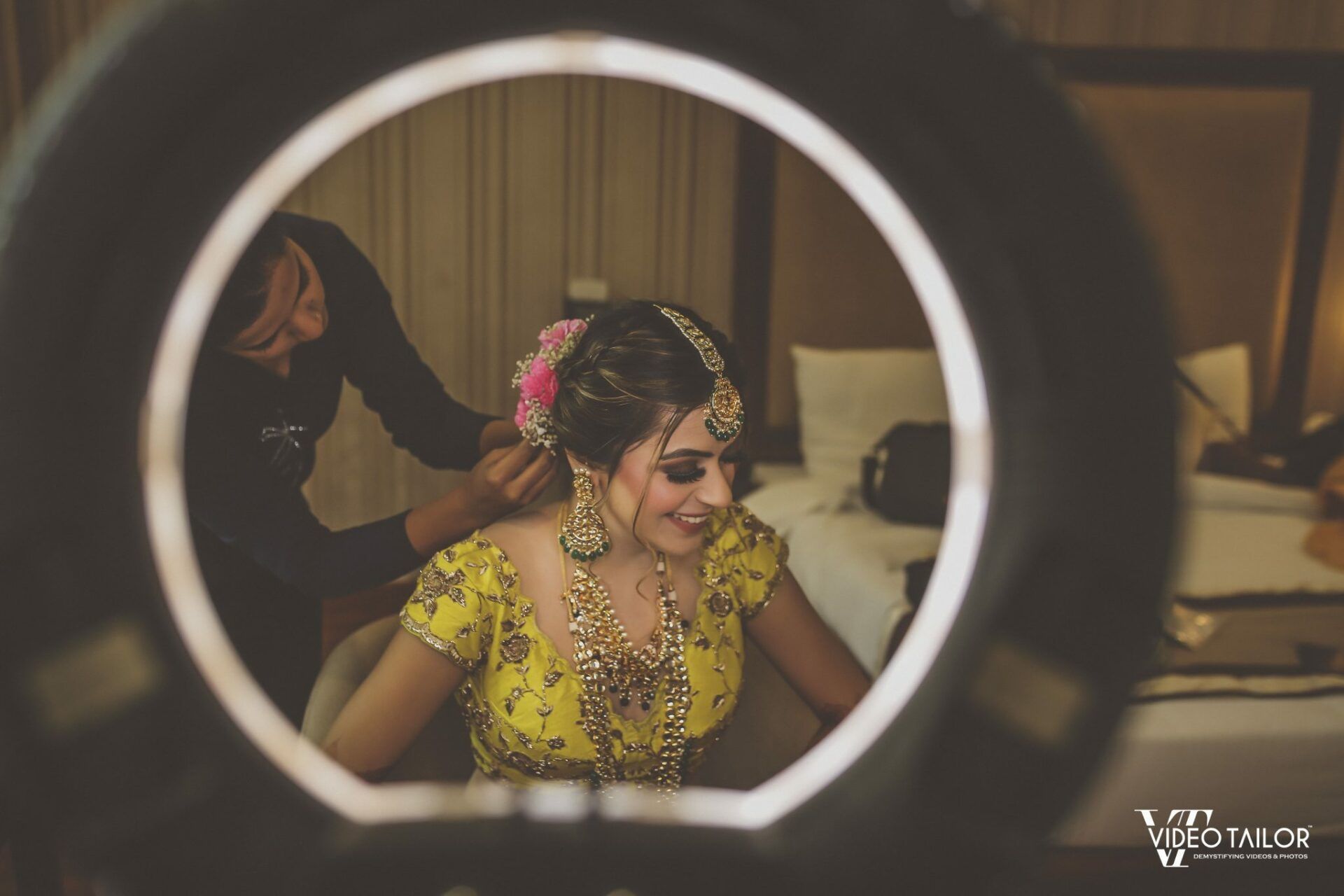 The " Mukhda Chupake Rakhna" Portrait
This perfect veil shot captures the essence of beauty and purity of the bride. The shy smile planted on her face depicts the gracefulness in this close upshot. Nothing can be compared to the smile of the bride she has on her face. Moreover, this beautiful veil with the gold and pink flower zari work on the border of the dupatta is adding a 10x charm to the bride's beauty.

Not a typical bride portrait
Let's not forget the fun and quirkiness of the bride. Yes, she is going to be an elegant bride but why sacrifice her inner self? Our beautiful bride Daisy here in the denim and shoes got herself clicked in this fun-filled shot which depicts the playful behavior making this image beautiful yet quirky. This shot is an out of the box though as this is something different from the usual bride portraits.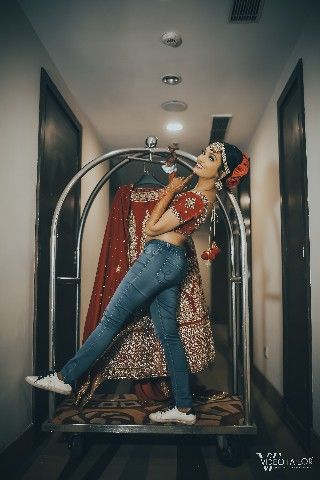 The last touch up by Mom Portrait
This shot is too elegant and graceful for not be counted in this list. The last touchup before your graceful entry by your mother is too beautiful to handle. Your mother helped you decide what to wear when you were a kid and helped you to dress up then why not to get a portrait of getting the touchup from your mother nd get that moment clicked? This is a very special day for them too.

The Kala Chashma Bride portrait
Ho mainu kala chashma jajta ae, Jachda hai gore mukhde te" this really is true I mean look at our beautiful bride Bhawna, this kala chashma is completely complementing her playful nature and the pout is just a cherry on top at it.
That Long Veil Shot
This shot is needless to say, it says everything at its own. The veil check, elegant pose check, the distant pose check. The elegance in this shot is amazing. It gives all the royal feels to us. The color contrast, the subtle color gives it a royal, elegant and classy look making it our one of the favourite images.
The happy bride Portrait
What is best than the real smile on a bride's face. The way her face lights up in this beautiful picture makes it such a happy one. Our cheerful bride looks so beautiful in this and it makes this one so precious to capture.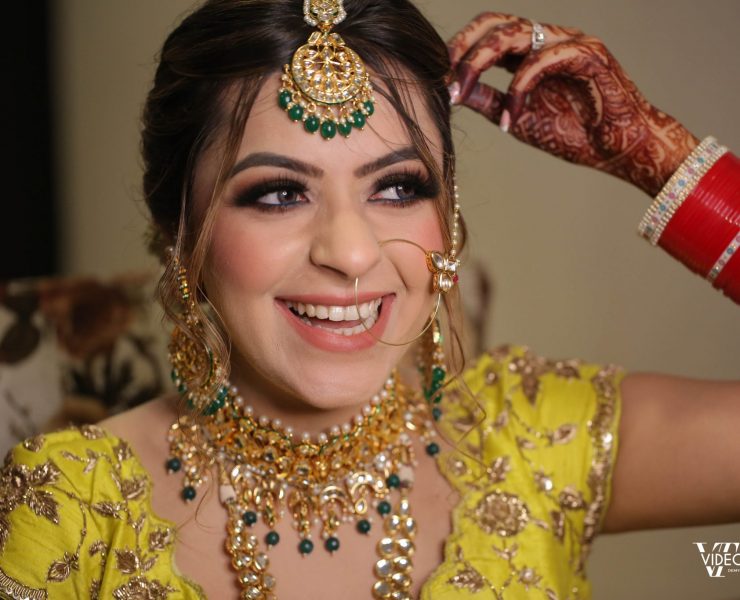 The Dancing Bride Portrait
Our beautiful dancing bride here gives us all the feels of fun and love in a wedding. Beautiful entry of our bride dancing her heart out with her squad can melt the coldest of hearts too.
The one with the squad
Well, what's a bride photo without her squad in it. Right? The bride photoshoot is incomplete if she doesn't have her beautiful bridesmaids by her side to complete her notorious look.
The "all focus on Maang Tika" Portrait
This picture is elegant in her own way. All the focus is on the beautiful Maang Tika of the bride which is so beautifully and gracefully captured which makes it look like a royal portrait.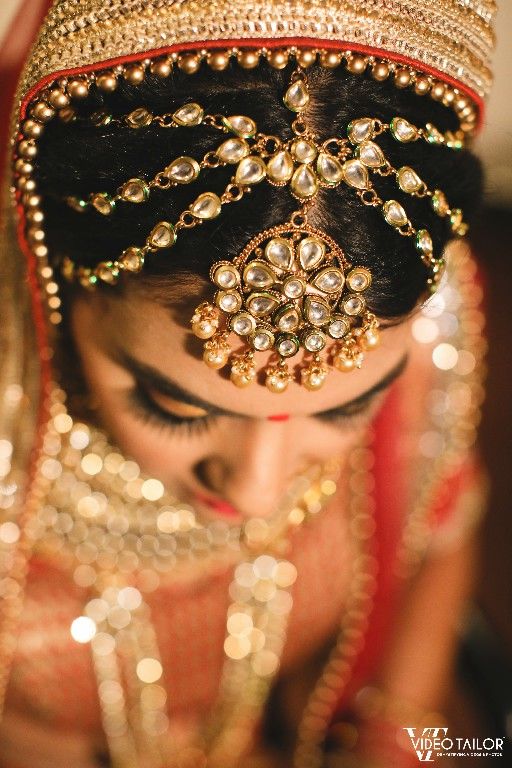 The Payal Portrait
Payal has a special significance in Indian culture. It signifies the bravery and pride of a woman. The beautiful shot of payal looks pretty yet gives strength to the bride.
The closeup shot with sindur dani portrait
The sindur daan has a very important meaning in our indian culture. It is usually worn to signify that the woman is married. This picture captures the essence of our beautiful bengali bride with her sindur daan and we can't help but crush on her beautiful smile.
The one with the Paan Portrait
Our beautiful Bengali bride with the paan patta. In bengali wedding, it is a part of a ritual named Shubho Drishti. In this ritual, the bride and groom doesn't use to see each other before this moment. This picture symbolises the same. The smile on the brides face look pretty and precious which is a must to capture.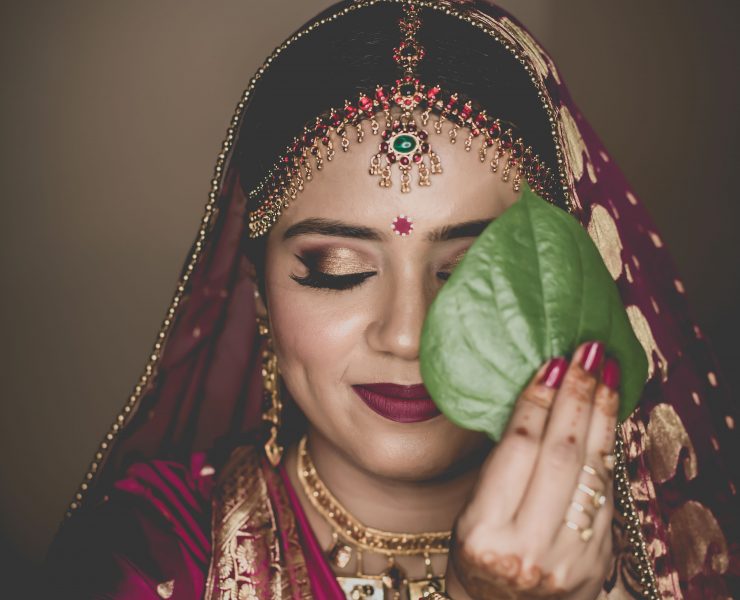 The Nath Portrait
This beautiful Nath shot is a must in a bride's photo list. The way she is adjusting her Nath with a shy smile on her face is too cute to handle.
The lehenga Portrait
We know how many days and hours you have spent looking on bridal magazines and boutiques for your perfect lehenga. So, it deserves a picture of her own to click. We love going on a hunt for that quirky place to hang our bride's gorgeous attire and make it the star of the image.

Bridal Entry Portrait
Now the moment of what everyone was waiting for, when everyone stops everything they are doing and just look at our beautiful bride making a royal entrance. There is something serenely beautiful in a bride's entry. The shyness in her walk and smile is just too precious to not capture.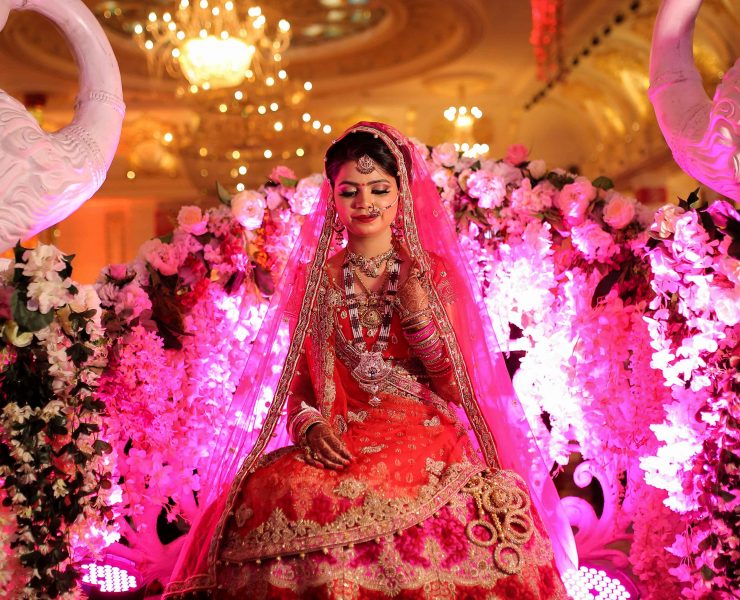 The last Touch up Portrait
Well, girl it's time for you to make a grand entry but wait is your lipstick perfect? There is always a last touch up left whether it be of lipstick or kajal. So, why not to capture this shot too as a portrait?
The Sindur Portrait
When the groom applies Sindur in the bride's parting of hair means that now they are wholly wife and husband. It has a special place and significance in a married woman's life. So, why not to capture the beautiful shot in cameras?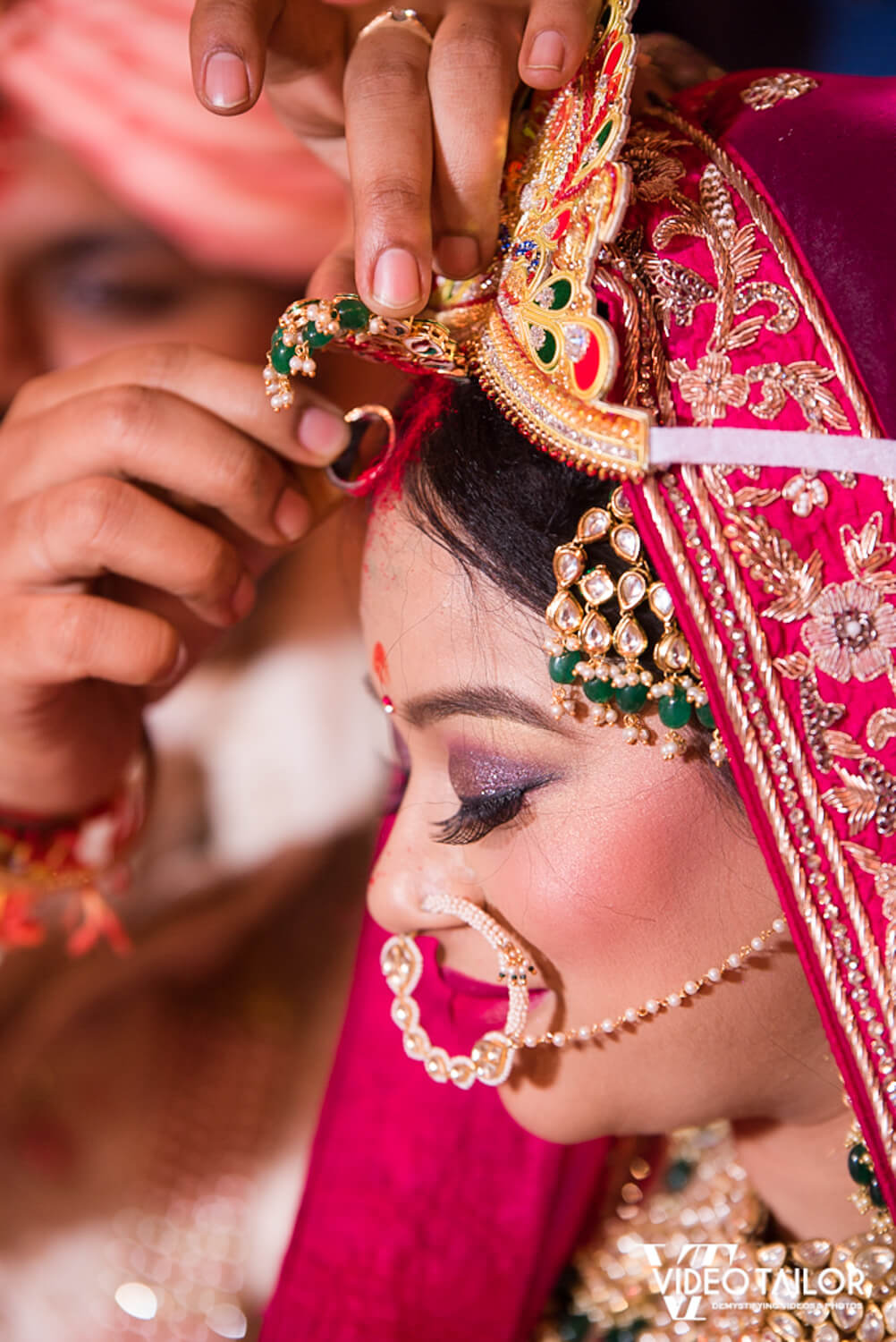 The Kaleera Shot Portrait
Well, how can we miss this important Kaleera shot? It's too beautiful yet royal to capture it. Our lovely Bride Bhawna looks pretty and quirky in this gorgeous shot and we can't help but fell in love with her smile and image.
The Vidai Portrait
Vidaai Ceremony are truly heartwarming and extremely emotional moments in an Indian Wedding. It's a bittersweet moment as the bride says goodbye to her family. We love how all the emotions just burst out during a vidaai.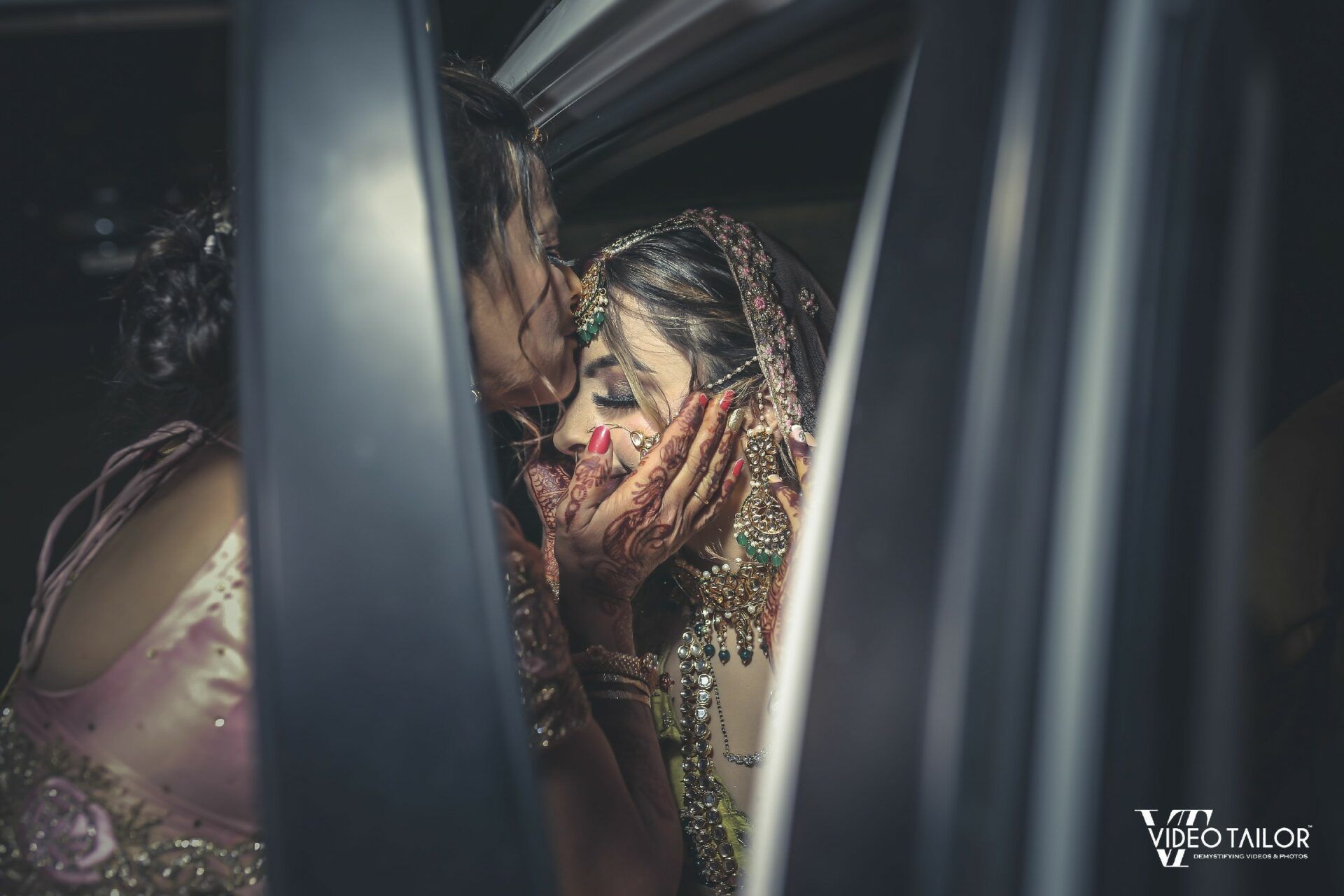 Of course, these are not the only bridal portraits we capture. We go far and beyond to create and capture the pictures which our bride wants and deserves. Every bride is unique in her own way and we try to capture her best day in cameras beautifully.