Beautiful Pre Wedding Shoots In Daman And Diu
May 10, 2022
Enthralling Pre wedding shoots In Daman And Diu
It is a union territory in Western India. Daman is a smallest federal division of India. Daman and Diu has various monuments and buildings that are built in Portuguese Style Architecture. Daman is a small city on the mouth of river Ganga and Diu is a small island off the coast of Gujarat. It is known for its untouched natural beauty and serenity. This is the one of the most popular places for the nature lovers and those who are adventurous. Daman is known for its beautiful Portuguese forts , beaches , churches and variety of mouth-watering cuisines. While diu is a nature's gift and you can find many picturesque destinations for clicking pictures over here.
It seems like heaven on earth. Diu has lots of clean, Blue-Green beaches and multiple no. of forts. You will find the most perfect Pre Wedding Shoot Locations In Daman And Diu.
Pre wedding shoots are just the way of having fun and expressing love through pictures before the wedding. It is important before the final wedding day as these shoots capture the chemistry between the couple. For these photoshoots ,  couples explore new places and search for the destinations that are perfect for their Pre Wedding shoots. One of the best Locations , one can go for shoots is Daman and Diu.
Best Pre Wedding Shoot Locations In Daman And Diu
Beaches In Daman And Diu
1. Daman
a. Devka Beach
Beaches in India doesn't only means sand and water but they are more than that and one of the best beach you can explore is Devka Beach. Those who have interest in surfing , sea and sand can go for this beach. It is situated in the north of Daman, and has a very long coastline.
The Devka Beach has a few rocky crops and the amusement park here adds fun in the environment. This beautiful beach is a very nice option for the couples who are looking for the best locations For their Pre Wedding shoots.
b. Jampore Beach
Situated at the Southern end of Daman, Jampore Beach is known for its charm. There are no food stalls or amusement parks at this beach , but you will find peace here and the best part you will be away from the crowd.
It is the romantic destination and the couples can enjoy the beauty of nature here peacefully. You can get the best pictures here and you will also get the experience of riding horse and camel rides here.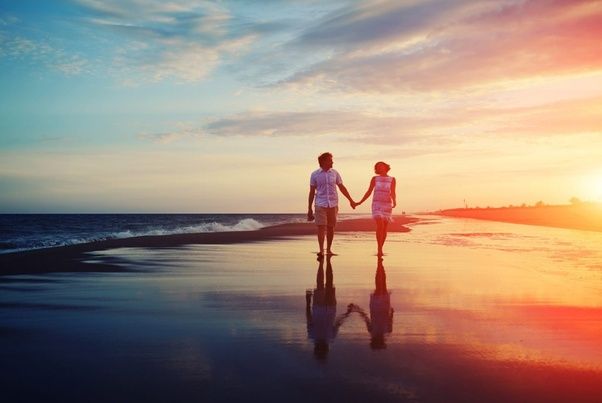 c. Goptimata Beach
Goptimata Beach, the horseshoe shaped beach has colourful landscapes, ambient music , different characters where you can get the most amazing clicks.
For the props and Merchandise, you can go to the nearest stores. It is a scenic place to visit and which is lined with coconut palms, which provide shade from the sun. Views of sunset and sunrise from the beach are mesmerising and are perfect moments for the shoots.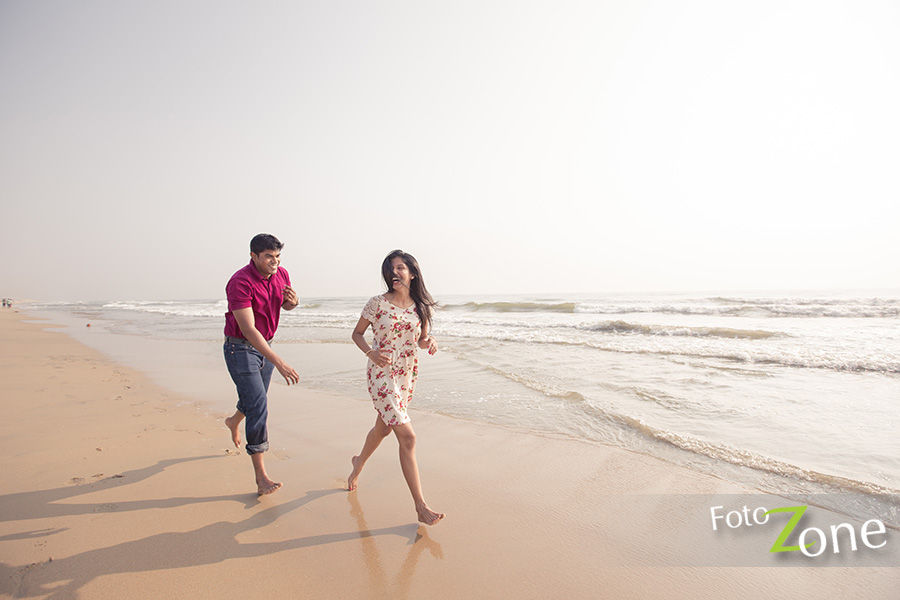 d. Kevdi Beach
Kevdi Beach is known for its cleanliness, exquisite ambience and adventurous activities. Those who are adventure enthusiasts can go for sport activities like Parasailing and wind surfing. The other additional activities here are very attractive and the best part is you can get clicked while enjoying or doing the activities. They will surely help you getting great candid pictures.
kevdi Beach surely leaves an everlasting impression on the visitors.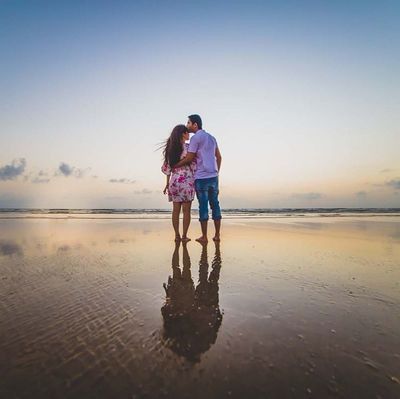 2. Diu
a. Nagoa Beach
Nagoa beach is on the end of Junagadh district. This horse shaped beach is surrounded by Palm hokka trees and this beach is ideal for swimming and boating. Sailing, Surfing and water skiing are other activities one can enjoy. It is nice place for a Pre Wedding Shoot.
The other Attractions where you can get the nice shots are the St. Thomas museum, Church of St. Francis of Assisi, Pani Kotha, INS Khukri Memorial, and Sea Shell Museum.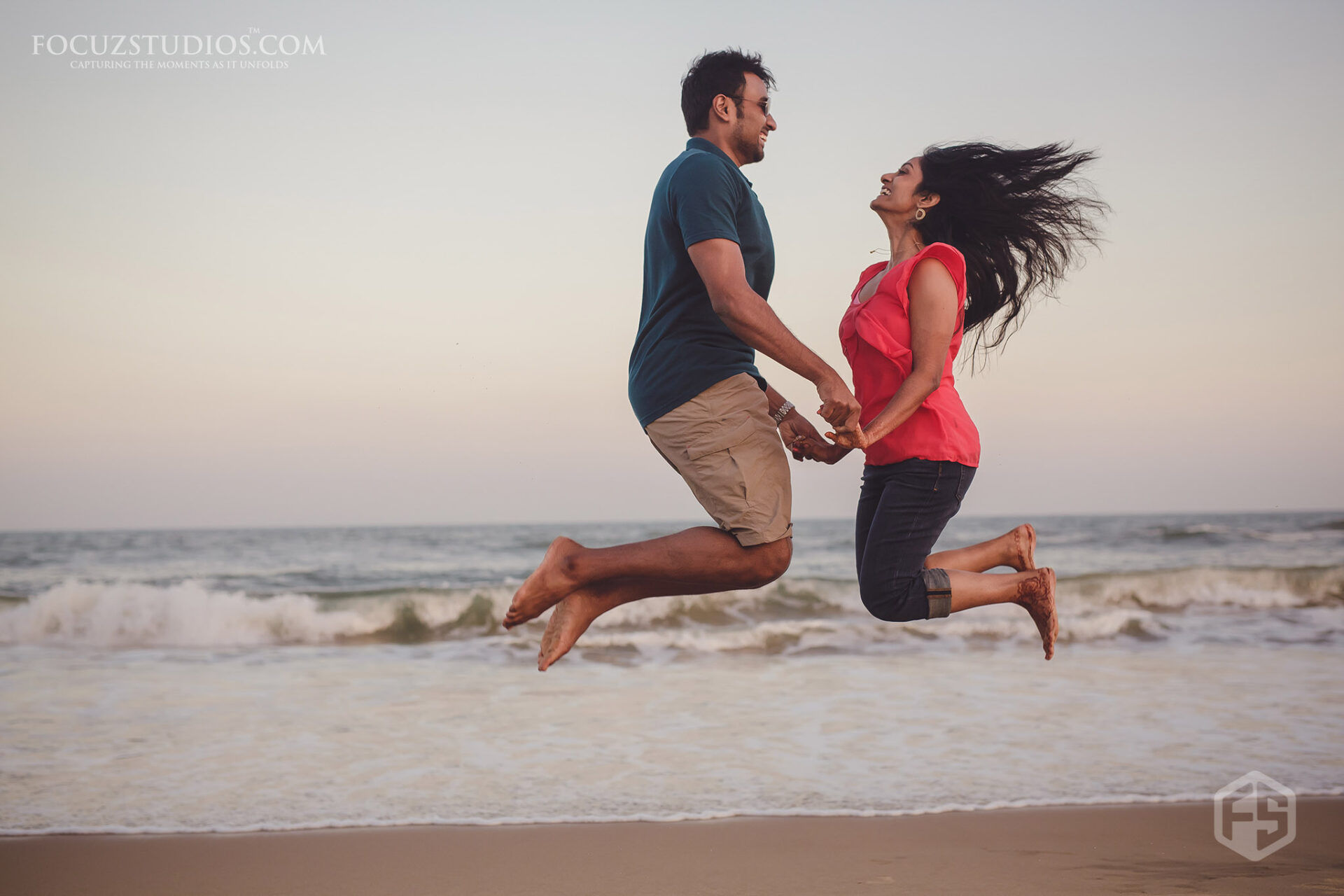 b. Ghogla Beach
It is one of the most alluring spots in Diu. This beach is not as crowded as Nagoa beach and here you can enjoy all the water and sports activities. It is the most amazing destination for Pre Wedding shoots. You can also spot dolphins at this beach and apart from all this you can get the best pictures over here and can make your pre wedding shoots more memorable.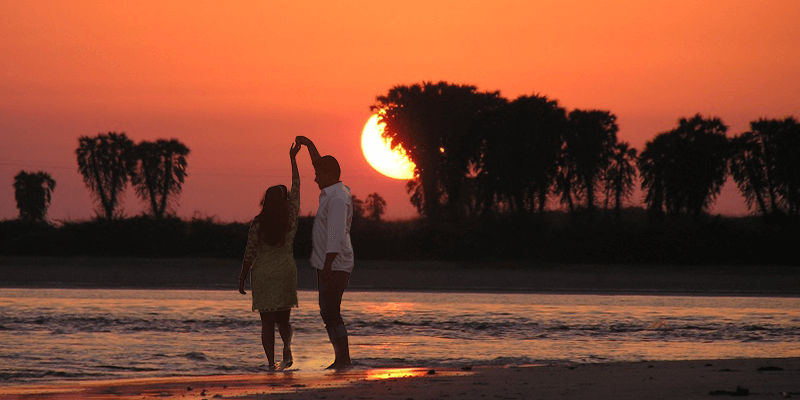 c. Chakratirth Beach
It is one of the popular beaches in Diu and a favourite getaway for tourists. Here you will get the background of hills with sea. It is the picturesque location with amazing views. If you are visiting this beach, don't forget to visit the sunset point and the temple near this beach which is dedicated to Lord Shiva.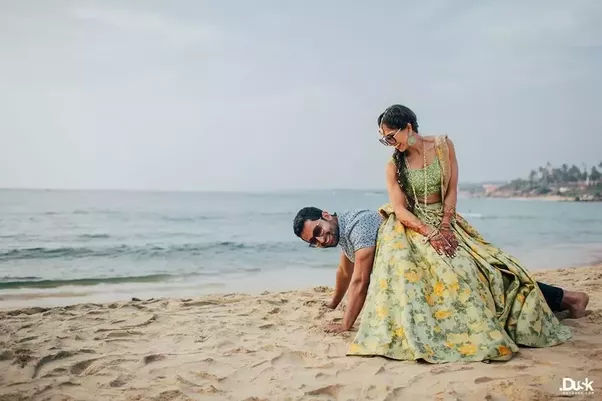 d. Jallandhar Beach
The name of Jallandhar Beach is derived from the name of Demon, Jallandhar who was killed by Lord Krishna. There is a nearby shrine dedicated to a mythological demon and it is believed that there is a stone carving of that demon on that shrine. This beach is very isolated and away from crowd which is lined with palm trees and you can experience the beautiful sunset from the horizon.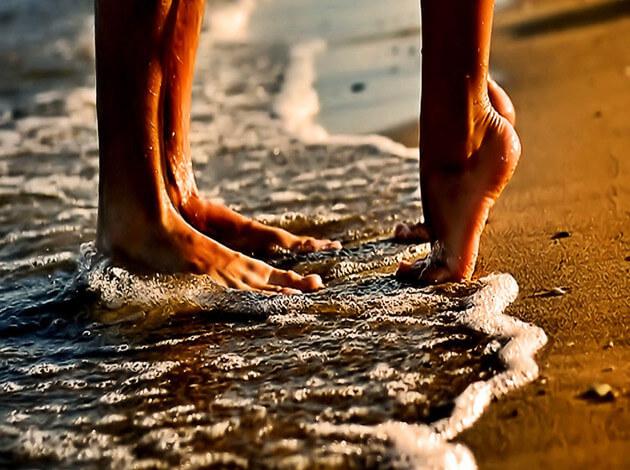 Other Attractions In Daman And Diu
1. Fort Jerome, Daman
This fort is also known as Nani Daman Fort. It is located towards the north of the River Daman Ganga. St. Jerome Fort is an ancient fort that gives detailed info about Daman's rich history. This fort is not like other forts of India, as this fort features cemetery, a church and ruins. You can get the best views from this fort. The views and this picturesque fort will give you perfect shots.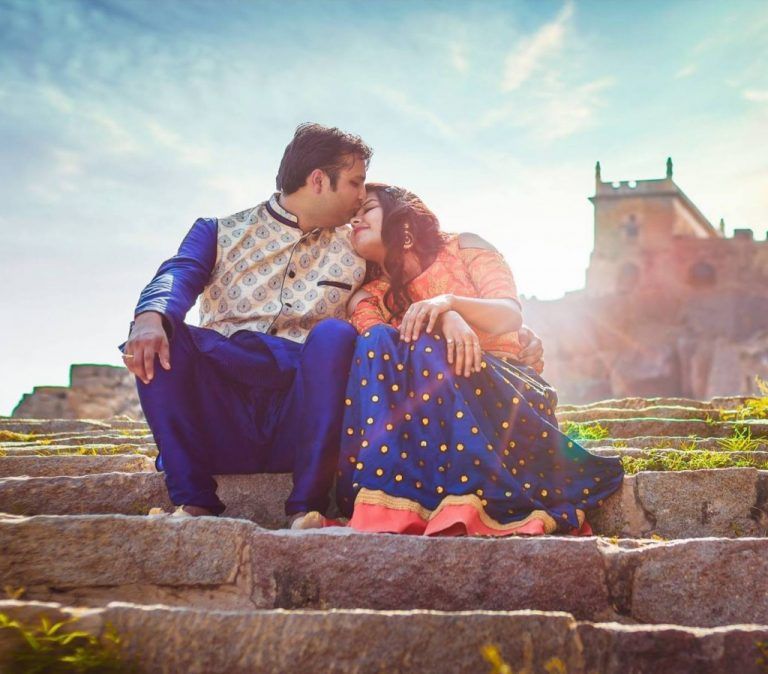 2. Diu fort
Diu Fort is located on the west coast of India which is surrounded by the sea on one side and is in ruins. It is an abandoned old fort which has numerous buildings from a jail to church and a lighthouse.
This mighty Castle has everything from a breath-taking sea view to the cannons and a enormous lighthouse. You will get the best views from this place and you can get clicked at the same time enjoying the beautiful views of sea and the lighthouse.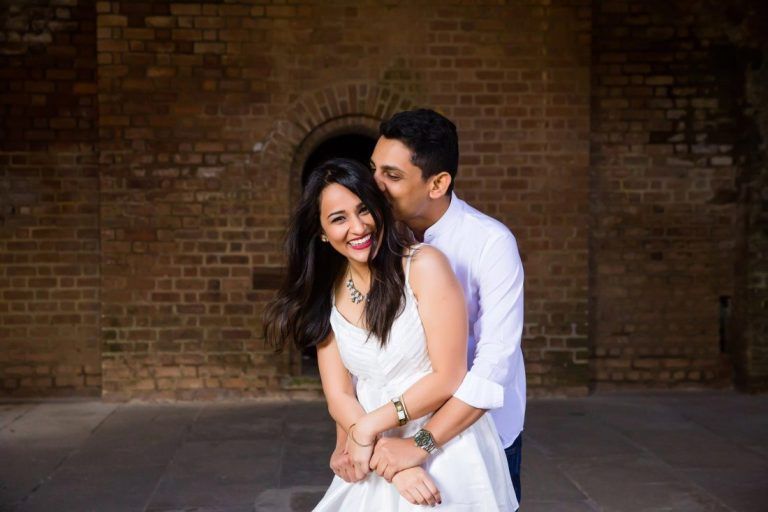 3. Naida Caves, Diu
Built by the Portuguese, these caves are the network of underground tunnels. This place has free entry and you can take breathtaking pictures in the amazing lighting during afternoon time. The caves are extremely unique that gives once in a lifetime experience.
This cave is like a natural set where you can click as much photos want to click.
4. Fortress Of Panikota, Diu
This fort is also called as Fortim do Mar. Panikota Fortress is a beautiful building and fort can be reached by a a canoe.
This fort offers spectacular views of both, the sea and Diu Island. It features a small chapel and a lighthouse.
In Fortress of Panikota, you can witness the eventful past and you can get the nice pictures with nice backgrounds.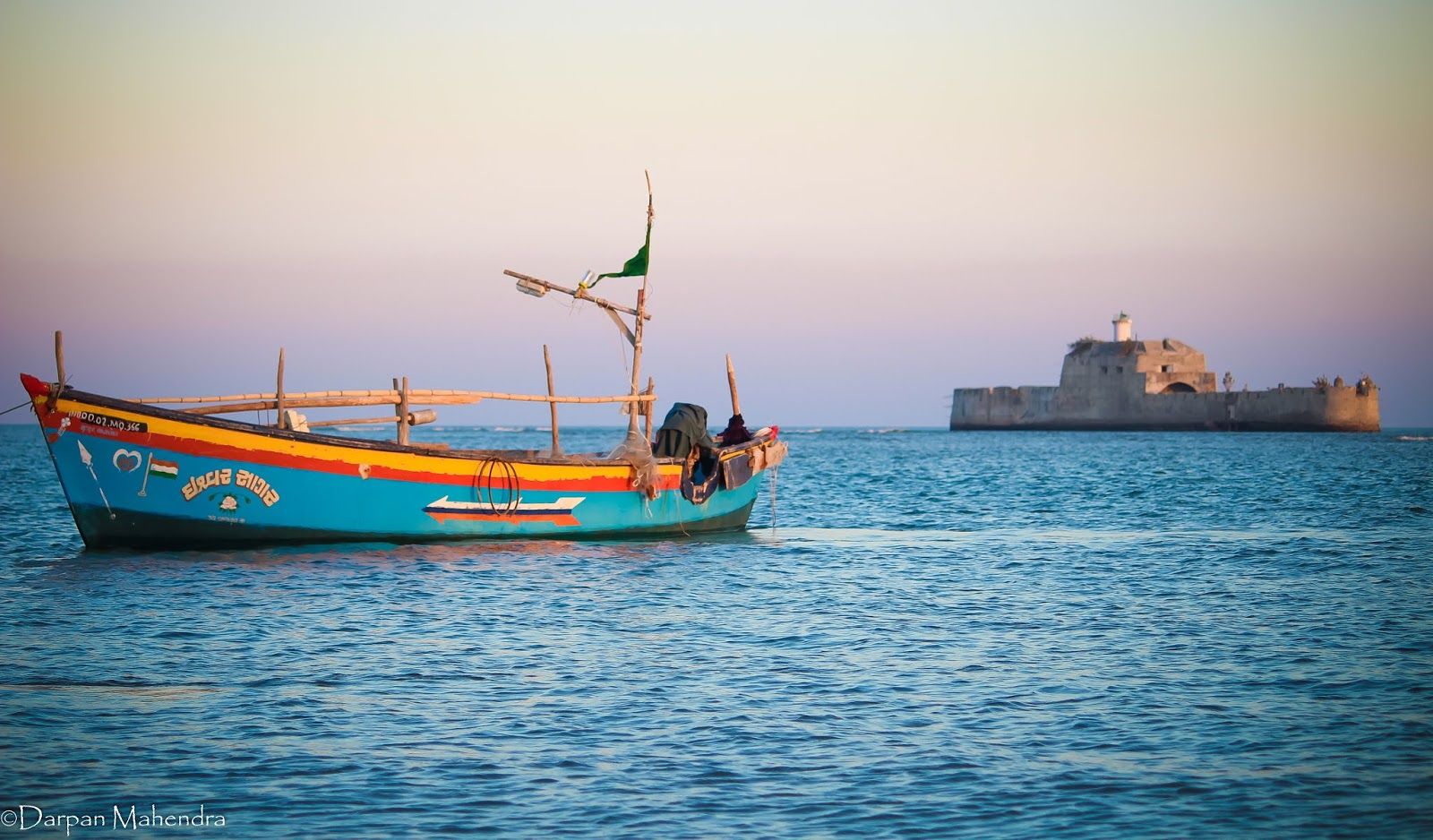 5. Lighthouse, Daman
You can visit the famous Fort of Moti Daman located near Moti Daman Jetty. Visiting lighthouse in Daman can be an overwhelming experience.
The fort has moat on the land side and also connects the river to the sea. This lighthouse has impressive gateways.
The attractive lighthouse creates a magical sight for the couples and will help you take nice pictures with the beautiful background.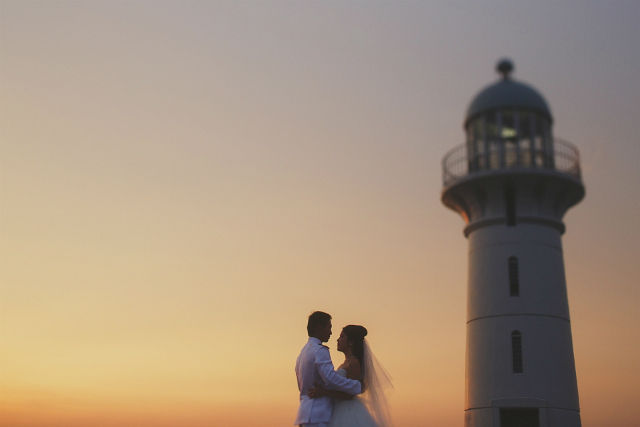 Daman and Diu is a paradise for nature lovers and it will be the best location for your Pre wedding shoot.