Different Types of Bridal Hairstyles
May 13, 2022
Types of Bridal Hairstyles
Style, which is the crown on Bride's head is the Hairstyle. It does not just complete the look of a bride but a good Bridal hairstyle enhances the beauty of a girl. A good bridal hairstyle is one which suits with the Wedding dress & goes with face shape.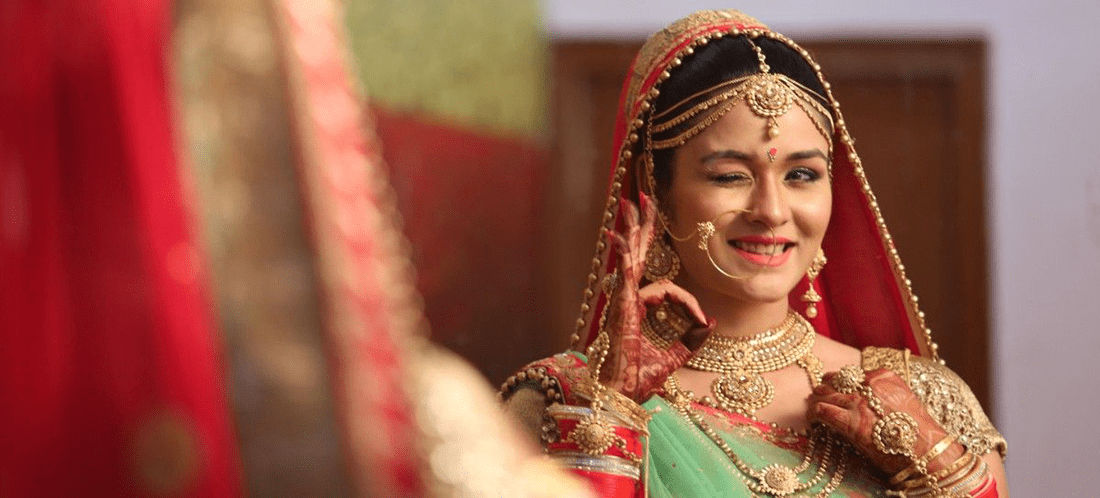 A hairstylist can pull off various types of hairstyles so you just need to figure out which style suits you the most. Well, it's a difficult task, as you are not a hairstyle expert, but choosing a style which goes with your face is quite simple.
The most important in Bridal hairstyle is the accessories. The good accessory is like a moon in the sky. Many choices are available in the market when you go to find accessories. You can select a traditional accessory or a western one.
Let's have a look at the types of hairstyles available with the Hair style expert.
Bridal Hairstyles
A Messy Bun
The most trendy style in wedding brides, which is loved all over the globe, is a Messy Bun. Whether in Wedding or in engagement ceremony, you can choose a messy bun to complete your look.
It looks more elegant when you put Flower Garland (Gajras) around the bun. You can also add sparkle in your look by draping net dupatta on your head. By doing so your hairstyle is completely visible with hair accessory.
Wavy loose hair (with less accessories)
If you find a bun an old fashioned style or wanna try something new, you can go with your wavy loose hairs with middle partition.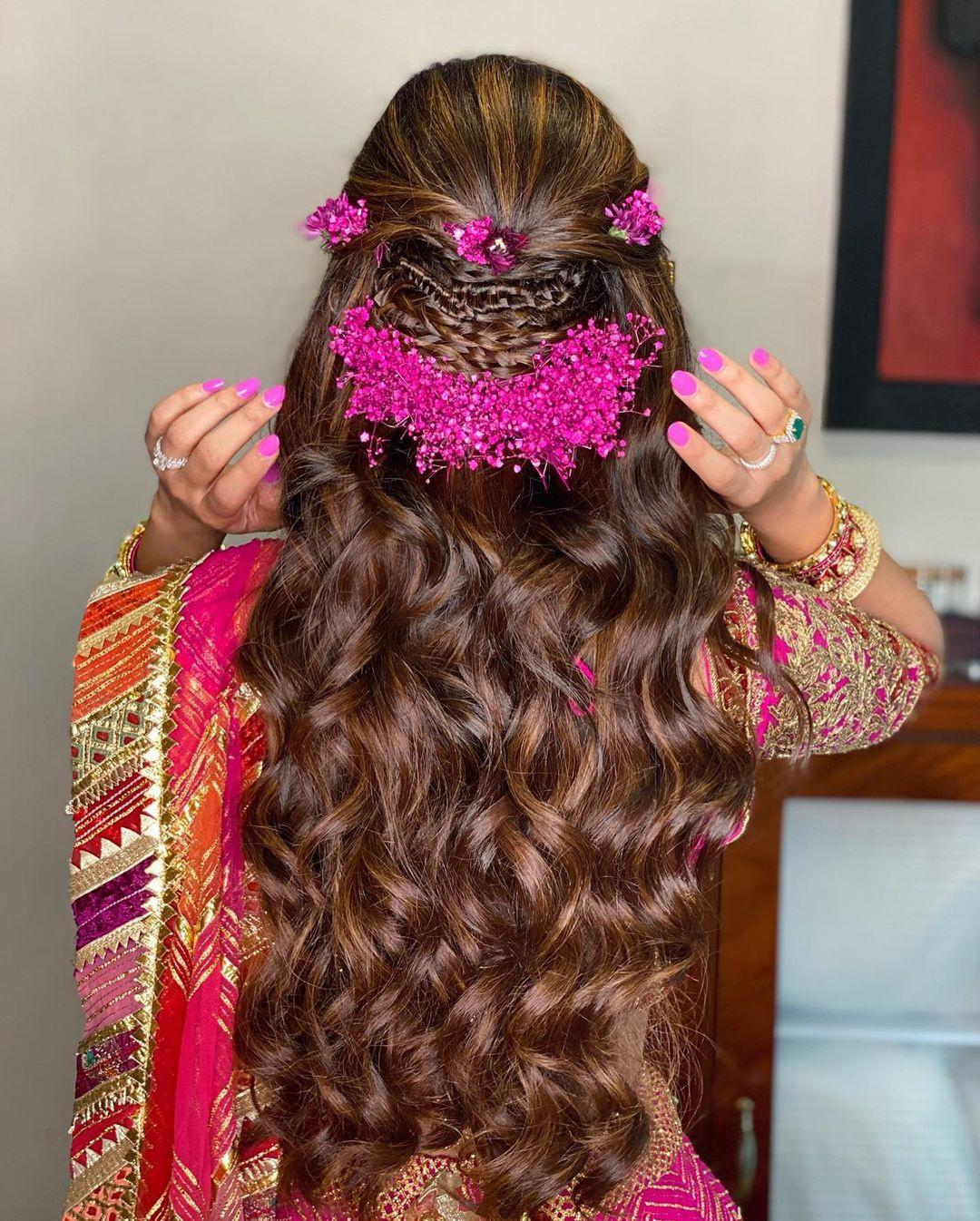 A heavy or stylish Maang tikka is all you need to complete your look. This will save you from headaches which every girl faces during her wedding ceremonies.
A High Bun
A high bun is being styled on Brides for many decades in our country. This traditional hairstyle has many new forms, as this hairstyle is the most loved style among brides. It always gives a classic look.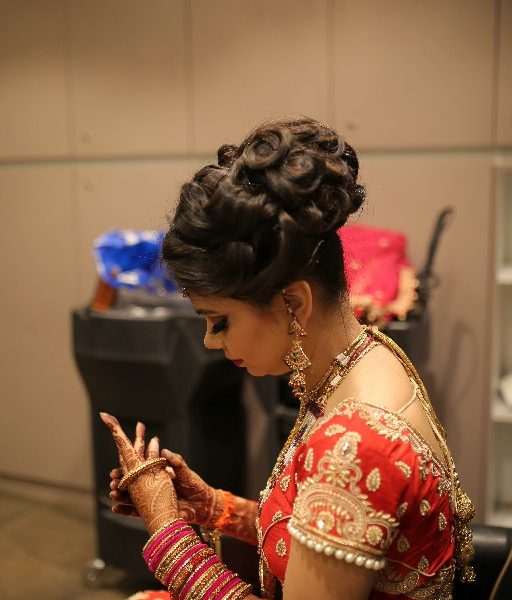 High bun can consist: a pinch of sparkles on hair, flower or star beads, hair tinsel, and of course can be done with flower garland. It always gives you the feeling of Indian Bride with Pride.
A Fishtail Braid
The Fishtail braid could be a great choice for a bride. If you have long hair, it could be perfect for you. A messy braid covered with flowers such as 'mogras' is just an outstanding style on your wedding day.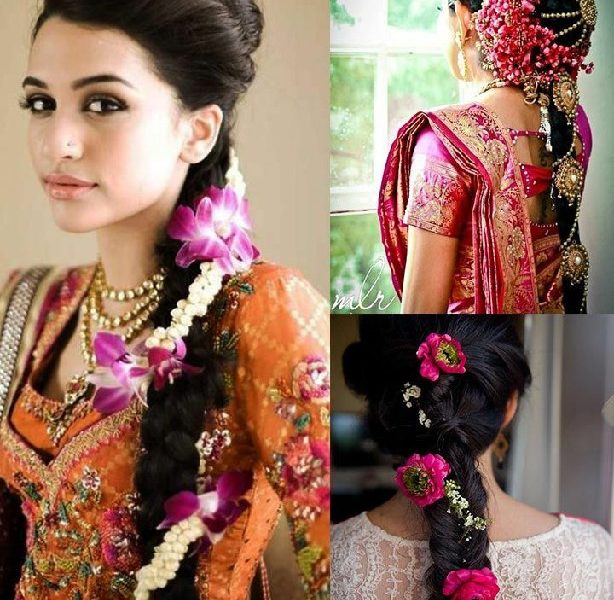 It's a very traditional style of India. You can differentiate it by doing waterfall braid, adding a new look in styles of braid. You can also complete your look with bridal hair wreath.
A Floral Bun
The Floral Bun is covered fully with beautiful flowers. A flower is a natural accessory which can beautify your hairstyle naturally. This style has a potential to steal hearts. Remember the Anushka sharma Hairstyle on her grand wedding in Italy? Her style is beautifully complementing her wedding attire (white and pink).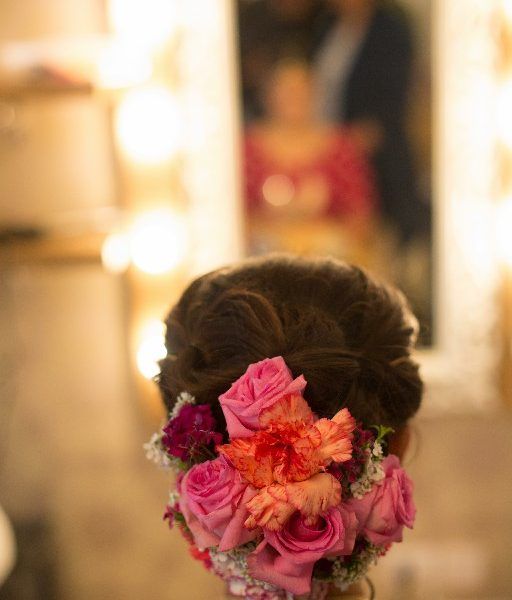 You can go with a combination of two colors. Flowers on bun can be styled on sides of the bun. If you don't want to cover your hair, you can go with styling only on one side.
A Ringlet Twisted Side Bun
The Twisted Side Bun is an emerging new style which girls usually opt to add spice to her look. The side bun is dramatically mixed with twisted hairdo.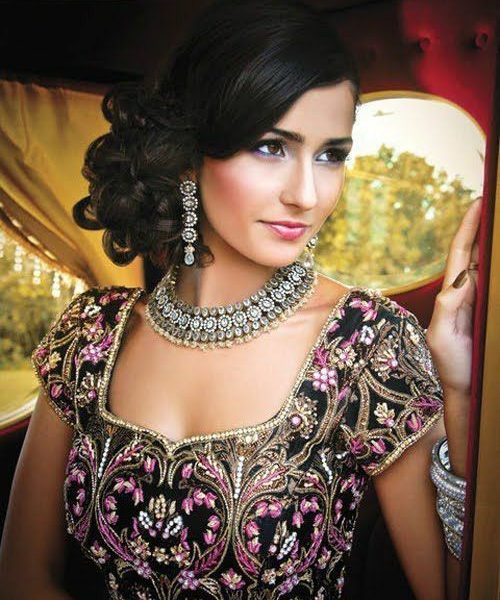 The bun can be decorated with flowers, ringlets or with Bridal hair bun pins. You are definitely gonna love this style and slay on your wedding day.
A Front Styled Hair
The hair which is beautifully styled from front is the most recent trend of Bridal Hairstyle. It looks amazing and unique in the crowd.
As our hair experts have given this tremendous Bridal style. You can see this amazing style in the picture shown below.
Bridal Hair Accessories
Hair Accessories are the most important part of any hair stylist. Any bridal hair style without trendy accessories is just like food without salt. These ornamental objects have a great tendency to give glorifying look to bride.
Let's have a look on some of the Bridal Hair Accessories you can use on your wedding day.
Matha Patti
It is the most elegant way to complete your look as an Indian bride. It's a name of bridal fashion which will never go out of date.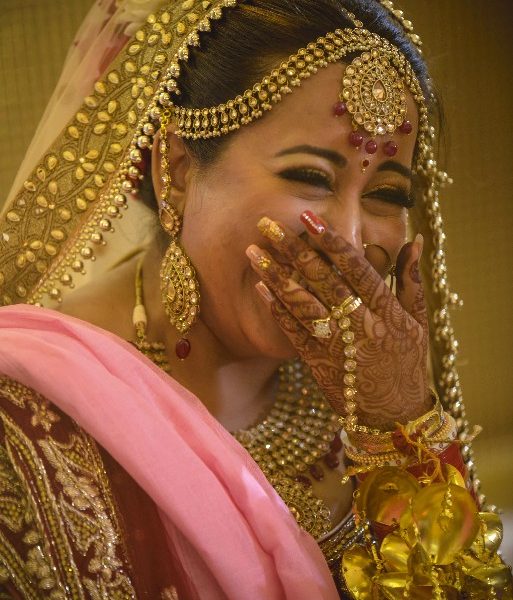 Your appearance, as a Bride without Matha Patti is incomplete. You can choose between broad Pattis or the one with kundan work.
Bun Chain
If you want your bridal hairdo with buns, then this bun chain as an accessory will be a twinkle in your look.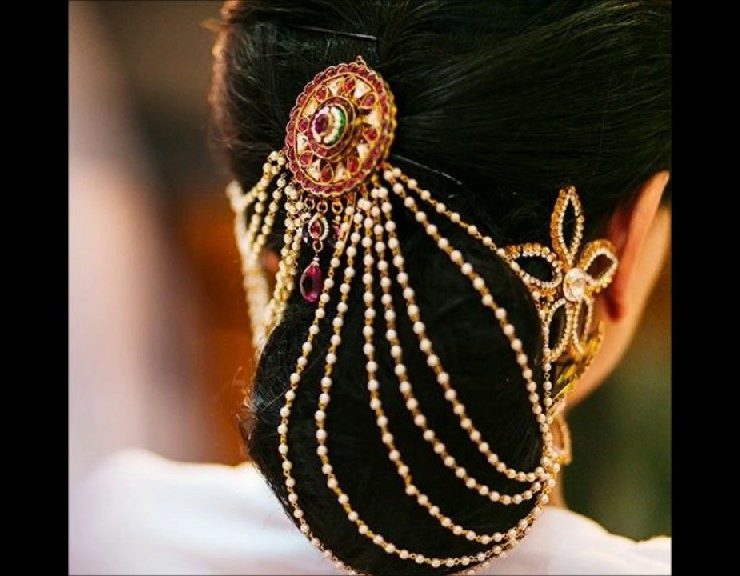 As bun is the most preferred hairstyle among the brides, the bun chain will be the perfect choice for you.
Hair Pins or Hair Clips
The most simple and unique way to decorate your hairstyle is to use hair clips or pins.The bridal market is available with these accessories.
Flowers
The Flowers are the most beautiful natures creation. So using original colourful flowers as a hair accessory on your wedding day is a super idea.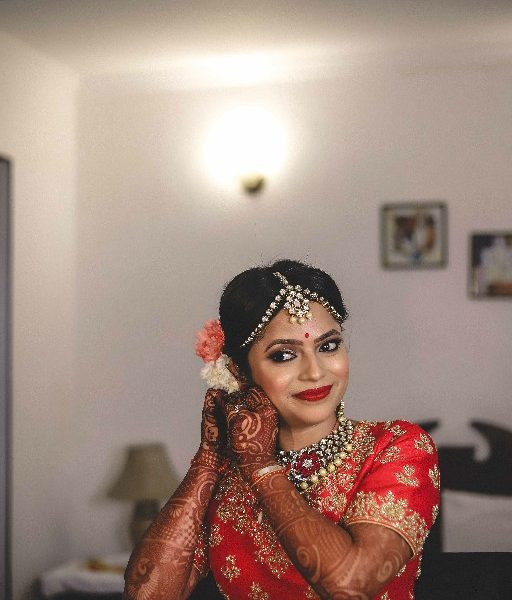 Alternatively, you can also go with artificial flower which also looks great on the wedding outfit.
Wedding Tiara
Wanna "slay" on your special day, TIARA is what you need. You can wear tiaras on different wedding ceremonies.
Raakodis
Raakodis are made up of precious stones like kunden. They are usually worn by South Indian Brides.
Raakodis can perfectly be fitted on Buns or Braids, which make Raakodis an all purpose accessory. It will look stunning if you go for Raakodis.
So, here are some of the ideas of the wedding Hair Style which you can use on your wedding day. Of Course, your Hairstyle must be as perfect as your You.