2018 Floral Jewellery Ideas and Trends for Indian Weddings
May 21, 2022
Floral Jewelry Ideas for Wedding
Wedding affairs are not complete without elegant and colorful flowers. When the bride carries these flowers in form of floral jewellery, it is effectively the most beautiful and eye catching sight. The whole wedding function lights up when the bride has combinations of contrasting flowers in form of her jewellery. No gold or diamond jewellery can ever match the elegant look that floral jewellery gives. It makes the whole outfit of the bride a lot more than what it was.
Floral jewellery is not new in India. It has its roots from Hindu mythologies. Even Sita ji was covered with flowers along with the basic gold jewellery on her marriage. Floral jewellery was never outdated, it had just lost its essence over the few years, but now it is back in 2018 with a whole new range of adorable items to doll up the bride.
Wedding jewellery can be difficult to pick as a lot has to be done from matching it with the outfit to purchasing it under your budget which is a bit time consuming and requires a lot of energy of the bride. But you can never ever go wrong with some flowers. Saving a lot of time and just picking up your favorite color flowers and wearing it with you outfit can be the simplest way of shopping for your functions.
Your accessories actually complete your outfit and that is the best part of floral jewellery that it completes you with just minimum efforts and a lot of colors. We have compiled some chic and attractive floral jewellery trends that you can opt for your most special day.
FLORAL JEWELLERY FOR ALL THE WEDDING FUNCTIONS
1. MaangTikka

The most important part of any Indian wedding is a maangtikka and it is not just for your wedding day but also for your other functions. Mehendi and haldi functions can be well played on with floral maangtikka. Keeping your forehead light and just simple. Tuberose flower can form the chain of the maangtikka and a big flower can make up the front part of it. A yellow flower is preferably better for haldi function. .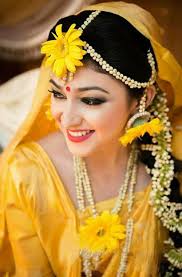 2. Hairband

Secondly ,Hair band is not just a replacement of your heavy gold band but also is a tiara which the bride can wear. The flowers used in the hair band can be of contrasting colors. Red and yellow or pink and white can add a lot of charm to the brides face. The headband is a beautiful thing to wear with your not so heavy mehendi outfits.
3. Earrings

Wear some heavy gold and diamond earrings with your outfit or pair it with some flowery earpieces. Even celebrities are wearing these vogue earring on their special days so why not take their style and make it your with a twist. Contrasting with your other floral jewellery the earring look really simple yet different .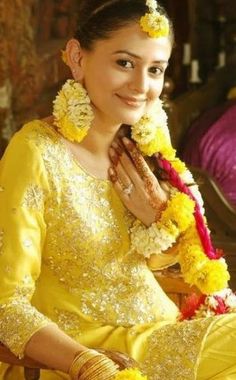 4. Saathlaad Haar

Who said a seven layer neckpiece can be just made with gold or pearls? Well, that is no more the truth. Make the most out of your flowers and get a beautiful neckpiece ready with some pearls in between.
5. Haathlaad and Baajuband

The bangles and rings you are planning to wear can be given a very chic touch. Hand harness or haathphool play the role of connecting your bangles to your rings. The bangles and rings can either be of gold or they can also be made of flowers contrasting with your outfits. Red roses are the best for your hand and just enhance the entire look.
Bajuband can be worn on any function as it makes a very beautiful statement. White daisies can be used for this purpose. Just above your mehendi you can wear your bajuband.
The only thing to be taken care of while styling bajuband and haathphool is to keep a good balance between the type and color of flowers used for the hand. Also make sure you do not over do these two things as it can steal eyes from your mehendi.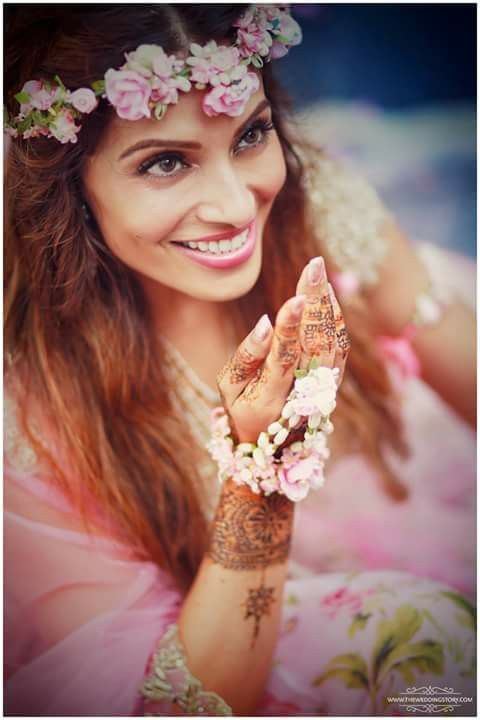 5. Pearls And Flowers

Pearls on flowers are such a lit combination. Little pearls on your flowers can enhance the look of your floral jewellery. Adding it to your maangtikka or to your hair accessories can just make a great piece of jewellery for your special day.

6. Shades Of Pink

Girls who have always dreamt of pink color, this one is for you. Make the most of beautiful shades of pink for your jewellery. Light pink, bush pink, magenta pink, rosy pink etc, roses are available in all the shades of pink, so all you have to do is to just mix and match these colors and get hands on your dreamy pink color accessories. These shades of pink can also be styles with some white flowers in between to break the monotony if any.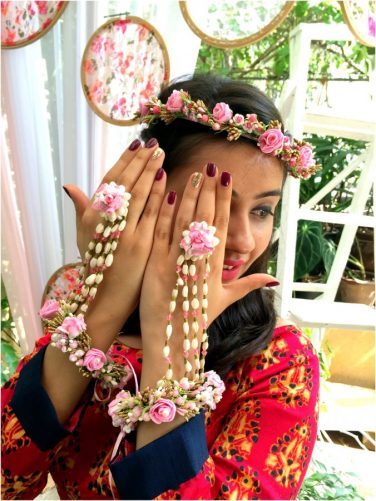 7. Floral Hair Accessories

Jasmine flower garland for your hair or Gajras as called in the native language has always been in trend. Women till now wear them on their wedding day or just with traditional outfits. They never go out of trend, they are just becoming better. Different types of jasmine flowers are used for this purpose but now also other flowers like roses and sunflowers can be used on your hair in form of small clips or just in the centre of your braid or at the end of the braid like a rubber band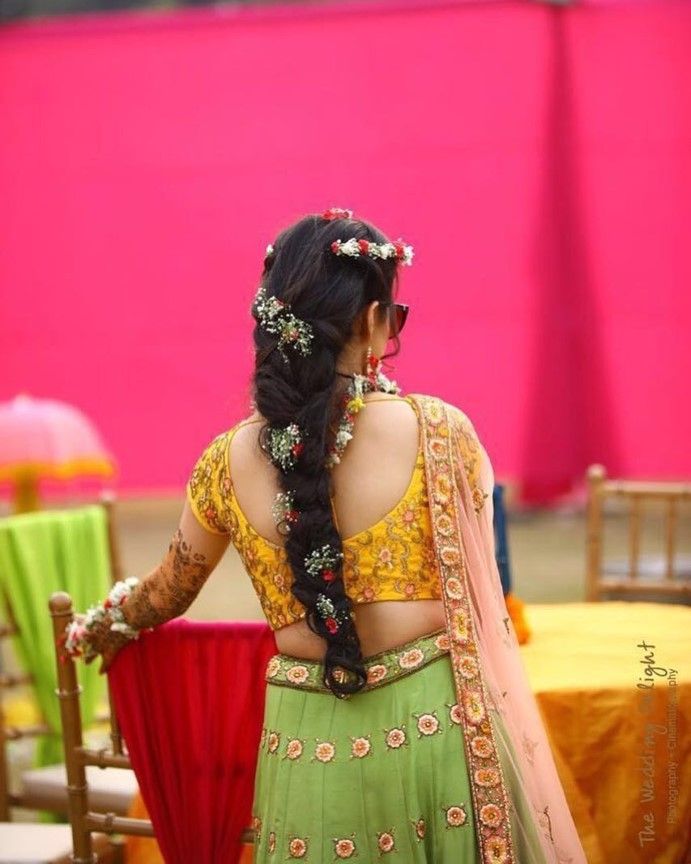 5. Play With Pastels

Pastel colors are in trend and as seen they look very different and are the most accurate for wedding functions. So ditch the red, whites, blues and add all other colors with your pastel outfits. The mix match and contrast is what is going to make your outfit look even better.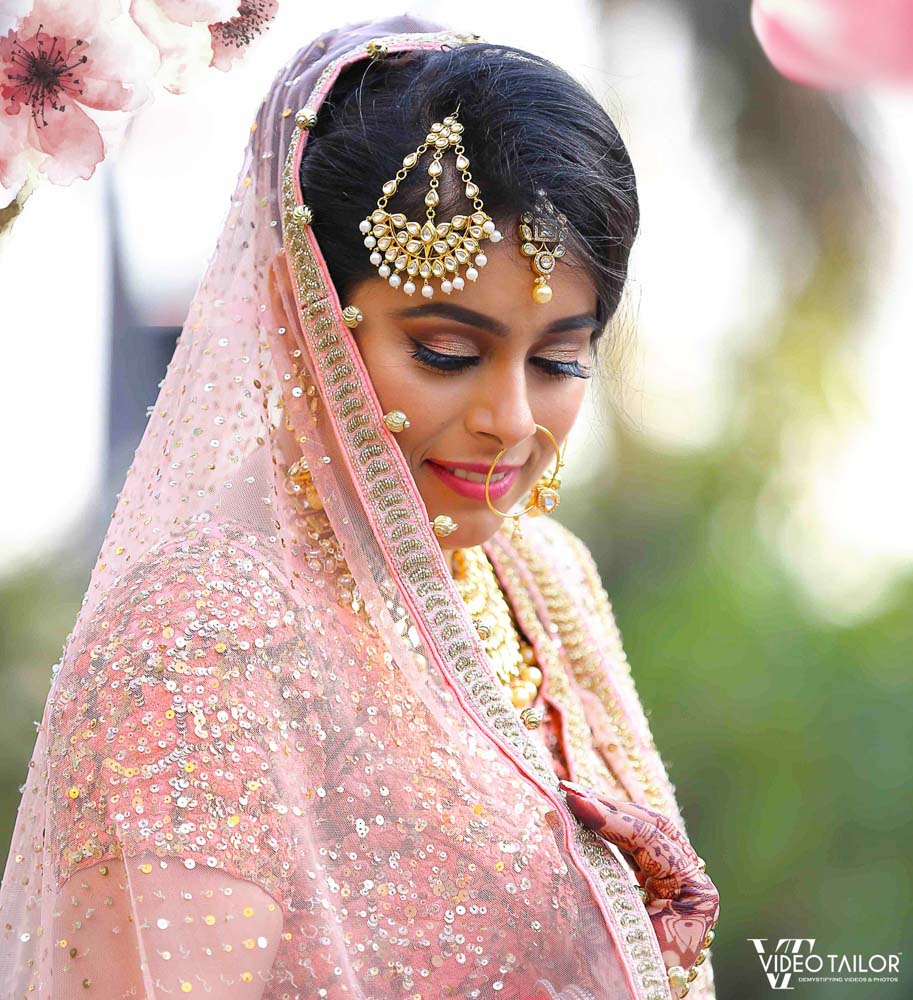 How can you be really comfortable on your wedding day and other functions have thousand of safety pins and hairpins tucking in your outfits and your heavy jewelry? The burden just takes away your comfort and the bride tends to get tired easily and is not able to enjoy at her own special day. It is here when floral jewellery comes handy for brides. They are light weight, do not have add extra burden on the bride. Even you do not have to pay much attention to them as the floral jewellery tends to be attached with a lot lesser safety pins and hairpins.
To all the beautiful brides, this is your special day and we know how much you love flowers, so just play along with them and make your outfit look even better.