Step by Step Guide To Plan a Pre Wedding Shoot
May 12, 2022
WHY PRE WEDDING SHOOT ?
Marriage is the most beautiful phase of someone's life. So , every moment of this phase should be memorable and lovely and to make it more beautiful, pre wedding shoot is held before the marriage.
It's not only the shoot, but also the base and cover of the whole wedding thing . We can also define the pre wedding shoot like binding beautiful memories before the marriage. To Plan a Pre Wedding Shoot ., these following points should be remembered ..
WHAT IS THE NEED OF A PRE-WEDDING SHOOT ?
Pre-wedding shoot reflects the strong bond between the partners. It also shows the compatibility, understanding and loads of love between them. There are many other reasons for a pre-wedding shoots are -:
1. It shows the spark of love and the beginning of a new phase of life .
2. It expresses the togetherness of the partners.
3. It will create beautiful memories for the future , so after so many years of the successful marriage, when you will look back to this phase , you will get a big smile on your face .

COUPLE'S ROLE FOR PRE WEDDING SHOOT
So here are some steps which should be kept in mind by the couples if they are going to Plan a pre wedding shoot …
1. Selection of the Photographer

To Plan A Pre Wedding Shoot., photographer should be selected at least before 15-20 days of the shoot.
You should select a photographer according to his/her work style and your choice of the pre-wedding shoot. You should check the photographer's work on the social sites, if available otherwise you can check the hard copies (portfolio) of the work.

2. Makeup

To Plan a pre-wedding shoot perfectly , You should hire a makeup artist before 15-20 days of the shoot ; so that makeup artist would be prepared on the shoot day.
Your makeup should be perfect. Make sure that shade of the makeup should match with your skin tone and should be suitable with your face. If you like light makeup, then use light makeup , there is no need to be conscious. And if you like dark makeup, use dark makeup.
Wear your kind of makeup which makes you confident.
And your dress should be suitable with your physical appearance and makeup. If you are going to face camera, make sure that you should be confident in yourself. And to feel that confidence, you need to be look perfect.
3. Suitable Theme

A pre wedding shoot is totally incomplete without a theme. You should select a perfect pre wedding shoot theme according to your destination to plan a pre-wedding shoot.
It can be related to any story or novel you love the most or based on any fairy tale. Your pre wedding shoot will look more beautiful with a theme.

4. Be Yourself
If you want a perfect and unique pre-wedding shoot , just wear your own style and attitude . Don't go with the trend .
Don't copy anyone else. Be yourself. It will be beautiful.
5. Pose

It is quite necessary that you should know how to pose well in front of the camera.
So you can practice in front of mirror if you are not a perfect poser because how you pose,
it is important for the pre-wedding shoots.

6. Expressions

When you are facing camera and it's your pre-wedding shoot, then make sure that your expression should be expressed on your face or by your pose. That expressions of love will add more beauty to your shoot.
They should seem real and full of love.

7. Don't be Fake

This is the most important part of the pre-wedding shoot. Just don't fake it at all. If you are really happy, it will be on your face but if you are not happy it will be expressed that you are faking it. Don't think that pre-wedding shoot is just a trend or custom.
Take it as a book whose pages should be filled with memories full of love and happiness.

PHOTOGRAPHER'S ROLE FOR THE PRE WEDDING SHOOT
1. Profile
A photographer should contain a good work profile on the social sites and off the social sites, because a client will select a photographer whose work will look quite attractive.
2. Budget


A photographer shouldn't have a high budget that a normal person can't afford it.
If you are new in this field and you want experience to improve your profile then your budget should be reasonable so that you can get more clients. And if you are already a good and famous in your field then you should adjust the budget according to the client's requirements.

3. Selection of the Lens

A beautiful moment can be captured more beautifully if the photographer uses the good lens with more pixels and a good camera.
The pictures depend mostly on the quality of the lens and cameras. So make sure that you don't miss any of the beautiful moments of the pre-wedding shoots.

4. Perfect Destination

A photographer should always explore new places for a perfect pre-wedding shoot. He should remember places for the pre-wedding shoot according to the client's choice and budget.
Many times it happens that clients choose a destination that looks beautiful and attractive but it's actually not suitable for the shoot. So it's photographer's responsibility to let them know the suitable destination.
Suppose if the client doesn't want to change the destination then a photographer should let them know the suitable pose and dresses or theme accordingly.

5. Timing

A good photographer should know the best timings for the shoot. Usually, morning and evening time is considered to be the most suitable time for the shoot because sun rising and sunsets are beautiful for the shoots but a photographer who is excellent in his work can give the effects of sun rising sunset at any time.

6. Candid

Candids are the most popular and trending in the pre wedding shoots. Candid's in the pre-wedding shoot are like cherry on the top.
They just beautify the shoot to a next level. Beautiful candid's are hard to click so a photographer should know that how to take a candid beautifully. A photographer should click a candid of couples from different angles so the best one can be picked after the shoot.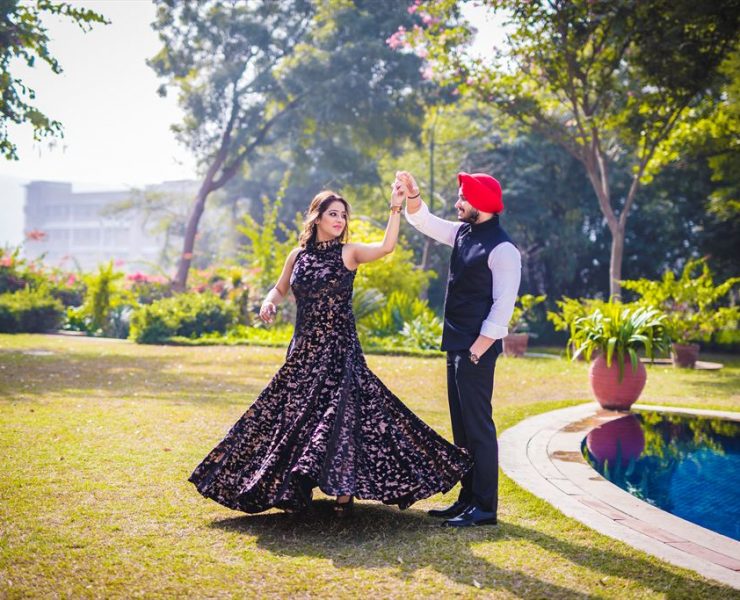 7. Positive Environment

Sometimes it happens that a couple isn't found of facing the camera so they get tired after giving some poses.
A photographer should be friendly with their clients so they don't get tired or irritated after giving so much poses. A photographer should create an environment so that the couple get comfortable and can pose well.

So there were some steps for a perfect pre-wedding shoot. Next time if you are going for the shoot then keep these things in mind.
Good Luck.