Pre Wedding Shoot In Goa
May 12, 2022
MESMERIZING PRE WEDDING SHOOT IN GOA
Pre wedding shoot in goa and elsewhere are gaining momentum and rapidly becoming popular among  new age lovie dovies around, they want to live their love stories the same way like that of Romeo Juliet or Heer Ranjha with a flavor of modernity, they desire their love stories to be one of their own kind and are open to embrace them with their open arms and live them to their fullest with full passion and zeal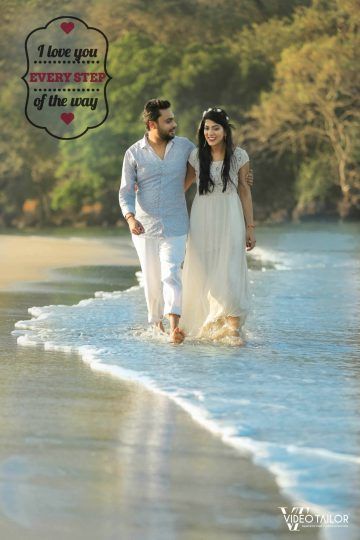 So, we here at video tailor are here to help you feel your passion with warmth and utmost affection by way of romantic, fun loving and an amazing photoshoot with help of our specialized team of photographers, models and creative directors matching your each step…..so  you don't need to panic any longer as we are here to be with you at each step you put forward…and present your love story in its own unique way, because you are precious to us and we are here for YOU!!
PRE WEDDING SERENE LOCATIONS
When  we say GOA , the first thing that clicks our mind is modern outlook and freedom to get break from same old monotonous and trying schedule it gives us a chance to fly in our own colors we are longing for
Its serene, magnificent with distinctive merge of cultures and alluring beaches around. Well everybody would love to pluck some moments out of time to rejuvenate their love stories along with their soul mates in the mystical city of goa. Its fun and at the same time you can rekindle your unique love story and feel its warmth is laps of the city.
Love doesn't needs a language to convey ones longing towards their beloved all that's needed is a soul connection between the two, all there is no other place like that of goa to feel that connect , and understand the language of love.
PICTURESQUE LOCATIONS
There are  many famous and modernized places in the city where you can completely free up your mind and live the most amazing moments of your life. It gives you a break from same old monotonous and tiring schedule by giving you a chance to rethink and take some quality time for yourself well apart from these cliché locations you can also opt for not so known places as they will give an organic feel to your love story and make you feel the modern age romeo juliets or heer and ranjha .
Well some not so known but yet mesmerizing places include Parra, Cortalim, Aldona, Assagao, Saligao and Socorro.
OLD GOA
Well if you are crazy about Bollywood's era of 60's or 70's or are fascinated about Rome then well it's the right place where you should be .
If your partner can not get over his inclination for history then also it's the most apt part of the city you should be in. Well some of the attractions in old goa are Basilica of Bom Jesus and Church Of Saint Augustine.
Aguada Fort Beach
If your wish is that you get your prince charming and want to get an experience of Royal outlook ,
along with a soothing effect of water then this blend of royalty and beach is just for you So, don't think much just go for it after all its all that you ever wanted.
DUDHSAGAR FALLS
Well one of the most astounding and magical location of the city is that of the Dudh Sagar falls   It is located on Mandovi River near the border of Goa and Karnataka. This 300m high waterfall has beautiful flow of water ,the surroundings are serene and so calm that one can get to experience the fourth dimension of it .It is completely surrounded by dense forest around and has some really cool swimming spots in the area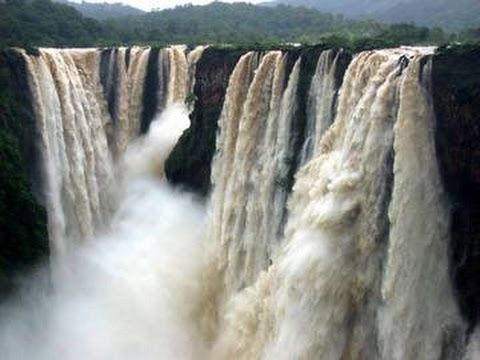 Moreover, if your wedding is due in the monsoon season then its definitely a treat for you , as you can experience and appreciate its really beauty to its fullest
Casino Cruise
Well if  you are Vegas freak and love partying , so you don't need to worry about your pocket expenses about travelling abroad all that's needed is going down south to find a place that fits your needs, They are well-fitted spaces with fine dining options in place including a good selection of drinks.
There are many Casino Cruises in Goa like Deltin Royale Casino, Casino Pride, Casino Royale, Casino Carnival etc. Most are located close to Panaji. Well if you want your pre wedding  shoot in midst of sea then its definitely  the right place to be in
Baga Beach
Well if you are a adventure loving person , then this can be done in Baga Beach This beach is located about 16km from Panaji. The real experience and exploration is something that starts during night.
Well if you  want to bring about a new twist by doing a pre wedding shoot by way of water sports and stand out of the legal then well its definitely the right place to be in.
TITO'S STREET
Well if you just wish to chill around and have a completely relaxed photoshoot with the ambiance reflecting the same Then Tito's Street is definitely made up for you and its great to shoot when the sun goes down at this place.
DIVAR ISLAND
If you are looking for serenity and peaceful location and want to get lost in its beauty then Divar Island is that place Its hard to believe that such a place can exist is near about of the goa city The Island is surrounded by dense forest and has a beautiful gem of crystal clear blue water Though very small, but has the magic of leaving an impact on you for a lifetime, you will feel delighted and at the same time contented with the place

Route to island is really easy and comfortable, the island is approximately 8Km's from panaji and ferries operate at a quick ervice of every 15 minutes starting right from morning till evening So come fall in love again on this alluring island.