Pre Wedding Cliches You Should Avoid
May 24, 2022
To Outshine Your Pre-Wedding Shoot Here Are Some Cliches You Should Avoid
Pre wedding shoots are becoming trendy no? All the couples these days are adapting these shoots as a prerequisite which I might not call wrong but yes there are some or the other things like poses or the themes, even the outfits which are being followed by couples that have turned into clichés you should avoid for your pre-wedding shoot now.
Trust me pre-wedding shoots can give you a number of stupendous moments with your other half, we know you would want a shoot that describes you and your love story but for that you need to avoid the prevailing cliches and we are here to help you out.
PICK THE RIGHT OUTFIT
In the above photo both the couples are wearing bright blue color outfits which is a big big turn off for this picture, I mean yes it looks cute and trendy when couples color coordinate their outfits but going too matchy-matchy has totally ruined the shot.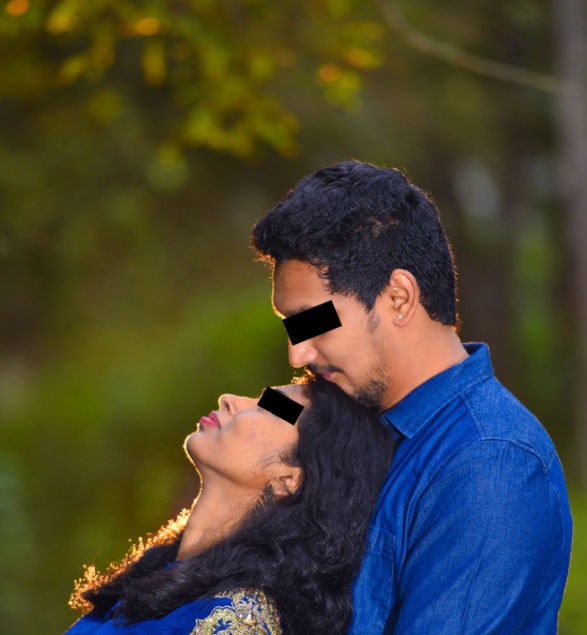 Always go for subtle solid colors and while coordinating your outfits for the pre-wedding shoot you must go for the matchy-mismatchy look, it is more wearable and picturesque.
DON'T BE TOO EXTRA
Wearing thick funny glasses for a party and getting yourself clicked in it is way different than wearing them as a main prop for your pre-wedding shoot. Look at the above picture, too many colors right? Wearing more than 3 colors looks extra and not much to look at. These funny glasses and too many colors in a frame may look trendy to you in 2013 but there's no guarantee they are always going to be in.
Opt for a theme that is always going to stay in trend even after years of your wedding.
BIG NO TO FAKE CANDIDS
NO, not the fake candid's. They are too cliché to fool anyone. Be free, be your real self, Act natural. Don't fake anything, pre wedding shoot is the best for those cheesy, lovey-dovey poses with your to-be life partner.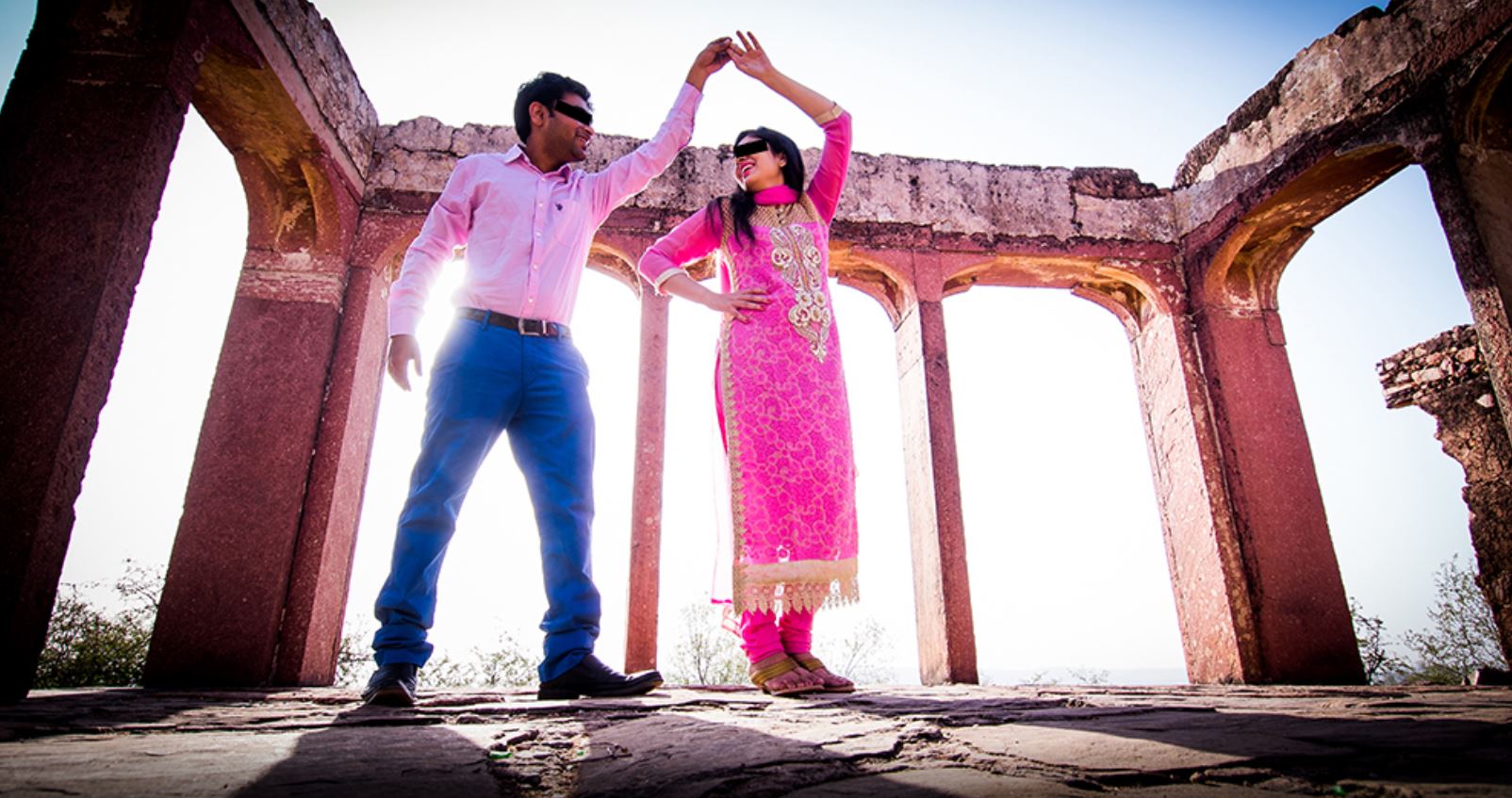 Talk to them, tell them what's coming to your mind in that very moment when you are posing with them, I am sure this trick will end up your photographer capturing you 2 laughing or you blushing on something your partner said. These are the real moments that deserve to go into your pre wedding shoot album in order to serve you an "IN THE MOMENT" shot.
NO TO FAKE BACKGROUNDS
It seems like photoshop is everywhere these days but try not to get your pre wedding pictures stifled of photoshop. Its very easy to identify whether a picture has been manipulated.
An example of poor Photoshop! Look at this image. Too bluey and too extra? No one can explain what this couple is trying to do whether they are trying to match their outfits with the sky or walking in the grass nobody would want to step on. Also the light flashing in the background is enough to question the genuineness of the image. Who would want to spend thousands for such a crummy picture?
Don't go too aggressive, lol!!
People will be confused after looking at this picture whether the girl is posing for her pre-wedding or trying to swing her would-be in the air. Also the outfits are too casual and the shot is also not captured from the right angle.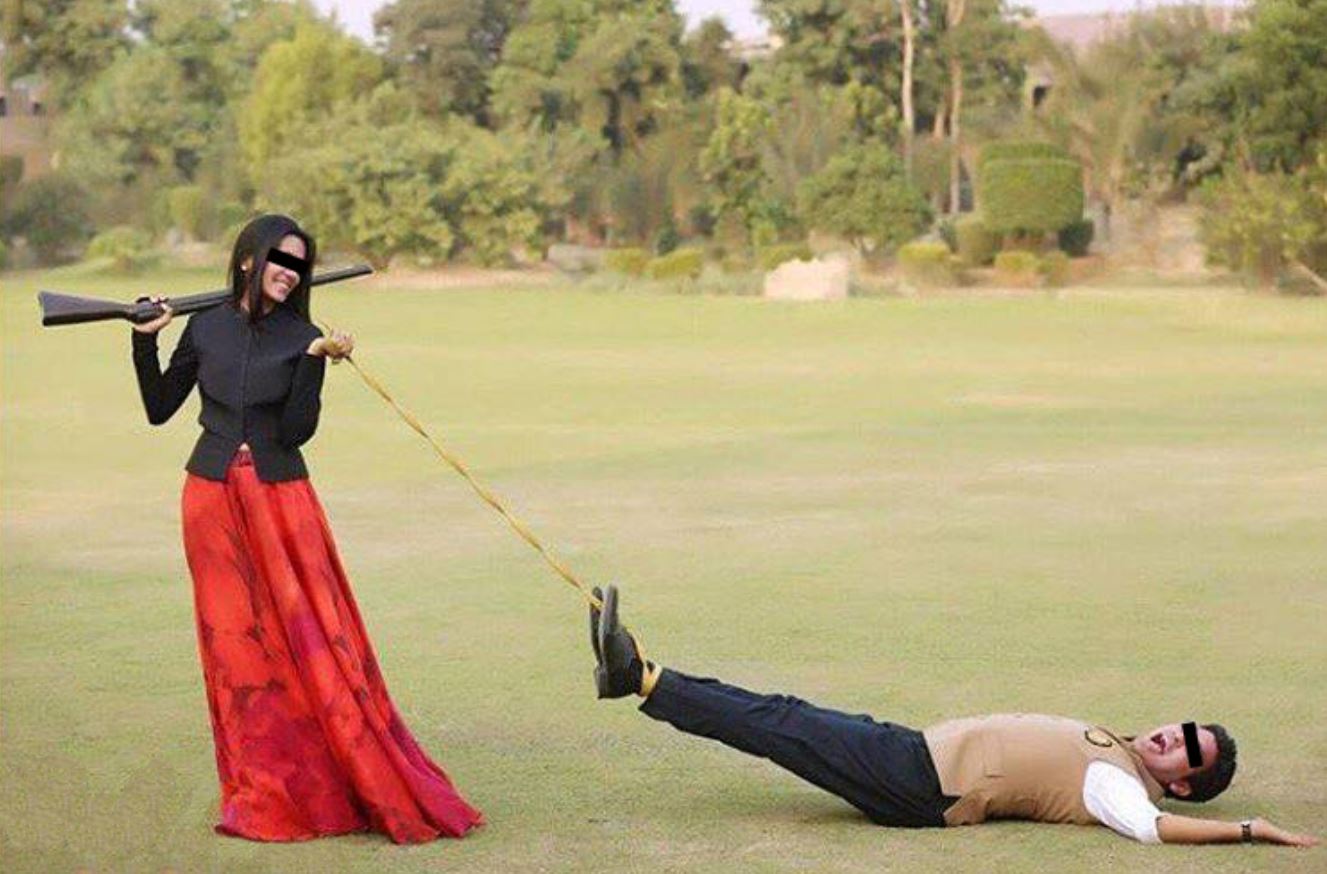 The evergreen DDLJ pose.
The pose is cute but it's too hyped and followed by almost every couple since 2000. Even though this iconic pose of our raj and Simran is etched in our hearts forever, we suggest you to skip this archaic pose but if you still want to bring the old school look in your pre-wedding shots then you should probably add some modern tint to this pose to make it look like its a piece of the present era.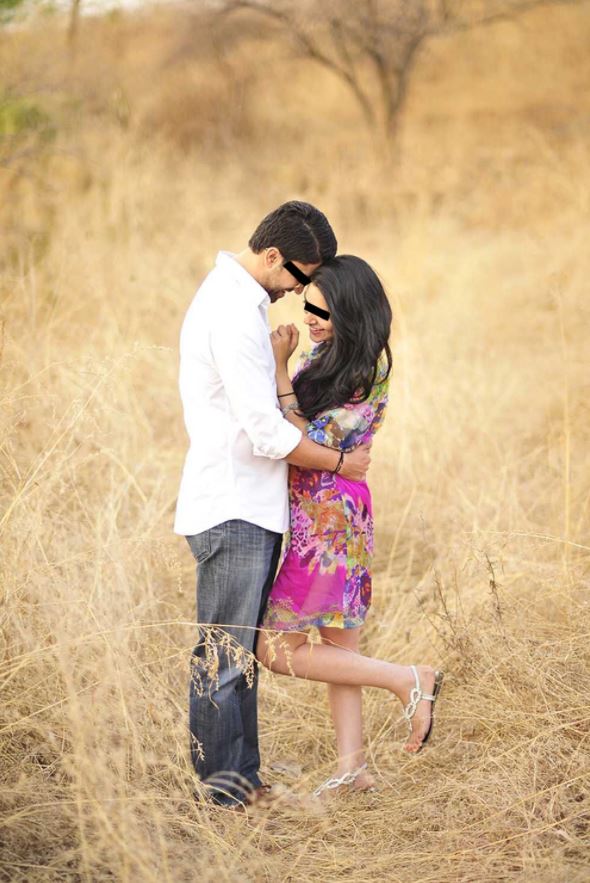 Mr and Mrs pose
Stop being blind as a sheep. People are following this trend since don't know what time that if you search for pre-wedding poses on google you will definitely come across these type of images, if you are a modern couple all lala in love then please don't add this in your pre-wedding book, IT'S A BIG FAT CLICHE. Go for something natural and effortlessly lovely which also commands to remain In trend for longer period than these fleeting trends.
We understand that you and your beloved are very excited about your pre-wedding shoot. You are exploring all the options to make your shoot memorable, alluring and one-of-a-kind. So here we have introduced some of the clichés of pre-wedding shoots you can avoid in order to stand out.
Are you confused and have no clue whom to hire for your pre-wedding shoot? Don't worry we have got it sorted for you, have a look at these pre-wedding videos once
Pre-Wedding Shoot At Rishikesh
If you are looking for a place which has mountains and sea in India, then the foremost option which comes to mind is Rishikesh, right?
We Have a look at this alluring Pre-wedding shoot we had at Rishikesh, Pre wedding shoot in Rishikesh is free of cost. But, what matters are the travel, food and lodging expenses. Coming all the way from the place/city where you live and stay there for a night would charge you some amount of money. The estimate varies as it depends from where are you coming and what is the means of transport.
Pre-Wedding Shoot At Dubai
This Pre-Wedding video shoot in Dubai was crazy and the couple made it even more crazy with being all natural and not at all nervous. This Pre-Wedding shoot looked like some sort of a Bollywood movie where the boy and girl are madly in love. The shoot includes Desserts, Beaches, Tallest buildings of Dubai and Sky diving. The song "Anjaana-Anjaani" syncs well with our couple's level of fun and craziness they had during the shoot,  We gave our best to capture the couple exactly the way they wanted.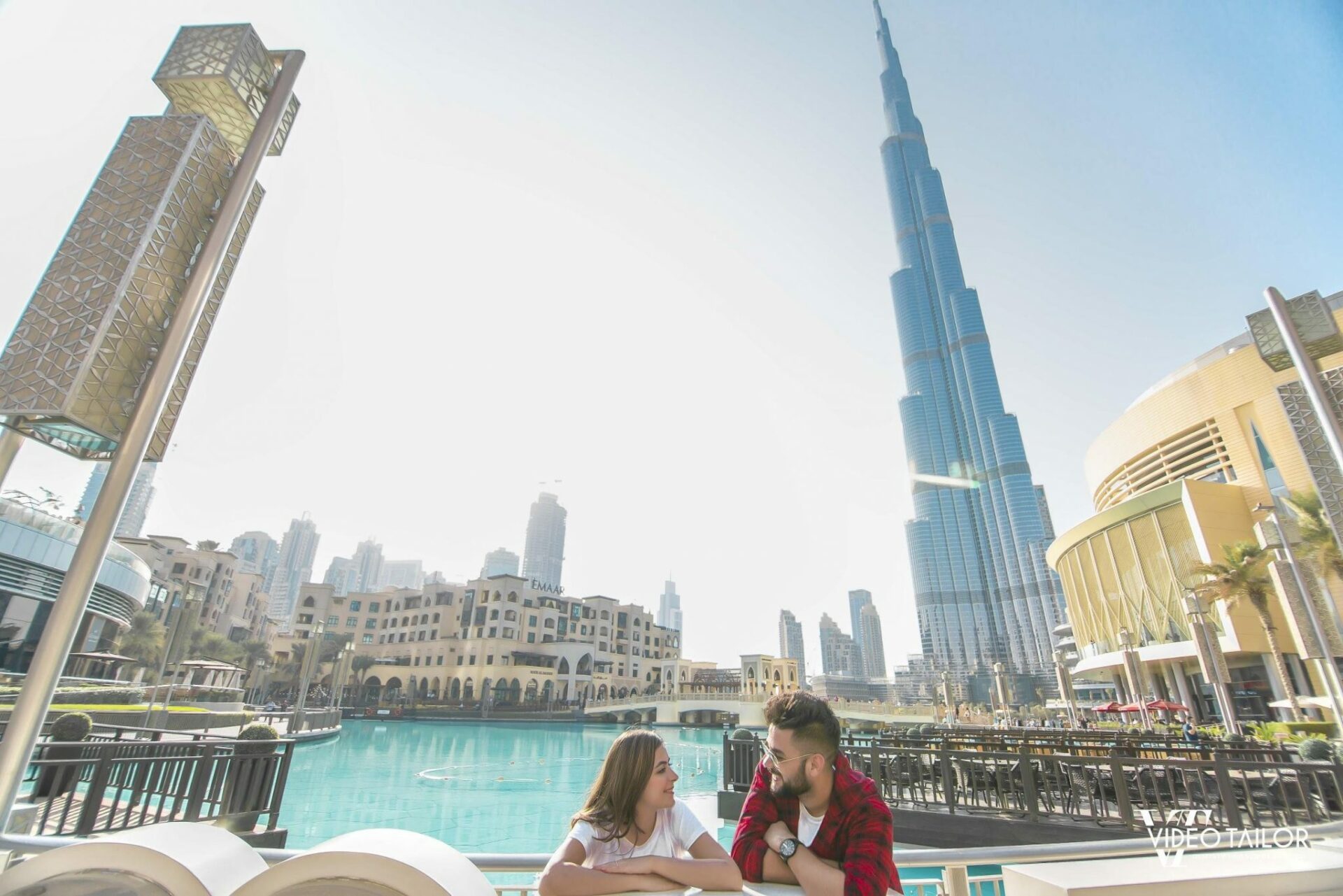 Pre-Wedding Shoot At Auli
Panic is the killer for any photoshoot, the hills and cold breezes of auli will drive away all the nervousness and panicness in you. The location is romantic, The hills, the nature always triggers the romance and also feels like a Bollywood set. We provide drone shoots as well and Auli lets you get the best from your pre wedding shoot which you will remember for your lifetimes.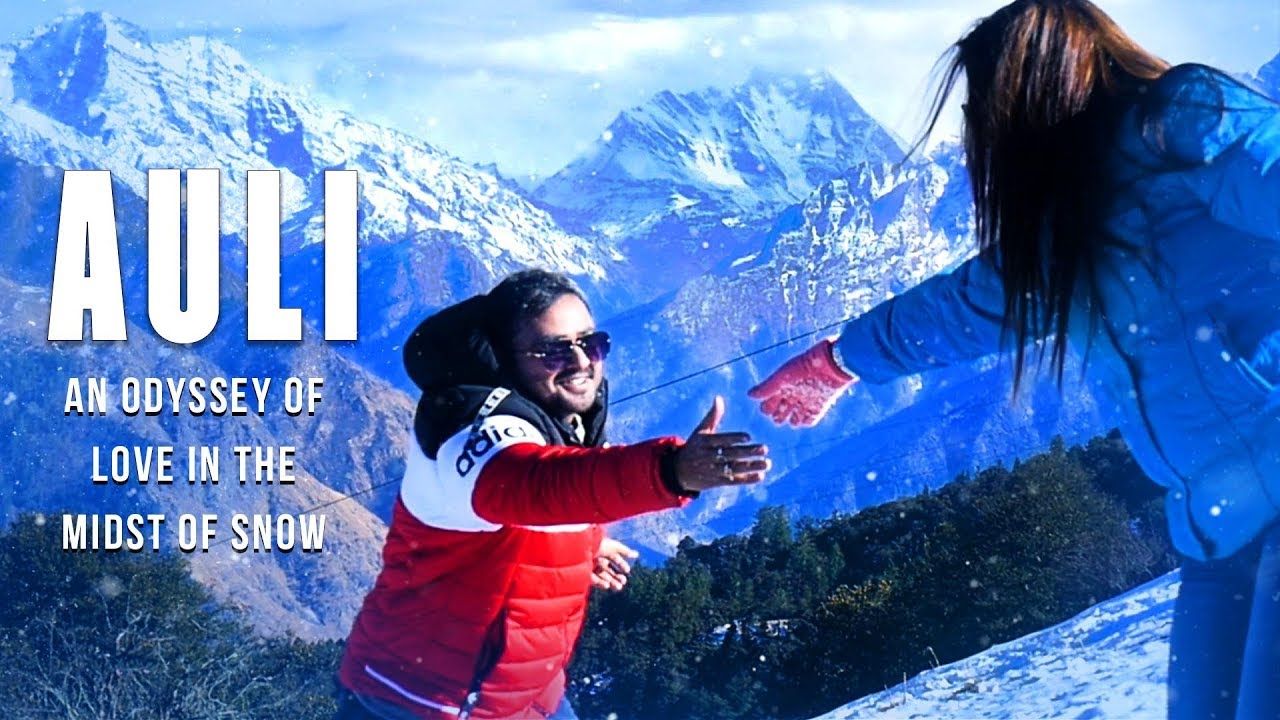 Visit  Video Tailor  to discern the latest of the Pre-Weddings.
We have a number of locations best suited for Pre-Wedding films that too in the range of different packages, we also provide campaigns on lucky draw basis- 100% discount,  75% discount and a 50% discount.