What are the New Trends in Wedding Invitations?
May 18, 2022
NEW TRENDS IN WEDDING INVITATIONS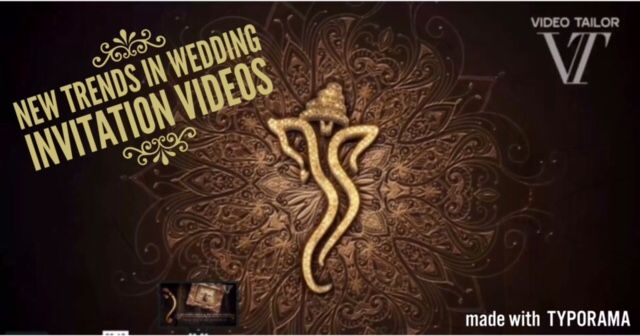 RECENT TRENDS WEDDING INVITATION VIDEOS
Video Wedding Invitations Trend:– You only get married once, which makes every task even more important and creates a necessity for everything to not be just perfect, but to be unique so that it leaves a bright impression of everyone. The first impression that anyone will remember of a wedding is the wedding invitations they receive, and hence it is important for that invitation to be attention-grabbing and be a unique wedding invitation.
It lays the path of the invitee deciding whether they want to accept the save the date or not, therefore Video Tailor works to make sure that this first step taken is done in the right direction and in the right way.
One of the most appreciated wedding invitation video by customers:-
Having a huge database and an even bigger experience, we work to figure out the latest techniques in the world of wedding trends and make sure that the wedding invitations we make are unique wedding invitations. We provide a wide range of wedding invitation videos and save the date videos which allow us present the customers with various options and try our expert hand in them.
HAVE A LOOK AT DIFFERENT TYPE OF WEDDING INVITATION VIDEOS WE MAKE:-
FORMAL WEDDING INVITATION VIDEOS :
It provides a very formal and elegant wedding invitation video that has the subtly and charm to impress anyone. Made from rich colour combinations and varied formal themes, its main aim is to convey the basic information is a direct way with soothing music and calming colors to compliment the whole setting.
Sample Videos for Formal Wedding Invitation:
ANIMATED INFORMAL WEDDING INVITATION VIDEOS:
Animated wedding invitation videos fulfil the factor of cuteness as anything in the world can. Reciting the whole story of the bride and groom in brief, it has adorable animation factors, also including the personal photos, to round up and create a whole wedding invitation video which appeals to anyone who sees it, and makes them comment on how cute it is.
Sample Videos for Animated Wedding Invitation Videos:
SAVE THE DATE VIDEO | WEDDING INVITATION VIDEO FROM PICTURES OF PRE-WEDDING
Save the Date videos operate with the main factor being the conveying of the information, which it only does so after telling the personal story of the bride and groom.
It shows the party in subtle light, accompanied with soothing music and beautiful and romantic pictures to drum on the strings of emotions, and showcase how their new journey is about to start. Save the Date videos are usually done in soothing and calming colour combinations and peaceful music, and ends with the information it set out to inform.
Sample Videos for Save the Date:
WEDDING INVITATION VIDEO WITHOUT PICTURES:
These kind of wedding invitation videos does not have pictures of groom or bride. We have a large variety of wedding invitation videos without pictures.
RELIGIOUS WEDDING INVITATION VIDEOS:-
We also provide wedding invitation videos and save the date videos for various religions and cultures, catering to the multicultural Indian and western society.
It has apt scenes and themes to appeal various Hindu weddings, Muslim weddings, Sikh wedding invitations, Christian wedding etc. wedding invitations and provides beautiful results which all have one thing in common: the beauty and warmth of a beautiful wedding invitation.
Our work at Video Tailor is always focused and apt, working to provide exactly what is needed and more than what is desired. The experienced and skilled team at Video Tailor works on every frame and every video concisely to make sure that the result is the best wedding invitation video or save the date invites video that is expected from us.
Our work is also to make sure that the final wedding invitation video created is one of a kind, and will touch the heart of anyone who sees it.