Hawa Mahal: A pre-wedding shoot backdrop
June 8, 2023
Hawa Mahal, also known as the Palace of Winds, is situated at Badi Choupad, in the heart of the main city, Jaipur. The palace was built as an extension of the City Palace in 1799. It is built in a honeycomb shape and has 953 windows on the outer walls. These tiny windows keep the palace breezy, making it a perfect summer palace.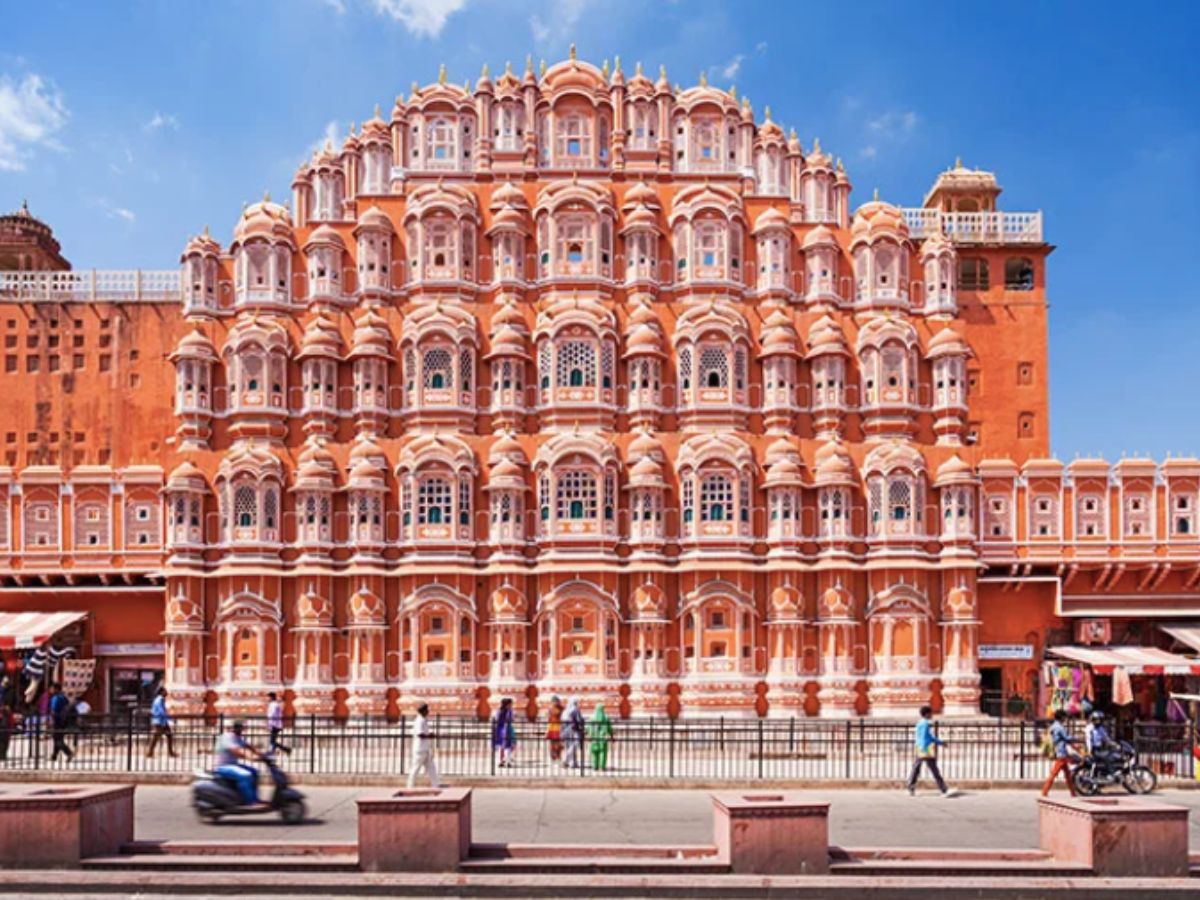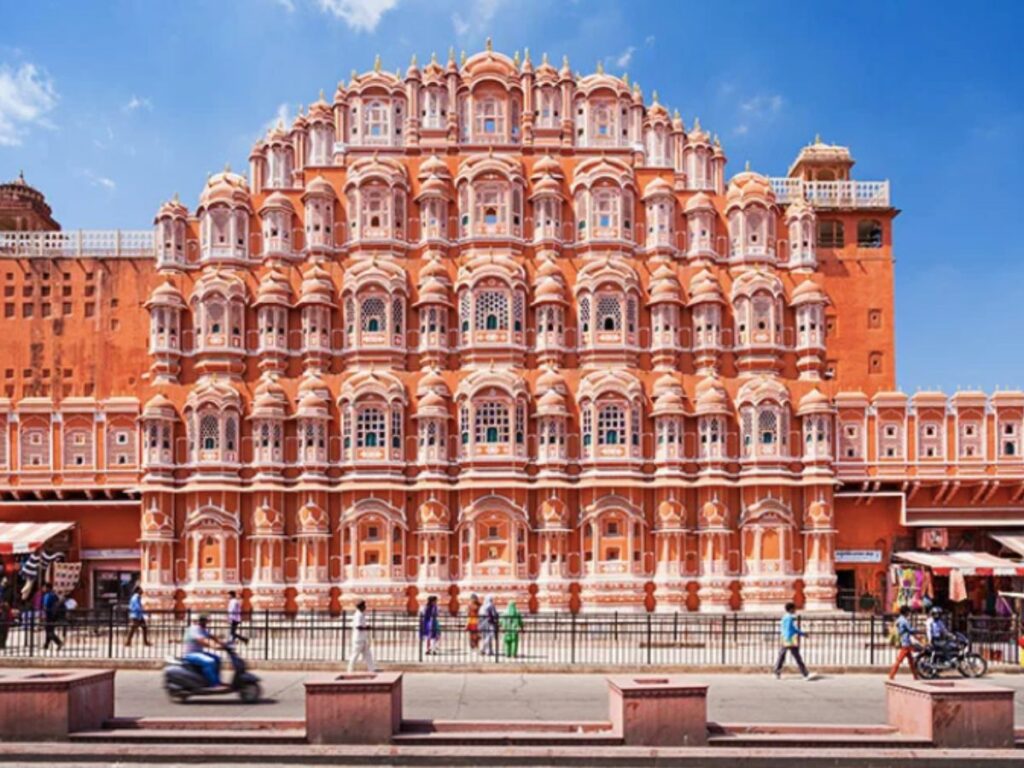 The Kachhwaha Rajput ruler, Sawai Pratap Singh, ordered the construction of the Hawa Mahal in 1799 for the women at the palace. Rajput royal ladies were not allowed to be seen by strangers or appear in public areas. Through the window of the Hawa Mahal, the ladies could enjoy street views without being seen in public.
The structure of the palace resembles the crown of Lord Krishna. This beautiful palace is built with red and pink sandstone. Each window has a small casement with latticework and arched roofs. This allows a cool breeze to blow through the mahal, keeping it cool and airy.
Hawa Mahal opens daily from 9 a.m. to 4:30 p.m. The entrance fee for Indians is Rs. 10 and for Foreigners is Rs. 50.
This beautiful monument will make a great backdrop for your pre-wedding photos. You must keep a few things in mind if you are planning your pre-wedding shoot at Hawa Mahal.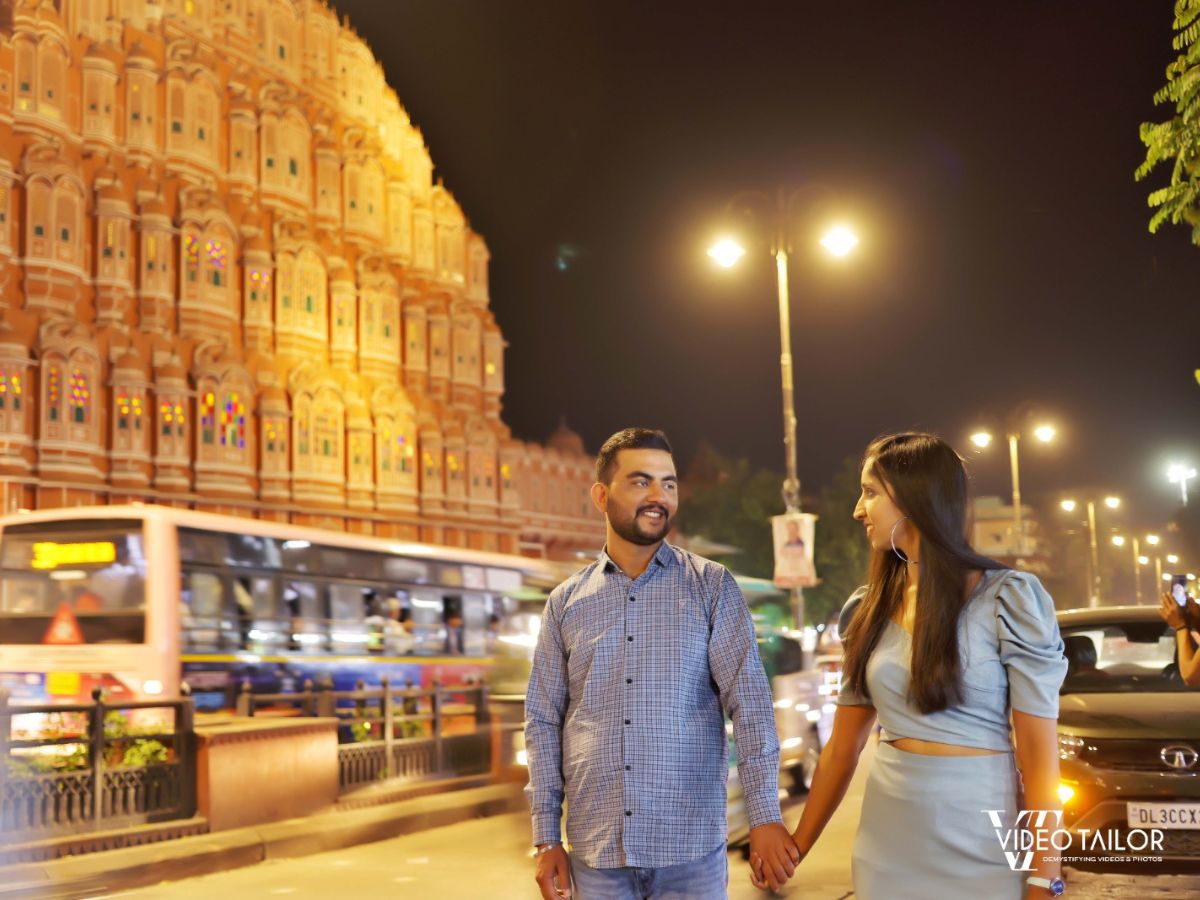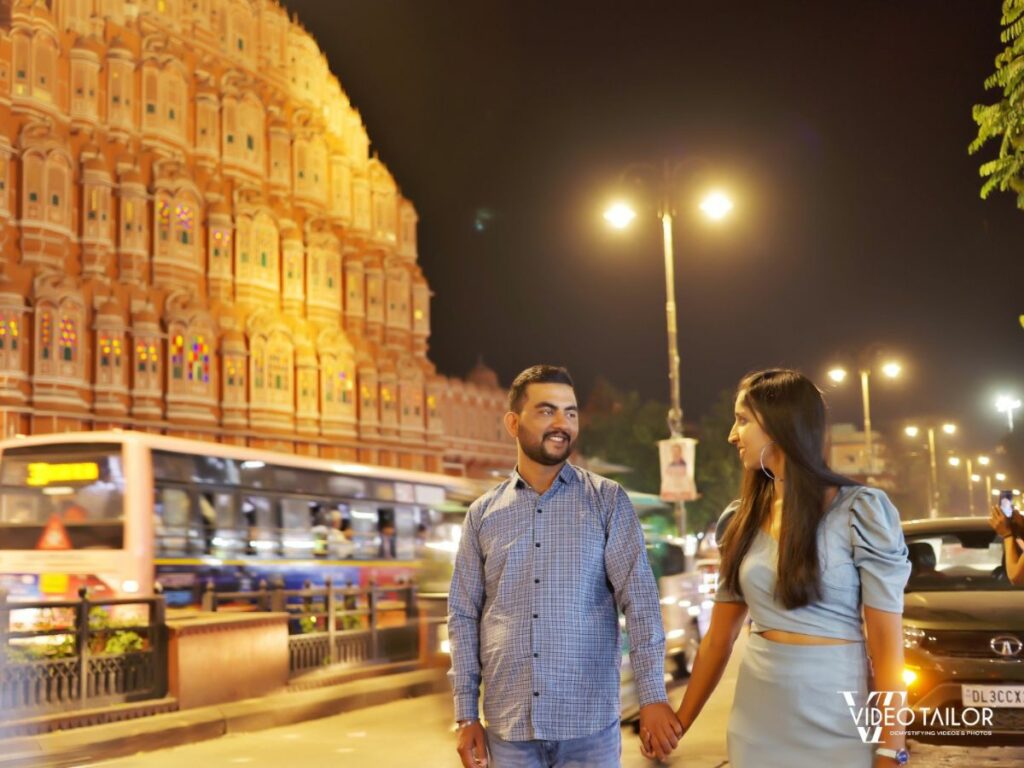 You will get a lot better photographs from the outside, keeping the palace as your backdrop. They might charge you extra for shooting inside the palace. Photography outside Hawa Mahal is completely free.
There are a few cafes just opposite the palace, such as the Tattoo Cafe or the Wind View Cafe. These cafes offer a magnificent view of the whole monument, enhancing your pre-wedding photographs. They will charge some amount for photography in their cafe. Generally, they don't allow photography on weekends as they are packed with tourists on weekends.
Since Hawa Mahal is situated in the main market of the old city, plan your shoot on weekdays to avoid traffic and crowds. Hawa Mahal looks as beautiful in the day as it does at night, so you can plan your shoot according to your preferences. There is not much around the palace except for the local market, so you will not get much variety in shots. Use ultra wide angle lenses (16mm-35mm) for a better view of the palace and to amp up your photographs.
Any kind of outfit can go with Hawa Mahal as the background. To make your photos look grand, go with long gowns and formal suits.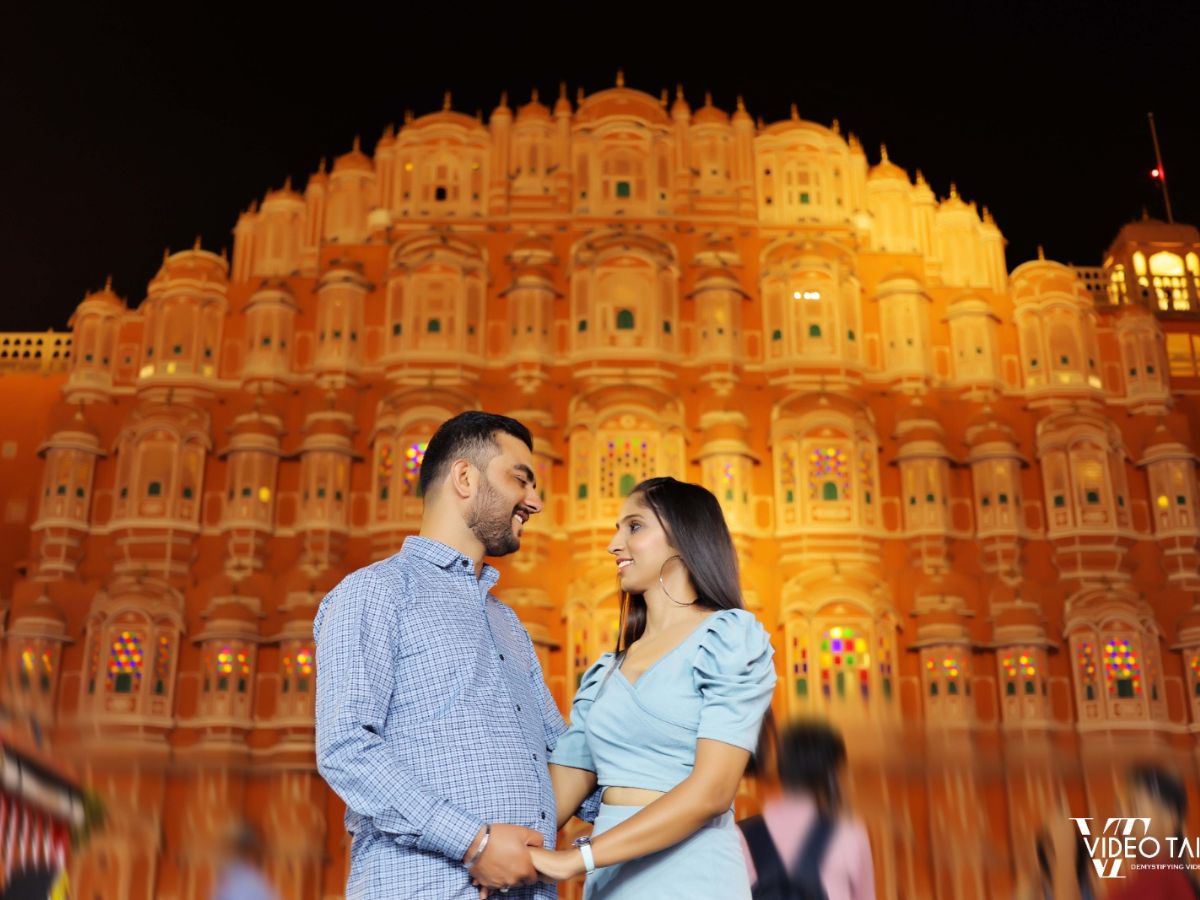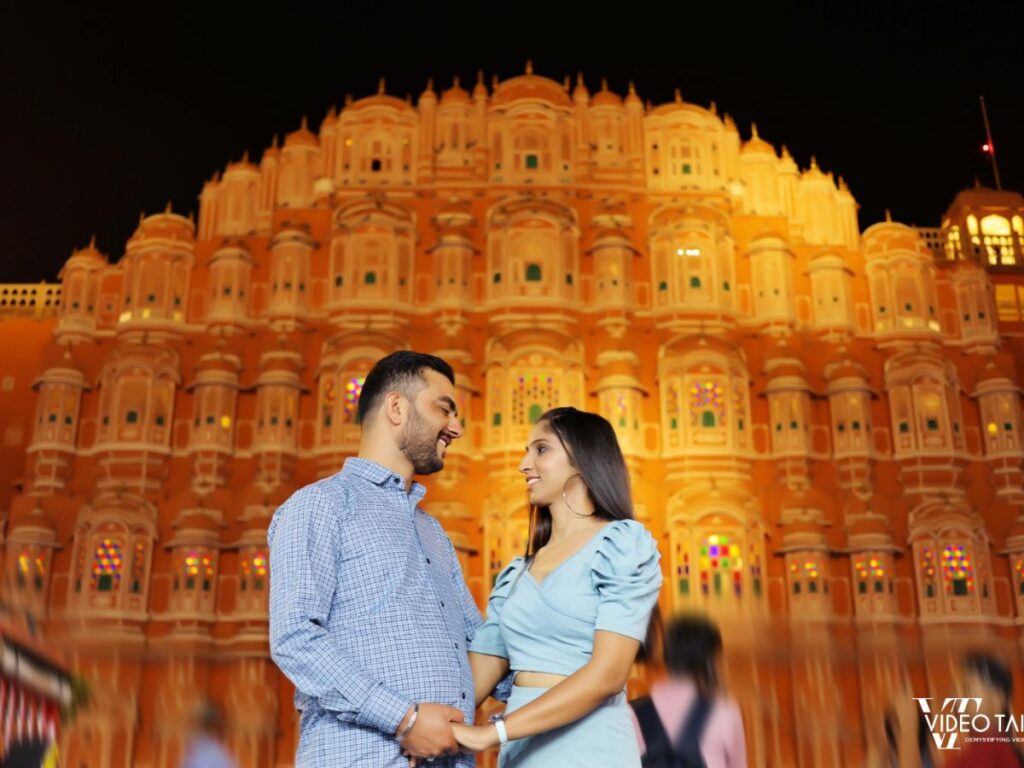 About Author
I'm Sanyukti Chowdhry, a free-spirited individual who loves all things creative. Oh, and did I mention I'm a shutterbug? Yep, I'm the kind of person who sees the world through a lens and captures those magical moments that make life truly remarkable. I'm also a writer, but I must admit, I don't always have the time to put pen to paper or, in this digital age, fingers to keyboard