Captivating Pre Wedding Shoot Locations In Ludhiana
May 12, 2022
Pre Wedding Shoots In Ludhiana
Ludhiana is a city in the North Indian state of Punjab located on the old banks of Sutlej river and was named after the Lodi dynasty. It is also called Manchester Of India. It is famous for its Woolen apparel brands and the hand tools. Here, you will see magnificent ancient buildings on one side and elegant Gurudwaras on the other. Ludhiana is one of the unusual places in India that has preserved its old world charm. This city has beautiful attractions like Rara Sahib Gurudwara and Lodhi Fort, that are one of the most visited places in Ludhiana. Lush Greenery is something that is the common part of the city and that makes this city more attractive.
However, there are some other places too that make this city one of the most popular travel destinations in India. The Locations in Ludhiana are a nice place for shoots.  If you are getting married and you want an idea of choosing the dazzling locations for your Pre wedding shoot, then plan your Pre wedding shoots In Ludhiana.
Pre Wedding Shoot Locations In Ludhiana
Rakh Bagh
Rakh Bagh is a famous lush green park in Ludhiana which is located close to the city at the Club Road. The main attraction of Rakh Bagh is its popular mini train, which runs along the park. It is also a nice place for picnic and campaign activities. There is also a beautiful garden in the park, which is well maintained and best for clicking nice shots. Every single thing will add beauty to your pre wedding shoots.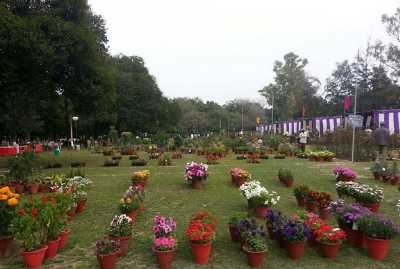 Best Time to Visit : Morning, Afternoon, Evening
Timings : Anytime
Nearest Airport : Sahnewal Airport
2. Clock Tower
It is known as the Ghanta Ghar, the Clock tower was built in Ludhiana as a memorial to mark the silver jubilee of Queen Victoria's leadership. It is one of the best landmarks of the city which is over 100 years old and is a symbol of Ludhiana. Pose next to the clock tower and get the amazing pictures with the nice background.
Best Month to Visit : September to March
Timings : 24 hrs
Entry Fee : Free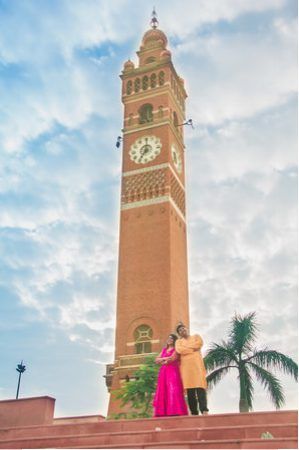 3. Nehru Rose Garden
It is one of the largest rose gardens in Asia which was established in 1967, spread over an area of 30 acres . This stunning rose garden has more than 17,000 plants and 1,600 varieties of roses. This place is especially for people who love roses and like to explore the nature.
Every year Rose festival is organized to offer a priceless display of flowers to all the flower lovers.
This festival is one of the Ludhiana's most awaited cultural events, and draws thousands of visitors to the city each year to admire the beauty of Roses. You can visit this place in Morning and Evening time for the nice pictures.
Best Month to Visit : October to March
Entry Fee : Free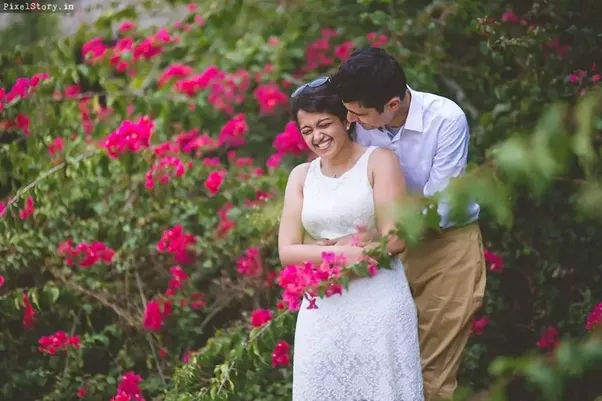 4. Lodhi Fort
The mesmerizing Lodhi Fort was built by the Muslim ruler Sikander Lodhi and it is the pride of Ludhiana. This magnificent castle is in ruins presently, but it is visited by lots of people because of its old beauty.
Built on the banks of River Satluj, it is a great sightseeing for tourits and is surrounded by lush green landscapes that offers a beautiful view of river Satluj.
Best Month to Visit : September to March
Nearest Airport : Ludhiana (Sahnewal) Airport
How To reach : Auto rickshaws and taxis are the best way to reach this fort.
Entry Fee : Free
5. Purana Qila
Purana Qila is one of the oldest Forts in India built by the second Mughal emperor Humayun . There is a small lake infront of the fort which makes the view more beautiful and the ruins of the fort are beautiful in its own way. Purana Qila is an enjoyable place for everyone even if someone loves monuments and history or not.
You can have your Pre wedding shoots here without any hassle. The main entrance at Purana Qila, Gulmohar blossoms inside Purana Qila, Qila-i-Kuhna Mosque, Palm trees and the Humayun Darwaza, Sher Shah gate or the Lal gate and the Gandak Baoli are the main attractions of this place and thse ones will surely add grace to your pictures.
6. Phillaur Fort
This fort is a symbol of the potent heritage of Punjab which lies in the Phillaur town of Ludhiana city, situated on the banks of River Sutlej. It is also known as the Maharaja Ranjit Singh Fort. If you are visiting this fort, don't forget to visit the adjoining Peer Dargah on Thursday mornings. The European architectural style of the fort attracts the visitors.
7. The Film City
This is a place specially made for the people who love to have shoots with different backgrounds. The film city is designed by highly experienced architects. You will get the best services here and you can get clicked here with different themes, backgrounds. The best thing about this place is that you will props for your photoshoots. This is one the best places for Pre Wedding Shoots In Ludhiana.
8. Wadi Haveli Restaurant

The Wadi Haveli Restaurant is not only a nice place to eat but also a beautiful place for shoots. This is a nice place for any type of shoots. The backdrops of this place makes it more beautiful and romantic. The lights, theme and everything is captivating and eye catching that makes the picture look more attractive.
So these were Best 8 locations for Pre Wedding Shoots In Ludhiana. For your shoots next time, visit these perfect places and the enjoy the beauty of this place..