15 Cool Wedding Photography Poses For Your Wedding
May 14, 2022
Trending Wedding Photography Poses For Your Wedding
Who doesn't want to pose like Virat and Anushka on their wedding day? If you are getting hitched anytime soon, Video Tailor has got a list of some cool wedding photography poses for couples.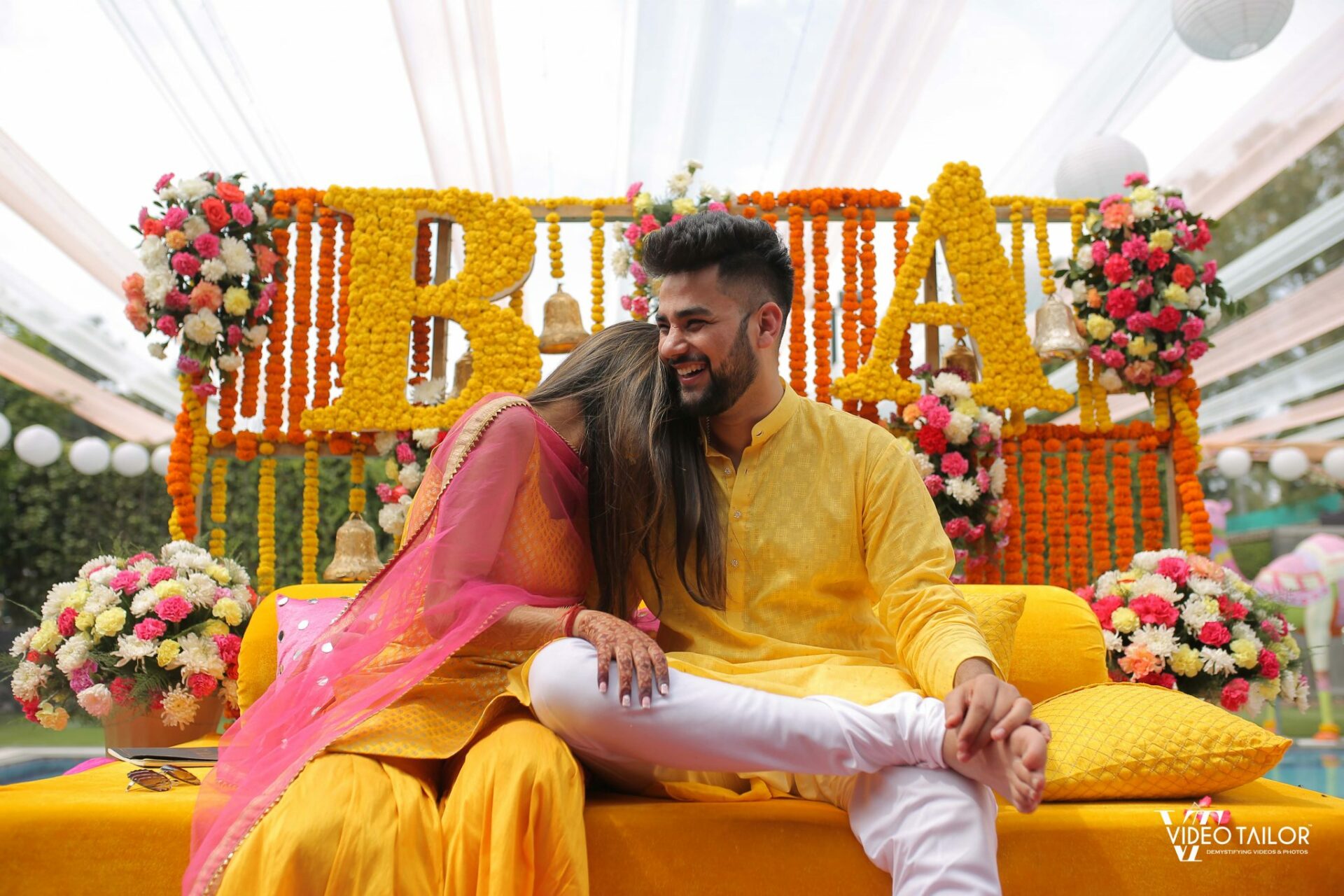 1) OMG! It's our wedding POSE
It's a dream come true, isn't it? Don't keep this excitement to yourself, let your heart and smile be true to the pictures.
Honestly, the best poses comes out of emotions. It's your day, express yourself, be in the moment. We are sure you will get captured in this pose, candidly.
2) Walk To Remember POSE
Union of two souls; it is indeed a walk to remember forever. It is a journey you have vowed to each other of happiness and heaps of love.
The pictures that comes out of this pose are so candid and sincere. For this one you might not even want to pose, but you can get captured naturally by just taking that walk together holding hands.
3) Care To Cuddle POSE
The big day deserves atoms of intimacy and affection visible on the lens. Many couples can be a little hesitant to be intimate in front of the camera,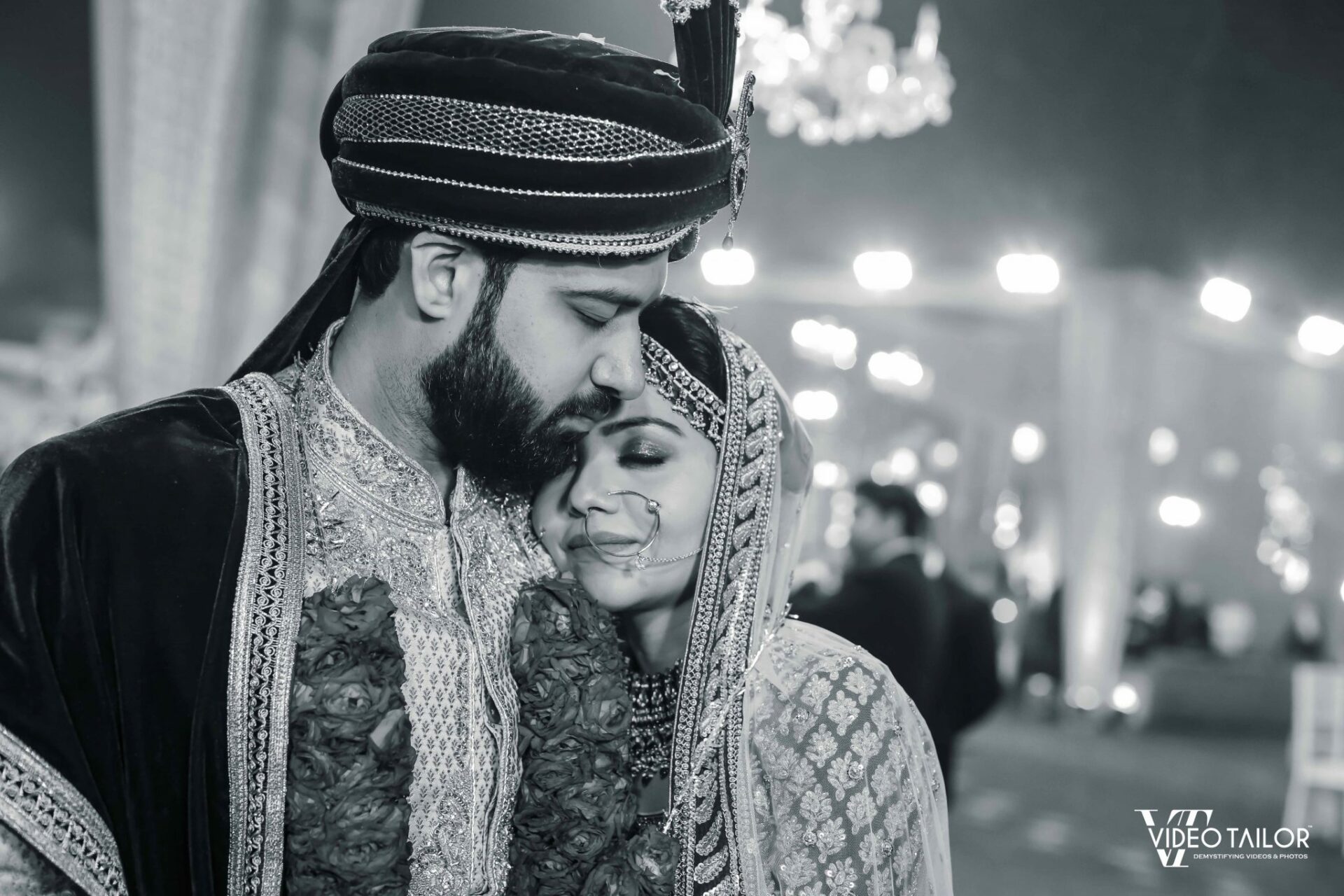 but a little cuddling will do no bad; rather it will enhance the pictures and bring out the hidden love. These poses looks elegant and independent.
4) The Virat-Anushka POSE
Take some notes from the couple goals! Virat and Anushka have often been snapped candidly walking and looking at each other.
We're awe-struck at their mesmerizing pictures all the time. Inculcate The Virat-Anushka POSE into your wedding pictures, to look star gazed and lovely.
5) Can never get enough of each other POSE
Can you? We can hear you screaming 'NO'.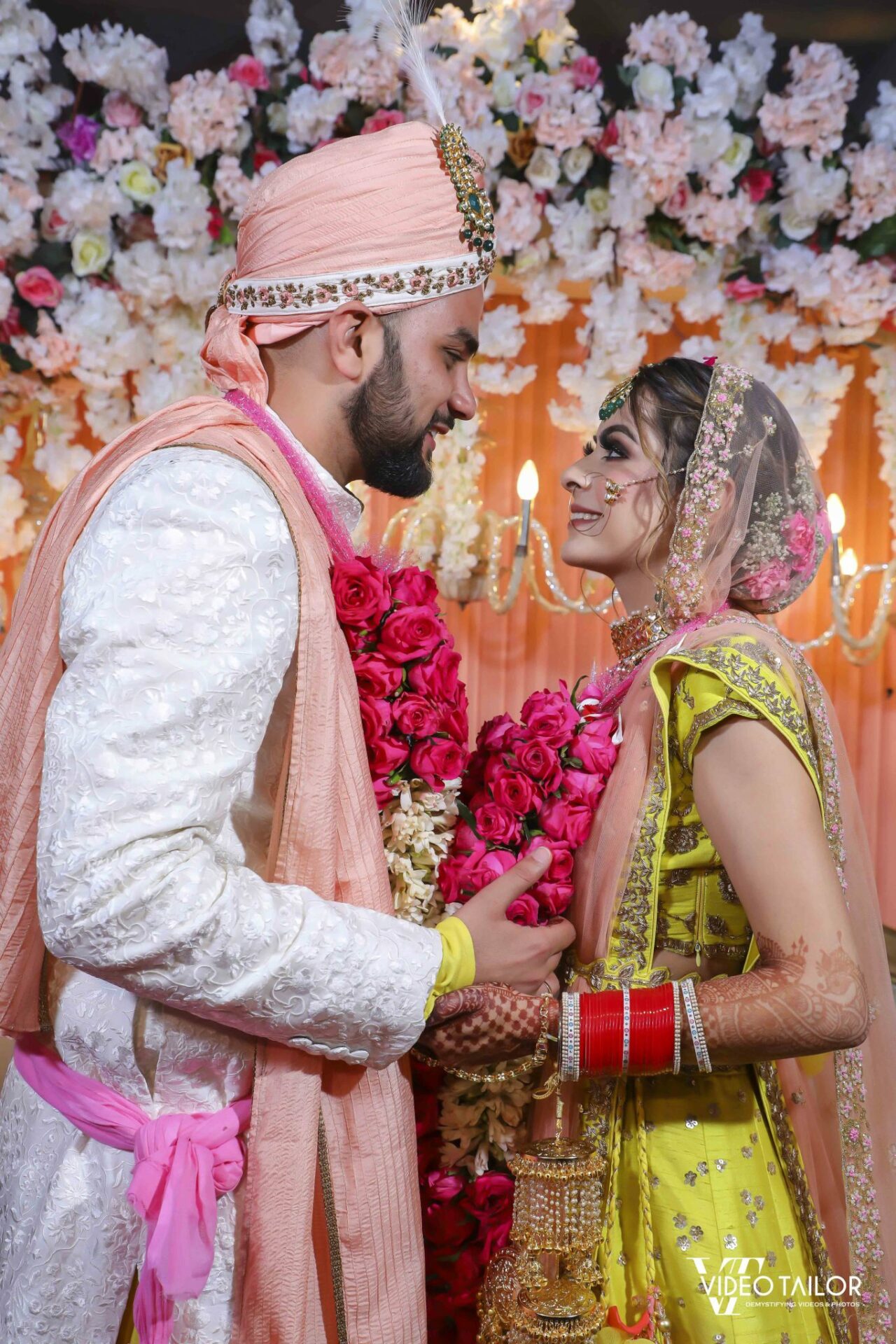 Well, in that case this pose fits you the best and deserves a place in your wedding album. It is so romantic, just like you are.
6) Caught into the moment POSE
All the eyes will be looking up to the two of you. All the cute moments are going to get caught by the relatives and the guests.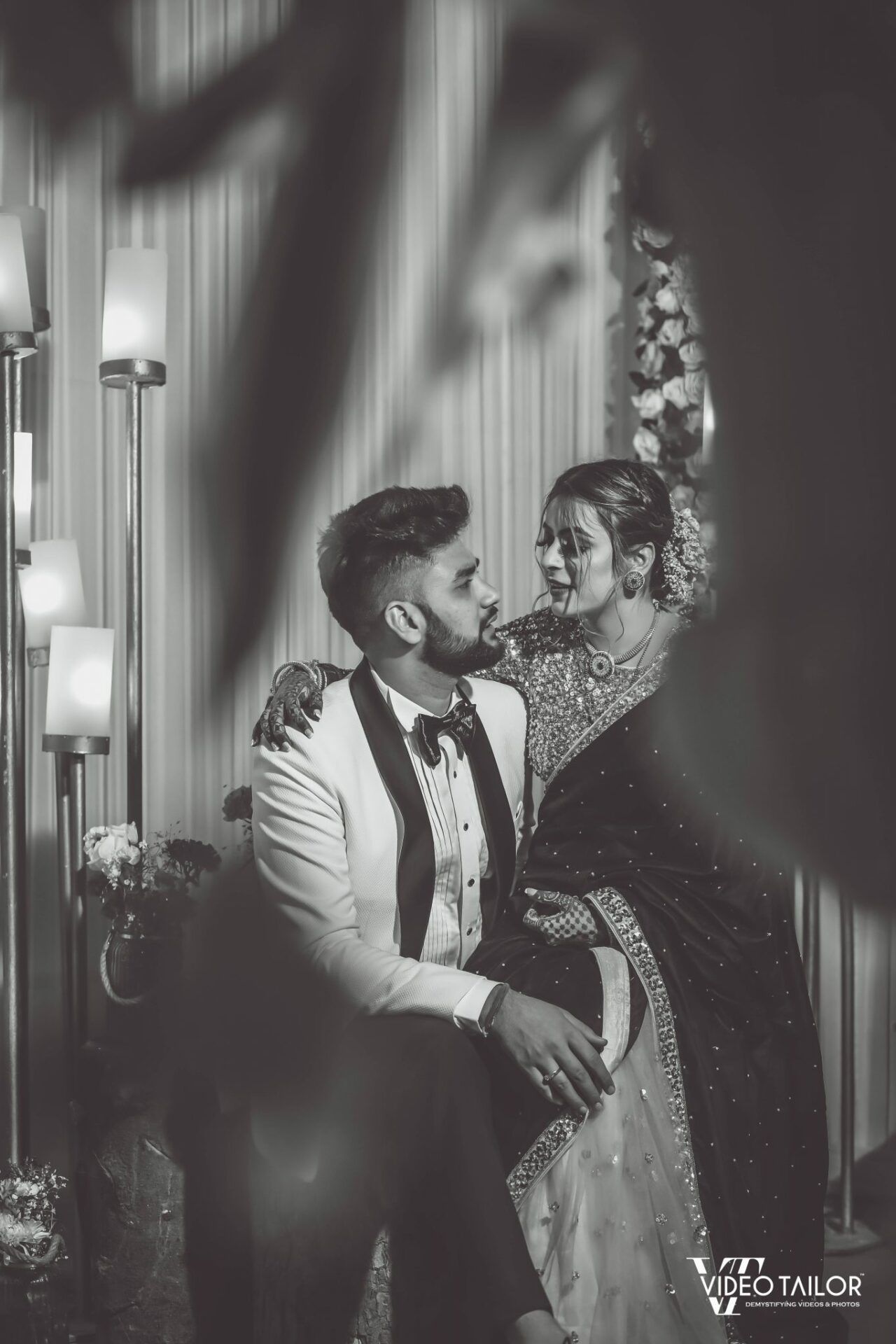 Then why not on camera? The thumbs up to this pose is to just think about your other half, and the rest will get caught perfectly by the wedding photographer!
7) The ultimate Back POSE
On your wedding day, you are not only ahead of everyone but certainly at the top of the world.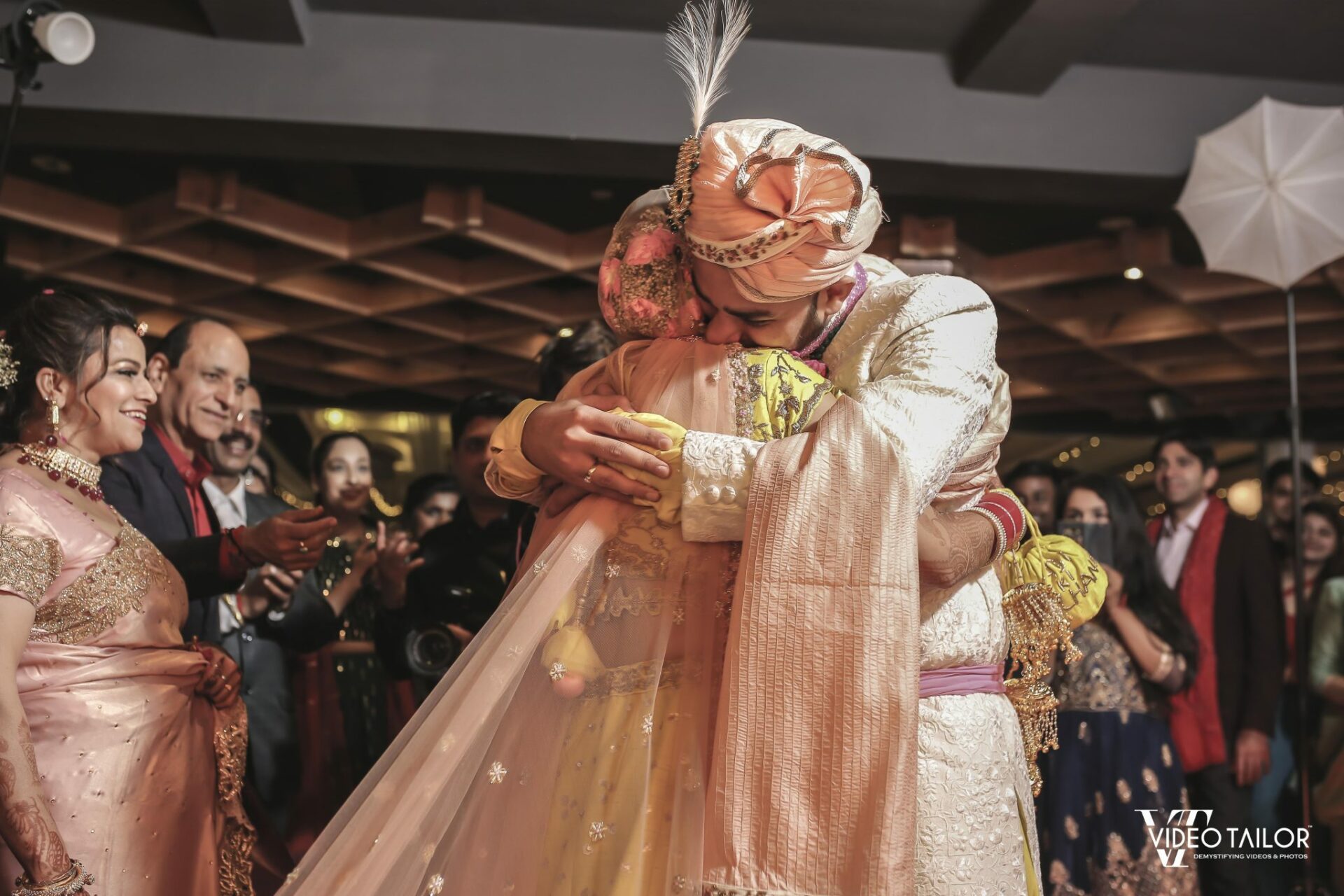 To get along the love and bliss of your other half, you have left everything behind. The back pose is metaphorically true, this pose looks extremely aesthetic. It is simple and is a must done pose on the wedding day.
8) Into The Eyes POSE
Can you really take your eyes off them? Hell No! Into The Eyes POSE is the most romantic and idyllic pose for the ones who are in awe of their other half. Wedding is the word perfect day to bring out all the love and passion for each other.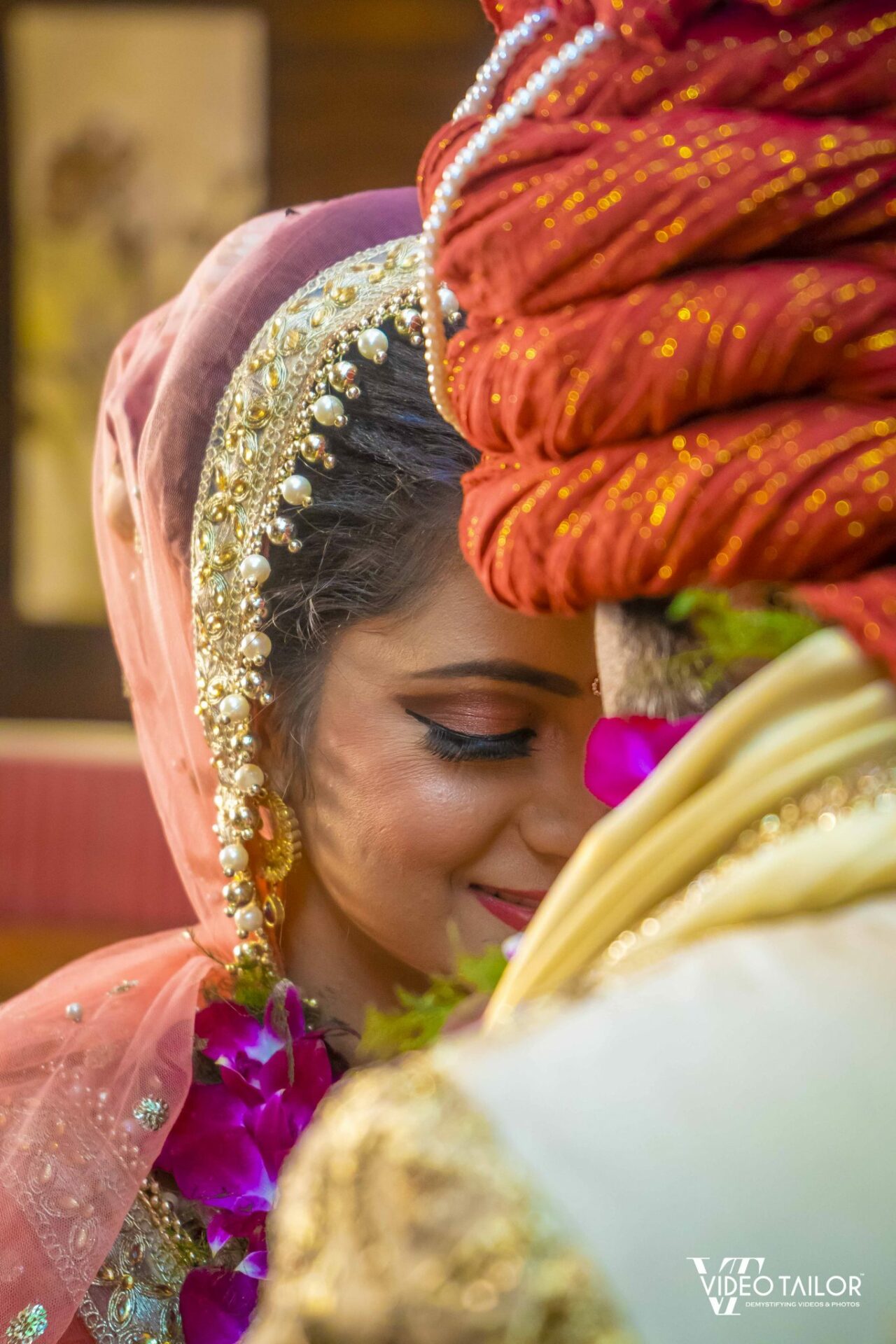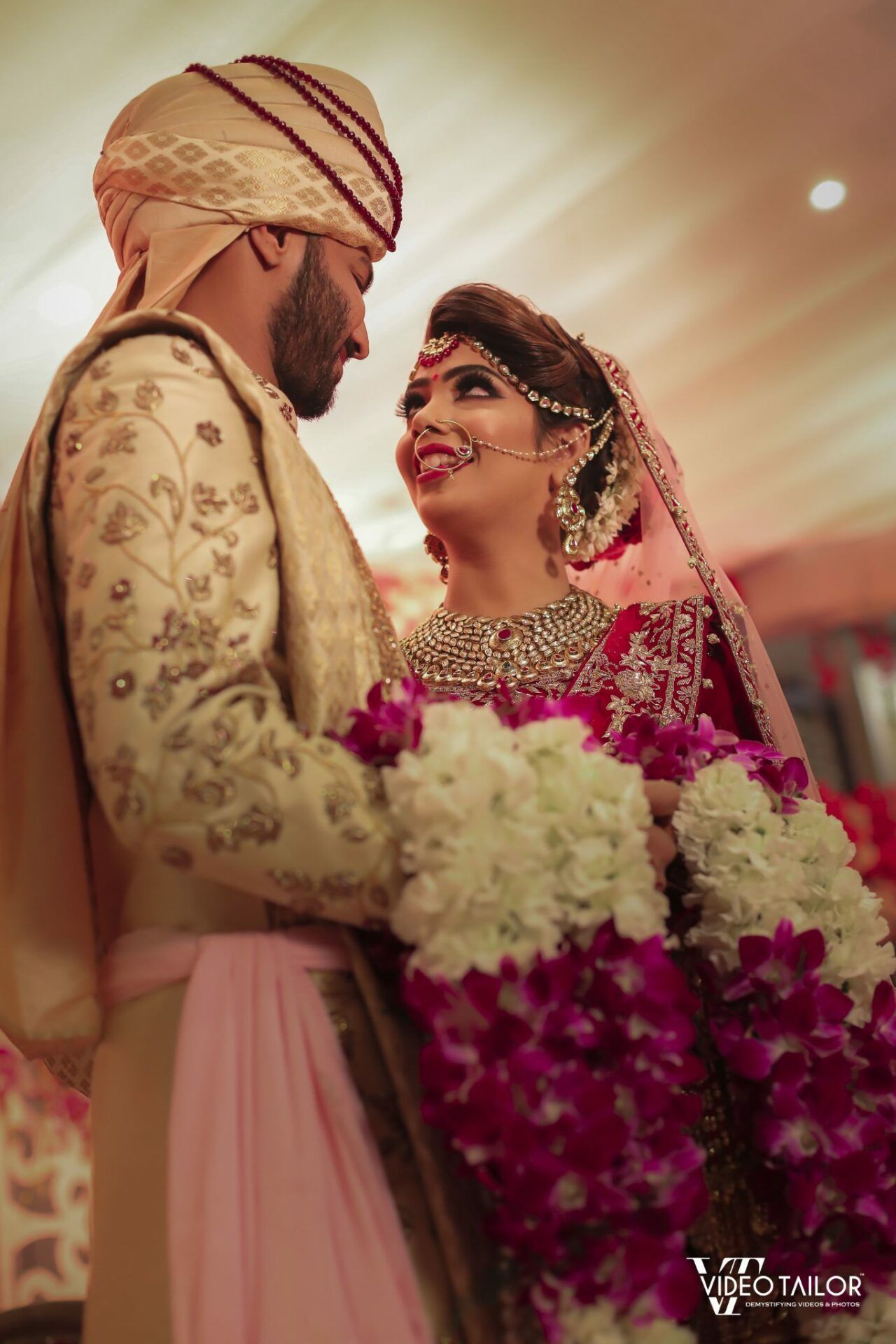 Don't shy away from being dreamy by digging deep into the eyes of each other, be prepared for all the Bollywood concepts that rule your mind. This is your day, think not twice to make it all about each other. This pose is poetic and captivating.
9) Let me hold you forever POSE
It is a walk to remember, when the bride takes her steps to meet the love of her life.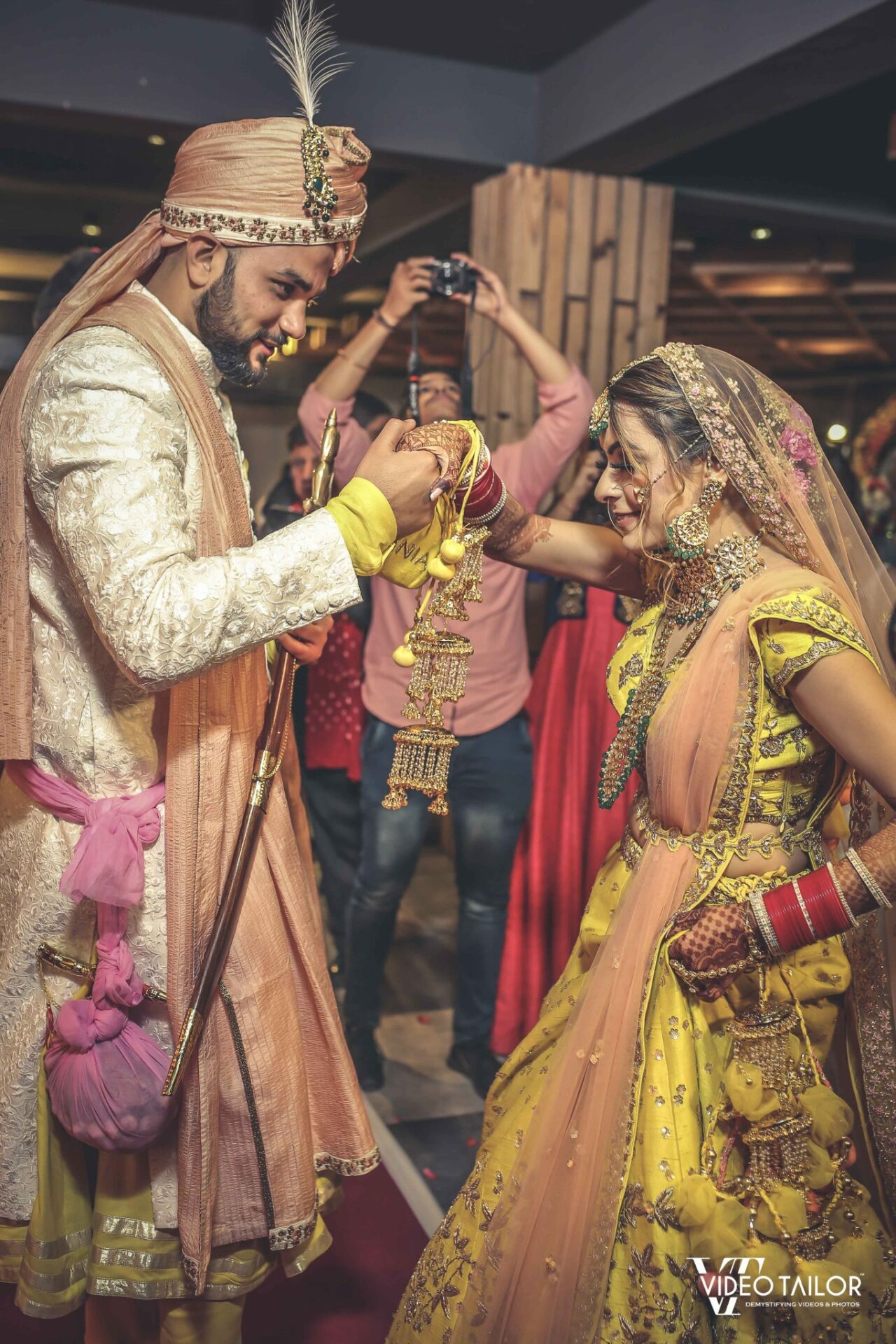 The iconic moment of a wedding has to be this, when the groom comes forward to hold her hand THIS TIME FOREVER. Emphasize your photographer to capture this moment of yours.
10) Kiss The Bride POSE
You have waited for this moment to come to life forever. This is your golden chance to justify the KISS.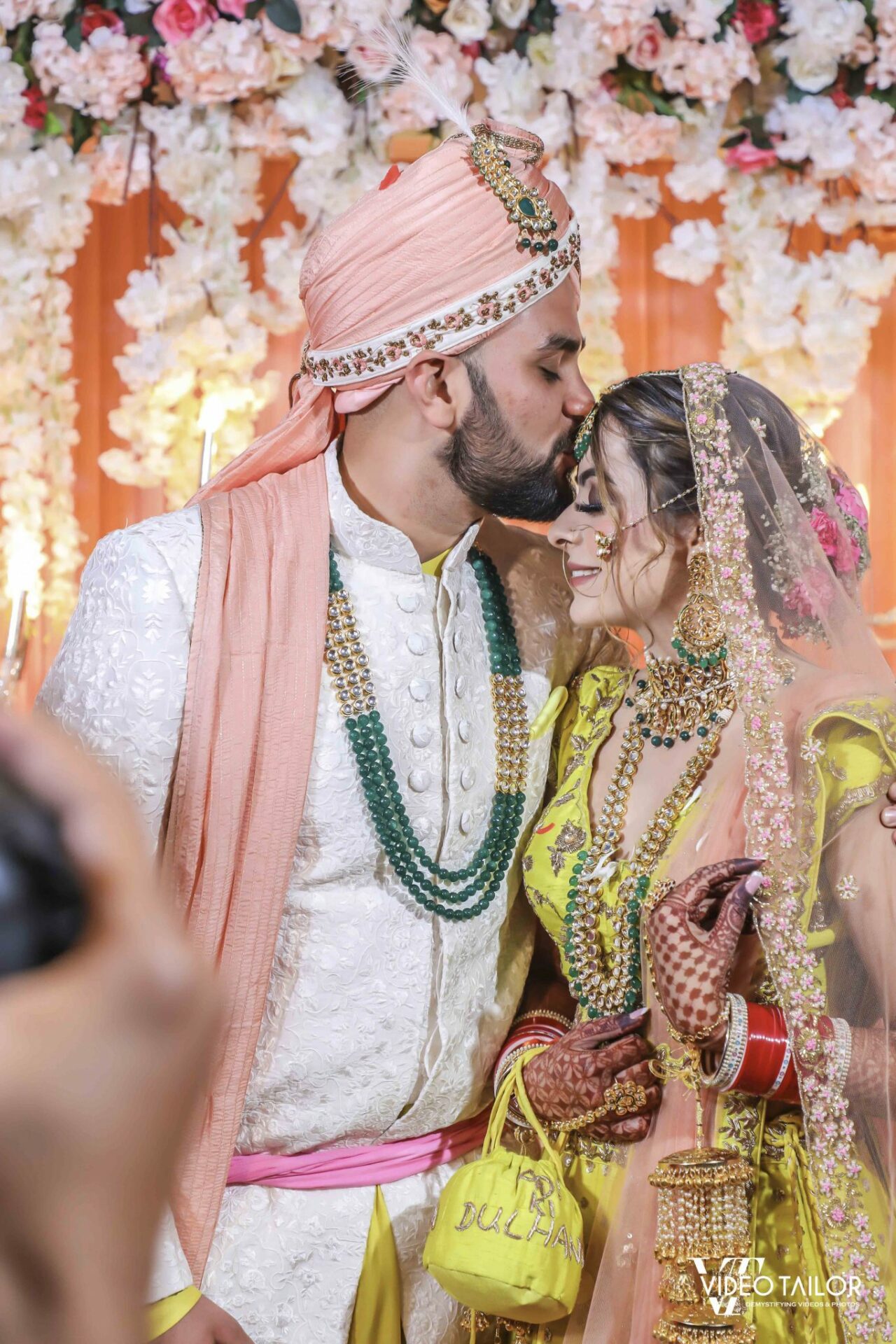 Gestures are the language of love, talk to her, not with words. Create the 'awww' moment of the wedding. You deserve this much attention. And your wedding album deserves the Kiss The Bride Picture.
11) Twirl with her POSE
The stage is yours completely. The celebration deserves dancing and twirling around. While everyone around you is busy into Bhangra on your wedding day, the couple deserves a moment to shake a leg.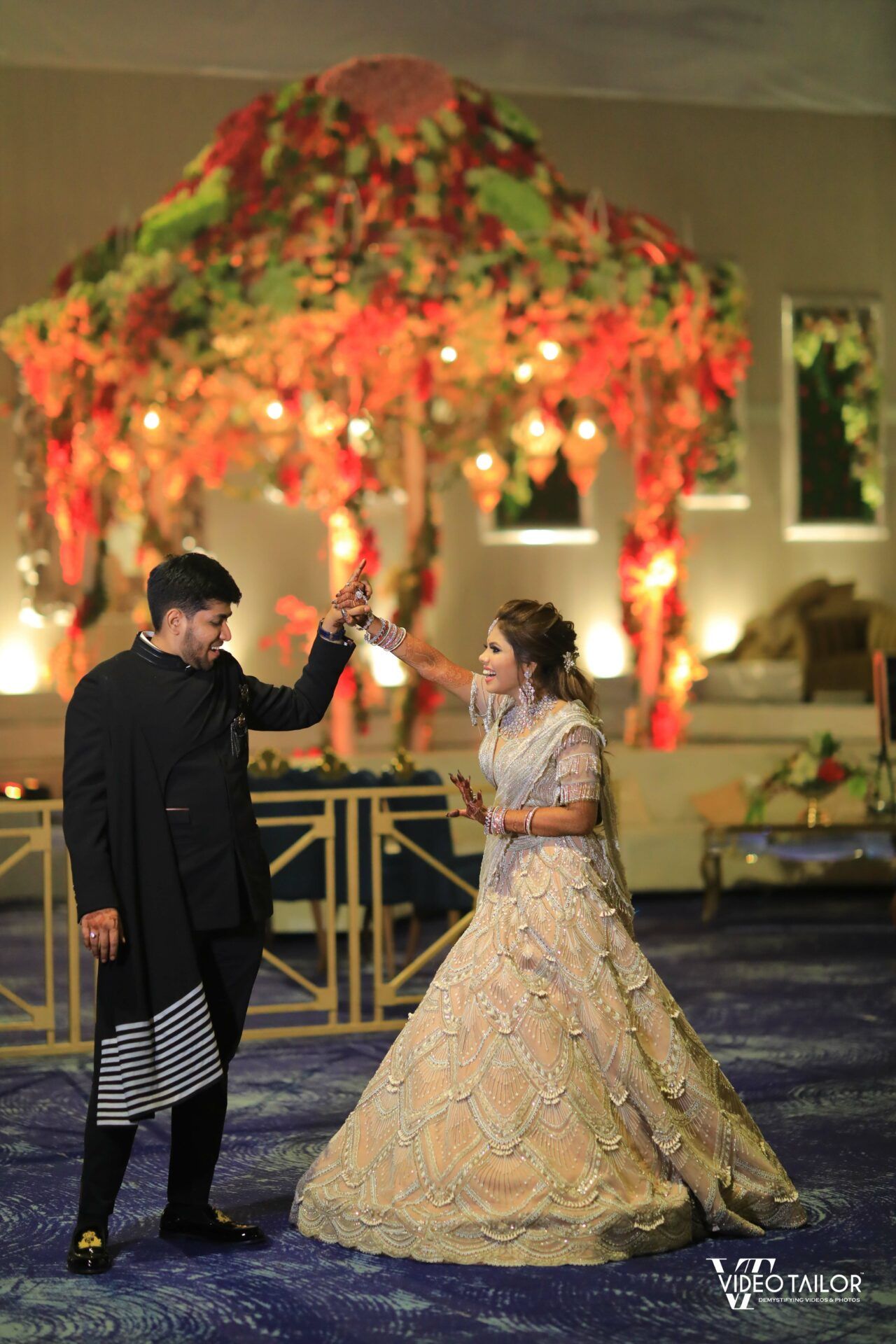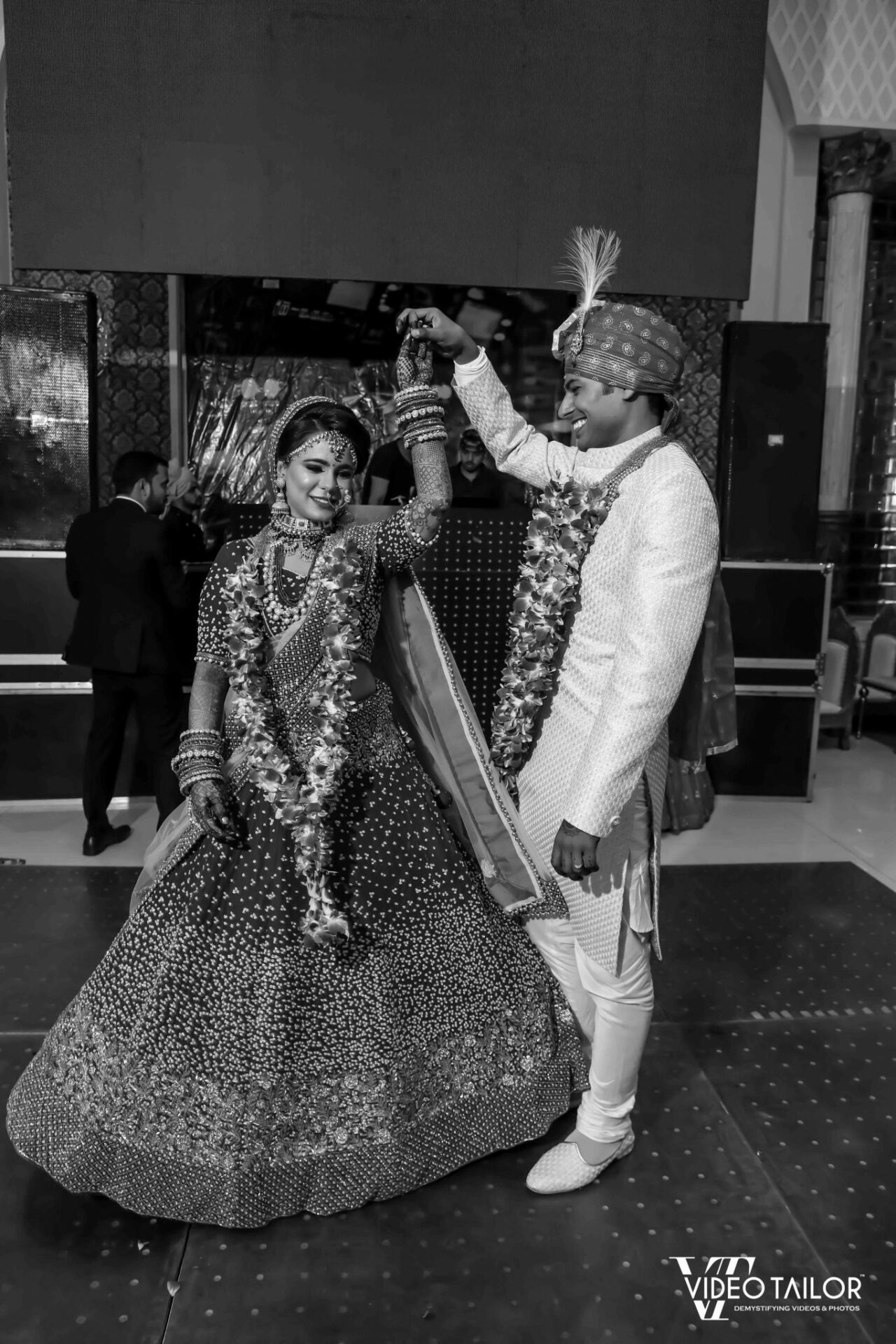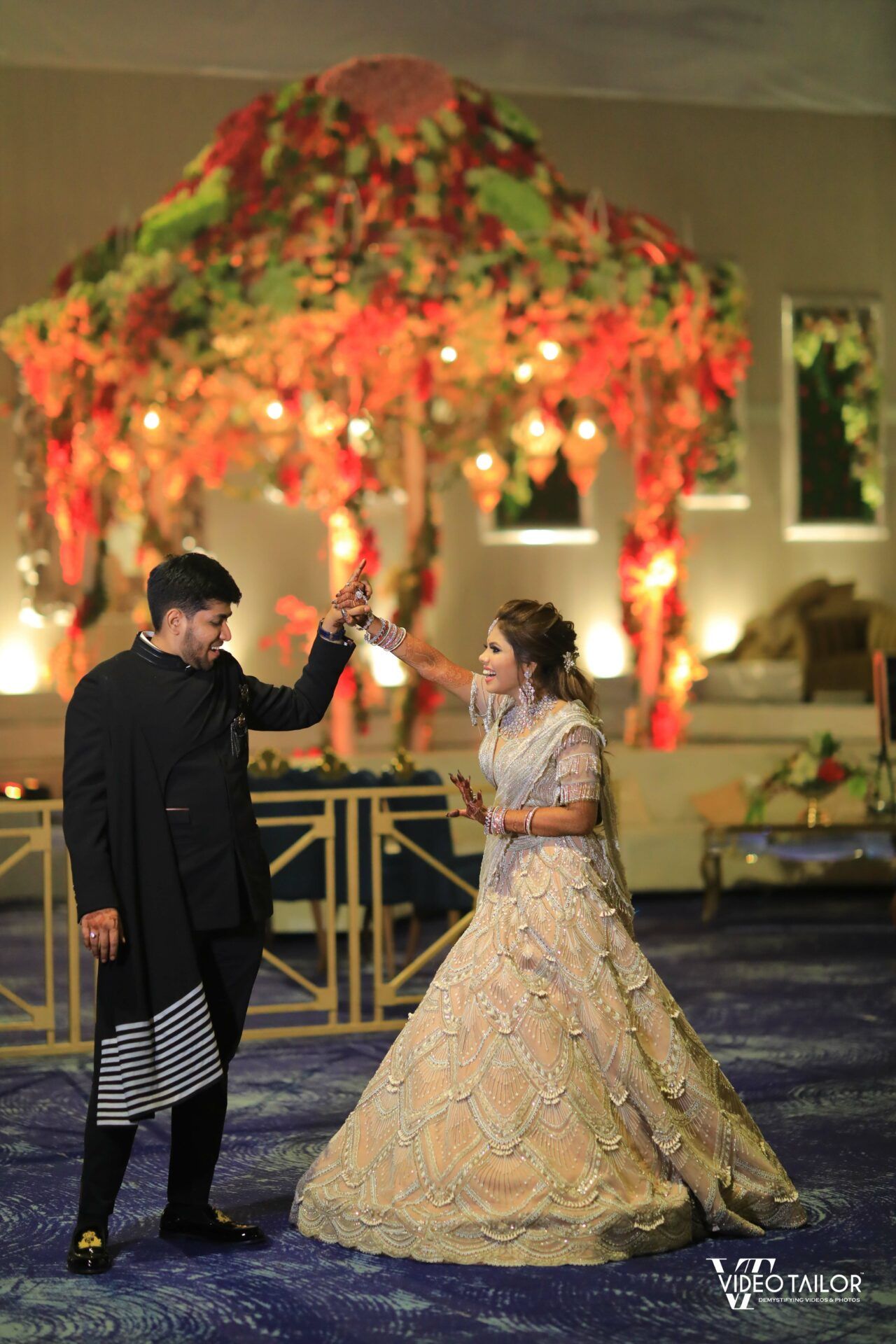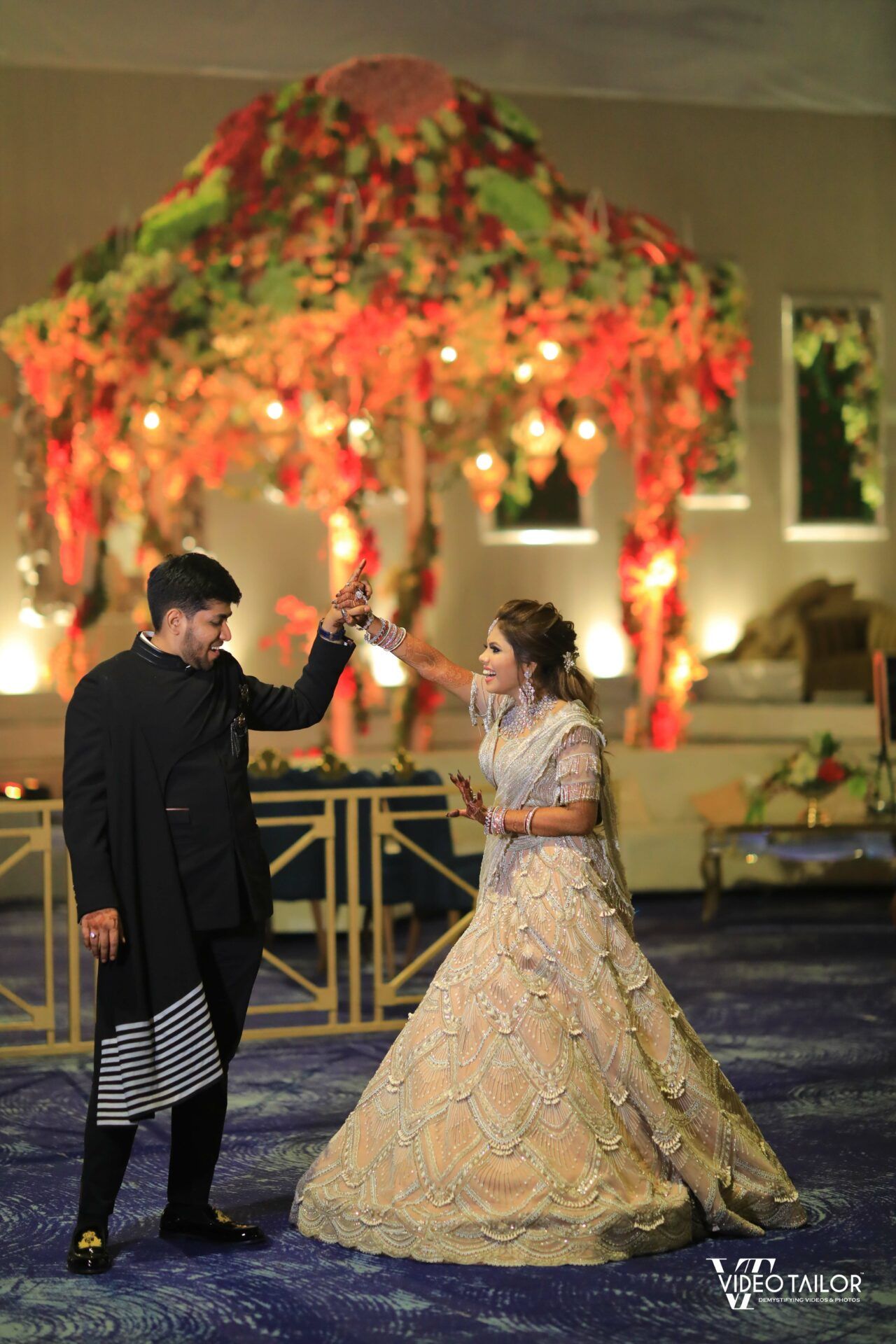 The heavy lehengas won't allow the bride to make a lot of moves, but the best move suited for your outfit and big day, is to twirl around with your partner. Don't miss out on your chance to celebrate by dancing.
12) Mere Haath Mein Tera Haath Ho POSE
Fir saari janate mere saath ho! Aesthetically appropriate and literally magical. This pose is so poetic. A pose to depict the rest of your life. It is a promise to hold on.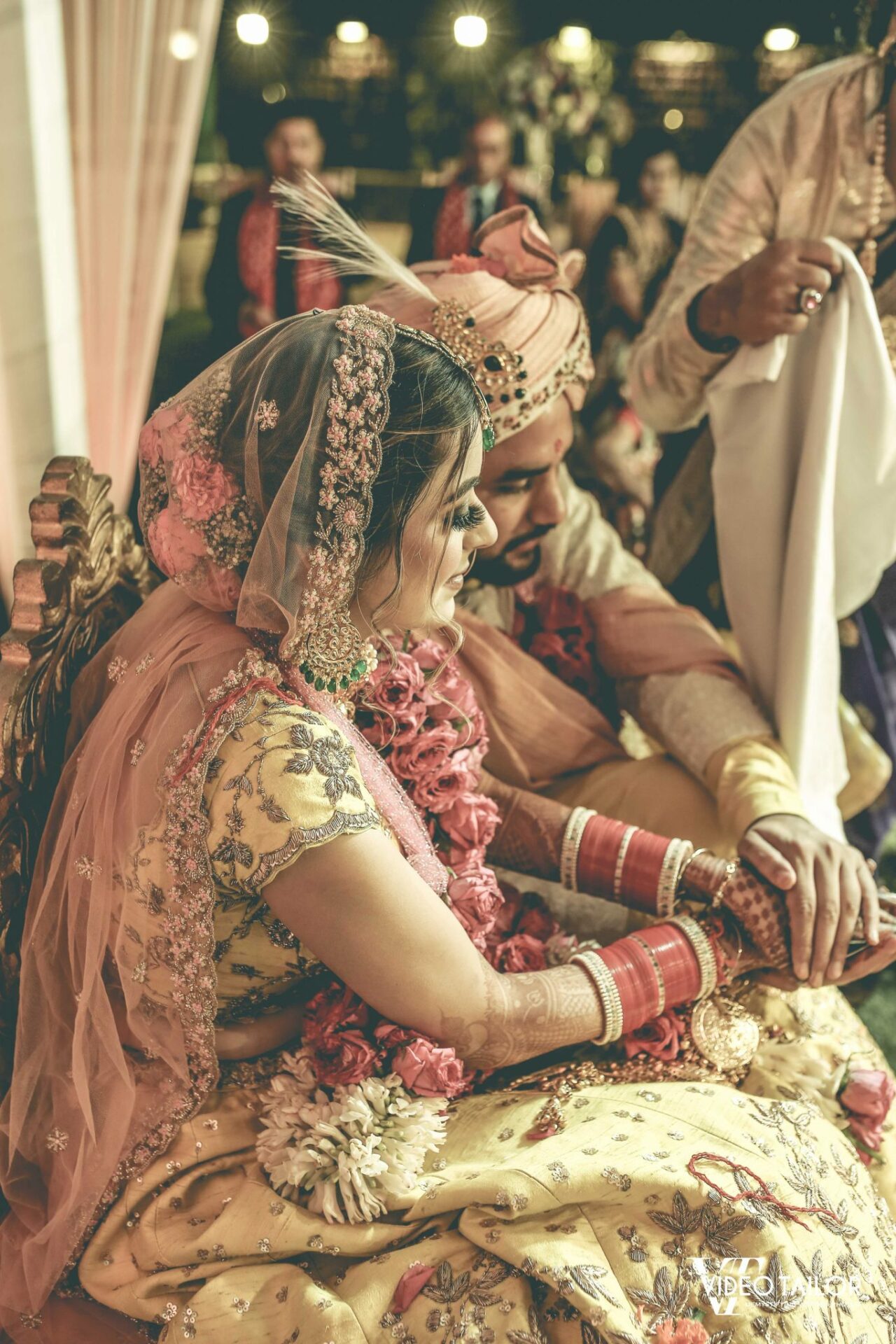 Two hands holding each other is a vow. This is such a different pose to promise infinity with one picture.
13) The Jodha Akbar Pose
We were blown away by the aesthetic appeal of this movie. Royalty in a frame. For all the couples willing to dress in grandeur and magnificence this is one pose you must consider while getting yourself clicked. This is ultimately unreal and splendid.
It defines elegance and pompousness, it is the most appropriate indian wedding photography pose.
14) On your knees for her?
Did not get captured when you proposed to her? Well, wedding photography poses are incomplete without this pose. There are no fixed numbers to go down on your knees for her. Get your best memory captured on your big day.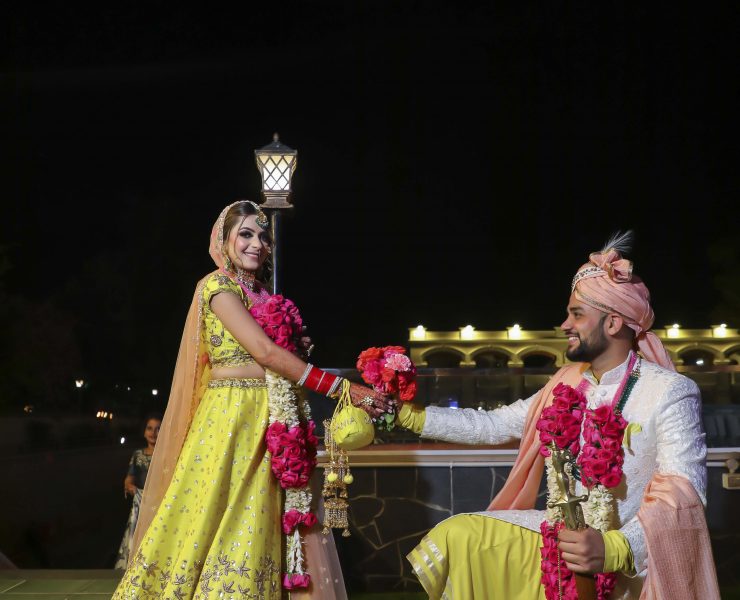 Propose to her/him – girls you can also steal the show by proposing to your man, because why not?
15) Star Studded Background POSE
The backgrounds are so vital and momentous. For a heavenly wedding, a simple and natural pose can do wonders with the background.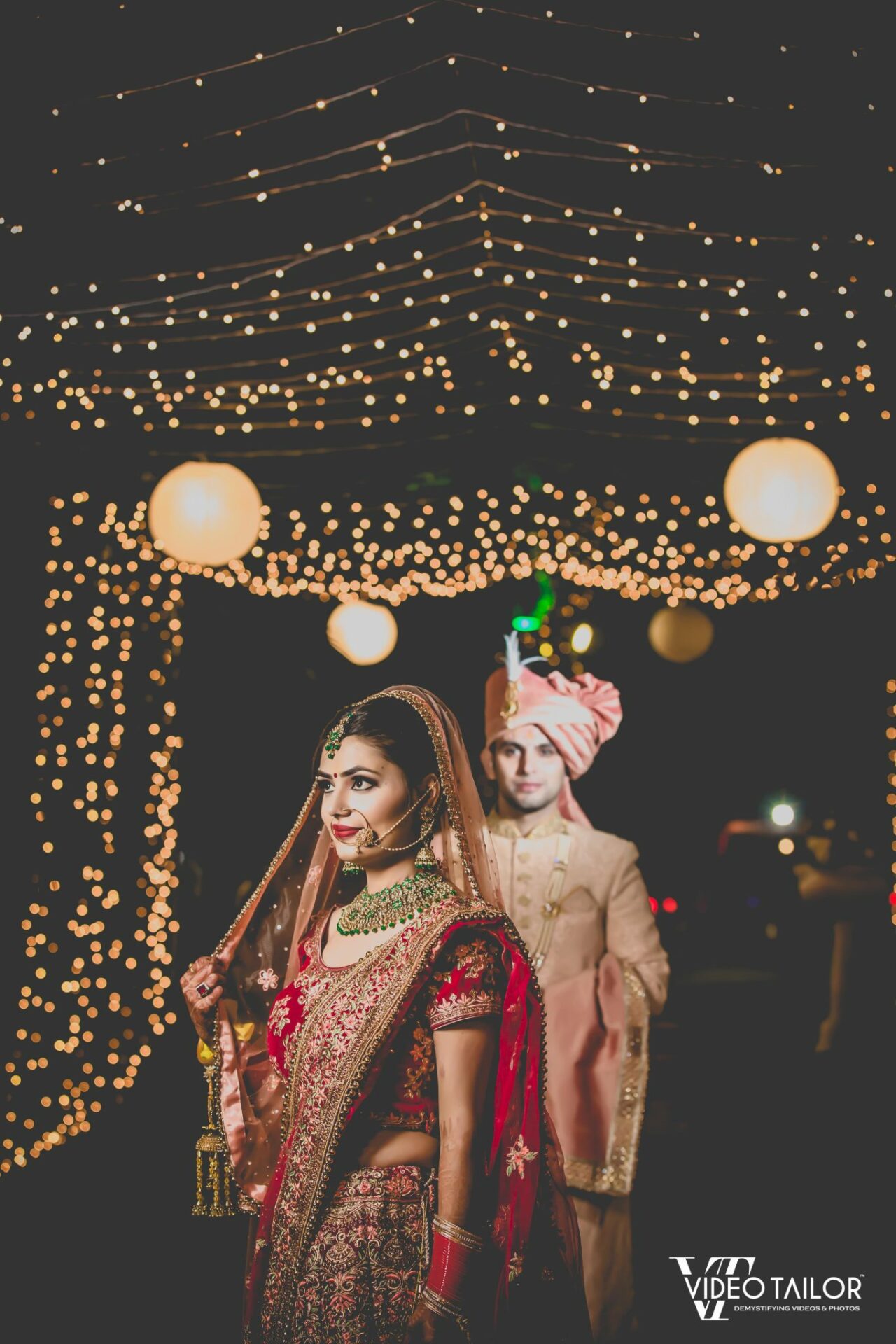 These were some of the few poses that you can ask your photographer to shoot for you. We at Video Tailors believe that your Wedding is a once in a lifetime event, and it deserves all the attention and detailing in every little aspect. After brainstorming many ideas for your wedding photography poses, we help the couple to pose in their comfort zones, elaborating eccentric and quirky poses.