Text For Wedding Invitation Card
May 27, 2022
Classy Text For Wedding Invitation Card
"He felt now that he was not simply close to her, but that he did not know where he ended and she began."
By Leo Tolstoy
Your Wedding day is just around the corner, and you are getting crazy with the RSVP list, an integral element of our Indian Wedding, ranking third on priority after the bride and the groom.  Every one of you eventually gets stuck on what to get written on your wedding invitation card?  In fact, there are, of course, a truckload of things you could get written on it, although the theme and feel of the card will mostly decide what you want to write in it.
Whether your choice is quirky or clubbed with romance, there are so many fantastic ideas. The quote above by the famous author and writer Leo Tolstoy can always be inspirational to crystallize your emotions and thoughts and find suitable wordings for the invite.
In the given blog, we will discuss the subject, which might be great to go through and give you some inspiration and ideas. It can be sweet or a bit sassy or a short quote at the beginning of the ' Invite "that touches everyone's heart as an introduction and set the tone of your big day celebration.
How to Go about it?
Wedding invitation rules are actually much simpler and straightforward than you may think.  They're just there to serve as a guideline. The Golden rule is that you should create a beautiful wedding invitation that represents you, your love, and your big day.  You must communicate the Wedding details, and feel free to riff off these wedding invitation wording rules to create your own.
The essential elements of good invitation cards include the host, Bride and Groom, a personal request for attendance by the host, date & time, Venue, Type of function( cocktails, lunch or Dinner), Dress code and RSVP.
Standard Indian Wedding Invitation Wording Examples
"Rashmi & Rakesh Sharma
request for your gracious presence at the Wedding Ceremony of our son
Rohan with Namrata
Daughter of Dr Mrs Raj and JP Dubey
on Sunday, the 14th of March, 2010
at Lawn One, Hotel Taj Place ( Sardar Patel Marg)  New Delhi
Assembly of the  Baraat – 6:00 PM –> basic event  details overleaf
Wedding – 6:00 PM
Wedding to be followed by Cocktail and Dinner
Map Overleaf
Dress Code: Smart Casuals
RSVP
Mr Navneet Sharma
Cel 9797999900 "
These standard generic Invitation wordings are typically used in Indian weddings when you print the card and deliver it in person.
Digital Video Invitation – The Order of The Day
But times have changed, and so is the lifestyle and aspiration of Indian society. Traditional print invitation (which was delivered in person or courier)is no longer the preferred choice, and the " Digital Invitations" are the order of the day. Digital video invitations (sent by email or whatsapp) look classy, impressive and a lot more creative.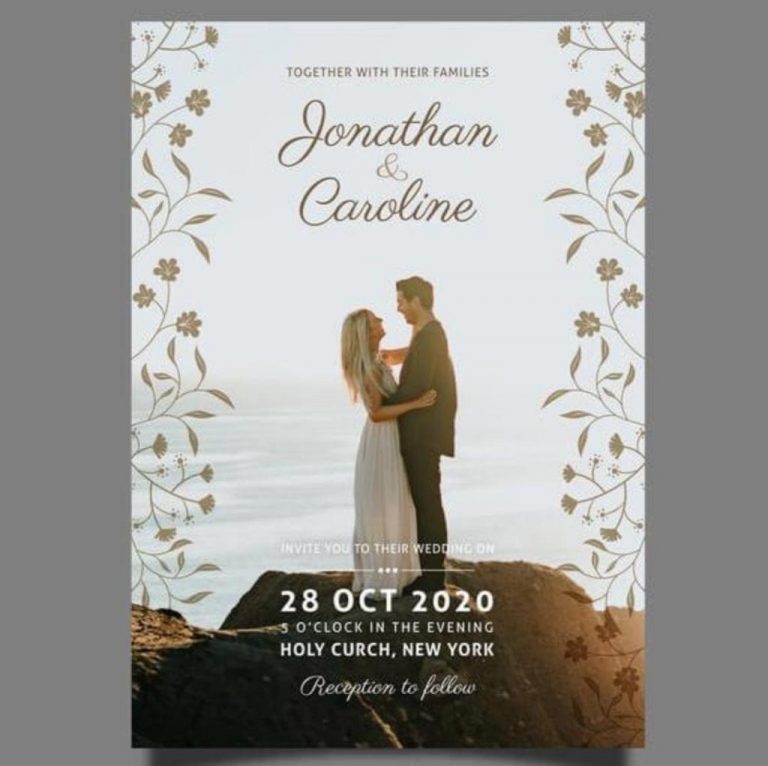 Connect with Video Tailor – Top Wedding Photographers in Delhi
Video tailor also has an in-house digital team, helping you design beautiful invitation videos and save the date cards. So it is a one-stop shop to give your fairy tale Wedding the finishing touch.
We have 70 plus invite video templates readily available as of now. Please take a look @ the exciting invite templates by logging on to https://www.videotailor.com/video/. So leave all your worries about your wedding invitation cards to our digital team, and we will create a WOW invitation concept apt for you.