Best Unpaid Pre Wedding Locations In Delhi
July 29, 2022
BEST UNPAID PRE WEDDING LOCATIONS IN DELHI
What do you think of a pre-wedding photo shoot? Do you desire a stunning and unforgettable click as well? These days, pre-wedding photo shoots are popular, and people undoubtedly have their photos taken all over. Pre-wedding photo shoots can be held in so many beautiful places in Delhi. You will discover everything here, from city lights to greenery, lake views to the feel of historic landmarks. You can also choose free sites if money is a concern.
Love and emotion are beautifully captured in photographs that the couple keeps for the rest of their lives. But a stunning photo shoot needs an equally fantastic setting! Therefore, the following are some of the top free spots in Delhi for your pre-wedding picture shoot:
Humayun's Tomb
Delhi must be the location of your pre-wedding photoshoot due of its diversity and distinctiveness. It is also obvious if you decide to remodel your precious moments in Humayun's Tomb, a UNESCO World Heritage Site with Mughal architecture. One of the best-preserved Mughal structures is Humayun's Tomb, which is situated at Mathura Road, Nizamuddin East, Delhi, India.
Lodhi Garden
The Lodhi Garden is a stunning fusion of vegetation and immaculately preserved ancient graves. It is one of the best locations for pre-wedding photo shoots because of its 90 acres of breathtaking scenery. It is situated on Lodhi Road in New Delhi, India, between Khan Market and Safdarjung's Tomb.
Hauz Khas Edited
Hauz Khas is a popular tourist destination in South Delhi and the ideal place to reenact your love tale while enjoying the river scenery and magnificent architecture. The lake, Firoz Shah Tughlaq's tomb, Chor Minar, and the Indian Institute of Technology (IIT) Delhi can all be seen from here in the sky. To create the ideal reel for your wedding photo shoot, you can browse many more stunning women.
Lodhi Art District
Lodhi Colony, which was built by the British, reveals Delhi's rich architectural past. Couples who enjoy art and paintings will find it to be the most desired venue. The Lodhi Art District, which stretches from Khanna Market to Meharchand Market, is India's first-ever open art district. Even with standard cameras, incorporate the vibrations and feelings of artists into your photo shoot.
Agrasen Ki Baoli
By choosing Agrasen Ki Baoli, you can take beautiful pre-wedding pictures that have a hint of history. It was initially constructed by the famous king Agrasen, has 108 stairs, and is the ideal choice for gorgeous shots worthy of a motion picture. The Ancient Monuments and Archeological Sites and Remains Act of 1958 designates it as a protected monument by the Archeological Survey of India (ASI).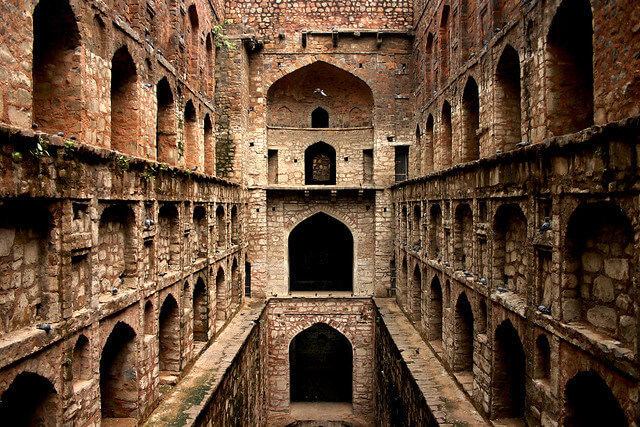 India Gate
Nobody can deny the importance of India Gate in the lives of all Indians. By imposing wealthy innovation, it becomes into a monument honouring India's liberation fighters and a symbol of national pride. Couples often find India Gate to be the ideal setting for sharing their emotions and connecting. The flame of the ever-living soldier, known as Amar Jawan Jyoti, is displayed on India Gate, a war memorial.